Weddings are a magical time in any couple's life—the beautiful dress, the handsome groom and of course the celebration with friends and family. What many couples don't know is what entertainment they should have at their wedding? There are so many options out there, and it can be hard to decide what will suit your needs and budget best! We're here to help you make that decision easier by giving you some ideas to choose an entertainment option for your special day. 
Many couples have a tough time deciding what type of entertainment they want at their wedding. Do you want live music? What about an MC? How about having a DJ to play all the music for guests? There are so many options, and it can be difficult to narrow down your choices. In this post, we will discuss some different types of entertainment that may work well for weddings and give examples from other weddings.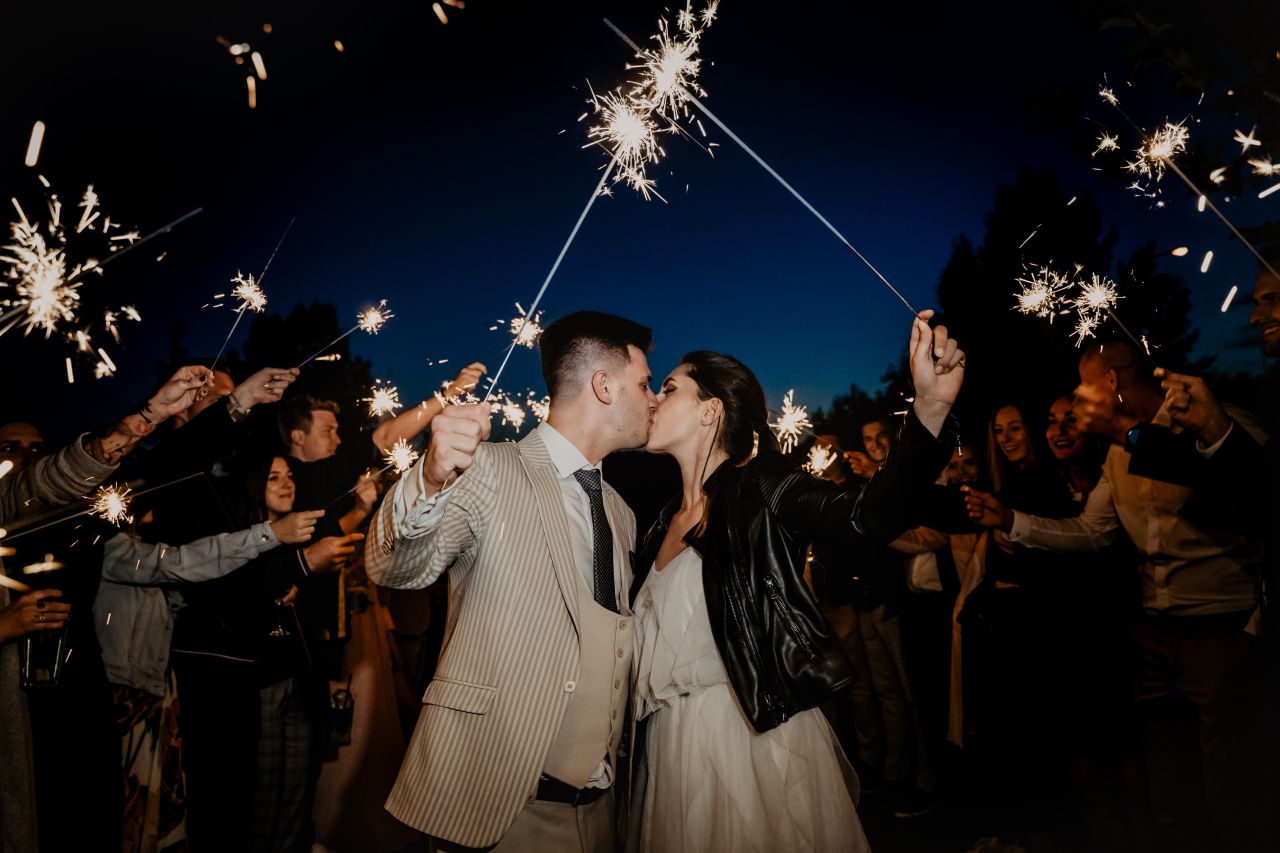 How do you entertain wedding guests?
Wedding guests can be entertained in many different ways throughout the big day, and you have a lot of options! If you want to stick with more traditional elements, try one of these welcome parties or rehearsal dinners. However, if your goal is for everyone attending your wedding to take part in unique entertainment during itself, consider some ideas below: One way would include hiring African dancers as Kandi Burruss and Todd Tucker did at their "Coming To America" themed ceremony.
Cocktail hour can be made even more fun by hiring servers to offer Champagne from crinoline-style skirts or having cocktail napkins available from women wearing dresses made of beverage napkins. Then, give your guests the experience of a lifetime with aerialists pouring wine over the dance floor, and mix up traditional reception dances with cabaret shows for an unforgettable event!
A great idea for your wedding is not to have a dance floor or any other entertainment that requires people to be dancing. To fill the time when guests are getting hungry and thirsty at dinner, playing casino games can provide some fun! You could also play different themed party games like beer pong. End it with an unforgettable fireworks display as a finale which will impress all of your loved ones who participated in these activities."
Unique Wedding Entertainment Ideas To Wow Your Guests
Live Painter
It's always a thrill to see an artist at work! Not only do guests love watching the artist paint, but it is also amazing for you and your partner to have that tangible commemoration of your wedding day with the exact scene + emotions captured on-site. Of course, you can get creative with this too.
Mixologist
Planning your wedding and not sure what to do? Let the mixologists at Mixology 101 craft a custom cocktail for you, combining their unique taste buds with yours. They can also make up something completely original just for you! These drinks are great because they're both customized and photogenic all in one shot – no need to worry about taking pictures of boring old beers or wine coolers anymore!
DIY Station
Guests love to be creative, so have them make something. They can create anything from cigars or leis to flower crowns! After they're done being hands-on with their creativity, the experience will last a lifetime, and your guests are sure to find it enjoyable too.
Live Performers
When planning your wedding, it's important to remember that the sky is the limit. You don't have to settle for traditional entertainment – you can bring in synchronized swimmers, strolling champagne ball gowns or aerial silk dancers and really wow your guests!
Specialty Food or Drink
We've all seen the hot chocolate bar or late-night food truck, but one thing on the rise that we can't get enough of is adorable little prosecco vans! Specialty carts like this are a great way to engage your guests and keep them on their toes – after all, don't you find it's always more fun when there's something unexpected? Of course, we're also big fans of doughnut carts (for obvious reasons).
Snazzy Transportation
Why not roll out the red carpet for your guests with a scenic boat ride? Or maybe you prefer to surprise them with something more unconventional, like vintage trollies. Sardinian coaches are also great options if you're looking to raise some eyebrows while hosting and entertaining!
Cultural Nods
Whether you want to incorporate the traditions of your wedding destination or include some aspects from your cultural background, there are loads of entertainment ideas out there! Maybe a 2nd Line would be perfect for that New Orleans fete, and then surprise your groom with an elegant hula performance at the reception.
Surprise Guests
When it comes to choosing the perfect wedding guests, many couples are looking for animals that will be a good fit with their nuptials. Animals such as llamas and alpacas can provide entertainment and add livelihood diversity without needing any special training. These furry friends are great at attracting attention because of how unique they look! Plus, these sweet creatures offer an opportunity for connections; you never know when someone might want one too!
An animal-loving couple's vision is often limited only by what type of pet would make them happiest – whether it's horses or sheep, there seems no end to all the options out there, so don't worry about leaving your new friend off. Your guest list just yet!
Aerialist Performers
Do you want to impress your guests with the wow factor? One way to do that is by hiring a performer. Whether it's an aerialist or multiple performers, you're going to get plenty of oohs and ahhs from loved ones who will be happy they came out for this extra special day! We've also seen couples have these performers perform in-the-air dances throughout the cocktail hour – what better way would there be than Champagne pouring through our lives?!
Unique Drink Servers
Instead of serving drinks on trays throughout the reception, try having cycling servers on old-fashioned bicycles or trikes decorated with roses and cocktail glasses. Many people specialize in wedding drink ideas for your guests to enjoy while they're dancing! One such event is passing out cocktails around a long table that's filled with interesting things like jello shots, fruit plates, chocolate covered strawberries – all sorts of snacks you might need if it turns into an evening affair!
Dancers at the Ceremony
As mentioned above, Kandi Burruss of The Real Housewives of Atlanta had African dancers at her Coming to America-inspired ceremony. These entertainers were such a hit that she even hired them for the cocktail hour and reception! Your guests will love these special touches they've never seen before.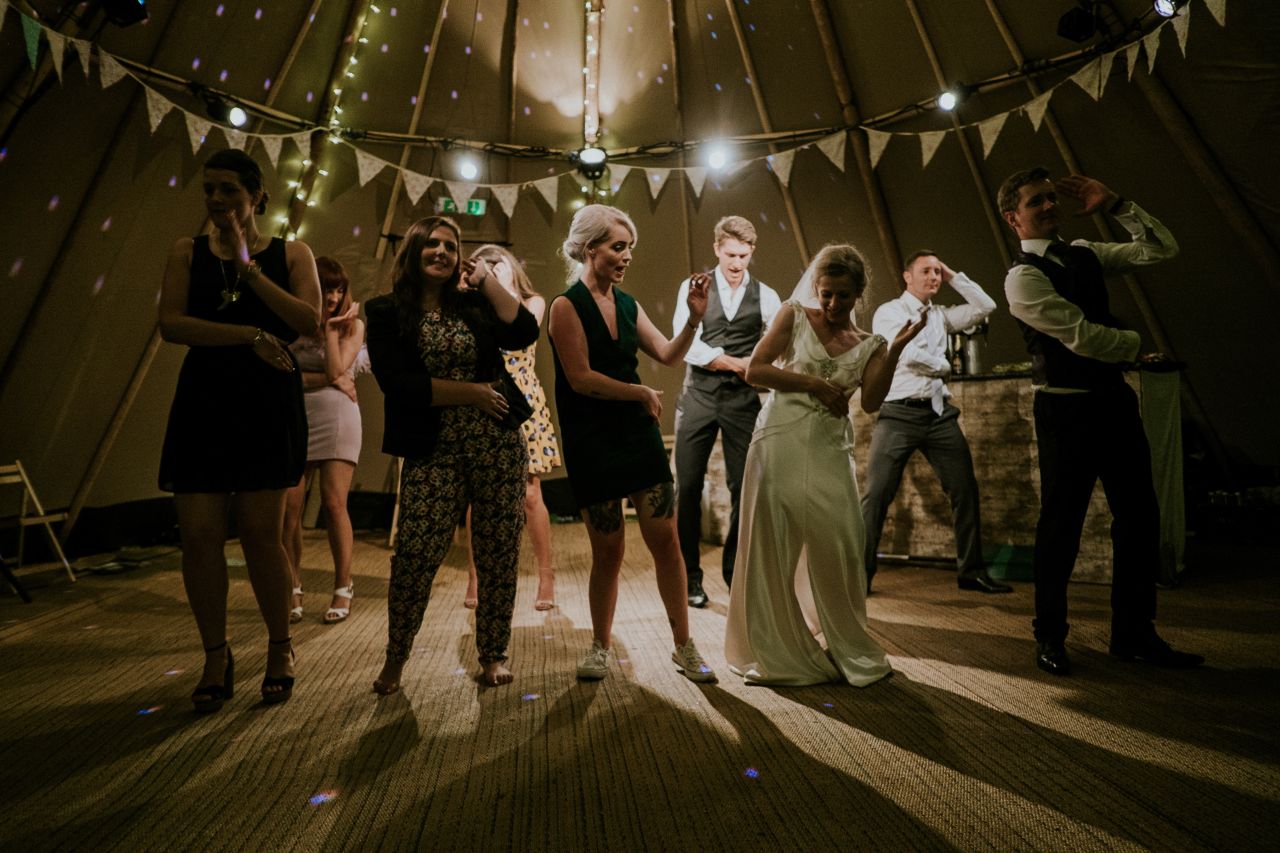 Unique Wedding Champagne Skirts
Why not have a Champagne server stroll around the venue during your wedding? It'll add some flair to an already classy event. Guests can enjoy glasses of champagne as they enter, and it's also a great way for them to get acquainted with each other before you start saying, "I do!"
A Wall of Champagne
You've likely been to a wedding where they've had flutes of Champagne displayed on the wall – perhaps with escort card drink stirrers inside – but what about a live wall of bubbly? What was once just an exhibition has become an opportunity for guests to get up close and personal. So not only is it fun, but chilled champagne will also be readily available during your event!
A Strolling Server
If you're looking for a new wedding entertainment idea, consider having your guests enjoy hors d'oeuvres from the comfort of their seats. Having servers with table skirts displaying bite-sized treats during cocktail hour is sure to be a hit!
The Napkin Dress
No one wants to be the guest who shows up unprepared, but it's not always easy remembering napkins when you're in a hurry. So avoid any embarrassing situations by providing your guests with these beautiful cocktail hour dresses made of beverage napkins for extra convenience and fun activity!
Weddings & Games
In addition to the bride and groom, guests should be entertained on a wedding day. Games can help with this! We've seen clients have games like beer pong played at their weddings-the options are endless, so you're bound to find something that will work for your event. If modern couples want more personalization on their big day, they might need some time playing cards or throwing darts before dinner starts!
Unique Hors d'Oeuvres Server
Think about your wedding guests and how they might enjoy themselves. You don't have to hire dancers or acrobats – other options like inflatable games, photo booths, face painters can be just as fun! Guests will love seeing the creativity you put into each of these little details that won't even impact your décor.
Traditional Dancers
Do you want to honour your culture, the destination where you're saying "I do," or one of your family members or guests? A great way is with dancing. Choosing a first dance song that you love and accomplish this task is one way; however, hiring professional dancers –or performing it yourself- will ensure everyone has fun at the reception.
Showgirl-Style Performances
You don't need to have a Las Vegas wedding to provide your guests with an experience they'll never forget! Hire dancers, or consider having the performers stick around after for photos with your friends and family.
Cabaret Dancers
If you want your guests never to forget your big day, hire dancers and make sure the reception is a party that all ages will love! First, have some fun before or after the first dance – this gets people excited for what's next. Then call in dancers to get everybody up on their feet celebrating until midnight rolls around!
Ballroom Dancers
You and your beloved don't have to be the best dancers for them to look like you are. There's no more pressure on how well you do or what song will play next with ballroom performers. It also saves a lot of time figuring out who should DJ at weddings with long lists of family members if they're not up-to-date on current music trends. Plus, Dancing with the Stars has never looked so good!
Mesmerizing Performers
For this fall-themed 50th anniversary party, the perfect opportunity to wow guests was a performance with dancers twirling peacock skirts. Most of the guest list on the older end spectrum helped mix dancing and lived performances so that people wouldn't get tired without getting too exhausted.
Roaring Twenties-Themed Dancers
You're having a Gatsby or 1920s-themed wedding and want to keep your guests entertained with some old school tunes? You'll love watching dancers in flapper dresses perform at the reception! Even if you have more modern music, make sure this part of the evening highlights these songs from that era – so far, everyone seems to be enjoying themselves.
Colourful Dancers
If you are looking to entertain guests at your wedding reception, consider hiring colourful dancers. Whether they perform the samba or not, festive performers will be sure to provide some fun! There are many different options for entertainment ideas, but if you want something that will make everyone smile and dance, then this should do just fine.
Circus Performers and Acrobats
It's your wedding day, and you want to create a memorable event for all attendees. Hiring an acrobat or aerialist will be one way that guests can remember every minute! Have them perform overhead in front of everyone – people won't forget this moment, guaranteed!
Guests-Focused Limbo Game
The wedding is a time to honour your love, but also honour your guests and make sure they have the best possible experience. So if you know those close by will enjoy some fun limbo games with friends or family members while everyone else snaps photos in another area of the venue, do it! Even Eva Longoria did this at Mario Lopez's recent nuptials; she even had her famous co-star involved for an extra laugh during their celebratory dance session on top of all that food being passed around!
Dancing with a Twist
YouTube videos of epic dances often start with classy, almost cliché music and then change to hip moves. But, for surprises in the other direction at Indian weddings, all ages come up with dance numbers for any song that gets people Wild. From Bollywood routines like "How They Met" musicals to Dirty Dancing-inspired offerings where anything goes from lip-syncing or flash mobs—whatever makes your crowd go wild!
In a well-orchestrated fashion, the initial surprise part for the couple transitions into a grand performance. Find inspiration in some of the best viral wedding dances to have your guests drop jaws and do something special on their own as they enjoy it. Then, for an old-fashion idea that is sure to make memories last forever, split up people from different groups or sides (depending on what you're looking for) and get them dancing against one another!
Finally, consider bringing a dance instructor to conduct an introductory group dance lesson. Many couples would be thrilled to refresh their salsa or merengue moves for free!
Let's take this opportunity and have the instructors do some cool choreography with one another before teaching your guests how it all goes down in case they're not quite sure of what steps are next.
Tickling for a Treasure Hunt
Weddings are supposed to be the happiest time of your life. One way you can make sure is by having a treasure hunt! This will allow all guests, young and old alike, to have fun while learning some new things about you and other family members. It's best for smaller intimate weddings, so it doesn't take away from anyone else who may want more attention during their big day – everyone deserves that happy feeling too!
Put up a contest for your guests to compete with one another. You can pre-print the list of challenges they have to complete, such as making silly faces or making their best dance moves before taking selfies with catering staff and friends to win prizes like tickets on rides at an amusement park near you!
You could make it even more exciting by adding humour into the mix by using hashtags in posts so pictures will show up on screens live via services like SlideSome.
Splashing Out with a Live Painter/Caricaturist
If you're looking for unique entertainment ideas, there's nothing quite like the thrill of watching someone paint your wedding. Throughout the country, thousands of talented artists specialize in this art form and can create a multitude of beautiful paintings that will decorate your walls long after our special day has passed. To ensure you find an artist who is right for you, it might be worth it to ask to see samples before signing any contracts – styles vary drastically, so make sure they capture what YOU want as well!
You know when you're at a party, and all of the sudden an artist comes to life? It's as if they just hit their stride. Making your guests feel like celebrities is not only fun but can also be rewarding for artists who are looking for appreciation rather than materialistic things in return. Consider hiring one or two charcoal artists to do drawings on location. At the same time, people mingle about watching them work — it will give many individuals a chance to see themselves portrayed by hand! For those seeking a more personalized experience with artistry, consider having a sketch artist who captures moments throughout the event so everyone feels included. Caricature portraits could double up as favours!
The right photography team will make all the difference in capturing those moments and making your guests smile.
Of course, having a photographer at one's wedding is important to capture life-long memories of that special day – but it also impacts how much fun everyone has!