Your wedding reception sets the stage for the entire party. Like snowflakes or fingerprints, all wedding receptions are unique. But traditionally, some combination of the below happens. If you've been to even one wedding before, you already know all of this stuff and can probably skip this outline. Wedding newbs only beyond this point
Looking to make your wedding reception a fun and festive affair your guests will never forget? In addition to a delicious feast, flowing drinks, and a killer wedding playlist, some couples like to get the party started with wedding reception games, ice-breakers and other interactive experiences, which might include everything from classic lawn games to bride and groom trivia, a photo scavenger hunt, a well-stocked photo booth and plenty of activities to engage the kids, too.
These sorts of activities work exceptionally well at large, outdoor weddings with space to spread out, but there are plenty of options for indoor weddings, too. If the idea of adding a couple of games to your wedding day sounds like fun, by all means, have at it! 
There is no doubt a wedding ceremony is unforgettable. But what happens after the ceremony is over? The reception! Usually, the wedding planner, MC or venue manager is in charge of keeping things in order. For this reason, providing them with a wedding reception timeline is a must.
common reception and party questions to keep your unforgettable night running smoothly.
Guests Move From Ceremony into Cocktail Hour 
While your guests are mingling with each other after the ceremony is an excellent time to do your couples session and formal family photos. Although the bride and groom typically won't be able to attend the cocktail hour, it's still an excellent time for your guests to relax and enjoy some hors d'oeuvres and drinks before they go into the main reception.
After the ceremony, the couple, their families, and the wedding party head off with the photographer to pose for pictures. That leaves the rest of the guests standing around awkwardly with nothing to do, hovering in a weird limbo between ceremony and reception. The solution: get them liquored up. Thus, the cocktail hour was born.
Guests Are Seated in Reception Hall 
The newlyweds, their parents and the wedding party make their grand entrance to the reception. The bride and groom are introduced as husband and wife. It feels like something from a beauty pageant or a variety show from the 1960s—so that you know, you'll probably feel like that multiple times throughout the wedding process.
Your wedding coordinator and DJ/MC will get all of your guests rounded up and seated in the reception hall so that they are ready for the party to start. If necessary, they will explain how guests can find their seat and give any other special announcements. The start of getting your guests into the reception and the estimation of how long this will take based on how many are in attendance is an essential part of your wedding reception timeline.
Wedding Party Entrances 
Your DJ/MC will announce your family and wedding party entrances here. This is a fun time for your wedding party and immediate family members to enter the reception hall with a funny dance or action that gets your guests excited and ready for your grand entrance.
Bride and Groom Grand Entrance 
This is your time to celebrate being introduced as the newlyweds that you are. Pick your favourite party song and strut your stuff! Make sure the bride and groom entrance is separated from the other wedding party entrances on your wedding reception timeline so that you can have your shining moment in the spotlight!
First Dance 
After making your grand entrance, all eyes are on you, and it is a perfect time to go straight into your first dance as a married couple. Whether your dance is choreographed or just a slow and sweet moment to a sentimental song, this is your moment to shine together.
Your first dance as a married couple can be nerve-wracking since it's just the two of you on the dance floor for the length of an entire song (three minutes go by very slowly when there's a room full of people staring at you). Just laser-focus on your new spouse—this will be an extraordinary moment if you block out the audience.
Welcome Speech | 5-10 Minutes
Now you and your forever honey are seated at your head table, and it's time to thank your guests for coming. This can be done by the bride and groom or the mother and father of the bride. In some cases, this is also a good time for a blessing from a family member to commence the meal!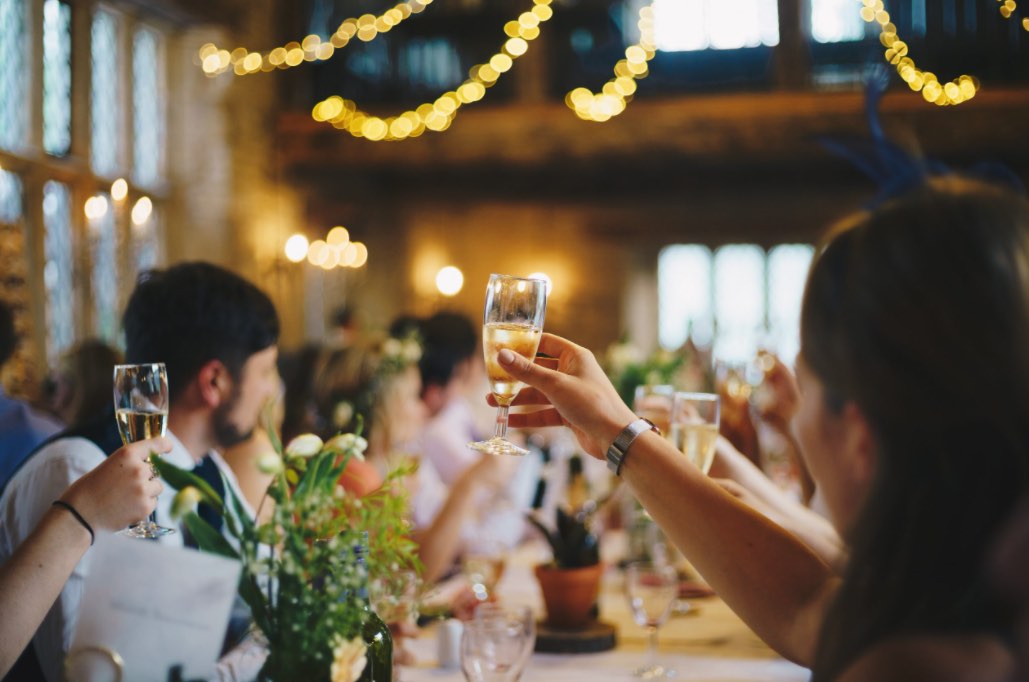 Dinner is Served | 1 Hour
Make sure you grab your food first, chow down and be sure to enjoy the wedding meal you selected! If you want, you can make your rounds and greet your guests before returning to your table for the toasts. This is if you haven't set aside other time to mingle with your guests somewhere else in your wedding reception timeline. If you choose to take the mealtime to greet or take photos with each table, make sure you allow yourself at least 3 minutes per table and adjust the meal time accordingly.
By this time, guests are probably pretty hungry and thinking, "Hey, where's the food?" Dinner is served—it can be anything from fine dining, to an intimate family-style meal, to a catered Chipotle buffet; your call—more on this in What to Serve and How to Serve It.
Toasts | 30 Minutes
While your guests are still in their seats, finishing up their meal is a great time to go through the toasts. It's a good idea to start with the Best Man and Maid of Honor toasts and then follow with anyone else you have asked to toast. If it weren't the bride and groom that thanked their guests for being a part of their wedding day before the meal, now would be a great time to do so, before the dance party starts!
The Best Man and Maid of Honor make their toasts—followed by the couple, their parents, and whoever else will be making a speech that night. There's a particular art to making a toast—an art that has not been mastered by every reception toast-maker out there. But don't worry, we'll help make yours a hit.
Family Dances | 15 Minutes
This is a perfect time in the wedding reception timeline to start the dancing portion of your party with the mother & groom and father & bride dances. After the last family dance, you can have your DJ ask all your guests to come to the dance floor for a group photo. This gets everyone up and out of their seats and on the dance floor, so when the music hits, you will have a good crowd to get the party started!
Open Up the Dance Floor | 30-45 Minutes
Now it's time to get your groove on! Start off the power dance session with an upbeat song that will get everyone in the room moving. Between bursts of high energy songs interlaced with some slow jams is an excellent opportunity to do your garter and bouquet toss or any other fun activities you have planned on your wedding reception timeline.
Remember: the guests won't start dancing until you do. After the first dance, it's the couple, bridesmaids, and groomsmen's responsibility to ignite the dance party. Ask your wedding party to get on the dance floor the moment the first song starts. It shouldn't be too hard to convince them.
Cake Cutting & Dessert | 30 Minutes
The cake cutting ceremony lets your guests know that the party is almost over and can be done about an hour before your grand exit or the end of the reception. After the bride and groom cut their pieces of cake, have your DJ play some slow to mid-tempo songs while your guests enjoy their dessert. During dessert is also a good time to thank your guests for coming!
About an hour before the end of the reception (right when guests are probably in need of a snack and starting to lose some steam on the dance floor) is an excellent time to break out the cake and bring on the sugar rush.
Reception Sneak out Photo Session | 20-30 Minutes
During the last dance set and after dessert is served is a great opportunity for the bride and groom to sneak out for their nighttime couples session. This is a very important time to schedule your wedding reception timeline with your photographer. This is when they will get the romantic nighttime shots that document the perfect end to your beautiful wedding day. Just make sure to come back for your last dance!
Keep the Party Going | 30-40 Minutes
After dessert has been enjoyed and the sugar rush begins to kick in, it's time to keep the dance party going! This last dance set will simultaneously coincide with your nighttime photo session on your wedding reception timeline. Have your DJ announce when he is playing the last song, so your guests know this is their last chance to get out there and dance before the party's end. Choose an upbeat, big hit that will get everyone out on the dance floor to shut the party down!
Grand Exit | 10-15 Minutes
After the last dance, have your DJ/MC usher everyone outside for you to make your grand exit to your getaway car. Then, it's honeymoon time, and we will leave that timeline up to you.
Make an exit as grand as your entrance. Have your guests see you off with sparklers, bubbles, rose petals, beach balls—or depart in a cool vintage car. The possibilities— and photo ops—are endless.
Here is a step by step guide to help plan the perfect wedding reception your guests will remember.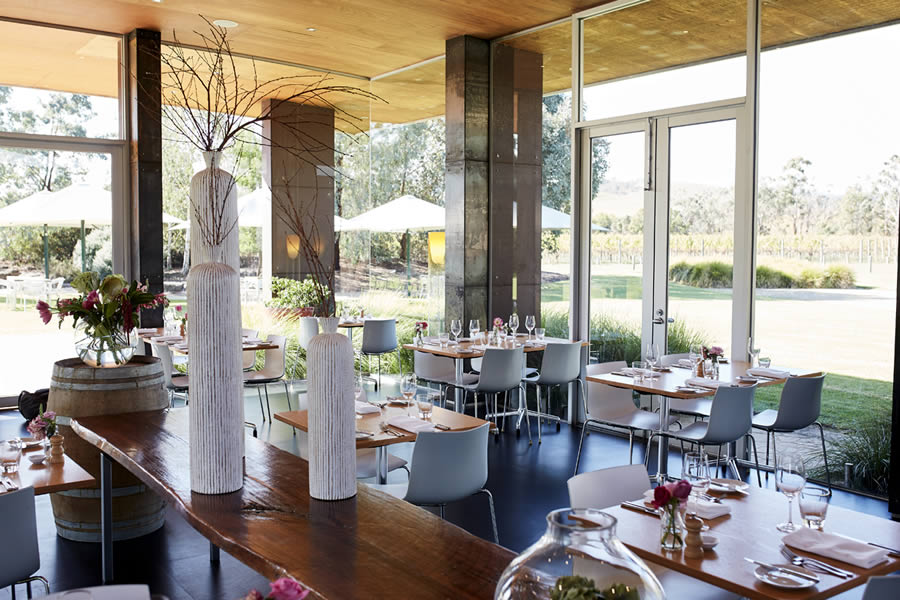 Set the wedding date before you actually start looking for locations for the reception
Depending on how far in advance you start looking for the perfect spot to celebrate your marriage, some venues may be booked up to a year (or more) in advance, so be ready to choose an alternate date or search for another location.
The time of year can significantly affect venues' availability, and generally, it's easier and sometimes less expensive to plan a winter wedding than during the peak season.

While Saturday is the most popular day to get married, consider a Sunday wedding, which could also save on your total budget.
Determining your reception budget
Once you set the date, you should also start thinking about your overall budget. Many venues carry a minimum, so be sure to ask this while you're looking at venue options. The reception site will also need an estimate of your guest number so that they can give you a better idea of the total cost.
Deciding on the key elements of your reception
Will you have an indoor or outdoor reception?

If you choose an outdoor celebration, be sure to have an alternate plan in case of rain.

What type of reception do you want to have?

While a sit-down dinner remains the most popular type of reception, other choices to consider are a cocktail reception, breakfast or brunch, a luncheon, or an afternoon tea. Here are some things to consider when choosing the type of reception.

Do you want to have a receiving line?

The good thing about a receiving line is that you can greet all your guests, and it allows them to congratulate you. However, it can be very time-consuming, and many couples today prefer to visit each table instead, which is a less formal alternative to this tradition.

If you choose to have a receiving line, the order should be the mother or parents of the bride, mother or parents of the groom, bride, groom, maid of honour, and bridesmaids.

Do you want to be officially announced as you enter the reception? This can be a fun way to start off the evening, and you can be introduced by the DJ or bandleader for the first time as a married couple. Sometimes the introductions include both sets of parents and the bridal party as well, and you can have them all line up on the dance floor to watch you in your first dance if you choose to go straight into that.

Do you plan to have toasts?

Toasts can be a wonderful moment for the couple and guests, but it's best to keep them short and sweet. Ideally, they should be made during or in between dinner courses and kept to two or three at a time.

Request that anyone giving a toast keep it relatively short and assign someone in your wedding party to keep an eye on the time.

The bride and groom can also say a few words of thanks just before they cut the cake.

When will dancing begin?

These days, dancing usually begins after dinner is finished, rather than doing dance sets in between courses. Other than your first dance, be sure to select some music that all guests will enjoy, providing a variety for all ages.

What types of photos would you like?

The reception is another opportunity for great photos, so think about any groupings that you might not get to earlier in the day, with some family and friends. You can also let your photographer know if there are any remarkably detailed shots you'd like from the reception space.

Are you considering a bouquet and garter toss?

This tradition can be fun and get your guests involved, but some couples choose to skip this part of the reception altogether.
Making seating arrangements
If you are having a sit-down dinner, sorting out the seating can be quite a task, so it's good to get an early start on this.
The bride and groom can either sit alone at a "sweetheart table", usually facing their guests, or they can join their bridal party at a larger table. However, some couples prefer to place the table amongst the guests for a more modern feel.

Parents will usually sit together with close family and friends at their respective tables.

Be sure to think about the elderly and their placement so that they are not too close to any speakers or in a location inconvenient for any other reason.

While place cards are the most formal way to arrange to seat, it may be a great option if you are concerned about placing people next to each other who might not get along, and it can be helpful to the guests as well. Otherwise, escort cards with just the name and table number are a common way to arrange to sit, and they can choose their own seat at that table.
Too many couples and their guests, food is one of the most important reception elements and something that everyone will remember for years to come.
Select the food:
Choosing a menu can be fun, and you can offer your guests something truly special, but remember to keep in mind that some guests might have dietary restrictions and discuss this with your caterer to find out options. It might be a good idea to find out from your guests in advance if they have any allergies or special requirements.

For a sit-down dinner, it is typical to have printed menus at the table.

It would help if you decided whether there will be a buffet or plated meals served at the table. There are also other alternatives, such as family-style or food stations, so discuss all these options with your caterer.