Due to the ongoing coronavirus pandemic, many engaged couples have made the difficult decision to postpone their weddings. It's distressing for those couples, as well as the couples still planning for their weddings later in the year. It can be hard to know how to proceed with planning in such uncertain times.
For obvious reasons, many aspects of wedding planning currently can't or shouldn't be done (venue walk-throughs and makeup trials, for example). However, many aspects of wedding planning now can and should be done. There are plenty of tasks that don't require in-person assistance. You don't have to lose out on all the planning fun just because you need to stay at home right now. Here are some wedding planning tasks you can do from home (or wherever you're currently quarantined).
It's no secret that couples worldwide have been spending much more time at home lately due to the COVID-19 crisis. While we hope you and your partner are enjoying lots of quality time together, game nights, and Netflix binges, we know you probably can't help but think about wedding planning tasks right now. It's not a bad idea—since you can officially plan your wedding "at work" without getting caught by your boss—but you didn't hear it from us! Looking for a Wedding Event Planner? Look no further, Vogue Ballroom have you covered.
If you're unsure of where to start, here are some wedding planning tasks you can tackle from home:
Build Your Wedding Website
With the masses moving online, now is a great time to build your wedding website. It's the central hub for all the information regarding your big day and will serve as a platform to share updates with your guests, even if your details may be up in the air.
Under typical circumstances, a wedding website is a handy tool. In the current situation, it's paramount. On top of being a hub of information with helpful tools—like a built-in registry and online RSVP function—it's also your platform for widespread updates and announcements.
Sending out mass texts or emails to reach each of your guests can add stress to an already taxing time. Creating or updating a wedding website, though, allows you to keep your guests informed all at once. There's also an announcement function specifically designed to support couples affected by the coronavirus.
To set up your wedding website alert:
Head to your wedding website.

Look for a box right at the top of the page.

Select one of our pre-written announcements and turn on "Show Announcement." It'll now be shown as a pop-up in red text at the top of your wedding page.
You can also update your website to show any change of plans, be it a new date, location, or simply, "we're still figuring things out!" Let your guests know that they can find the latest updates on your page and refer to it from here for more.
If you've yet to create a website, now is the time to do so! Chances are, if you've made your engagement or a wedding date public, you've been receiving countless questions from friends and family. Take this time to make a website with the information you do know to be on the same page. Bonus: Seeing your wedding website go live is sure to lift not only your spirits but everyone else's too.
Organize Your Pinterest Boards
Whether you've already shared a theme with your florist or you're still nailing down your vision, keeping your inspiration organized will ensure.
Create and Update Your Wedding Registry
We know you might not be able to go to a store right now (and even if you can, we don't recommend it), so take that registry shopping online! Your guests will also appreciate the convenience of online ordering and shipping. Plus, this is a fun project for both partners to work on together while dreaming of all the fun things to furnish their home, deck out their kitchen, and more!
Now that you've spent extended periods at home, you're likely more aware of the things you're missing. Tried to cook a recipe but didn't have a food processor? Add it! I wish you had a fluffy robe to curl up in? Tack it on! Use this as an opportunity to register for items you never knew you needed until now.
Strategize With Your Planner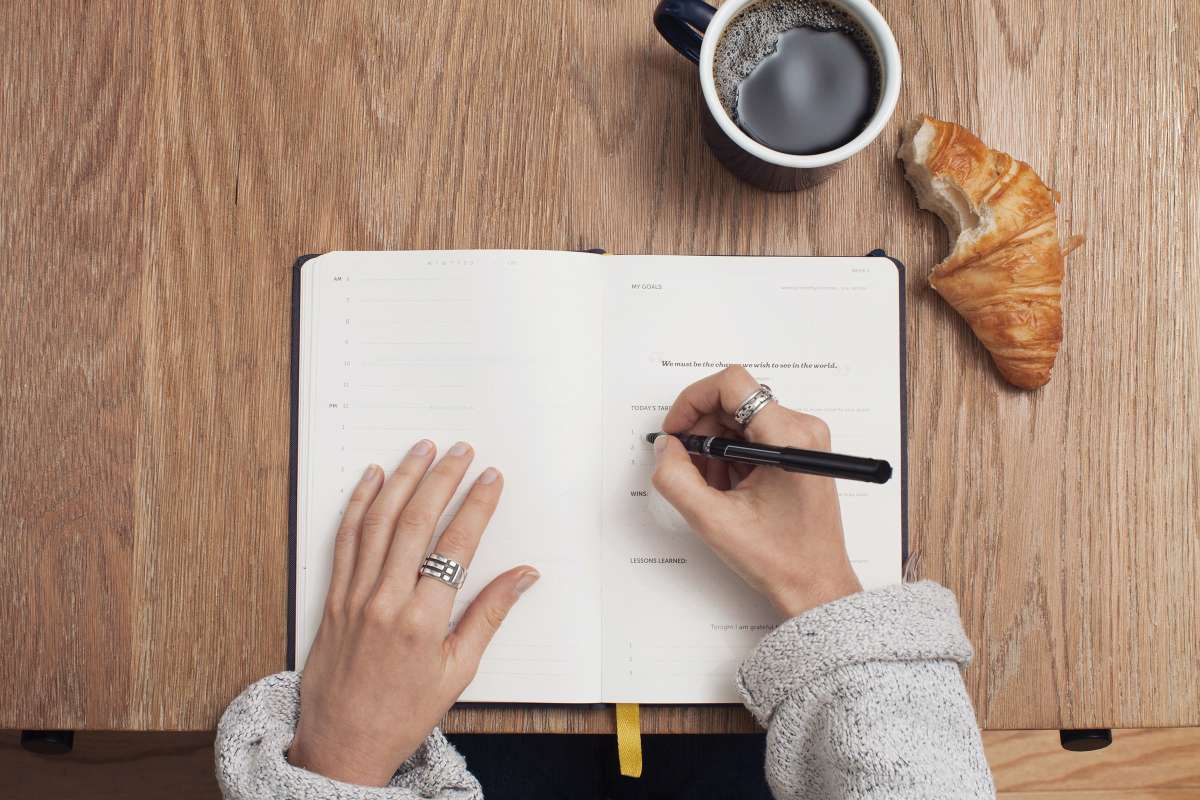 Huddle up with your wedding planner in a video conference to determine a new game plan and check in on them and let them know you appreciate them. Moral support is needed now more than ever, and knowing that you have a clear path forward will provide a sense of relief in these uncertain times.
Have a Menu Tasting
Believe it or not, many caterers will pack up your menu options (including your cake!) and deliver them to your house. If your catering team is adapting similarly to how many restaurants are by offering takeout and delivery, this could be an opportunity to check a critical task off your list.
Write Thank You Notes
Take some time to sit down and make a dent in your thank yous. As the engagement gifts pile up, staying on top of sending out, notes will alleviate some stress. You can also consider writing thank you notes to those who have sent well wishes and words of encouragement.
Practice Self-Care
This is arguably the most critical wedding task of all. Stick to a workout regimen or plan an at-home date night with your partner. Make sure to take care of your physical, mental, and emotional wellbeing above all else. And remember—we're all in this together.
Get Organized
Wedding planning is no easy feat! Most of you probably have felt like it's a part-time job at some point, and we think you. It might be the perfect time to take a step back and get everything organized with the extra time at home! Create a spreadsheet of all your vendors and their contact information, determine your goals, make a checklist—whatever will help keep you on track; now is the time to put those systems in place.
Research and contact vendors.
There are still plenty of ways to research and be in touch with various vendors. Generally speaking, any online research will, for the most part, stay the same. The only caveat to that is that you may encounter some vendors that you reach out to that are currently closed as they may not be considered an essential business, depending on location. For example, a caterer or a restaurant may be closed right now.
That said, you still have access to their websites and reviews—as well as Zola's Wedding Vendors database—and will most likely be able to get through to someone if you decide to contact them.
What should I ask for?
Once you contact them, you have a few options. You won't meet with them in person, but that doesn't mean you can't test out their services. Ask if potential caterers offer non-contact takeout or delivery so that you can taste test their food. Request demo reels and mixes from DJs, bands, and ceremony musicians. Set up FaceTime or phone meetings with any potential vendors so that you can discuss at length your vision and their services.
While researching vendors, don't forget to also look into officiants, bartenders, guest accommodations, transportation services, or any others that are relevant to your wedding day! A bit of research and an email or phone call can go a long way.
Practice Mindfulness and Connection
Extra time at home with your person means more time to connect. Use this time to talk about your wedding, relationship, dreams, and goals as a couple. Notice your love languages and how you're bonding during this time. When you're lying on the couch, how do you snuggle together? These are not only sweet little things to notice and appreciate during this time, but they'll help when it comes time to take wedding portraits or engagement photos!
DIY Something for Your Day
Even if you don't feel like the most "crafty" bride, there's always something you can DIY to add a little personal touch to your wedding decor! From signage to photo backdrops to tie-dye napkins, we know you and your person can get creative with do-it-yourself projects. 
There are even some online class sites that are offering special classes for free during the COVID-19 quarantine. Plus, we have tons of inspiration from our real rockstar brides! Too busy with life to really plan your wedding in detail? Have someone else do it for you and check out our list of Wedding Planners in Melbourne to help take the stress away.
Try a Makeup or Hair Tutorial
While you might not be planning on doing your hair and makeup on the big day, learning these skills can never hurt! Plus, it can be a ton of fun. Many wedding hair and makeup artists are offering virtual lessons and Instagram stories, and YouTube videos! Even if you don't execute on the big day, it could be your rehearsal dinner or engagement photo look!
Online Shop For Attire and Decor
We love a good online shopping spree. And if you're planning a wedding, you have lots to shop for! The Junebug team members are experts at finding the absolute best products—from wedding shoes to reception table decor—that you can shop for right from the comfort of home. Bonus: Send these links to your wedding party so they can join the hunt for decor, accessories, and dresses!
Narrow down what you want to wear.
Not being able to try on wedding dresses physically, tuxes or any other attire might be crushing your spirit a bit now. But now's the time to start thinking about what you want to wear and how you want to look at your wedding.
Dedicate time to hunkering down and looking through inspiration to find out what styles you want to try on once you're able to again. Pinterest, Instagram, magazines, and wedding websites are excellent sources and films and high profile weddings in history and pop culture. Save photos and notes on silhouettes, colours, and styles that you gravitate towards for future reference. And don't forget things like shoes and accessories!
Speaking of shoes now is an opportunity to order a pair (or four). Doing so now gives you more than enough time to have them shipped, try them on, compare styles, and exchange sizes if need be. It also provides you with the fun experience of actually trying things on.
If you want to go the extra mile, consider looking into what you want your wedding party to wear. As far as wedding style is concerned, your options are endless—and you'll want to look through a good amount of them before deciding.
Browse Through Wedding Dresses
While there's nothing quite as special as trying on wedding gowns in a salon, you can emulate that excitement at home. Retailers are making it easier for brides to discover dresses online, and perusing through styles digitally can help you hone in on what details and silhouettes you gravitate towards.
Work on Your Vows or Ceremony Readings
If you're feeling up for a more vigorous activity, working on your vows or ceremony readings might be the perfect way to spend a few hours of your time. This is usually one of the tasks couples wait for until the last minute to plan, so you'll be ahead of the game and can feel confident knowing you put a lot of thought into these essential aspects of your wedding!
Write Letters to Your Guests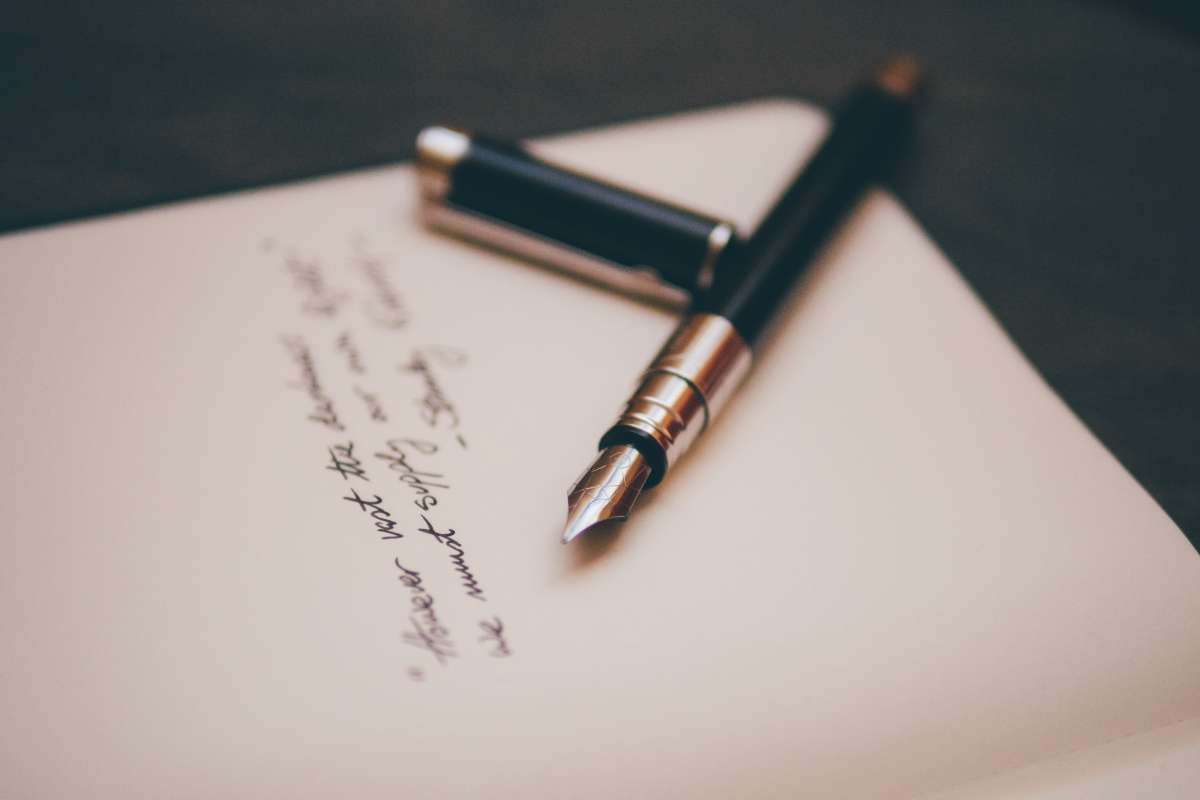 If you already have all your "essential" wedding planning done, now's the time to add some extra elements! We love when couples write letters to their guests to include in welcome bags or dinner place settings.
Practice Your First Dance (or Just Dance!) to Your First Dance Song
You and your partner may already be practising all the latest Tik Tok dances—and if you're not, we highly recommend it. Now is also the perfect time to practice your first dance together! Turn on that song and dance in your kitchen. Not only will it help you prepare for the big day, but it's a super sweet little activity to do together. You'll be surprised at how sentimental it might feel.
Take Virtual Dance Lessons
If you're quarantining with your partner, there's no better time to work on your dance skills. There are tons of online services that offer lessons with instructors in real-time. You can also recruit the help of friends or family members with smooth moves and make it a social activity.
Make a Reception Playlist full of Wedding Music.
Speaking of dancing, better get started on that reception playlist. It can take days, even weeks, to brainstorm all of the tunes you want your band or DJ to get to during the party. And don't forget about the "do not play" list, it's just as important!
If you're already dancing in the kitchen, why not just make it a full-on party and find the songs that will get your guests on the dance floor? Start a playlist on Apple Music or Spotify with your favourite songs to dance to. Your DJ will likely also ask you for a list of songs you don't want to play at the wedding, so it's helpful to add those to a list, as well!
Order and write thank you notes.
While this isn't precisely wedding planning, it's something you can get a jump on! If you've already had an engagement party, bachelor party, or wedding shower, you're in a pretty unique position where you can send out thank you cards.
Often, you have so much going on in the months leading up to your wedding that you don't have time to send out thank you notes or cards for these special celebrations. If you find yourself with a bit more time on your hands, take advantage and write or order some now.
Continue to plan with your wedding planner.
If you've chosen to work with a wedding planner, continue to chat with them and ask for their assistance when needed. Even—or especially—when you feel stuck or in a rut, schedule video chats or phone calls so that you can stay on track. They'll also be able to keep you up to date with any relevant information and advice they might have for you, which will undoubtedly be a big help and relief. Have any questions? Need some positive reassurance? Talk to your wedding planner.
Prioritize time together.
Last but not least, plan regular quality time with your significant other. We know you're likely spending all your time with your partner right now, but carving out real time to spend together beyond the day-to-day interactions can make a big difference.
Check out our ultimate list of Wedding Planners in Melbourne to help you organise a stress-free wedding.
Take time to decompress and be together. If you're living together, break out the board games, try out a new recipe, or have a classic, romantic candlelit dinner. Not living together or are currently separated? Watch a movie (hi, Netflix Party!), have dinners over FaceTime, or play an online game together. Whatever works for you—be sure to stick to it.