The wedding day will sneak up on you, and as you will come to find out… on the "Big Day", every minute matters! Running back home for a few forgotten toiletries, or swinging by the store for Tylenol, can reek havoc on your overall timeline. We always have several boxes packed and ready to go for the day of the wedding, but this list below can also help our "brides-to-be" avoid any number of emergencies!
When planning your own wedding, it is important to keep track of the many little bits and pieces. Even the best wedding planners can overlook a few items until the last moment, when it may be too late.
With that in mind, here is my guide to the ultimate list of things to buy for your wedding day.
Wedding-Day Accessories Checklist
There is no denying the morning of a wedding can be a bit hectic for the bride. There is so much to do and think about, little things can get missed. And a bride will discover how those little things can make the day easier and more pleasurable. We have compiled the ultimate list of Wedding Jewellery in Melbourne to help you choose the perfect accessories.
Here are the things you'll need on your bridal accessories list, along with some options you can buy right now!
Wedding Shoes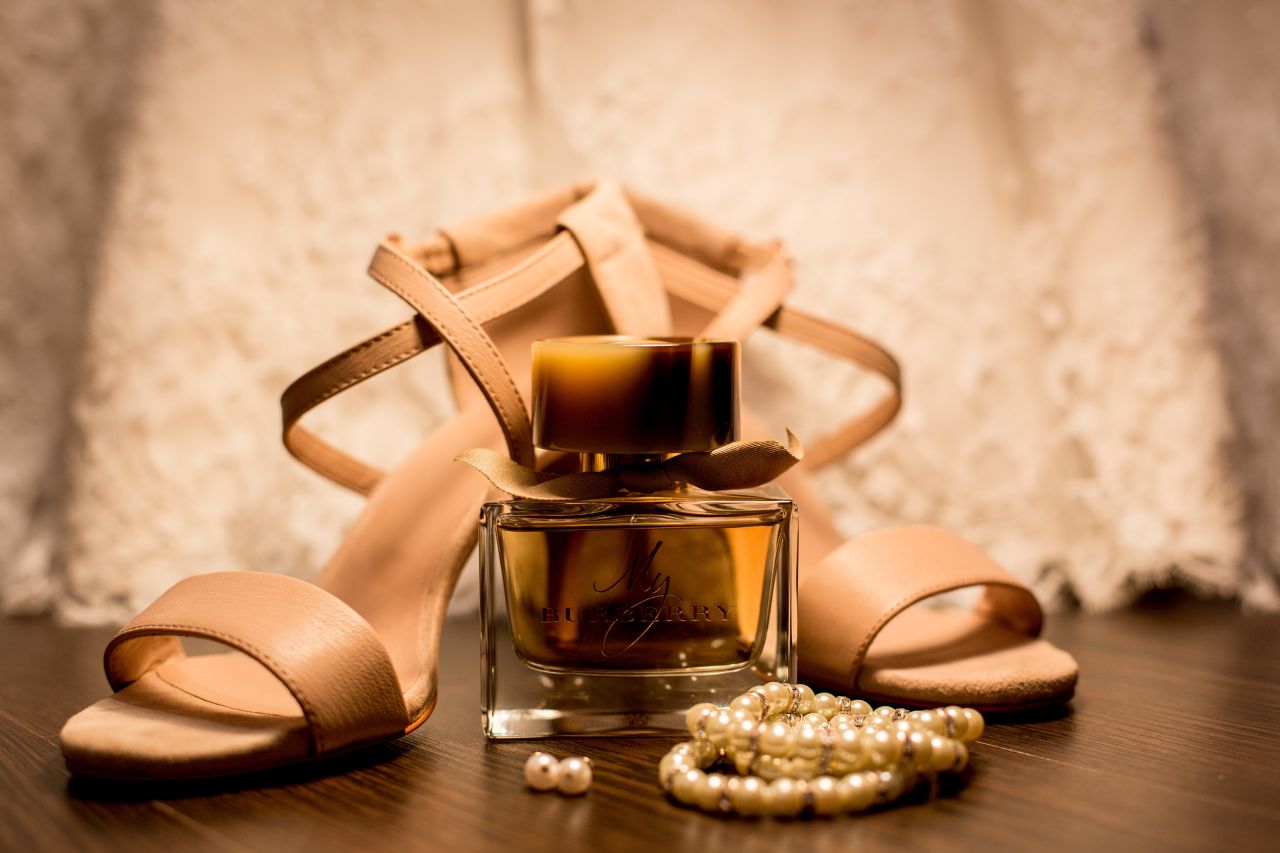 Shoes are one of the most important wedding accessories for the bride. Whether you want sky-high heels or comfy flats, you'll need to select your wedding shoes before your first dress fitting so that your gown can be hemmed perfectly. When choosing your wedding shoes, consider your comfort, of course, but also your wedding venue and style. For example, if you'll be outdoors on grass or in the sand for most of your wedding day, stiletto heels likely won't be comfortable or appropriate—stick with wedges, sandals, or flats instead.
Bridal Jewellery
​Just like your bridal veil and hair accessories, bridal jewellery should be chosen long before the wedding day!
Knowing what goes best with your dress is worthy of a whole other post. Some gowns with a high neckline might only call for chandelier earrings, whereas a sweetheart neckline looks stunning sans earrings, but rather a chunky necklace.
Pieces of jewellery are the most important thing that you can never forget. With such a hard day wearing heavy jewellery on you can make you tired. So, take light jewellery with you when you don't want to wear heavy ones.
Hair Accessories
It is essential to take care of your hair on your wedding day. So, take a small bag that contains hair clips, pins, hair bands, hairbrush, jewellery combs, hair brooches, flowers. You can take hair spray, hair gel, baby oil, ironing machine, etc like things as well. Also, if you think that you might need any other basic needs, you can add them in between.
You have a lot of options when it comes to how you should wear your hair—up, down, or in between. You'll also need to decide if you'll wear any hair accessories. Of course, there's the traditional veil. There are many veil options to choose from, from a super-long cathedral-length veil to a mid-length fingertip veil or a short birdcage veil or blusher. Remember, though—you don't have to wear a veil to look or feel bridal.
If you choose to go sans veil, there are lots of other options to choose from. It's all about figuring out what will look best with your dress and compliment your wedding day's feel. Flowers make a natural hair accessory, whether you choose a single blossom or a boho-chic flower crown.
You can wear fresh flowers in your hair (ask your florist for help with this!) or if you're worried about the blooms wilting, opt for fake flower accessories. There are also more glam hair accessories, like crystal headbands, hairpins, tiaras, clips, combs, barrettes, or bun wraps. And for a vintage touch, opt for a fascinator or even a hairstyle with feathers! Looking for the best Wedding Stylist in Melbourne? Look no further, Vogue Ballroom has you covered.
Brides getting married in a classic setting, like a house of worship, may opt for an elegant long veil to complement their wedding-day look. The most traditional bridal accessories, veils come in a variety of lengths. This simple-yet-stunning (and affordable!) chapel-length veil will go with a variety of different dress styles.
Bridal Lingerie
Proper lingerie themed bridal shower, or bachelorette party is a great way to receive some lovely lingerie pieces. Otherwise, don't forget to buy a piece of lingerie (online or in-store) for you and your special somebody. Check out this best lingerie shop!
Undergarments
Undergarments are another essential wedding accessory for the bride. Once you've selected your wedding gown, talk to your bridal salon about the undergarments they think would look best with your gown—and if any support can be built-in. You may need to purchase shapewear, a specific type of bra, or seamless underwear to ensure your gown looks picture-perfect and your undergarments stay invisible. It's a good idea to bring your wedding undergarments to your first dress fitting to ensure everything looks right.
A strapless bra might work for a night on the town, but for your wedding day, it's best to wear more structured underpinnings if your dress calls for them. This strapless underwire bustier features comfortable boning so that you won't spend your reception constantly pulling up your bra.
Garter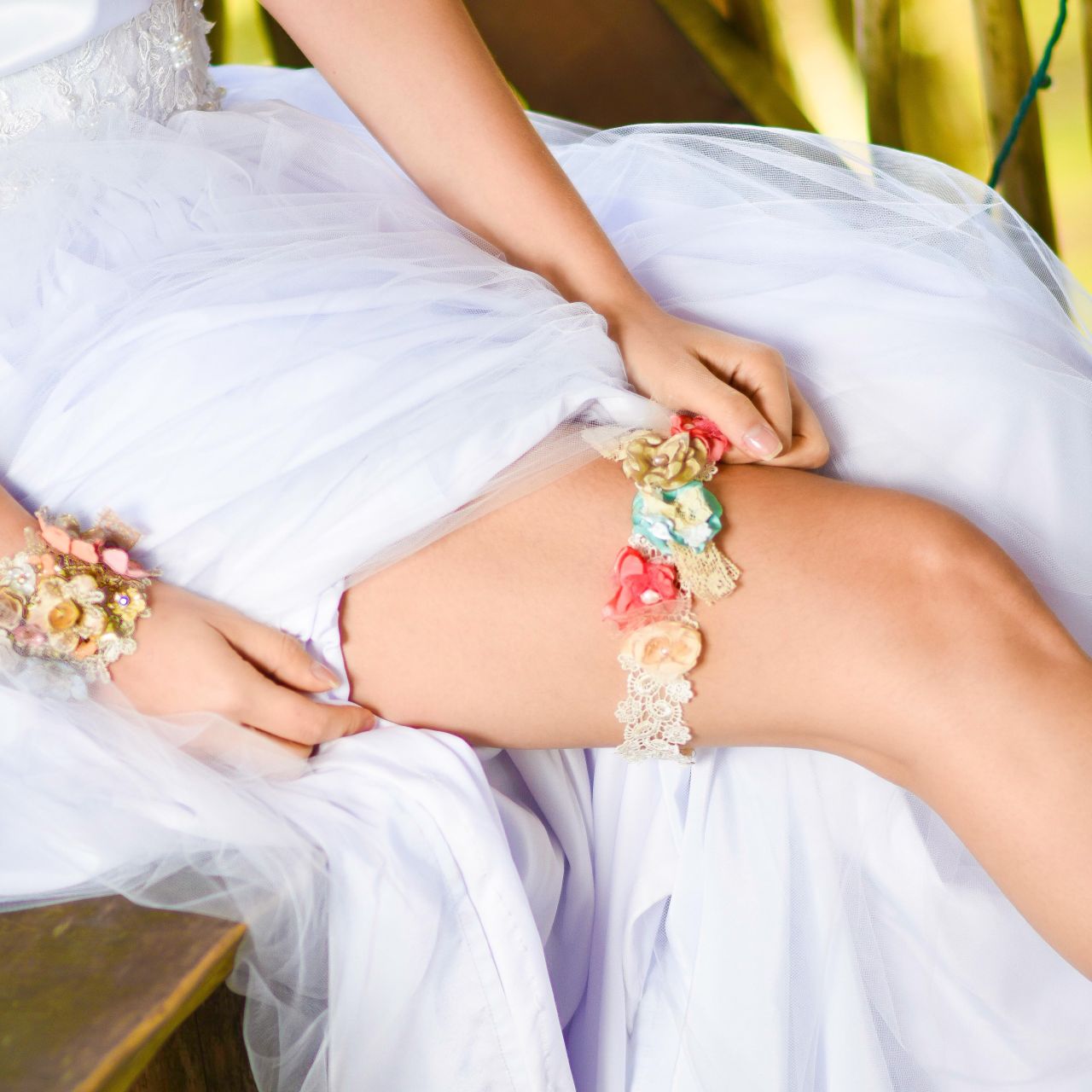 Whether or not you're planning on having a garter toss as part of your reception, you may wish to include a garter as one of your bridal accessories for tradition's sake and to have a keepsake from your big day. It can be a nice way to incorporate a family heirloom as your "something old" or to add a splash of colour to your look as a "something blue." You can also have some fun with your garter by having it decorated with a favourite sports team's logo, your wedding colours, or a pattern you love.
Jacket or Wrap
There are a few reasons why you may want to include a shawl, jacket, wrap, or other form of outerwear on your bridal accessories list. The most obvious will be if you're marrying in the chillier months but still want to take photos outdoors. A (faux) fur wrap or stole would do the trick and give your look a vintage-inspired touch. Or, if you're looking for a more casual look, we've seen brides don everything from plaid flannel shirts to denim jackets to bright cotton cardigans over their gowns for great photo-ops. Or perhaps you're wearing a strapless gown and would like a bit more coverage for your ceremony, particularly if you're marrying in a house of worship. You might look for a bolero or shawl to match your gown.
Gloves
For a very traditional, vintage-inspired look, some brides choose to accessorise with gloves. Bridal gloves come in various lengths and styles, from wrist-length to over-the-elbow, in fabrics such as lace, satin, and crochet. Just note that if you are wearing gloves for your ceremony, you'll have to remove them during the ring exchange.
For a vintage-meets-modern bridal accessory, these fingerless lace gloves are so unique. Fingerless gloves are a great option to wear during the ceremony since you don't have to remove them during the ring exchange.
Sash
If you're wearing a relatively unadorned gown without much beading or embroidery, you may want to jazz up your bridal look with a sash. Not only do sashes flatter the figure by emphasising your waist, but they also can help infuse your own personal style into your wedding day. There are lots to choose from crystal-adorned glam sashes to nature-inspired sashes featuring fabric flowers and leaves.
Wedding dresses featuring lots of beading tend to be expensive. If you're into that sparkly look but don't want to blow your budget, adding a crystal sash to your bridal look is a great option. We love the Grecian, ethereal vibes of this crystal belt.
Purse
Last on our wedding-day accessories checklist is the purse. You probably won't want to carry a purse during your wedding—you'll likely be carrying your bouquet for much of the day, and you may end up misplacing it. However, if there are certain items that you'd like with you during the reception—makeup for a touch-up, breath mints, or tissues—you can certainly put them in a purse or clutch and enlist a bridesmaid or close friend or family member to keep it safe for you.
Snacks
Before you pack anything else, make sure you've got some protein-rich snacks that will keep hunger at bay and give you some much-needed energy before you walk down the aisle. Nuts, muesli bars or decadent raw choccies are all great options, they're filling and healthy, but not messy!
Undoubtedly, you're going to struggle all day long, affecting your hunger very badly on your hunger. So, the most important thing for the foodie brides will be a snack bag. All you need is a water bottle, energy drinks, straw, or chips packet. They will help you to keep hydrated and energetic all day long.
Documents Folder
When going to your husband's home and want to work there, take your documents with you, like basic documents for work purposes and others like passport, tickets, visa, etc.
Bridal Emergency Kit
A bridal emergency kit is likely not high on your bridal buy radar. Instead, it's a safety precaution in case something unexpected happens on your wedding day.
For example, a button can fall off last minute, you forgot to brush your teeth after rushing out the door into the waiting limo, or perhaps your wedding dress turns out to be a lot hotter than you thought, and you would love to add a little extra deodorant.
A Bridal Emergency Kit will come in handy for just those moments.
This list refers to a mix and match of a customised wedding emergency kit that's perfectly tailored to your needs. Whatever extras you add in, be sure to include these important items, as these are major wedding-day must-haves that no wedding survival kit should be without.
Sewing Kit
A sewing kit could just save the day in a fashion emergency from a loose thread to a popped button.
Look for a miniature sewing kit with needles, mini scissors, extra buttons, and thread in basic colours. The scissors will come in handy if you need to snip any loose threads or cut off clothing tags. We also recommend taking the extra step to track down a bit of thread that matches your wedding dress, just in case you need to stitch any loose beads or appliques back in place quickly.
Safety Pins
Another must-have to add to your bridal emergency kit is safety pins. Our pro tip is to buy a pack that comes in assorted sizes. Use the mini-size pins to quickly fix a small tear in a bridesmaid's dress (pin it on the underside of the fabric). Medium-size pins are great for reattaching a broken bra or dress strap. And if the wedding florist accidentally forgot to include boutonniere pins, you can save the day by using a large safety pin to secure the boutonniere to the groom's lapel. One other clutch use for safety pins is sorting out the bride's bustle. Many wedding dress trains involve an elaborate bustle that needs to be secured in place after the ceremony (so you can dance with ease!). Let your maid of honour (or whoever else is helping your affix the bustle) know that if they're desperate, they can always safety-pin the skirt in place.
Anti-Blister Balm
Chances are many of the ladies in your wedding party are donning brand-spanking-new shoes for your big day, which also means they probably haven't had enough time to break them incorrectly. Save their soles with this anti-chafing balm. Swipe it on your heels and toes before the wedding ceremony so everyone can dance the night away, blister-free.
Extra Earrings
You might not think backup earrings are necessary, especially if you've selected a special pair for your big day. But a smaller, more comfortable setting can actually be a major lifesaver, especially if your original earrings are heavy on your earlobes. Backups will also come in handy if an earring breaks or gets lost during the day's events. You can never have too many earring backs either—throw a handful of extras in your tote for yourself and your bridesmaids.
Stain Remover Pen
Spills are bound to happen, and if something accidentally gets on your wedding dress, you'll be relieved that you packed this mighty little stain-removing pen. First, carefully blot the stain with a clean cloth. Be gentle, as you don't want to press too hard on the delicate dress fabric. Once it feels dry, spot-treat the area with this stain-remover pen. If you still need to camouflage the spot, try dabbing baking soda, baby powder, or white chalk onto the fabric. It's also a great idea to leave a few of these pens inside the wedding venue's restrooms, just if any guests need to also get a stain out stat. Create a little bathroom amenity kit for guests that includes a stain stick, bobby pins, pain reliever packets, mints, and tissues.
Lint Roller
Make sure everyone in the wedding party is looking sharp and fuzz-free by giving each person a quick lint check before it's time to walk down the aisle.
Airspray
Stash a travel-size can of hairspray in your emergency kit for any last-minute updo touch-ups after the hairstylist leaves. Did you know hairspray can also double as static-cling remover in a pinch? Spritz a little on your hands and rub your skirt to reduce static.
Pain Reliever
Pack a small bottle of pain reliever meds just in case you or anyone else in the wedding party comes down with a headache or has a hangover from the rehearsal dinner the night before.
Blotting Papers
Even if you've gotten your makeup professionally done, the shine can still happen, especially if you're tying the knot on a warm day! Keep your makeup in check by blotting any shiny spots with facial blotting papers. Try to resist the urge to use a tissue as you might mess up your makeup. Ask a bridesmaid to be on "shine duty" throughout the day and give a signal if you're due for a touch-up. Keep these blotting papers close so you can stay camera-ready.
A Medication Bag
If not, but for emergency purposes, you need a medication bag. Although your husband will take care of everything but in case of emergency, take them handy. Pills included
Headache pills
Body pain pills
For cold
Energy pill
Being prepared can save you a lot of stressing and unnecessary running around on the day of your wedding.
Once you are prepared, it will be easy to sit back and enjoy your special day… because you know that you are prepared for any surprise that might pop up along the way.
While you certainly don't want to expect any emergencies on your wedding day, it's always better to be safe than sorry. To prepare for small beauty blunders or fashion mishaps, have these things on hand on your wedding day.
This is an essential wedding planning task that shouldn't be forgotten. Vogue Ballroom has proven itself to be an iconic wedding venue and function centre in Melbourne. Book today so you don't miss out.