Soon enough, it will be time to start making preparations for the wedding, and as you will soon learn, every minute counts on the "Big Day." Your schedule may get all thrown off if you have to return home to grab some forgotten toiletries or stop by the drug shop to pick up some Tylenol. While we do have a number of boxes prepared for the wedding day, the following list can help our "brides-to-be" prevent a variety of potential mishaps. It is crucial to keep track of all the minute details when organising your own wedding. No matter how meticulously they plan, also the best wedding organisers are bound to forget something crucial until it's almost too late. Keeping that in mind, that compiled the complete wedding shopping checklist for your perusal and edification.
Checklist of Wedding-Day Accessories
There's no doubt that the bride has a lot on her mind the morning before the wedding. With all that needs to be done and considered, it's easy to overlook the tiniest of details. A bride will learn how those details add up to make the big day run smoothly and enjoyable. Listed here are the components of a complete bridal accessory set, as well as some readily available alternatives.
Wedding Shoes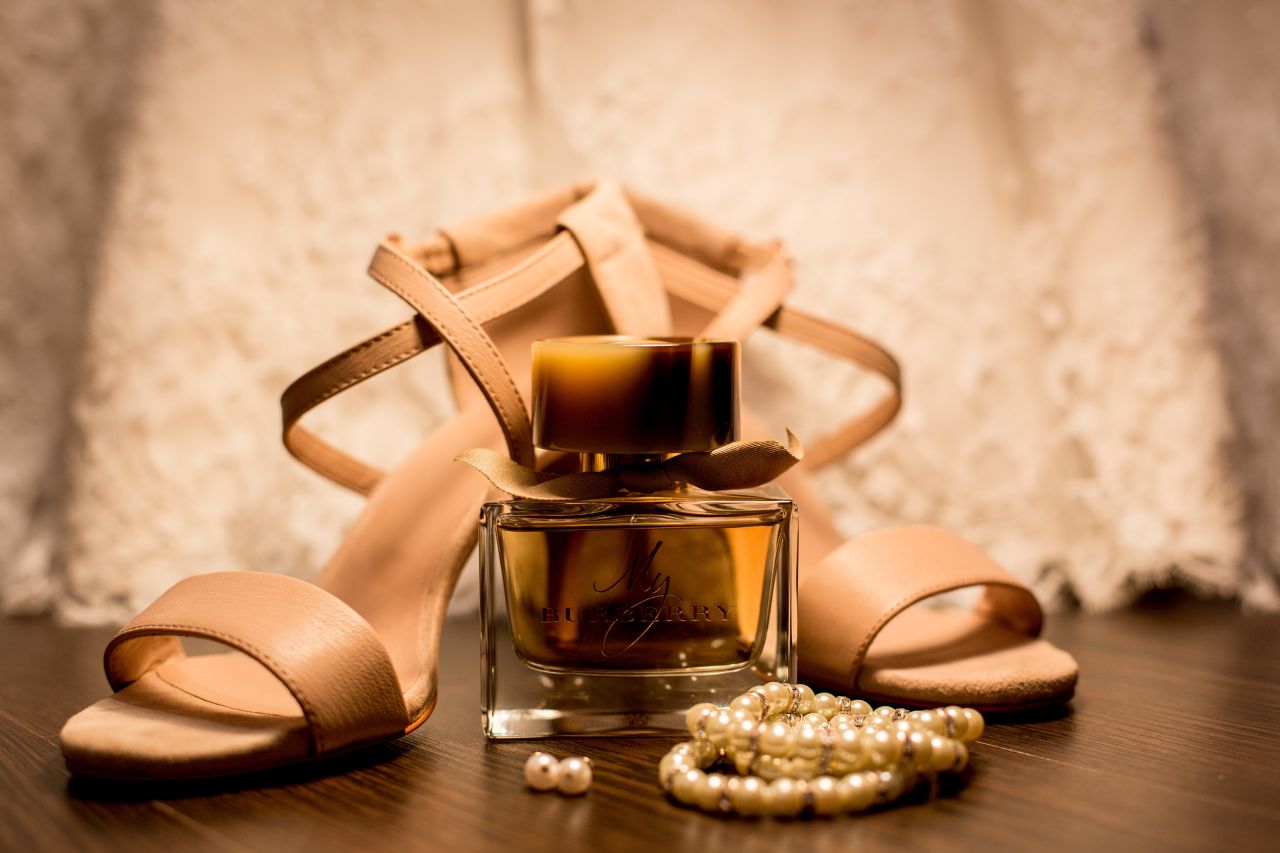 The bride's shoes are a major focal point at the wedding. You should choose your wedding shoes, whether you desire comfortable flats or sky-high heels, before your initial dress fitting so that your gown can be hemmed to perfection. Think about your wedding site and your personal style while making your wedding shoe selection. Wearing stiletto heels to a wedding where guests will be standing on sand or grass is probably not a good idea. Flats, sandals, wedges are better options in this case.
Bridal Jewellery
Bridal jewellery, like the veil and hairpieces, should be picked out well in advance of the big day. How to best accessorise your dress is a topic for another thread. You can't go wrong with a pair of chandelier earrings when you're wearing a dress with a high neckline, but a sweetheart neckline looks even better when accessorised with a big necklace. Jewellery is the one thing that will always be remembered. Wearing a lot of jewellery after a long day of work can be taxing on your body. If you don't feel like lugging around heavy jewellery, pack some lighter pieces instead.
Hair Accessories
If you want your hair to look its best on your wedding day, you need to put in little extra effort. Gather together some hair accessories, such as bobby pins, hair bands, a hairbrush, a jewellery comb, some hair brooches, and some flowers, and place them in a little bag. You may also bring similar items, such as hairspray, hair gel, baby oil, an ironing machine, etc. You can add any extra necessities you anticipate needing in between the ones listed.
You can wear your hair in a variety of ways, from up to down to anywhere in the middle. Whether or not you will use hair accessories is another consideration. There's also the classic head covering, or veil. A cathedral-length veil can be as long as a bride wants it to be, while a fingertip veil can be worn at the elbow, and a birdcage veil or blusher can be worn at the face. But keep in mind that you can still look and feel beautiful without a veil. You can choose from a wide variety of alternatives if you don't want to wear a veil. It's all about finding the perfect accessories to complement your wedding dress and vibe. Whether you go for a single bloom or a full flower crown, flowers are a beautiful and effortless way to accessorise your hair.
You can ask your florist for advice on how to style fresh flowers in your hair. Alternatively, if you are concerned about the flowers withering, you might use artificial flower accents. Some hair ornaments are more elaborate than others; they include crystal headbands, hairpins, tiaras, clips, combs, barrettes, and wraps for buns. Wearing a fascinator or incorporating feathers into your hairstyle is also a great way to add that extra bit of glamour. Looking for the best Wedding Stylist in Melbourne? Look no further, Vogue Ballroom has you covered.
Those who are getting married in a more traditional venue, such as a church, may want to consider a long, flowing veil. Veils, the most conventional of bridal accessories, can be found in a number of different lengths. This elegant and reasonably priced chapel-length veil complements a wide range of gown silhouettes and colours.
Bridal Lingerie
The best way to acquire some lovely lingerie is at a bridal shower or bachelorette party with a lingerie theme. In any case, treat yourself and your significant other to some new lingerie by shopping for it either online or in a local store.
Undergarments
The bride must also have her undergarments in order to get married. If you require built-in support for your wedding dress, ask your beauty salon about it after you've tried on a few different styles. For the right silhouette and undetectable undergarments, you may need to invest in shapewear, a specialised bra style, or seamless underwear. It's recommended that you wear your wedding garments to your initial dress fitting to guarantee a proper fit.
While a strapless bra could be OK for a night out on the town, it is not appropriate under a wedding dress. You won't want to spend the whole reception tugging at your bra, and neither will she if you wear this strapless, underwire bustier.
Sash
The addition of a sash is a great way to add some flair to a wedding dress that doesn't have a lot of embellishment elsewhere, such as beads or embroidery. Sashes are an easy way to add a touch of your own unique style to your wedding day, and they assist to accentuate your waist, which is an area that is often overlooked but can do wonders for your confidence and overall appearance. Crystal-studded glitz sashes and sashes with fabric flowers and leaves from nature are just two of the many options available.
Beaded wedding gowns are typically more expensive. Adding a crystal sash to your bridal ensemble is a terrific way to obtain that shimmer without breaking the bank. This crystal belt has a wonderful, Greek-inspired air to it.
Garter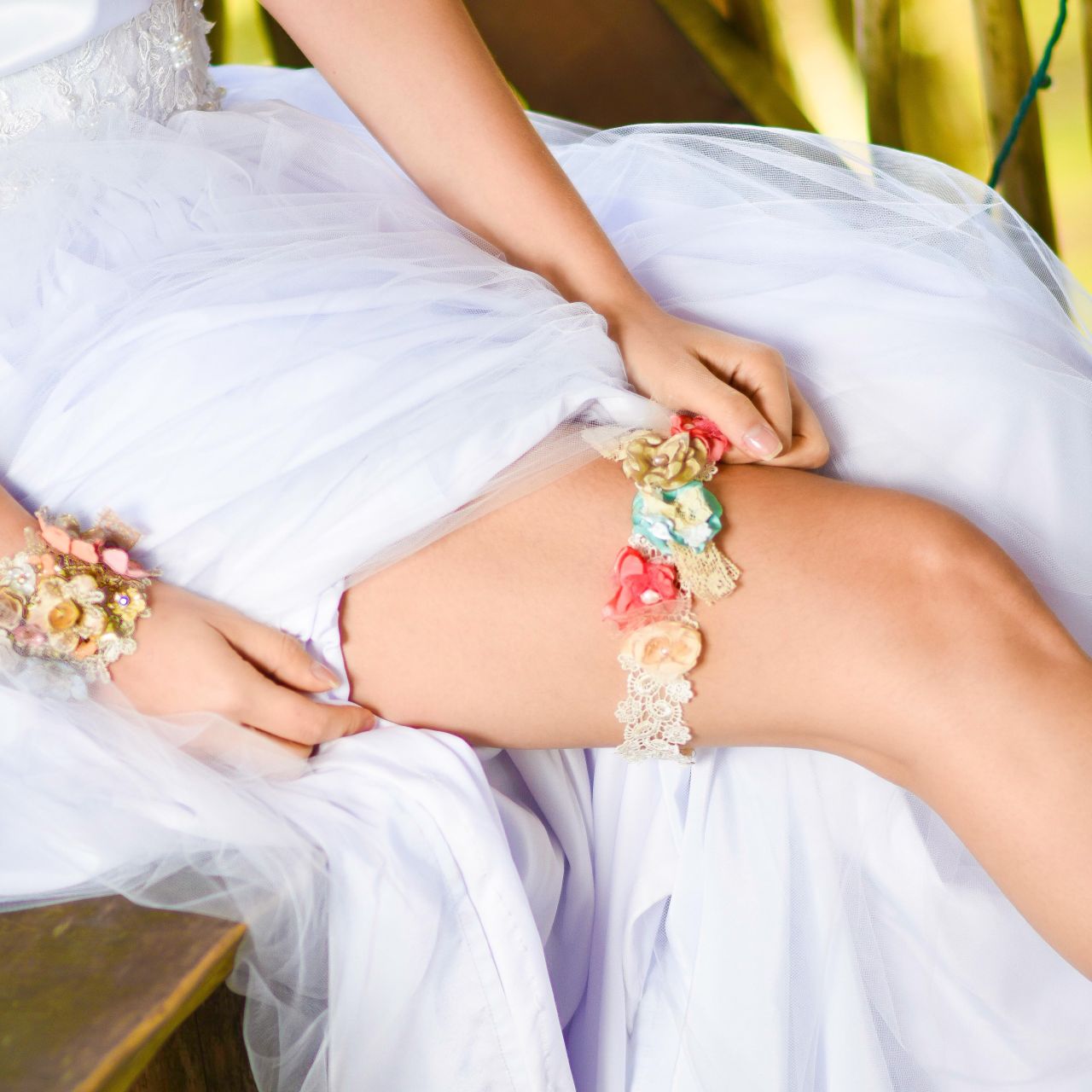 To stick with tradition and to have a memento of your wedding day, you may want to wear a garter as part of your bridal accessories. It's a sweet gesture to include a cherished relic as your "something old" or a pop of colour as your "something blue." Your garter can also be a fun accessory by being adorned with the logo of your favourite sports team, your wedding colours, or a pattern you adore.
Jacket or Wrap
A jacket, A shawl, wrap, or other item of outerwear can be a useful addition to your bridal accessories for a number of reasons. The most glaring example is if you plan on having your wedding during the cold months but still want to have your photos taken outside. A (fake) stole or fur wrap can do the trick and add a touch of retro chic to your outfit. We've also seen brides rock plaid flannel shirts, denim jackets, and colourful cotton cardigans over their gowns for informal photo opportunities. Or maybe you're getting married in a church and, despite wearing a strapless gown, you'd like a little extra modesty for the occasion. The bolero or shawl you find to go with your dress could be the cherry on top.
Gloves
Gloves are a retro accessory that some brides opt for. The length of bridal gloves varies widely, from the wrist to the elbow, and they can be crafted from many different fabrics like satin, lace, and crochet. Please remove any gloves you may have been wearing before the ring exchange.
These fingerless lace gloves are a one-of-a-kind addition to a wedding outfit, straddling the line between classic and contemporary. You can keep your gloves on during the ring exchange by choosing to wear fingerless gloves.
Purse
The purse is the last item on our list of must-haves for the big day. Given that you'll be holding your bouquet for the better part of the ceremony and reception, you won't want to risk losing your valuables in a purse. You can ask a bridesmaid or trusted friend or family member to watch over your pocketbook or clutch if you want to keep any essentials like touch-up makeup, breath mints, or tissues with you at the reception.
Snacks
Be sure to pack some protein-rich snacks beforehand to stave off hunger and refuel before your big day. Filling and nutritious, but not messy, options include nuts, muesli bars, and indulgent raw chocolates.
Without a doubt, you will have a tough time all day long, which will have a devastating effect on your hunger. It stands to reason, then, that a snack bag will be high on the list of must-haves for any gourmet brides. It's sufficient to bring your own water bottle, energy drink, straw, or bag of chips. They will aid in maintaining your fluid and energy levels throughout the day.
Documents Folder
Take all of your necessary paperwork with you when you go to your husband's house to work there, including the most fundamental ones for job purposes as well as additional documents such as your passport, tickets, visa, and so on.
Bridal Emergency Kit
You probably aren't prioritising the purchase of a bridal emergency kit. It's actually a precaution in case of an emergency on the big day. It's likely that a bridal emergency pack isn't at the top of your list of must-haves for your wedding. Instead, it serves as a safety measure in the event that something unanticipated occurs on the day of your wedding. For times like these, a "Bridal Emergency Kit" is essential. The items on this list can be combined in a variety of ways to create an emergency wedding kit that is just right for you. These are the absolute necessities for your wedding day, and you can personalise the rest as you see fit.
Sewing Kit
In the event of a wardrobe mishap, such as a frayed thread or a broken button, a sewing kit may come in handy. Seek out a tiny sewing set containing the essentials like extra buttons, tiny scissors, needles, and some basic colours of thread. If you have any loose threads or tags that need to be removed from garments, the scissors will come in helpful. In case you need to hastily sew any strayappliques or beads back into place, it's a good idea to go the extra mile and locate a piece of thread that fits your wedding dress.
Safety Pins
Safety pins are an absolute necessity for any bride's emergency kit. One of our best pieces of advice is to choose a pack with a variety of sizes. Small tears in the bridesmaid's dress can be easily repaired with the help of the miniature pins (attach it to the fabric's reverse side using pins). It's easy to fix a dress strap or broken bra with a medium-sized pin. Furthermore, a large safety pin can be used to fasten the boutonniere to the groom's lapel in the event that the wedding florist failed to provide pins for the boutonnieres.
Another critical application for safety pins is arranging the bride's bustle. In order to dance freely after the ceremony, the complex bustle on many wedding dresses must be fastened. Be sure to tell your maid of honour (or anybody else is helping you) that safety pins can be used in a pinch to keep the skirt in place if the bustle doesn't stay put.
Balm to Prevent Blisters
Many of the women in your bridal party are probably wearing brand-new shoes to your wedding and haven't had the chance to break them in properly. This chafing balm will save their feet from discomfort. Use it to prevent blisters from forming on your feet before the reception begins.
Extra Earrings
If you've picked out a really nice pair of earrings for your big day, you might not feel the need to bring a spare pair. But if your original earrings are too hefty for your earlobes, a smaller, more pleasant setting can be a lifesaver. If one earring is broken or lost over the day's activities, having a spare on hand will come in helpful. You and your bridesmaids can never have too many earring backs, so be sure to pack a few extra pairs.
Remover Pen for Stains
Things will inevitably spill, and if they do, you'll be glad you brought along this handy stain-removing pen. In the first step, dab the stain gently with a clean cloth. The fabric of the dress is quite fragile, so please hanle it with care. After the affected area has dried to the touch, use the stain remover pen to treat the stain directly. Baking soda, Baby powder, or white chalk can be dabbed into the fabric to help conceal the stain if further cover-up is required. It's also a good idea to leave some of these pens in the lavatories at the reception site, in case any of your guests needs to quickly remove a stain. Construct a handy bathroom amenity kit stocked with a tissues, bobby pins, stain stick, mints, and pain reliever packets for your visitors.
Lint Roller
Before the big walk down the aisle, conduct a quick lint check on each member of the bridal party to make sure they're looking their best.
Airspray
If you need to make any last-minute adjustments to your updo after your hairdresser leaves, a travel-size can of hairspray will come in handy. Hairspray can also be used to eliminate static cling in an emergency; who knew? Put some on your hands, and then rub your skirt to eliminate static.
Pain Reliever
Be prepared for the possibility that you or a member of the wedding party could experience discomfort due to a headache or a hangover from the night before's rehearsal dinner by bringing along a small bottle of pain reliever medications.
Blotting Papers
Shine can occur even with expert makeup application, especially if the weather is warm and the ceremony is outdoors. Makeup can get glossy quickly, so use facial blotting sheets to control the shine. Don't reach for a tissue, as doing so could smudge your makeup. Engage a bridesmaid in "shine duty" for the duration of the event, and signal when you need a touchup. Always be camera-ready with the help of these blotting sheets.
A Medication Bag
If not, at least have an emergency supply of your medications on hand. Even though your husband will handle everything, it's still a good idea to have them on hand just in case. No cost for the pills
Headache pills 

Body pain pills 

For cold 

Energy pill 
By planning ahead, you can avoid wasting time and energy rushing around on your wedding day. When you're ready, you can relax and take it easy on your big day, secure in the knowledge that you've thought of everything and are ready for anything.
Of course, you hope that nothing goes wrong on your wedding day, but it's better to be safe than sorry. Make sure you have these items on hand on your wedding day in case of any last-minute cosmetic or wardrobe emergencies. This is an essential wedding planning task that shouldn't be forgotten. Vogue Ballroom has proven itself to be an iconic wedding venue and function centre in Melbourne. Book today so you don't miss out.
Conclusion
"Brides-to-be" can avoid embarrassing blunders by using a wedding day checklist. The only item that will last forever is jewellery. If your wedding guests will be standing on the sand or grass, it's probably not a smart idea to wear stiletto heels. Your hairstyle options range from completely up to completely down, and anywhere in between. Finding the right accessories to go with your wedding outfit and overall atmosphere is essential.
Flowers are a lovely and simple hair accessory option. The wedding cannot take place unless the bride has proper lingerie. Shapewear or a specialised bra style may be necessary to achieve the desired silhouette while being inconspicuous under clothing. Sashes are a simple and elegant way to make your wedding day more personal. Wraps and jackets are great additions to your bridal accessories.
Snacks are an absolute necessity for the gourmet bride's wedding. Don't put your valuables at risk by carrying them in a purse. Every bridesmaid and groomsman should have a "Bridal Emergency Kit." You can customise your own emergency wedding kit from the things on this list. These items are must-haves for the big day, while the rest can be customised to your liking.
The bride's bustle can't be properly adjusted without the use of safety pins. Having a backup set of earrings on hand can rescue the day if you ever lose or break your go-to pair. Prepare for any sudden beauty needs by keeping these things on hand. If you put in the time and effort in advance, your big day will go off without a hitch. The Vogue Ballroom has become well-known as a top-tier Melbourne wedding and event space.
Content Summary
Every second matters in the lead-up to the "Big Day," so it won't be long until it's time to start planning the wedding.

When planning your own wedding, it is essential to pay attention to every last detail.

That's why we've provided you with access to the whole wedding buying checklist.

A List of Things to Bring on the Big Day

The morning of the wedding, the bride undoubtedly has a lot on her mind.

The following details a whole bridal accessories set, along with several options to consider.

Sneakers for the Wedding

A lot of attention is paid to the shoes the bride wears down the aisle.

When deciding on a pair of wedding shoes, keep the ceremony location and your own sense of style in mind.

The ideal way to accessorise your outfit can be discussed in another discussion.

There is some extra work involved in getting your hair ready for your wedding day.

Compile a small bag with a variety of hair ornaments, such as clips, bands, a comb, flowers, and pins.

Your hairstyle options range from completely up to completely down, and anywhere in between.

Accessories for your hair are something else to think about.

If you don't want to cover your head with a veil, there are many other options available to you.

Finding the right accessories to go with your wedding outfit and overall atmosphere is essential.

If you want to know how to wear fresh flowers in your hair, ask your local florist for some pointers.

Attending a bridal shower or bachelorette party with a lingerie theme is the greatest place to get some beautiful lingerie.

Get some new lingerie for you and your significant other, whether you do it online or in a physical store.

A crystal sash is a fabulous and inexpensive way to add sparkle to your bridal look.

Wearing a garter as part of your bridal accessories is a great way to honour tradition and take home a special souvenir from your big day.

You may accomplish several things with the addition of a jacket, shawl, wrap, or other outerwear piece to your bridal accessories.

As we prepare for the ring exchange, I ask that you take off any gloves you may be wearing.

Wearing fingerless gloves allows you to keep your gloves on throughout the ring exchange.

The final piece of our wedding-day ensemble is the clutch.

You shouldn't carry a pocketbook if you plan on holding your bouquet for the majority of the ceremony and the party that follows.

In Case of Wedding Emergencies

Buying a bridal emergency pack is probably not at the top of your shopping list.

It's safe to assume that a "bridal emergency pack" isn't high on your list of must-haves for the big day.

A "Bridal Emergency Kit" is crucial for unexpected situations like these.

A sewing kit might be useful in the event of a wardrobe emergency, like a frayed thread or a damaged button.

Any bride's emergency kit should include safety pins.

The bustle of the bride is another important garment for which safety pins are indispensable.

Put it to good use before the reception starts to avoid getting blisters.

To remove a stain, treat the afflicted area directly with the stain remover pen once it is dry to the touch.

Make sure the bride and her attendants are looking their best by performing a quick lint check before the big walk down the aisle.

Keep a little can of hairspray on ready to use in case you need to make any alterations to your style after the stylist has left.

Bring a little bottle of pain relievers in case you or a member of the wedding party gets a headache or a hangover from the rehearsal dinner the night before the big event.

You may prevent your makeup from becoming too shiny by using blotting papers on your face.

If you wipe your face with a tissue, you risk ruining your makeup.

Find a bridesmaid willing to be on "shine duty" for the length of the celebration, and let her know when you need her help.

Utilize these blotting papers to maintain a camera-ready appearance at all times.

If not, at least keep some medication on hand for when you need it most.

Keep these things on hand on your wedding day in case of any cosmetic or clothing problems.
Not getting around the bride's morning of the wedding will likely be somewhat stressful. Because there is so much to do and think about, it is easy to overlook the smaller details. However, a bride will also learn how simpler and more enjoyable the day can be when she pays attention to the minor details. It all begins with the bag that the bride is carrying.
Bridal adornments are available. The wedding dress is the focal point of any bride's ensemble, but what else do you need? A cap, tiara, or another accessory to finish off your gown. Shoes for the wedding reception that are both stylish and comfy for dancing.
The bride's outfit is never complete without the perfect wedding jewellery. It's fine to accessorise with other jewellery pieces, such as earrings, a necklace, a bracelet, or even more rings, so long as they don't overshadow your wedding band.
Pearl jewellery is a classic choice for brides. Pearls are versatile and can be worn in many forms, including necklaces, earrings, pendants, rings, and bracelets. Regardless of how non-traditional your wedding is, you can still accessorise with pearls by choosing a more feminine design.
Even if the magic touch of a bridal makeup professional is required for the celebration of your wedding or reception, you can create stunning looks for your party and even for various family dinner or lunch plans with your friends and relatives after your wedding day by using a wonderful handy Indian bridal makeup kit and top of the line makeup products.
Similarly, various helpful pointers for brides are provided and elaborated upon. Outfit and Jewellery Bear in mind that this is your wedding and that you will want to look your best on your big day. By writing down every item you need, you can rest easy knowing you won't forget even the tiniest, most elusive outfit.