If you're looking for a unique option for your wedding, brunch is your best bet.
This popular weekend golden hour has been making a surge recently as brides and grooms look for new ways to make their big day unique.
Also, if you're a couple struggling to schedule times/venues and working with a tight wedding budget, it can be a nifty solution to your organisational woes.
Before deciding on the best time to get married, it's essential to start from square one. Consider the following when planning your wedding, brunch or otherwise:
Several guests: Do you want a big or small wedding? What's the maximum number of people you want to attend?
Preferred venue space: Outside or inside? Hotel or home? Picture your ideal wedding space, and find a venue that matches your criteria.
Season: What time of year do you want to get married? What is the weather typically like during that season?
Location: City or countryside? Garden or ballroom? Destination or local? Your site plays a significant role in determining the type of wedding you can host.
Formality: Casual or formal? Budget-friendly or extravagant? This decision will also be a factor when choosing your venue.
Keeping those details in mind, here are some pros & cons of hosting a brunch wedding.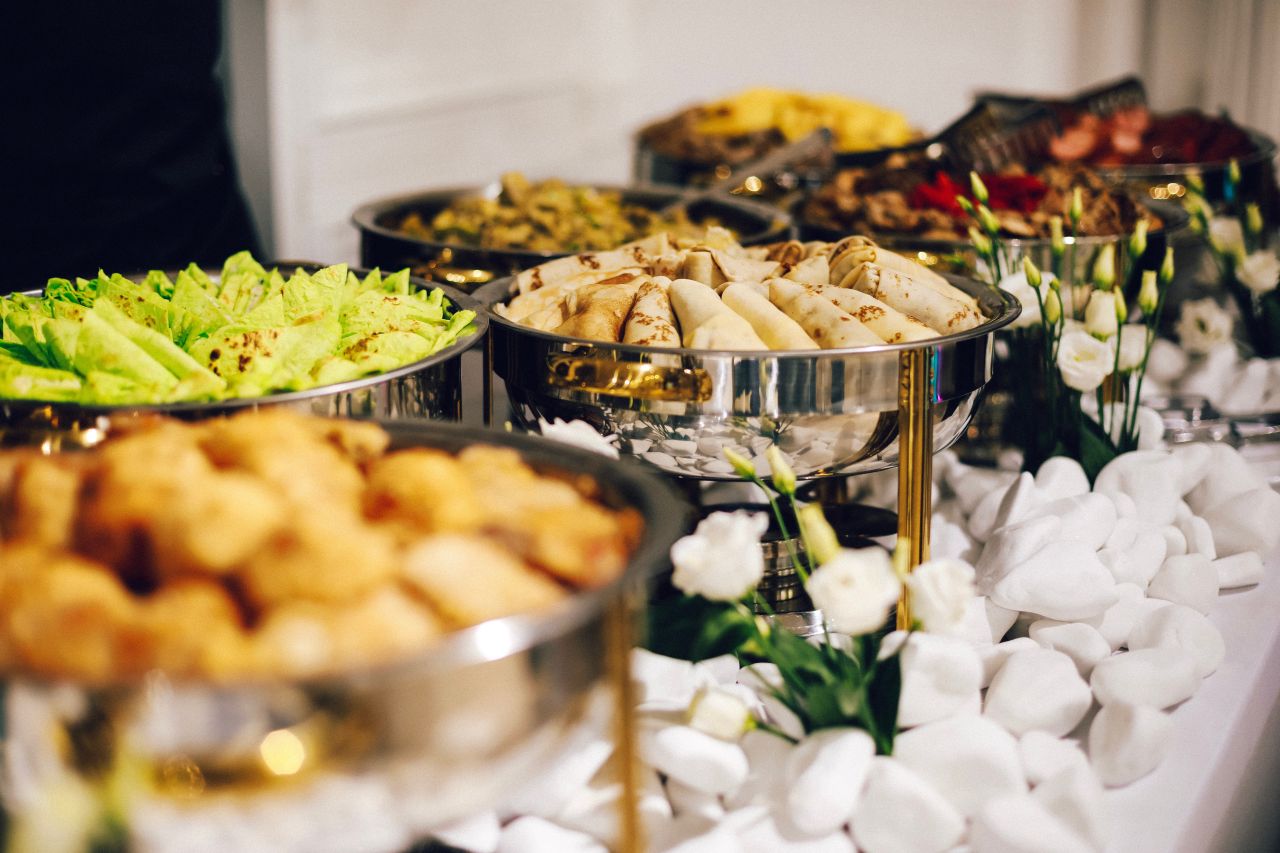 Pros and Cons of Brunch Weddings
You undoubtedly have given a lot of thought to your wedding, and now you are down to choosing the time of day to host it.
On the one hand, an afternoon wedding with an evening reception lets people dance the night away.
On the other, a daytime wedding has a more friendly feel to it, and it tends to cost a lot less.
So what to do? Which to choose? Here are some of the pros and cons of having brunch weddings.
Pro: There Will Be Breakfast Food Galore!
If you and your partner are big fans of pancakes, egg dishes, and crispy bacon, this period would be idyllic for your nuptials.
You can serve up an entire menu of early-morning goodies either in a classic buffet style or even as a sit-down meal.
Remember – just because it isn't an evening affair doesn't mean it cannot be the embodiment of sophistication. See one of our favourite brunch celebrations here.
Con: Your Reception Might Be a Different Party Than You Expect.
During the day, your guests may be less likely to let loose than in the evening.
If you're envisioning a high-energy dance party, a brunch wedding might disappoint.
It's unlikely your guests will be willing to party hard midday (but to be fair, you're ultimately the best judge of that).
If attendees have other obligations later in the day or your event isn't going into evening hours, they may let their foot off the gas pedal.
Pro: You and Your Sweetie Will Get Ample Downtime Afterward.
Instead of taking off your high heels as you slump into the car, ready to crash as soon as your head hits the pillow, you can meander home leisurely and enjoy a lovely afternoon and evening with your new spouse.
This is the perfect solution for those couples who aren't looking for a lively party and would rather spend their post-wedding period relaxing at home or wandering the town with their sweetheart.
Con: it Will Be Hard to Fill the Dance Floor.
Even if the mimosas are flowing, guests may not feel inclined to dance the early afternoon away.
If you've always imagined jumping around with your college friends to your favourite tune, an evening reception may be more your style.
Pro: Your Wedding Costs Will Go Down.
This can depend on the venue, and some platforms only offer one exclusive event a day.
However, some venues can offer discounts for morning weddings because they can book two weddings in one day.
Catering a breakfast buffet or make-your-own waffle station is also generally cheaper than serving a three-course dinner!
Not to mention the potential savings at the bar: most guests won't go ham at the bar early in the day when they have to drive home in the early afternoon!
Booking a brunch wedding typically carries a lighter price tag than an all-night affair. Because it takes place mid-morning/day, brunch is less likely to turn into an all-night celebration like an evening wedding.
This means that you can potentially avoid over-hour fees and extra charges associated with nighttime receptions.
Staff will typically be cheaper too because you won't be paying them to stay as late as you would at an evening wedding.
Without a three-course dinner or big entrée, your catering costs will also go down.
Plus, you'll be able to spend less on drinks unless the entire wedding party decides to go all-out in the daylight hours (who knows, they might!).
Some venues even offer discounts to couples willing to wed earlier in the day. Ask all of your potential vendors to find out how you can save by shifting the schedule.
Venues often charge less for a morning event. With a bit of extra money in your pocket, you can invest more heavily in other areas of your special day, such as décor, cuisine, and even your honeymoon.
Figure out what is most important to you and your guests and use your surplus to design your dream fête.
Con: Less Time Spent With Friends and Family.
After the wedding, loved ones are likely to either start their travels home or find local activities to take part in.
Morning nuptials typically pair with a reception that lasts until around 2 pm – not nearly as long as after-dark celebrations that have revellers partying into the wee hours of the morning.
Pro: That Dream Venue Could Become Available.
It's the worst feeling when you delay wedding planning or you're on a tight timeline and find out your dream venue is booked.
Open up your options by asking about doing a morning or brunch wedding instead.
Often venues are willing to work with you and be flexible if evening and night bookings are complete. As a plus, they might throw in a morning or midday discount.
Con: There Might Be a Time-Crunch.
If you select a venue that can schedule a morning wedding, they very well might have an afternoon wedding right after you.
This means you will have a hard deadline to get your guests, decor, personal items, etc., out of the venue before the next event comes in.
Unfortunately, you might have more time restrictions on your brunch wedding.
There could be another event going on that day or another couple getting married in the evening who you'll need to clear out for.
This isn't necessarily a big issue because even evening weddings usually have the same constraint.
However, it can make things feel a little bit rushed! Just make sure to talk to your venue and your vendors, and they can make it work.
Ensure everything is crystal clear (time constraints and otherwise) between you, your vendors, and your venue.
Pro: More of Your Guests Will Be Able to Attend.
This is especially true if you're getting married during the peak wedding season.
Often, obligations and multiple invitations get crossed, and guests have to prioritise family and friends.
There will always be guests who can't make it to your wedding for various reasons, but you increase your odds of having everyone important on your special day if you mitigate scheduling conflicts.
By having a brunch wedding, you give your guests more flexibility with their time.
Con: More of Your Guests Will Be Able to Attend.
Brunch can open up your guest list in both positive and negative ways.
Keep in mind when you're planning a wedding that every extra guest you invite (or who shows up without RSVPing) means an additional cost.
While brunch weddings can be a cheaper option, you can also risk creating more of a financial headache for yourself.
Sit down with your fiance, crunch the numbers, and figure out how many people you can afford (and fit) at your wedding, knowing that more will probably be able to attend brunch.
Pro: You'll Have the Whole Rest of the Day to Spend With Your Boo!
Picture this: a morning wedding in the park. You spend the morning and early afternoon surrounded by friends and family, celebrating your love.
The party wraps up around 2 o'clock, and you and bae take off and head back to your cute cabin in the woods.
Maybe you spend some time in the hot tub relaxing, or perhaps you decide to spend the afternoon at a spa.
Perhaps you guys are more adventurous and want to head into a rocky national park to hike.
Here's one more idea: you get to enjoy your afternoon and evening together in your newlywed bliss, and then you can head into town to have an intimate dinner with your closest friends and family to keep the celebration going.
Morning weddings give you that time when a marriage that goes late into the evening means you might roll up to your cabin and pass out until noon the next day.
Con: You'll Be up at the Crack of Dawn.
With hair and makeup and "first look" and other portraits photos, brides usually have to set their alarms reasonably early in the morning.
If your ceremony is six hours earlier than average, that doesn't leave much time for precious beauty sleep.
Pro: Better Venue Availability Is a Possibility.
Is your dream venue already booked on the day you want? If it is a venue that does book multiple weddings a day, ask them if they have morning availability!
You might get that dream venue, after all, thanks to the brunch wedding.
Con: If You Aren't a Morning Person, This Might Be a Challenge.
To accommodate a morning ceremony time, more than likely, you'll need to get up EARLY to start preparations.
For example, let's say you set your ceremony time for 10 am. If you are factoring in the first look for your photography (which you should consider), you are realistically looking at a 4:00 am alarm so you can shower, eat, and start your hair and makeup.
We don't know too many people who aren't up early on the wedding day with nerves anyway.
Pro: You'll Have More Time to Make the Most of Your Special Day.
If you get married and have your reception around brunch-time, you will have the entire afternoon and night left to make your wedding day magical.
The average afternoon and evening wedding festivities can involve a whole day off (often stressful) prep and setup.
Avoid this and prolong your wedding day by using brunch to free up quality time for you and your spouse.
After you've tied the knot and celebrated with your guests, you can pop the champagne, go out with friends, or head off to a romantic locale.
The possibilities for making your wedding day unforgettable are endless.
Whether you settle on a brunch wedding or an all-night extravaganza, remember that your wedding day is about the love between you & your future spouse.
Together, consider the pros and cons of when to host your big day, choose the best fit, and make your wedding one remember!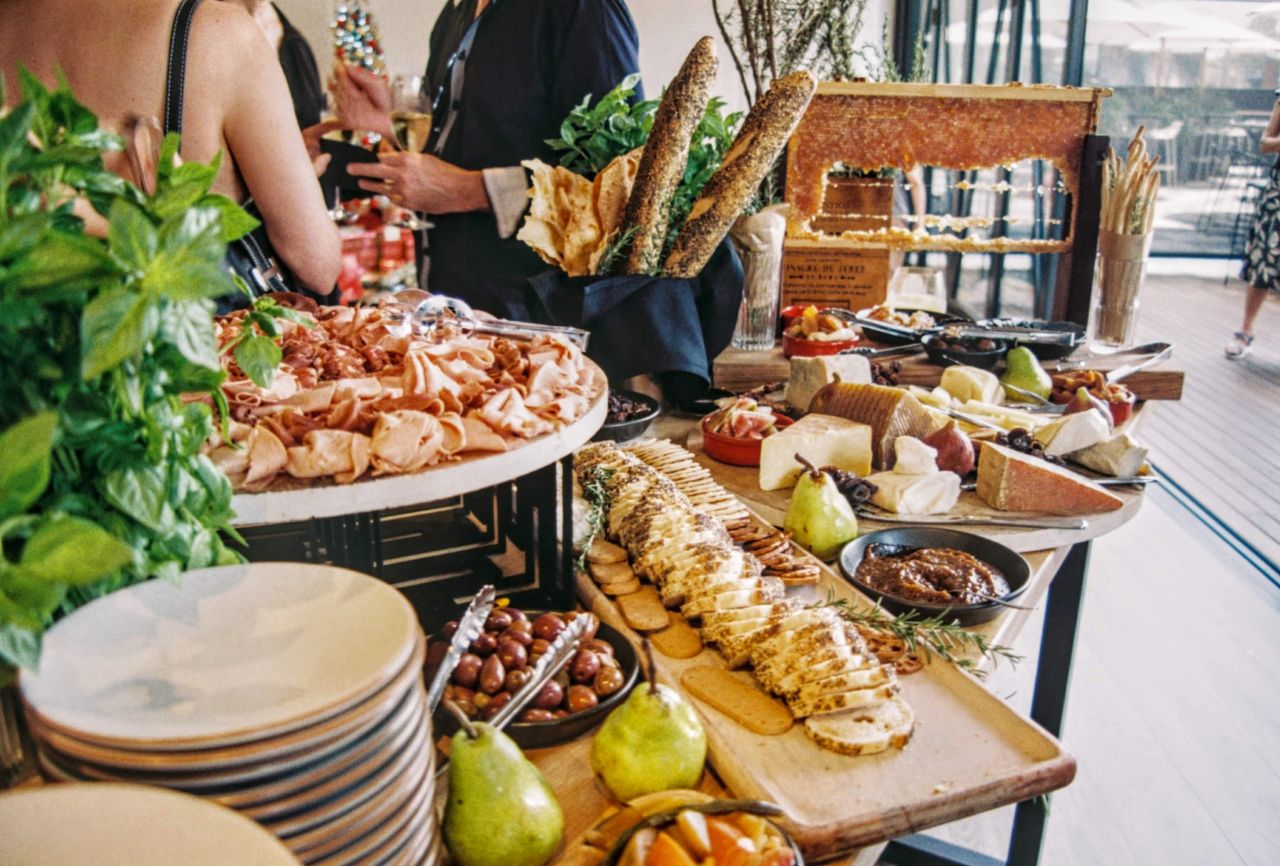 Brunch Weddings Other Advantages
A daytime wedding has many advantages.
One of the things you will find is that the venue is cheaper, and you can have more flexibility to have a unique event that no one else would choose.
You may also find that your vendors will also offer you a discount for having a daytime event. Also, brunch meals are typically cheaper to prepare and serve than are dinners.
You may also have an easier time getting a venue booked because daytime weddings are less common, and the calendars are less crowded.
Plus, if your venue is a stunning location, having your wedding and reception during the day will allow your guests to enjoy the scenery.
Guests typically don't drink as much during the daytime as they otherwise would for an evening reception. With the cost of alcohol being relatively high, this can add up to sizable savings.
Even if your wedding is on a Sunday, your guests might have an easier time knowing that they will have time to get home and unwind before they have to go back to work on Monday. Out of town guests can even arrive on Saturday, enjoy sightseeing in the area, and then attend the wedding the next day.
You, the bride, might enjoy an early wedding because you won't have as much time to think about the wedding event itself and therefore your nerves might be kept at bay. You get up, get going, and get married –with plenty of time in the evening to spend with your new hubby away from the crowds.
Overall, an afternoon event tends to feel more relaxed and like a cocktail event. If you choose, you can have an after-reception reception with your closest friends and family with plenty of time to spare.
Brunch Weddings Other Disadvantages
One of the significant issues with brunch weddings is that it might be harder to get people to dance because it's a different feel than an evening wedding. People are also less inclined to drink as much and therefore might be less willing to cut loose during the day.
If you aren't a morning person, you might not enjoy getting up early for your hair and makeup.
Some brides find it relaxing to get to be with their friends and family before the actual wedding and a morning wedding makes that much harder to accomplish.
You might not like the laid-back atmosphere that an afternoon reception almost requires, and your colour scheme might not blend as well as an afternoon event. Dark, dramatic themes don't play as well with the sunlight.
Things to Consider When Booking a Brunch Wedding Reception
Truth: People love brunch nearly as much as they love weddings. So, it makes sense that it was only a matter of time before couples combined the two to create the ultimate wedding bash.
No matter the reason, if you're in favour of a brunch wedding, consider these few points before you commit to throwing an a.m. affair.
Your Day Will Start Early
Day-of wedding prep is no joke: Hair, makeup, and final touches will take hours, no matter what time you plan to walk down the aisle.
If you're interested in a brunch wedding, consider talking to vendors ahead of time to get an estimate on timing:
How long will your hairdresser need to style you and your bridesmaids with different hair textures? Does the makeup artist want everyone's hair done before starting? Is it possible for the venue (including the church, if that's in your plans) to set up everything but the flowers and food the night before?
If not, how much time—and workforce—will it take to kick things off before noon? Depending on the details of your big day, you might be working with a tight schedule that starts before the sun is up.
The Reception Will Be More Casual
A brunch wedding differs from an evening event in more ways than just the time of day. For one thing, no one's wearing sequins at 10 am.
A brunch wedding tends to feel more like a garden party or a co-ed bridal shower, and that could be something your guests look forward to.
It's fun to make a brunch event a bit of a fashion show. The gentlemen can pull out the seersucker suits, brightly coloured pants, and playful bow ties they rarely have a chance to wear.
Your Décor Should Match the Brunch Wedding Vibe
For those of us who've kept a mental wedding inspiration board long before Pinterest existed (you know who you are), it might be tough to rethink colour schemes, flower choices, and gold trim on the flatware.
But because a brunch wedding is generally more casual, it's essential to consider the ways décor details can reflect that:
Instead of billowing floral centrepieces, use wildflowers in mason jars, or have your caterer set up a food bar instead of a sit-down meal or traditional buffet. Casual décor options are different but just as endless as formal ones.
You'll Need to Make a Plan for What Happens Next.
When the reception ends, you don't want your guests staring at each other like, "Now what?"
You have two options: First, you can keep the party going by transitioning from brunch to another activity, like relaxing in cabanas by the pool.
Or, you can signal the party's over by jetting off on your honeymoon and leaving guests free to spend the rest of the day however they'd like.
Consider setting up a tour of the city or including other activity suggestions in the welcome bags. Happy wedding guests have informed wedding guests. As long as they know what's going on, they're going to be okay and enjoy it.
Conclusion
Whichever type of wedding you choose, you will know that it reflects who you are and what your personality is like.
If you choose to have a brunch wedding but still want to have the fun mood that an evening event offers, make sure that you hire the right vendors to mimic that atmosphere. Whatever you decide, make sure that you enjoy your day – you've earned it!