The use of special effects can accentuate special wedding moments. Learn the top six lighting and effects, adding the "wow factor" to weddings all over the world!
Special effects are the ultimate way to highlight and enhance the moments of your wedding. They're perfect to use in the most photographed, memorable parts of your wedding ceremony and reception to add feeling and a 'wow' factor for your celebration. Announcements, entrances, cutting of the cake, and your first dance are some of the best opportunities to include statement effects. 
Paired with lighting, sound and music, special effects can be used to completely transform a space or venue for single moments (such as your entrance to your reception) or as an ongoing series of effects (for when it's time to dance, for example). Our styling and operating teams establish your vision for the delivery of these moments, so they're a perfect aesthetic fit for your wedding. 
Modern special effects are extremely safe for people and property, allowing them to be utilised in and outdoors. We implement and oversee our equipment at every event, and liaise with you and your venue to ensure safe and seamless use. 
Vogue Ballroom is your perfect wedding venue in Melbourne delivering fairytale weddings for the bride and groom.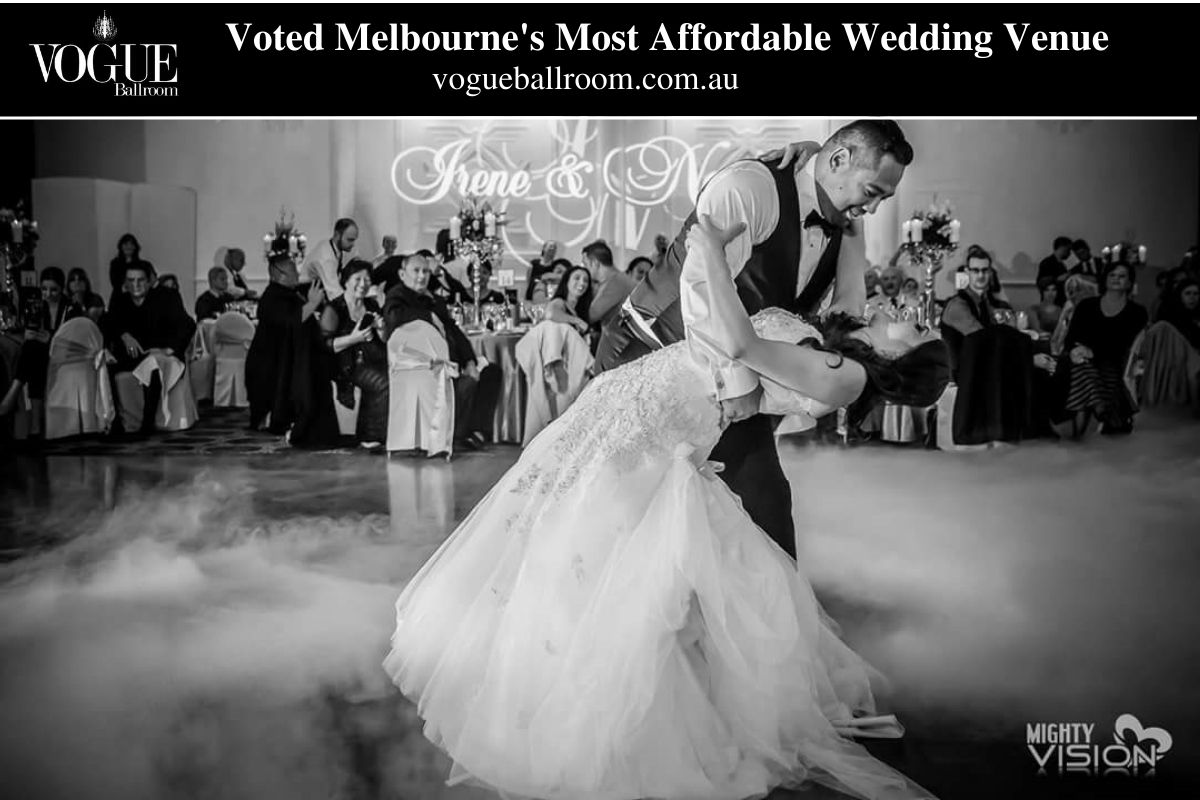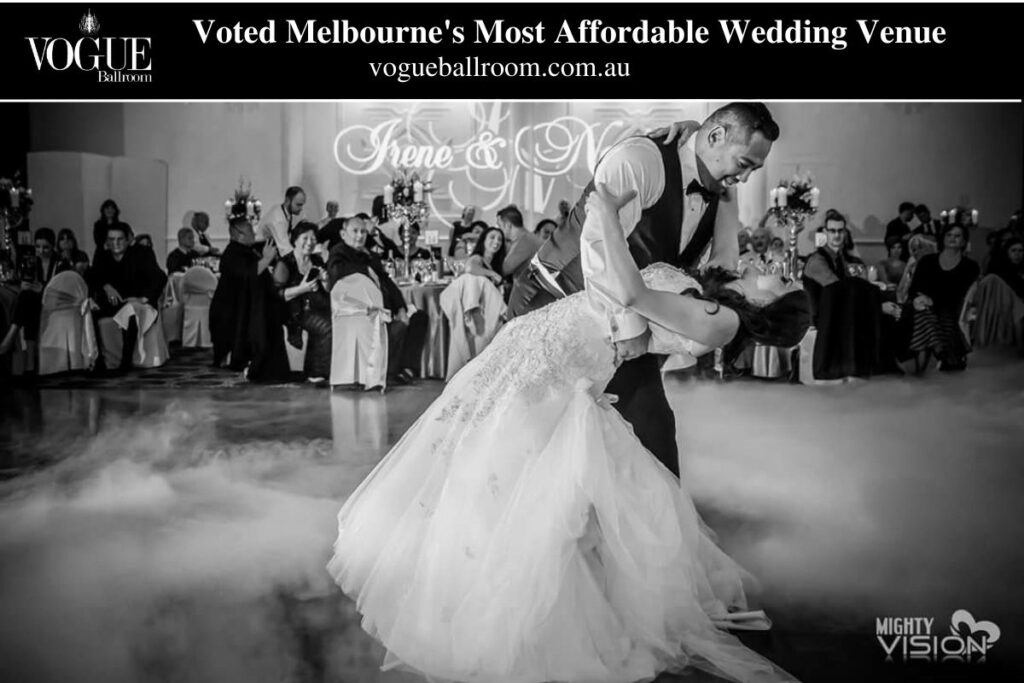 Dance on a cloud with low – lying fog
As a newly married couple, you are announced into the reception to a round of huge applause. Then, the DJ announces your first dance together as husband and wife. This first dance is a magical moment, even without special effects. However, for a truly unique and surreal first dance, consider an effect known as "Dancing in the Clouds."
This effect, typically performed by your DJ entertainment, involves the operation of a dry ice fog machine, enveloping the dance floor in an abundant layer of low-lying dry ice fog. This fog will typically be about knee-high, giving the appearance that you are dancing in the clouds.
The first dance is your debut as a married couple, so it's the perfect time to pull out all the stops. It's a moment you'll remember for years to come, so choose a song that means something to you both, coordinate your routine, and make it an entrance to remember.
With your life partner by your side you'll feel like you're walking on air, so why not enact it on the dance floor? Using a special low fog effect, you can surround yourselves in a blanket of smoke that will make it look as if you're dancing on a cloud. Low-lying fog creates an immediate visual impact, but it won't cloud the air or interfere with your photos. When desired, it will dissipate quickly so you can enjoy the rest of your night.
Who doesn't want to start their night of dancing by having your first dance on a cloud of low smoke, lights will swoosh over it making it glow and swirl around your wedding dress like your on strictly come dancing! We have different machines depending on the size of your venue, but I think you'll agree the low hugging fog always looks spectacular and makes for gorgeous pictures to cherish for years to come. Teamed up with Sparkulars the fog will hide the units and during the song will startup creating a true surprise for your guests, making this a real wow moment.
Fog machines are great only after the first dance and can emphasise the DJ's disco lighting.
It may cause problems for guests with asthma if used too much and can also make photos hazy – that's why it's good to wait till after the first dance.
Misters provide a softer, more limited effect. Many of them change colours as they create mist, and you can place these strategically around the room to accent your floral arrangements or the sweetheart table.
Low lying fog is great for a cloudy floor effect, although it can be hard to set up. There needs to be no wind (and no air conditioning) of any type.
They won't work during colder months either when heated air pours in through vents.
And you cannot use them successfully outdoors because you have no control over the wind. A special fog machine is used where ICE is added that cools the fog, so it stays on the floor.
It eventually warms up and floats into the normal room air.
If sparks fly when you're together, why not celebrate your wedding in incendiary style? Stunning special effects like spark fountains are a spectacular choice for your big day. Synchronise the sparks with a selection of your favourite music for a breathtaking display.
You don't need an outdoor area or even a large venue; with a Sparkular machine, you can create spark effects indoors, safely, even in a smaller space. The cool sparks are completely safe and can be used even where regular pyrotechnics are not allowed. Read more about this amazing indoor pyrotechnic device.
Let it flow with an ornamental fountain
Create an elegant and stately impression in any wedding venue, with the addition of ornamental water fountains. Depending on their design, cascades of water can be used to bestow a classic sense of calm or create a dramatic and dynamic feeling of celebration.
Our indoor fountains are usually positioned in the foyer of your venue, but they can also be used outside – even in an existing body of water. Make the effect even more striking with coordinated illuminations.
Lacking imagination a little? Check out our list of Wedding Decorators in Melbourne here. 
Confetti and Confetti Cannons
Most people think of confetti being used outside the church, and we often supply loose confetti or even confetti cannons for this use. Still, we mostly provide confetti for the wedding reception. The first dance is the perfect time to shower the bride and groom with confetti, whether it is your bridesmaids and groomsmen firing handheld confetti cannons or a swirled fan rigged above the dance floor dropping a continuous flow of confetti this always makes for beautiful photos and videos. 
Confetti photo shots are some of my absolute favourite wedding photographs, as it truly captures the excitement and happiness of the event as the Bride and Groom walk back down the aisle. Confetti cannons are becoming more and more popular and boost the confetti photo shots to a different level with the vast amount of confetti, and it displays a truly magical moment. It captures the Newlyweds in a personal and surreal instant. It is lovely and welcoming for the Bride and Groom to have their closest friends and family throw the confetti after the ceremony as the Bride and Groom walk back down the aisle. Still, it is an exciting time at the reception venue when the new Mr & Mrs are announced for the first time. I feel that this is the perfect time for a grand entrance with an abundance of confetti shot out of the canons, as you are able to capture a truly fun and exciting moment for the couple (as it is now beginning to set in that they are husband and wife!), as opposed to the romantic and magical moment they shared immediately after the ceremony.
Pyrotechnics
Our most popular request is for spark jets (gerbs) during the arrival of the bride and grooms then again during the first dance or the cutting of the cake.
We can do this with traditional pyrotechnics or now with Sparklers, these are a regula-able cool spark effect which can create columns of glittering silver sparks up to 5m high and be turned on and off by our technicians making them safe and keeping your venue happy! 
CO2 Guns
Not everyone wants a traditional wedding, say you met at a rock concert or love festivals, and you want to bring that vibe to your wedding reception. We supply our CO2 Guns for weddings giving the bride and groom a chance to have some fun spraying CO2 around during a DJ set being the centre of the stage is awesome! CO2 Guns and jets provide a loud noise and instant dissipating cloud of CO2, which is very cold helping keep the temperature down while your guests are dancing. 
Fireworks Displays & outdoor pyrotechnics
Now fireworks aren't always allowed at all venues, but this doesn't mean you have to rule everything out. Before we get to full-scale fireworks displays we haven't accounted for entrances and drive away effects, often weddings reception venues don't have the space for a fireworks display, have grumpy neighbours or livestock to worry about. With a pyrotechnic drive away, there are no noise issues no cables or wires we drop the pyro on the drive away route and start each piece as the car slowly drives by sending you off in style. 
We have provided some beautiful wedding fireworks displays, some as total surprises to the bride and wedding reception all planned by the groom and others choreographed to the couples favourite song including all their favourite colours topped off with some heart-shaped fireworks to finish. All of our fireworks displays are totally bespoke to your event we don't offer standard packages as we believe your display should be unique.
People think adding special effects into a wedding is going to cost the earth. Or you can go all out and blow your guests away with a package up to a fireworks display. It's really up to you and your budget. We will always recommend the best effects to make the most of your money with repeatable effects that can be used multiple times where possible.
Planning a wedding is stressful with having to handle multiple suppliers adding in pyrotechnics to the mix can make any venue shudder, that's where we come in. We can liaise with your venue to ensure they are happy on the day knowing that what we are bringing is safe when we work on a wedding we provide our experienced, qualified technicians who will provide the venue with a risk assessment and use of all of our effects are covered under our insurance.
We love hearing from couples and wedding planners about effects for upcoming weddings if you have any ideas or if you've seen pictures on Pinterest send them to us and we can work to recreate the look for you.
End the night with a bang, wowing your guests with your private display. Wedding fireworks can be designed especially for you, with your own personal choice of colours and shapes. Whether you opt for a romantic, celestial show or a vibrant and dynamic display, your fireworks can be choreographed to the music of your choice, helping to end your wedding day on an explosive high.
If you're not sure what to include in your firework display, the pyrotechnic experts at Entertainment Effects will be happy to advise you. We'll also liaise with your venue to take care of all the red tape, making sure your display is safe and fully insured.
To get more wedding idea, check out our post on Expert Wedding Planning Tips.
Lighting
One of the less expensive special effects, appropriate for indoor use, and easily overlooked are lighting effects.
Professional sound and lighting companies can be hired separately to up-light your decorations, or shine your unique monogram on the dance floor.
And one of the most easily obtained sources of special effects lighting is your DJ. 
Goldbass now provides a wedding uplighting service.
Many professionals will bring this type of equipment to your reception if you ask, and the DJ is likely to charge less for this than any of the other stated sources.
Avoid fluorescent lights if you are setting up a marquee as they are awful for lighting.
Black lights are also unpopular wedding reception choices because people don't want to have their teeth gleaming when they've gotten all dressed up.
The best type is dimmable "warm" lighting. Laser effects are nice if not overused and avoid the lasers with lots of dots as they look horrible in photos.
Some of the cheaper laser & LED lighting effects can make the bride's dress light up like a Christmas tree!
Table Centrepiece LED effects
Novel but elegant touches to your tables can add a twenty-first century feel to your wedding. Many people love the colour-changing "LED Magic Eggs" that are replacing candles.
Even Lava lamps can be effective for your guests' amusement. Look on eBay for the best prices on these novelties or have a chat with your wedding planner.
Wedding Scents
The scent is linked directly with memory, and as this will be one of the most important days in your life, it is one day that you will want to remember forever, and we must incorporate scents into your wedding that will spark your senses in the years to come. 
An outdoor, beach wedding immediately provides signature scents that are associated with the venue location – the musky scent of palm fronds, the salty sea air, the humidity in the atmosphere. Your venue on the beach will include all of these scents, and a gentle sea breeze will enhance these scents in the surrounding area. We will create a scent ambience before the ceremony with a signature Pina Colada cocktail, including fresh coconut milk, poured directly from coconuts picked earlier that day; freshly cut pineapple and squeeze of fresh lime juice, topped with a sprig of fresh mint and a slice of lime and pineapple. As the ceremony begins, the sweet smell of the jasmine tree next to the aisle tickles the senses of your guests, and a warm, soft vanilla scent gets caught up in the breeze, floating off of the candlelit aisle. As the evening goes on, the smell of grilled seafood from the nearby barbeque fills the air with a fresh scent of lemon and lime being drizzled on top. Toward the end of the night, the burning after-scent of fireworks and sparklers lifts up into the night sky, leaving your guests with memories of a lifetime.
How Much Does the Effect Cost?
Most DJ companies charge between $300 and $400 to add this effect. While not inexpensive, the effect is truly impressive. The operator must also secure and store the dry ice (which costs between $1 and $2 per pound). Dry ice is not widely available, exacerbating the challenges of sourcing and storing it. A bigger hurdle than cost may be convincing a banquet hall to allow you to use the effect in their facility. The distrust of traditional fog machines is pervasive. Armed with the information in this blog, you should have sufficient ammunition to persuade a cautious banquet hall manager to allow you to take a dance in the clouds!
Special effects for weddings can truly add a zing to the wedding photographs and videos. While ordinary pictures were very last century, weddings with special effects, edited in locations and amazing details are becoming the current trend. If you are scheduled to get married or know someone who is getting married either in your family or friends circle, remember to suggest that they opt for a special effects package with Rachnoutsav Special Effects for a fantastic and magical rendition of their weddings. Not only is it extremely attractive, but it also makes the memories more special in every way possible.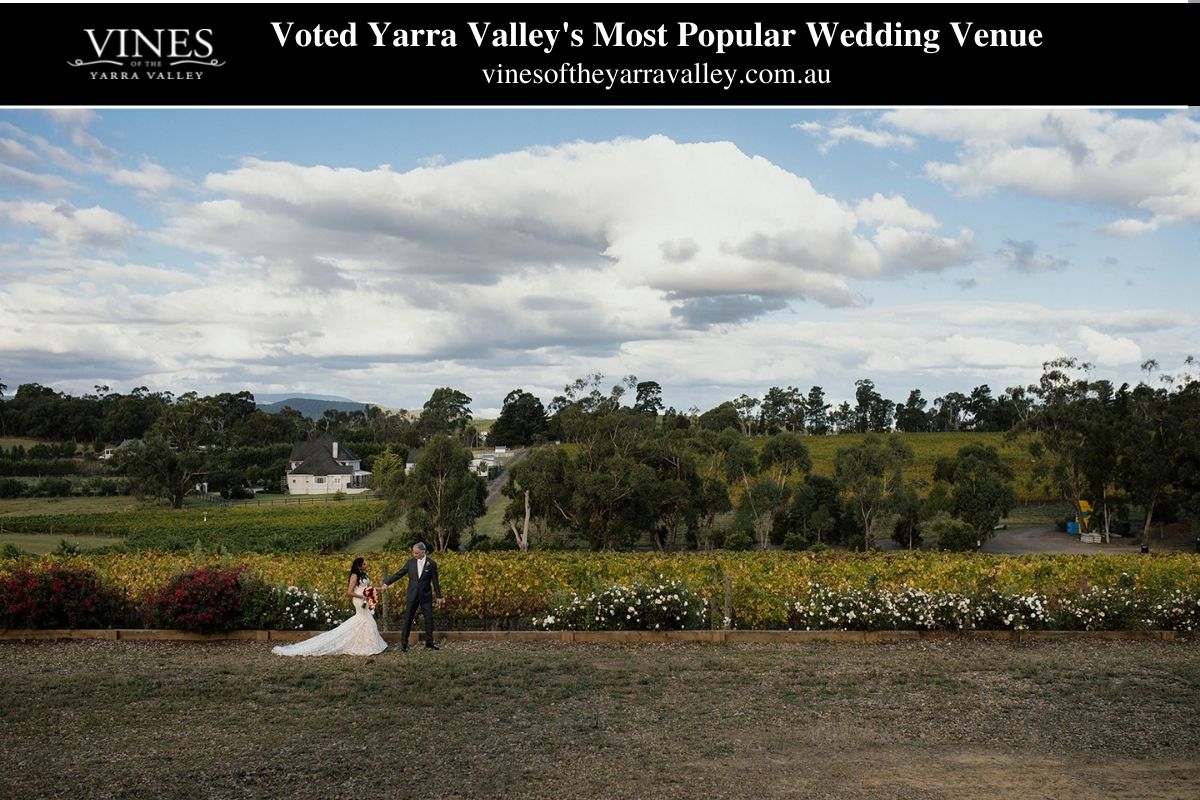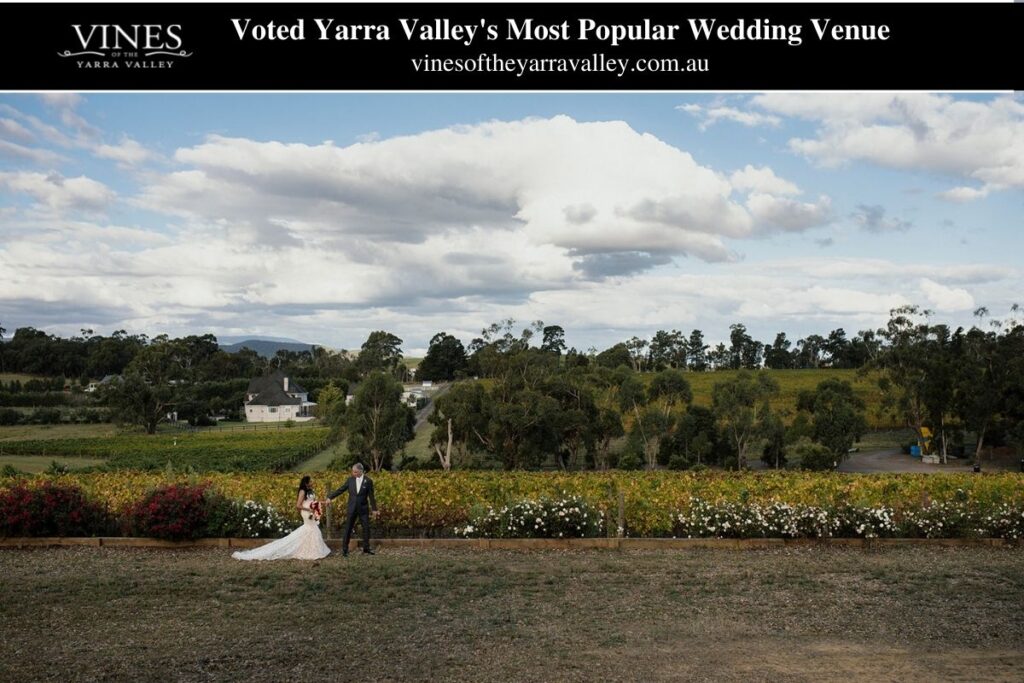 Frequently Asked Questions About Your Wedding Day
Ways to make your wedding even more magical for your guests
Stock guests' hotel fridges with beer or wine. 
Serve a Tiki drink in an *excellent* cup. 
Ask everyone at your wedding party to add a fave to your playlist. 
Have at least one late-night solution. 
Organize a next day activity — that's not brunch.
New South Wales couples are willing to fork out the most for their floral arrangements, sitting at an average of $1,710 for their wedding flowers. Western Australian and South Australian couples are willing to pay a similar amount – $1,465 and $1,420 respectively. ~ EasyWeddings
 Clever Wedding Ideas to Make Your Big Day Stand Out
Hire a roaming raw bar. 
Surprise guests with an end-of-the-night food truck. 
Pick an unexpected backdrop for your engagement session. 
Show 'em some #Natitude. 
Guide guests to their seats with take-home wine stoppers. 
Frame the scenery. 
Forget the flower baskets.