One of the most important decisions a bride has to make is what she wants her wedding dress to look like in the future. Should I get my wedding dress preserved? 
The decision to preserve your wedding dress is a personal one. However, if you are considering preservation, make sure that it will be something you can enjoy and look back on for years to come.
You only really need your gown for one fantastic day, but we're willing to bet you're not about to throw it into the trash afterwards. 
If you want your gown to look beautiful way into the future, wedding dress preservation and wedding dress cleaning are ways to make sure any day-of stains and aging discolourations don't stand in your way. 
But what's the difference between preservation and cleaning—and should you do both? Today's brides have plenty of options for what to do with their wedding gown post- "I do." 
Some donate or sell their gown. Others repurpose their wedding dress into lingerie or cocktail attire, while some "trash it" with a colour bomb-filled photoshoot. 
Many brides, however, want to hang on to that dress that represents so much love, happiness, and celebration.
That's why wedding dress preservation is so important. A wedding dress is usually intricately designed and highly delicate and can't be cleaned like any old dress.
Vogue Ballroom is your ultimate Wedding Reception Venue to create your dream wedding.
Wedding dress cleaning and preservation are crucial to making sure your dress lasts a lifetime. If you choose not to preserve your wedding dress, you risk the following:
Yellowing of the fabric

Brown oxidation spots

Mould and mildew growth

Permanent fabric creasing
Read on for everything you need to know about wedding dress preservation.
Wedding Dress Preservation Vs. Standard Dry Cleaning
Unlike one-size-fits-all dry-cleaning, wedding gown preservation begins with an experienced specialist's assessment. 
The specialist creates a unique treatment plan according to your dress' fabric, stitching, and details, in addition to analyzing stains along the hem and entire dress.
There are, however, some dry cleaners that also offer specialized wedding dress cleaning. You can use them, but make sure to vet their process first. 
Specifically, you'll want to find a dry cleaner that uses a virgin solvent rather than a recycled solvent. 
Recycled solvents (typically used for dry cleaning) contain impurities that can redeposit onto clothing and leave your wedding dress with a strange smell. Therefore, wedding dress cleaning and preservation should only be done with a virgin solvent.
Before committing to any cleaner or preservationist, thoroughly research their policies. You want someone who guarantees they won't do any damage during the preservation. 
And if any damage is done, look for a guarantee that the cost of the dress (not just the preservation) will be refunded. 
Furthermore, find out how long they guarantee that the wedding dress will remain pristine after their preservation.
Caring for Your Gown: Before, During & After Your Wedding Day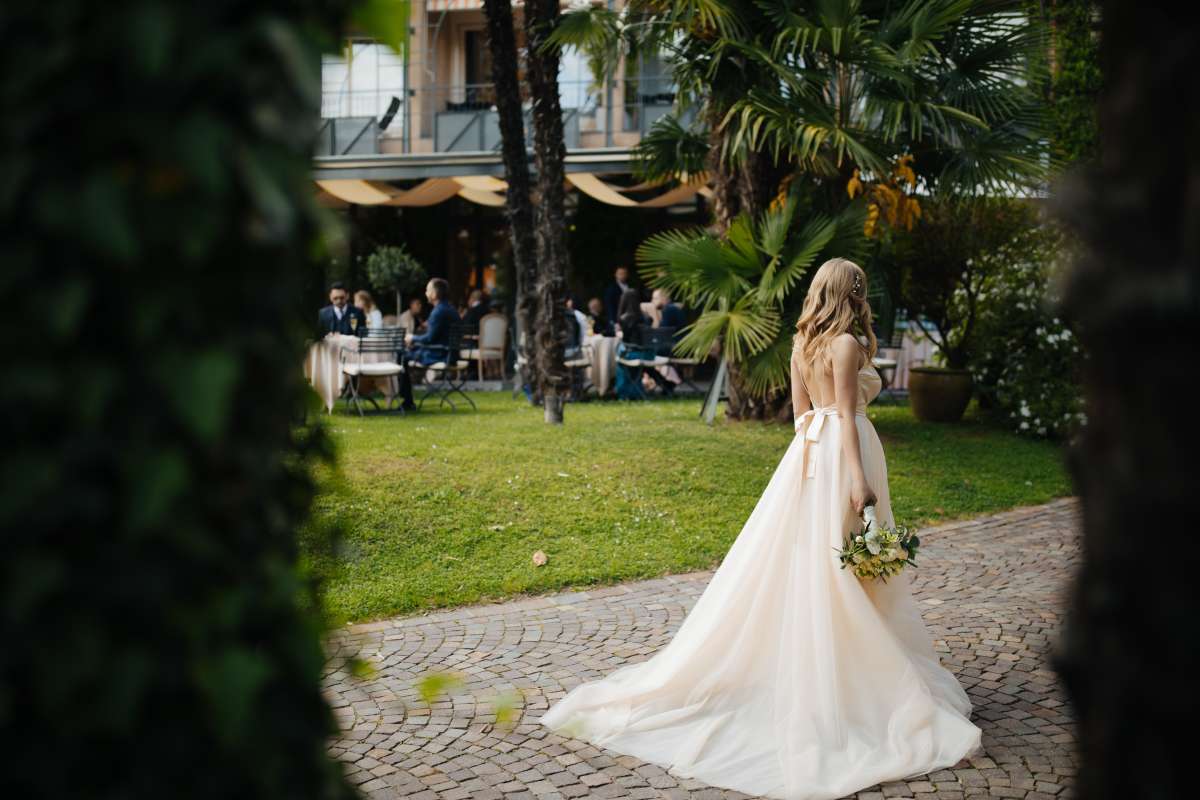 When your gown leaves our boutique:
TRANSPORT your gown in a vehicle where you can lay down the back seat. Your dress needs space as long as the gown with the train down.  
Your gown will be in a bust form & an extra long bag, which helps eliminate the need for extra pressing or steaming.
HANG your gown as high as possible when you get home, perhaps a door frame. Leave in the bag to prevent dust or bugs from landing on your dress. 
Open the bottom of the bag and spread the train out to avoid wrinkles ~ lay a clean sheet on the floor if the bag is not big enough.
AVOID hanging your gown from a light fixture or ceiling fan. Accidental burns & damage can occur.
STEAM your gown ONLY if your dress needs it and the fabric can handle it! For example, when travelling long distances with your gown, it may need to be touched up. 
If you cannot have it professionally pressed when you arrive at your location, make sure you use a white, flat sheet as a pressing cloth between the clean soleplate of your iron and your gown. 
A low heat setting with no steam for chiffon, organza, crepe, georgette, and Chantilly lace. Medium heat for satin, Mikado, Alencon lace, and stretch fabrics. Higher heat may be used on cotton and linen but must be done quickly & with the pressing cloth.
On your wedding day:
APPLY perfume and hair spray before putting on your wedding gown as the mist from such products may cause stains. Use care in dressing to avoid staining your gown.
STEP into your gown and have your bridesmaids put your shoes on for you.
COVER your gown with a towel before applying any touch-up products such as hair spray or lipstick.
POLISH nails at least a day before your wedding. Wet nail polish on a silk garment can remove colour, damaging the fabric permanently.
WATERMARKS: softly blot & dry with a clean towel. If possible, lightly press with hand iron when dry.
MAKEUP, LIPSTICK, or any OILY SPILL: lightly coat with CORNSTARCH or BABY POWDER to absorb the oil. Do not rub the area! Wait 15 minutes and gently remove the excess powder from the fabric.  
This technique will mask unsightly spots & prepare the area for professional care after your wedding day.
WINE & BEVERAGE STAINS: do not apply water or other liquid that might disperse the stain. Blot area dry with a towel & apply powder for oily stains.
BLOOD: for minor bloodstains, apply your clean saliva with a dampened Q-tip. The enzymes will safely break down the stain, Blot it to dry.
Asphalt: It deteriorates the fibres of your gown while grinding the tar into the fabric and cannot be removed. 
Have your bridesmaids hold up your skirt & train when walking on a driveway or street.
You are Married! Congratulations & Treasure Your Memories:
HANG your wedding gown by loops inside the dress connected to sturdy side seams, never by fragile shoulder seams that can stretch or sag.
AVOID storing your worn wedding gown for an extended period in plastic bags or vacuum-sealed, plastic-wrapped containers because plastic emits fumes that can yellow your bridal gown and trap moisture that mildews your wedding gown.
BRING your gown for cleaning & preservation ASAP after your wedding day to avoid permanent staining & discolouration. Other items may be stored with your dress.
STORE your cleaned & preserved wedding gown in an area of constant temperature (under the bed or in a living space closet work well).  
Avoid storing your bridal gown in the attic or basement where there are extreme temperature changes or humidity, which can discolour your dress.
What Exactly Is Wedding Dress Preservation?
In short, wedding gown preservation is the process of having your wedding gown professionally cleaned and preserved using museum-grade cleaning agents and techniques that results in a guarantee against your dress from yellowing and staining in the future. 
Every wedding gown is uniquely different, which is why each gown must be carefully examined for staining and every fabric making up your dress carefully catalogued with a plan of action for treatment. 
This treatment plan is dependent on the type of gown, the designer, the material, the embellishments, the colour, and so much more.
\The first part of the process is deep cleaning. Even if you didn't bring home any noticeable stains, even the most straightforward and tiniest particles could discolour and ruin your dress over time. 
For example, did you know that the materials in your deodorant – even though they're invisible – can stain your gown over time? 
The same with your sweat (and we know you had at least one bout of nervous anticipation!). 
Once a professional has had a chance to examine and catalogue your gown, a custom plan is created for the team of cleaning experts. 
This plan is designed to ensure your gown is cleaned thoroughly and effectively and ensures it's also done in a way that allows your dress to maintain its integrity.
Once your gown is cleaned, the team of professionals will carefully place your wedding gown on a preservation bust, then set it in an acid-free preservation box designed for long-term storage.  
This is not just any box, however. It's a box with the same quality as those used in museums to preserve and maintain the integrity of artifacts and historical pieces. 
This is what works best on gowns, and your dress is just as important to you as anything you'll ever find in a museum.
Is Wedding Dress Preservation Really Worth It?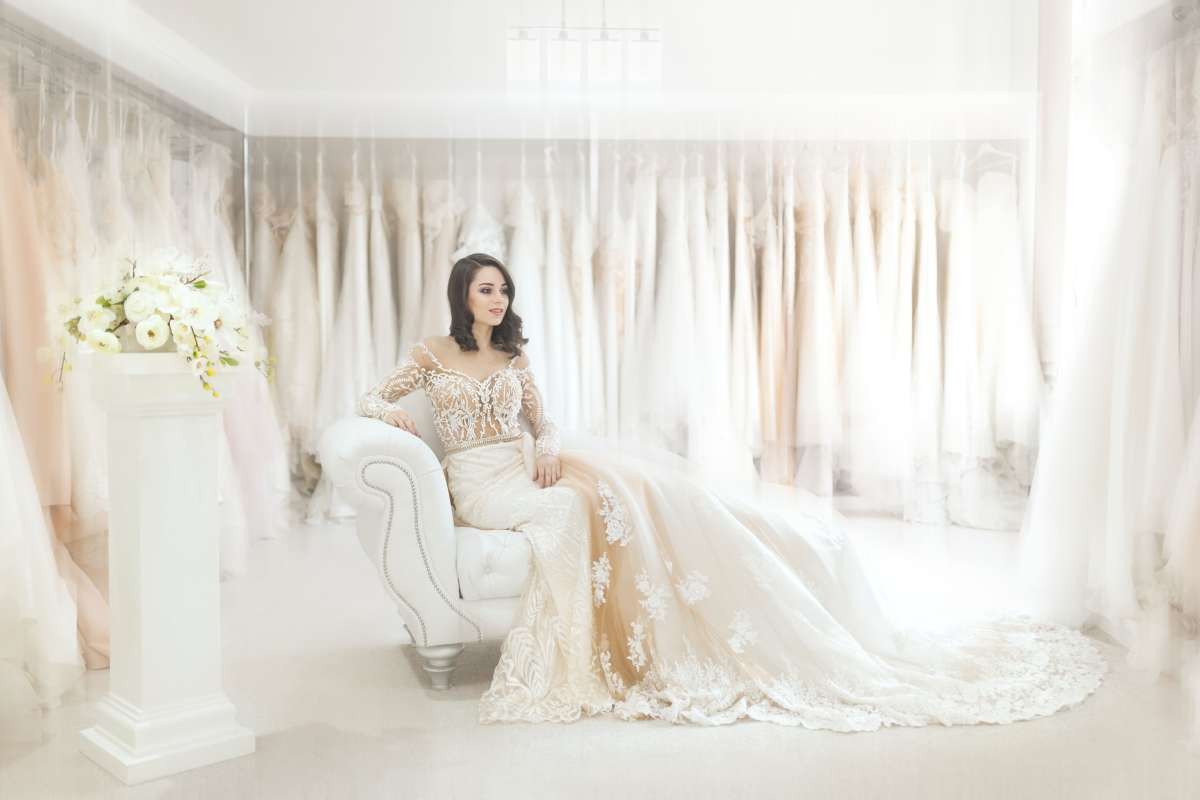 Maybe your gown has been sitting around a while, hanging in your closet, or perhaps you just purchased your wedding dress in anticipation of your upcoming big day.  
The question is not whether it's worth preserving your gown but rather is it worth the chance that your dress may end up yellowed, stained and frayed if you don't have it kept?  
Let's jump into a few reasons why wedding dress preservation is worth the effort and worth the small price:
Wedding Gowns are Made from the Most Delicate Materials
Let's face it; wedding dresses aren't exactly built for wear and tear. Moreover, with most gowns being constructed from materials such as lace, taffeta, and silk, your gown must be appropriately stored over the years.  
Leaving your gown hanging in the closet for years is one of the most dangerous places you can store your dress.  
The material gets stretched and damaged around the hanger, and fabric can get frayed or damaged as the gown is brushed against and moved around.  
By storing your gown in an appropriate preservation box, seated on a bust to keep the gown's original form, you are protecting those delicate materials from wear and tear as your dress ages over the years.
To Create a Living Family Heirloom that can One Day be Worn Again.
Wedding dress styles tend to come and go out of fashion over the years.  
The current "in" style comes around full circle, from plunging necklines to sleeves to bustles.  
Wouldn't it be great if when your daughter or granddaughter's big day came around, the dress you wore at your wedding would be back in style?  
What better way for them to honour you on their wedding day by wearing the same gown you were married in.  
Having your gown cleaned and preserved is the only way to be sure your dress looks just as beautiful on their wedding day as it did for yours.
Air Doesn't Cause Wedding Gowns to Yellow, Stains Do
One of the top reasons for the yellowing of wedding gowns, as they're stored over time, is untreated stains.  
Out of all the stains you can get on your wedding dress; sugar is by far the most damaging.  
The compounds found in sugar cause the fibres in your dress to break down, giving the fabric a "yellowed" appearance over time.  
Other stains that can cause wedding dress yellowing include sweat stains, grass stains and other food-related stains such as oil.  
Regardless of how you store your gown for the long term, failing to have your gown cleaned adequately before storage can mean disaster for your dress years down the road.
It's Never Been More Affordable to Have Your Wedding Dress Professionally Cleaned and Preserved
About 20 or so years ago, wedding dress preservation was reserved for the upper class as the process required special machines not usually provided by local dry cleaners.  
With the advent of the internet and mail-in wedding dress preservation, the service has been made available to all at a very affordable price.  
Mail-in preservation is safe, insured and guaranteed for over 100 years.  
Preserving your dress with a mail-in service will still save you $ 100's off having your gown held locally, and in many cases, local dry cleaners will outsource their cleaning to the same service online companies use with a steep markup.
Is it Too Late to Have My Wedding Dress Preserved?
This is probably the most common question we receive from brides whether they were married one year earlier or if their wedding day was 30 or more years in the past. 
The simple answer to this frequently asked question is it is never too late to have your wedding dress preserved; however, having your wedding dress professionally cleaned and maintained soon after your wedding allows for much less stress on the delicate fabrics of your wedding gown. 
This will allow your wedding dress to last much longer than our included 100-year anti-yellowing and anti-staining guarantee.
If left untreated after your wedding day, the delicate fabrics your wedding dress was lovingly crafted from will begin to yellow in just six months or less. 
In one year or less, those invisible stains from your wedding day - such as sweat, deodorant, white wine, perfume, and more, will begin to become unsightly, dark stains. 
As yellowing and staining become deeply set into those delicate fabrics, more cleaning agents and processing will be necessary to remove them. 
This is why we highly recommend having your wedding dress cleaned professionally and preserved within a month of your wedding day. 
Need help planning your wedding? Check out our list of Wedding Event Planners here.
Wedding Dress Preservation Tips
Invisible Stains Might Be Lurking on Your Wedding Gown
Oddly, the most dangerous spills are the ones you cannot see. This is because white wine and other things dry clear, and these latent stains contain sugar that caramelizes over time into dark brown colours that ordinary dry cleaning cannot remove. 
You may think your gown is delicate, but the latent stain becomes pale yellow in six months or more and then darkens as it ages. Heat accelerates the process.
Professional cleaners and preservationists are trained to spot the unseen. They'll be able to deal with any stains on your wedding gown, from the invisible to the visible. 
Did the bottom of your dress get dirty from your picture-perfect shots in a garden? Did someone slosh red wine on it during the reception? Did an overzealous aunt smudge her foundation on it when she came in for a hug? 
They'll create a treatment plan for each type of stain.
Pay Attention to the Label on Your Dress
This is one label you don't want to ignore. Look for any specific dry cleaning directions it might have, such as "Dry Clean Only with Petroleum Solvent." 
Whatever it says, listen to it, and make sure the preservationist or dry cleaner you choose has the appropriate cleaning solutions for your wedding dress.
Time Is of the Essence
Professional cleaning is the first step in wedding dress preservation, and the sooner you can get the wedding dress to the preservationist or the dry cleaners, the better. 
Brides often wait up to six weeks to take their dresses to be cleaned, and that's no good. By that time, stains will have had time to set in.
Take your dress off as soon as the reception is over, and make sure it gets to the dry cleaner the very next day. 
If you're jetting off on a honeymoon, arrange for a bridesmaid or your mother to take it for you.
The Preservation Box Should Be Sealed Airtight
A preserved dress is typically stored in an airtight box where the oxygen has been sucked out and replaced with nitrogen. 
This prevents oxidation (aging, discolouration, etc.), which can happen to clothes that have been stored for several years. 
Wedding gown specialists recommend that you never break the seal, and if you do, you should have it preserved and sealed back up again.
Store the Wedding Dress in a Cool, Dark Place
Once the wedding dress has been adequately cleaned, it's time to store it. Protect your clothing from direct sunlight, which can quickly fade and turn the dress yellow. 
Remove it from the hanger, which can cause the heaviest dresses to become misshapen. Whatever you do, avoid storing your clothing in a regular, zip-up plastic bag. Plastic like that holds moisture and can potentially discolour a wedding dress. 
The exception to this is acid-free plastic, which wedding preservation boxes are made from. So go with a professional wedding preservation box, or better yet, a wedding chest.
An acid-free wedding chest that protects your gown from air and light is the safest way to store your dress for many years to come. Breathable bags provide secure, short-term storage, but long-term hanging is not suitable for your gown.
Don't Forget Your Shoes and Bouquet.
By taking the appropriate steps, you can preserve both your shoes and bouquet alongside your gown. 
Use a gentle cloth and sponge for cloth shoes, and lightly scrub your shoes with a mild detergent. 
For leather shoes, give them a good polish. Then, if you did a number on your boots, you can take them to a dry cleaner. 
After your shoes are clean, wrap them in white tissue and place them in a box.
Depending on the type of material your shoes are, you may be able to include them with your dress in the preservation box. 
Talk with your preservationist to see whether this is possible. Then, you can press, hang, coat the flowers in wax for bridal bouquets, or use epoxy resin to preserve the blooms.
Preserve Your Wedding Dress 
Give yourself and your family the gift of a beautiful heirloom to pass down through the generations by having your wedding gown cleaned and preserved. 
You have the dress, you have the shoes? But what about the wedding jewellery? Check out our list of Wedding Jewellery Shops here.
The sooner you take your gown to be cleaned and preserved, the more likely the stains will come out.