Located in Melbourne, Victoria and looking for a Wedding Celebrant? When you are planning your big day, you probably want everything just perfect. One of the best ways to make sure that it all turns out the way you dreamed is to select every vendor yourself personally. This way, you can choose the ultimate location, the best entertainment and the most delicious food, and craft your ideal wedding day.
List of Wedding Celebrants in Melbourne, Victoria
Sally Hughes Marriage Celebrant Melbourne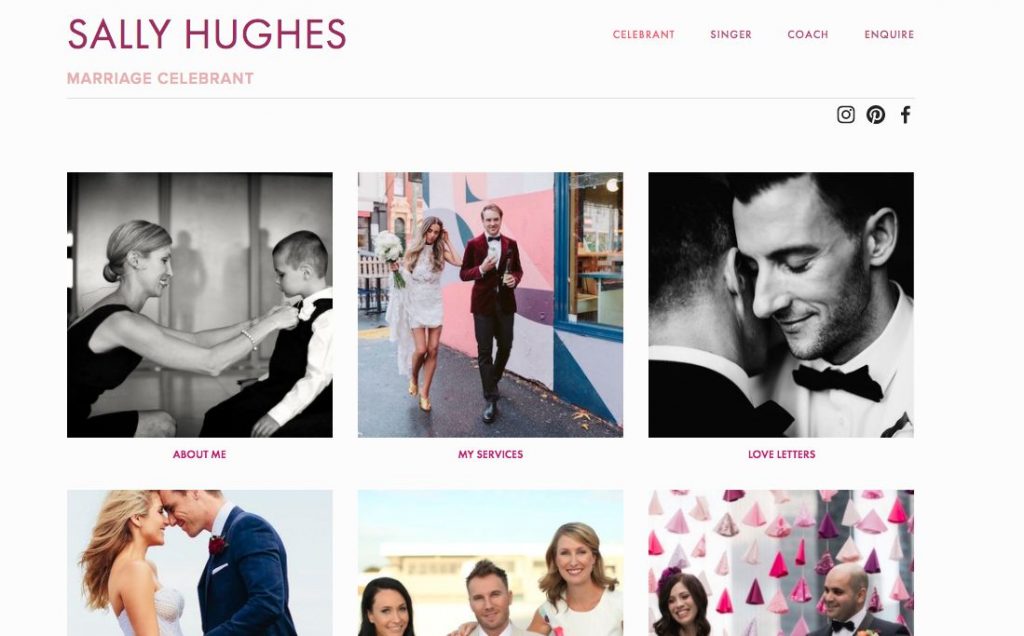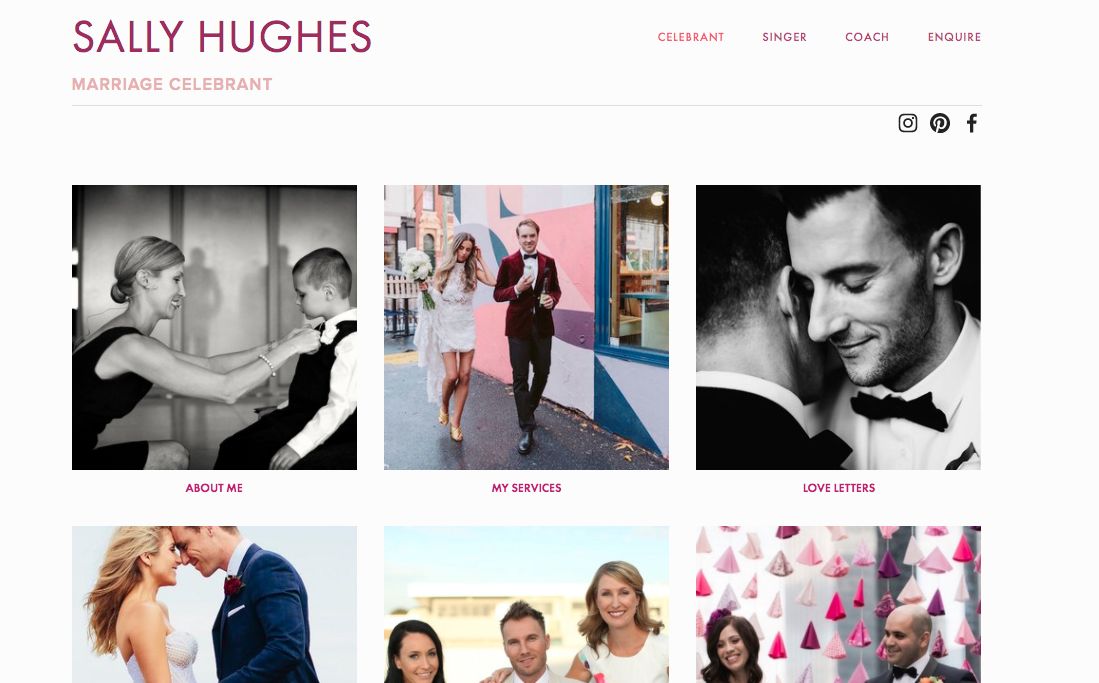 celebrantsallyhughes.com.au
414281615
I am a full-time Civil Celebrant, occasional classical singer, former business banker and happily married mother of two little girls.  As a wedding singer for over fifteen years I had the privilege of witnessing hundreds of ceremonies, however it wasn't until I was nearing the end of maternity leave with my first daughter that it occurred to me to make a career shift to celebrancy.
Observing hundreds of priests and celebrants for over a decade gave me a rare insight into how ceremonies were typically structured and presented. I had always held strong opinions about what I did and didn't like and how, given the chance, I would write and present ceremonies.  My "Ah-ha! moment" arrived whilst sitting in a chapel pew.  The following week I enrolled to become a celebrant and have never looked back.
I pride myself on delivering highly personalised and engaging ceremonies as I'm a firm believer that ceremonies should never be considered merely the "necessary part of the day". They should be interactive, interesting, enjoyable and memorable for both you and your guests.
I am friendly, attentive, organised and professional and my considerable experience in performance and public speaking ensures that I will deliver an engaging ceremony which reflects your personalities, values and vision.
I'll never take for granted how fortunate I am to be invited into people's lives and entrusted with such an important and very rewarding responsibility.  I get the best seat in the house and I'm so grateful for that!
Please contact me at any time to see if I'm available on your wedding day.  If so, I'd love to meet you for a drink and a chat.
FULL SERVICE MARRIAGE CEREMONY
My services include:
An initial, obligation-free meeting to listen to your ideas and discuss how we can create a bespoke ceremony together. During this meeting we'll discuss the process of writing your ceremony and the legal requirements for your marriage. You will also receive an information kit. Should you wish to proceed, I would ask that you complete a booking form, sign my service agreement and pay a non-refundable and non-transferrable booking fee to secure my services.
Access to my resources (poems and verse, sample vows, ritual ideas and music suggestions).
A second meeting, during which we will discuss the first draft of your ceremony and attend to the lodgement of the Notice of Intended Marriage (NOIM). I will also need to sight the identification documents relevant to your circumstances. Shortly after the second meeting I will email you the first draft of your ceremony. We can meet again to discuss or correspond as often as you like via Skype, email or telephone. The choice is yours.
A final meeting at my home office or at the venue (venue permitting) in the days prior to your ceremony.
A professionally printed commemorative marriage certificate.
A bound copy of your marriage ceremony script.
Completion of all legal paperwork and lodgement with the relevant authorities on your behalf.
A Change of Name Kit (for Australian residents) if either of you wish to change your surname via marriage.
A professional quality PA system with MP3 player (CD and USB) and smartphone connectivity.
I will dress appropriately to ensure that I complement the wedding party and reflect your dress code.
Please note: I cannot provide musical services for a couple whose marriage I will solemnise
Charis White Wedding Celebrant Melbourne
425714033
Weddings in Melbourne
The ceremonies I perform are very special occasions due to their immaculate attention to detail. Whether you choose to have a traditional, non-traditional, large or small wedding, a civil service allows you to construct your own wedding ceremony to suit.  It may seem like a daunting process, but it is actually very simple. I will be there to guide you through every step of the way.
Let's do this!
Step One
Let's chat over coffee, wine or a gin and tonic and get to know each other
Step Two
I will gather information about your love story and we will fill in the legal paperwork
Step Three
I will write your story and put together a beautiful ceremony
Step Four
You get married!
Gorgia Mills Celebrant Melbourne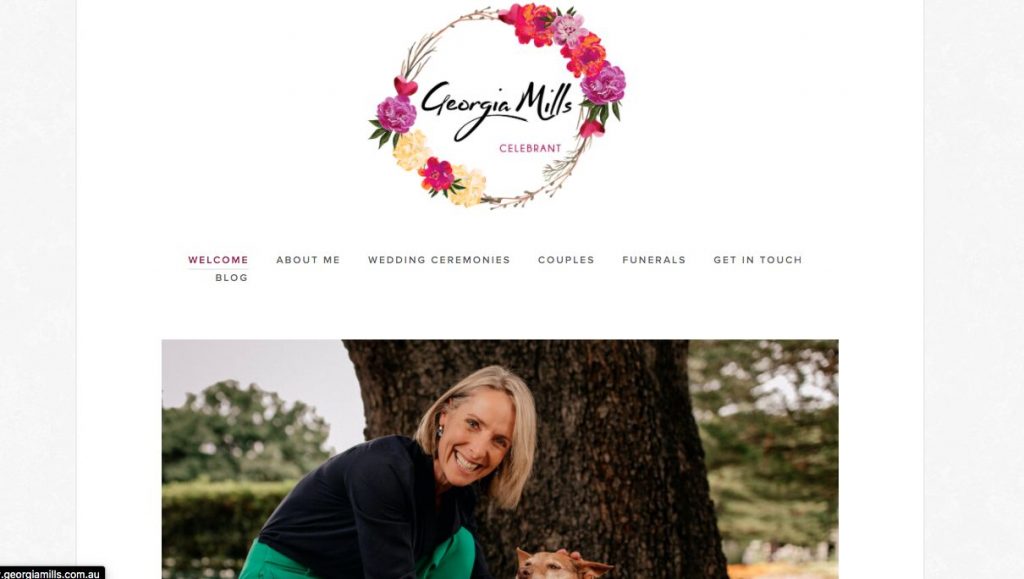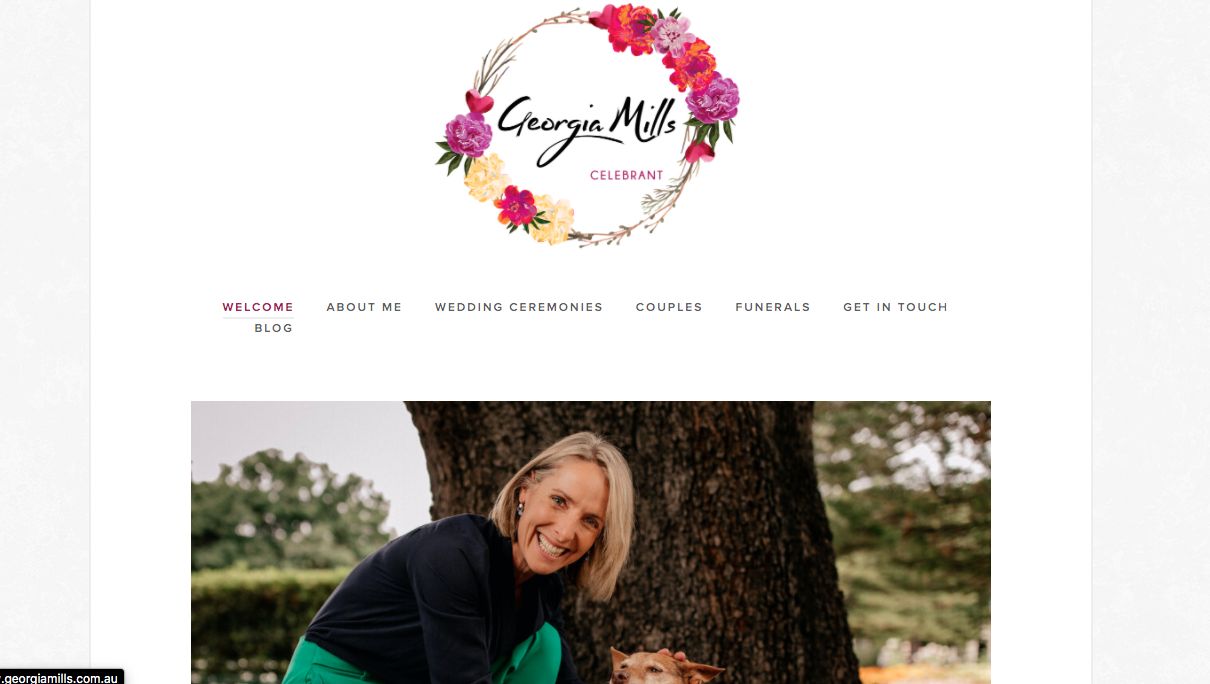 georgiamills.com.au
405135154
RELAX AND ENJOY
Standing before the people you love to share your promises in marriage is a really incredible and powerful experience. It can also feel a little daunting - especially for those who aren't used to being the centre of attention. This means it is so important to have an experienced, calm and confident celebrant beside you  - helping you to relax and enjoy getting married!
HERE AT EVERY STEP
I love my role as a marriage celebrant - guiding you through the whole process of getting married, from all the necessary paperwork, through to creating and sharing your unique ceremony - so that you can celebrate finding the love of your life and share your happiness with those closest to you. It's a pretty great feeling.
Megan Thompson Melbourne Marriage Celebrant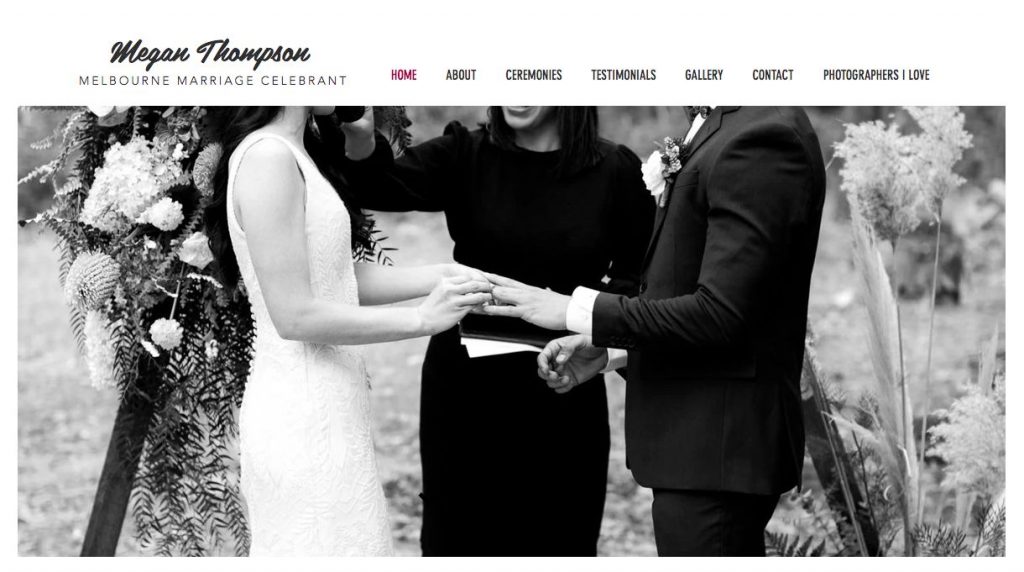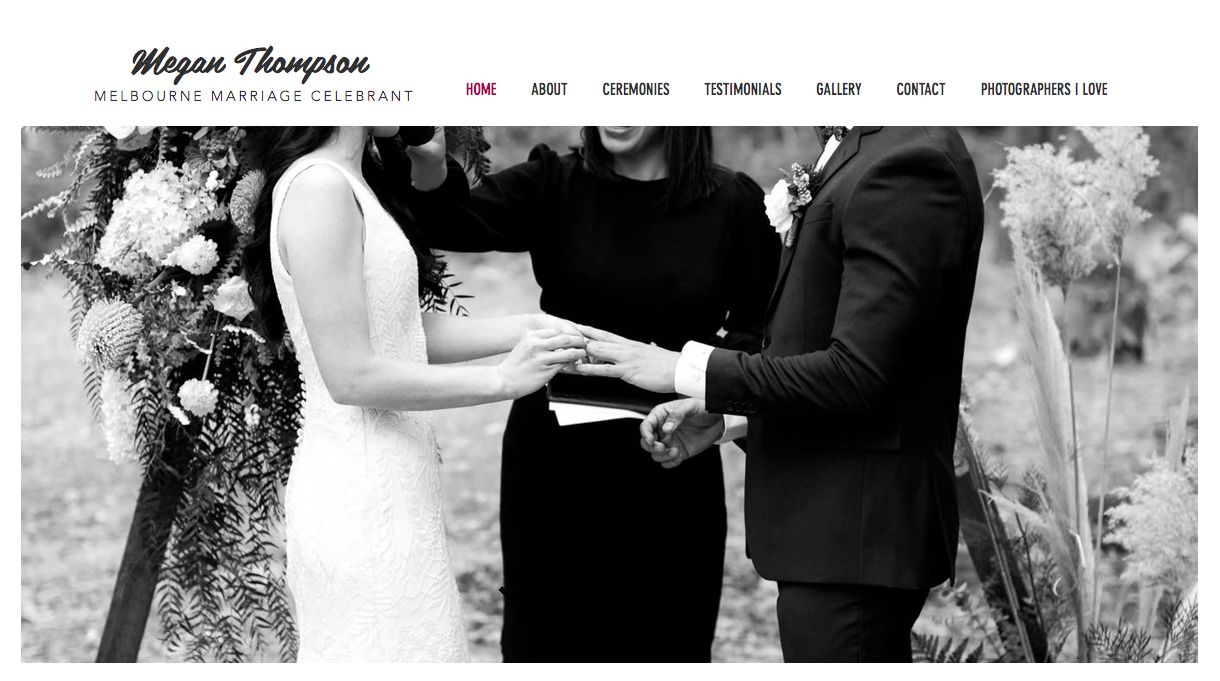 meganthompson.com.au
410069621
CEREMONIES
Your wedding day should be one of the happiest days of your life and I am here to take the stress out of planning your ceremony!
​I believe ceremonies set the scene for the celebrations ahead, and it's my mission to have every guest smiling, laughing and maybe even shedding a tear.
INITIAL CONSULTATION
It's important to have an initial chat to see if I'm the right celebrant for you. It's obligation free and I'm available for face to face meetings, skype/facetime calls or even just a quick chat over the phone.
ACCESS TO THE CEREMONY BASICS LIBRARY
I will provide you with online access to my ceremony basics to help you work out the structure of your ceremony. The majority will be custom written by me though.
HOMEWORK
My ceremonies require both you and your partner to fill out a questionnaire.... separetely! This will allow me to get some more insight into your relationship which will assist me in the writing process. It's only 8 questions and best to have some fun with it!
DRAFT CEREMONY
You can choose to recieve a draft of your ceremony or just wing it on the day! I am VERY experienced so you can have full trust in me to create something fun, emotive and unique to your relationship!
SECOND MEETING
During the second meeting we will go through the ceremony structure, discuss music requirements, any other inclusions and also begin the legal paperwork.
ON THE DAY
I arrive at your venue nice and early to set up and after that you will usually find me organising with venue staff, chatting to guests and creating a great atmosphere..
AFTER THE CEREMONY
This is not the last you have heard from me! I will register your marriage and lodge all original paperwork with births,deaths and marriages. I will notify you once everything is complete (usually 4-6 weeks afterwards).
FOLLOW UP
I will send you a follow up email with detailed instructions on how to obtain your original legal marriage certificate from the BDM office.
Pauline Fawkner | Marriage Celebrant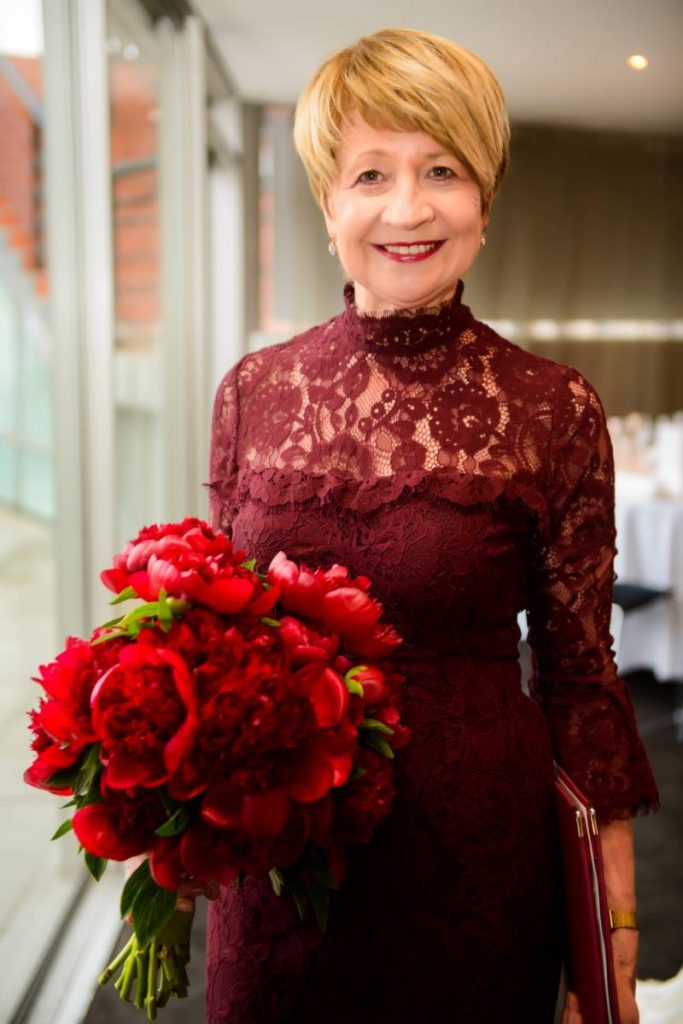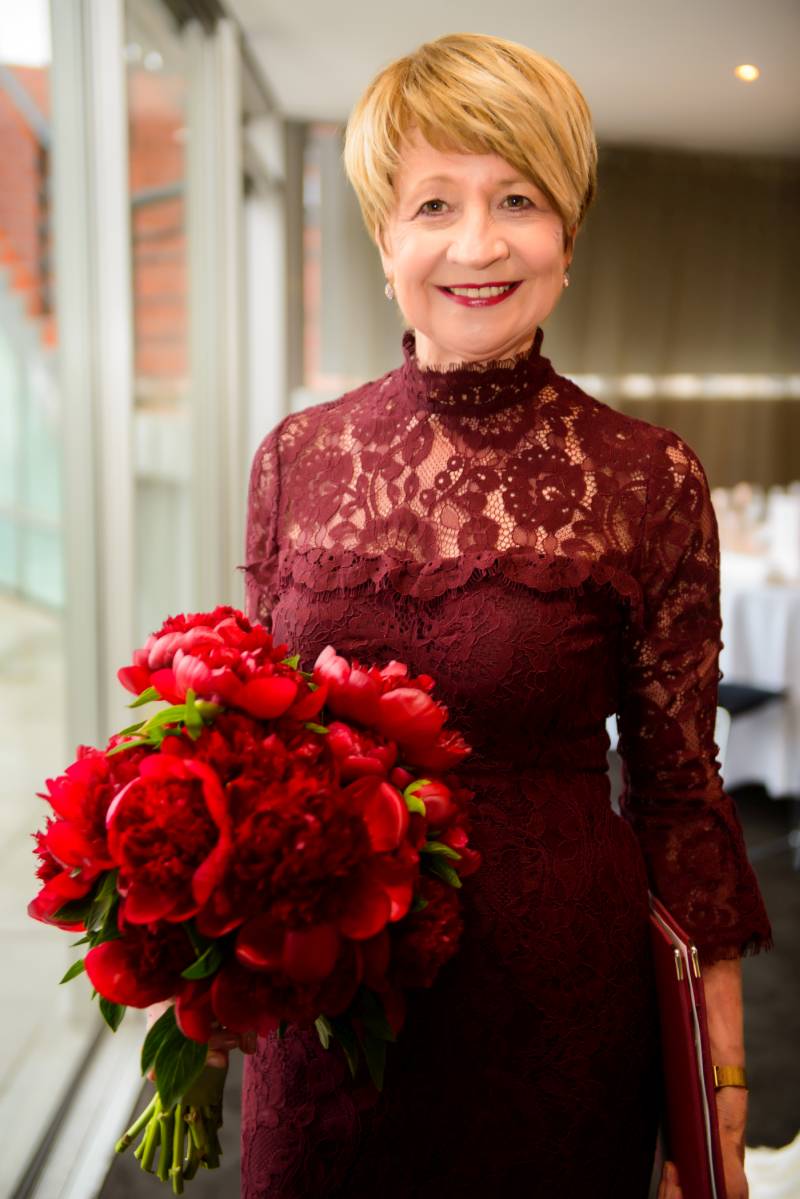 Do you want an amazing ceremony that is warm, dignified, memorable and professionally delivered?  If so, I can definitely help you.
I am a modern and creative Sydney Marriage Celebrant who will ensure the ceremony part of your day runs smoothly
Whether you are looking for a short, simple or more traditional marriage ceremony, I can accommodate your needs.
I will arrive at the venue in a timely fashion well dressed and groomed to fit your wedding style and with many contacts in the wedding industry I can give you recommendations for other professional wedding suppliers
I have many years experience as a fulltime, professional celebrant and have conducted thousands of weddings!  My style of ceremony delivery is natural, warm and inclusive.  One of the great delights of working as a busy celebrant is that I get to meet couples from diverse cultural backgrounds and it is a joy to incorporate various rituals.
December 2017 saw the Marriage Act 1961 change to allow same sex marriages and now they are mainstream.  No discrimination at last!
I can assist you in planning your special day if you need any guidance – I have a wealth of knowledge!
Anna Smale Marriage Celebrant Melbourne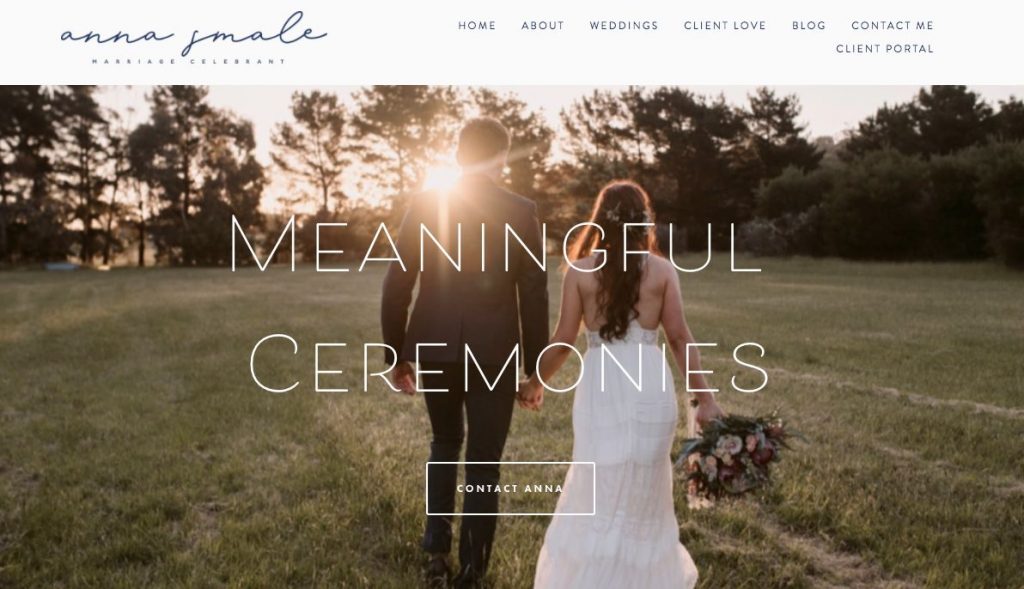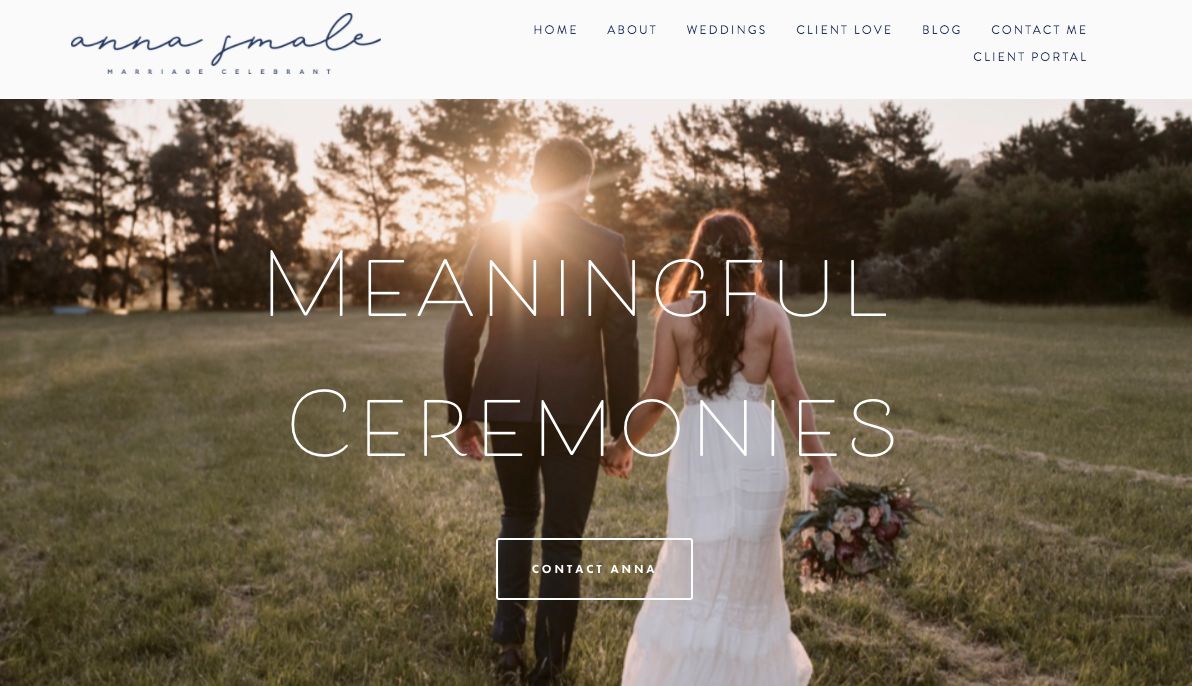 annasmalecelebrant.com.au
438006937
Ceremonies
Many couples don't realise how much they can personalise their wedding ceremony.
There are only a few legal words that need to take place during your ceremony and the rest is up to you!
I like to create ceremonies that are light-hearted, meaningful and compliment you and your style!
After all, your ceremony is what sets the tone for the rest of your celebrations and you want it to be one that you and your guests enjoy.
Weddings
Many couples don't realise how much they can personalise their wedding ceremony. There are only a few legal words that need to take place during your ceremony and the rest is up to you!
I like to create ceremonies that are light-hearted, meaningful and compliment you and your style.
Your ceremony is what sets the tone for the rest of your celebrations and you want it to be one that you and your guests enjoy.
Packages:
Wedding Ceremony
Perfect for couples who want the traditional style wedding ceremony with a modern twist. During the planning meetings, I will sit down with you to design your ceremony, in which I will share with you sample vows, readings, and so much more! Couples can have as much input as they like!
Short, Simple & Intimate
Perfect for couples who don't want an elaborate wedding and prefer a smaller intimate ceremony. Together we will design a short and simple ceremony in which you may like to personalise with vows.
Elopements
Perfect for couples who just want to be legally married in Australia. It involves me, the two of you, a minimum of two witnesses (who must be 18yo or older) and a few legal words. We then sign the certificates and you're married! The best part - it can be anywhere you want it to be!
So how does it all work?
Firstly, get in touch with me and provide me with as much information as possible about your wedding and the style you are after.
Let's catch up for a meet and greet where we can get to know each other, discuss your wedding and visions for your ceremony. If you're unable to meet in person, we can chat over Skype or FaceTime.
If the meeting goes well then book me in and pay a booking fee to secure the date.
We'll have subsequent meetings where we will complete your 'Notice of Intended Marriage' form and start discussing your ceremony. I will provide you with a Ceremony Guide with lots of examples (vows, ring exchange, readings, etc).
Approximately one month before your wedding you will receive a copy of your ceremony for review.
If requested, a rehearsal can take place a couple of weeks prior to your wedding.
Wedding Day! I will arrive nice and early to set up and liaise with your other suppliers to ensure the day runs smoothly.
Time to celebrate and enjoy married life!
Weddings by Danielle Emily - Wedding Celebrant Melbourne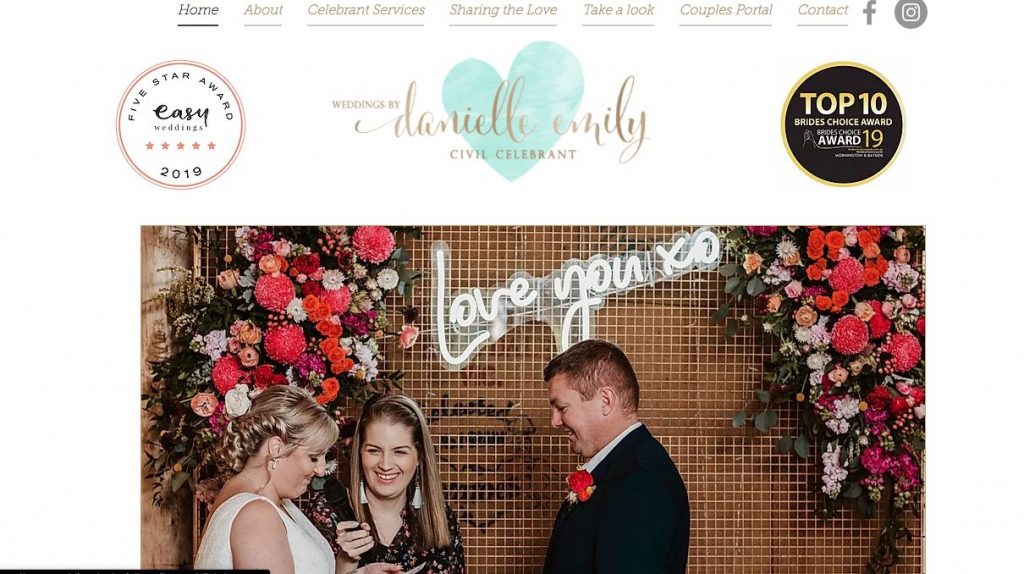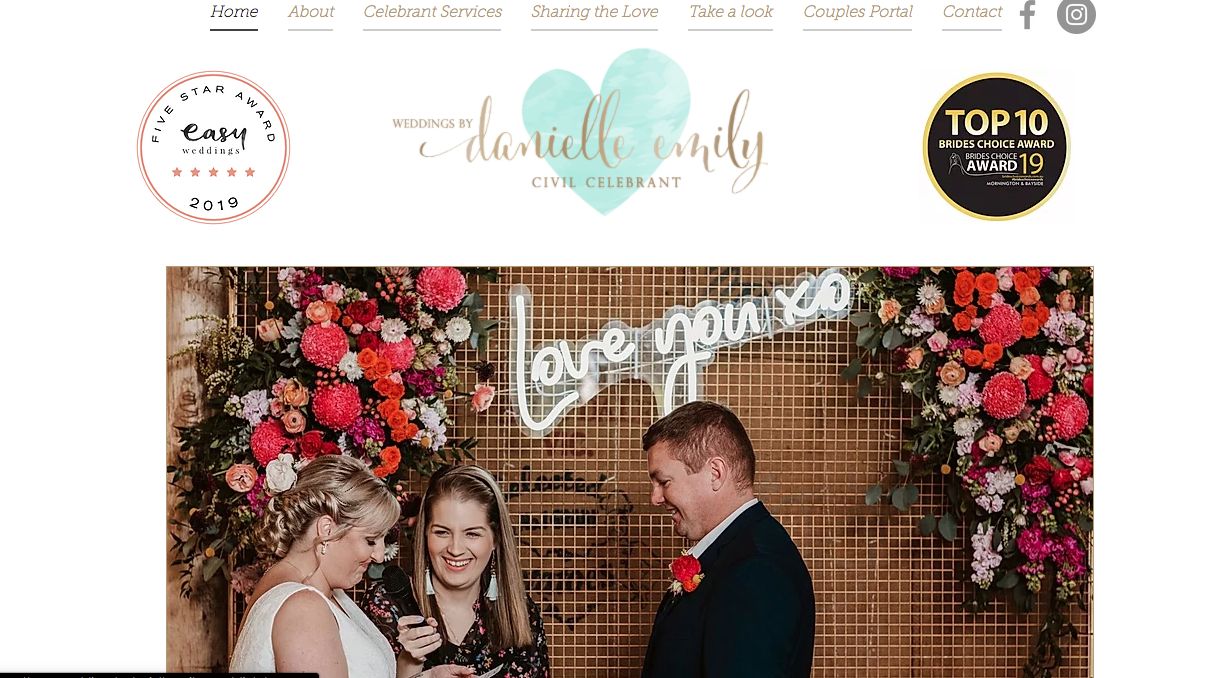 weddingsbydanielleemily.com
418577909
Welcome to Weddings By Danielle Emily
Civil Marriage Celebrant
​Firstly, congratulations on your engagement!
It is such an exciting time for you both. If you are looking for a ceremony that is romantic, yet relaxed with a little bit of humour you have come to the right place.
Take a look around my website and get in touch if you want to chat further!
I would love to be a part of your special day xx
CELEBRANT SERVICES:
PERSONALISED CEREMONIES
For those wanting the whole shebang!
All ceremonies include a non-obligation meeting, phone & email support, rehearsal  (offsite), personalised ceremony script, use of my PA system, conducting the ceremony,  completion & lodgement of the legal paperwork & the commemorative certificate
​SHORT BUT SWEET CEREMONIES
For those looking for a short & sweet low key ceremony!
(20 guests or less)
Includes a non-obligation meeting, phone & email support, standard ceremony script, conducting the ceremony, completion and lodgement of the legal paperwork & the commemorative certificate.
​LEGALS ONLY CEREMONIES
For those who just want to make their love official!
Includes myself, you two and two witnesses and just the legal wording, completion and lodgement of the legal paperwork & the commemorative certificate. Travel fee applies for locations further than 10km from Frankston
​​VISA APPLICATION PAPERWORK ASSISTANCE
For those couples proceeding with a partner or fiancé visa application.
Includes completion of the NOIM and letter of support . I will offer a 10% discount to any couple who then books their personalised ceremony with me.
​​TRAVEL FEE POA
All fully personalised & short but sweet ceremonies further than 50km from my home in Frankston will incur an extra travel fee to be quoted at the time of booking
Lisa Graham Wedding Celebrant Melbourne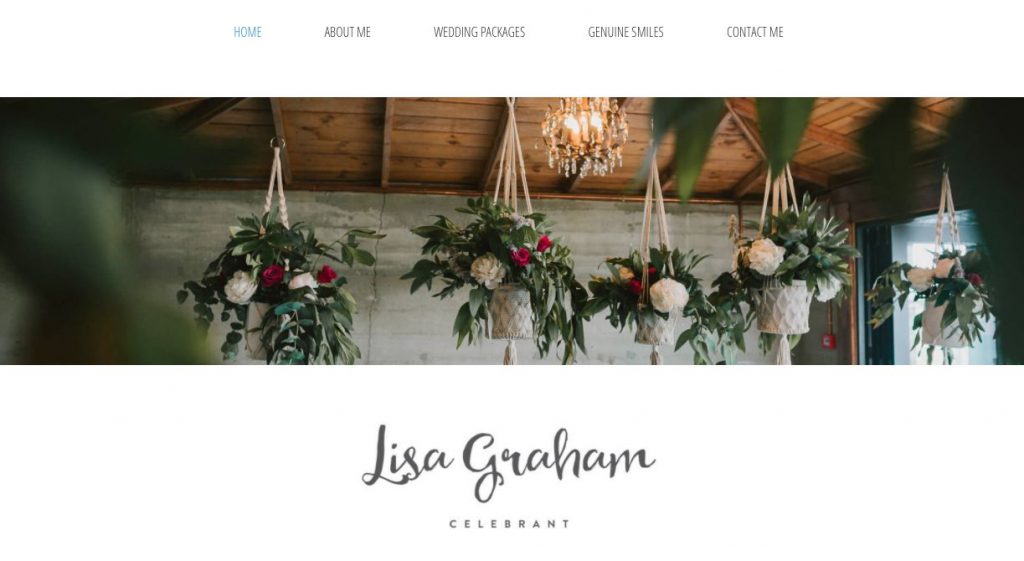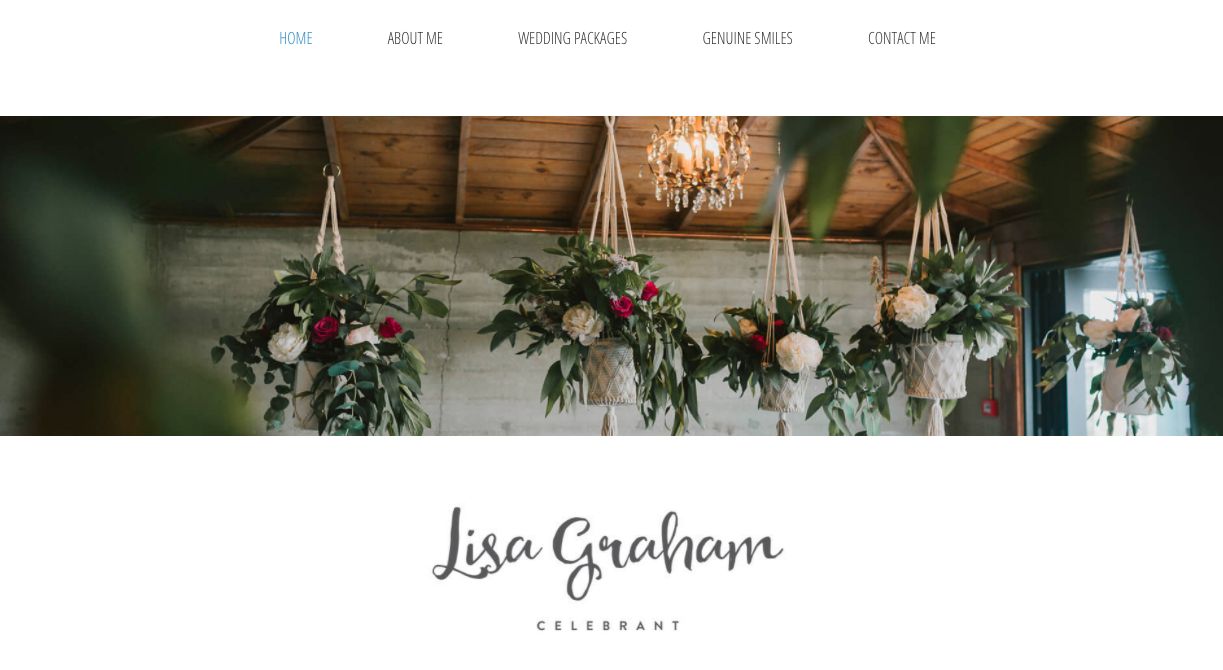 celebrantlisagraham.com.au
452426402
PREMIUM & PERSONALISED
For many couples the ceremony can be a daunting thought, however it truly does not have to be that way……if you find a Celebrant you feel you can trust and have confidence in, there is no need to worry……you can relax and enjoy the magic that is about to happen and your ceremony will set the tone for the rest of your celebration.
Wedding Ceremony Package Includes:
Initial meeting to complete legal paperwork and discuss your ceremony ideas. I will explain all the legal requirements for your marriage, and detail my ceremony writing process to ensure we create a unique and meaningful ceremony for you both.
A booking fee is required to secure my services on your specific date.
The creation of a unique and personalised ceremony that you will absolutely love!
Unlimited correspondence via email and phone in the lead up to your big day.
A rehearsal prior to your wedding day (A rehearsal is optional and does not necessarily need to be at your ceremony venue – the rehearsal date, time and location will need to be discussed in more detail – an extra cost may be incurred if extensive travel is required)
On your wedding day, I will arrive at the venue early to ensure everything is running smoothly and according to plan.
Use of a professional PA system with a handheld microphone during your ceremony.
I will take care of all the legal documents and lodge them with the relevant Births, Deaths and Marriages Office on your behalf (no need to stress about the paperwork).
I too, will dress up for the occasion and ensure what I wear complements the bridal party and reflects your dress code.
Hannah May Weddings - Wedding Celebrant Melbourne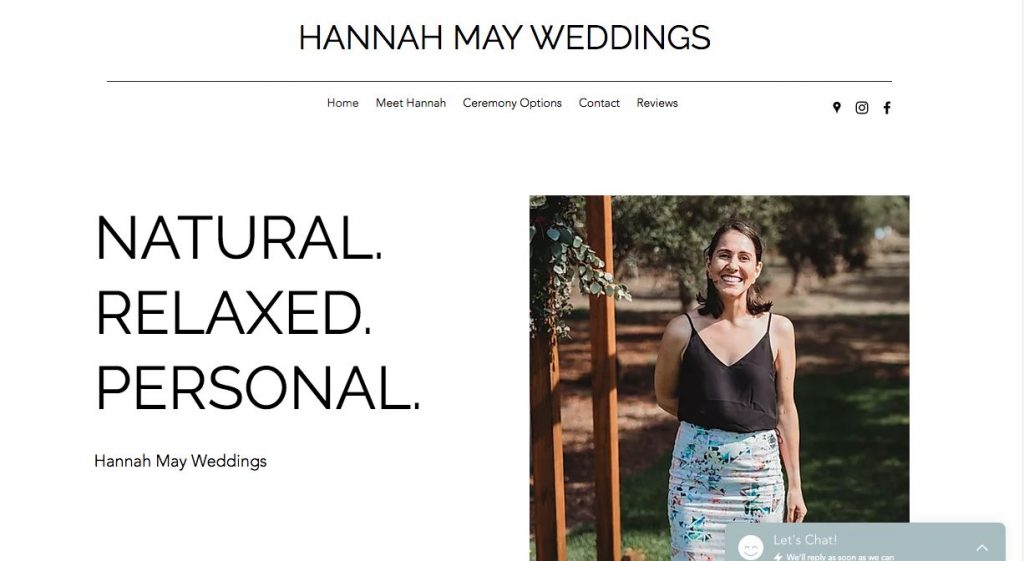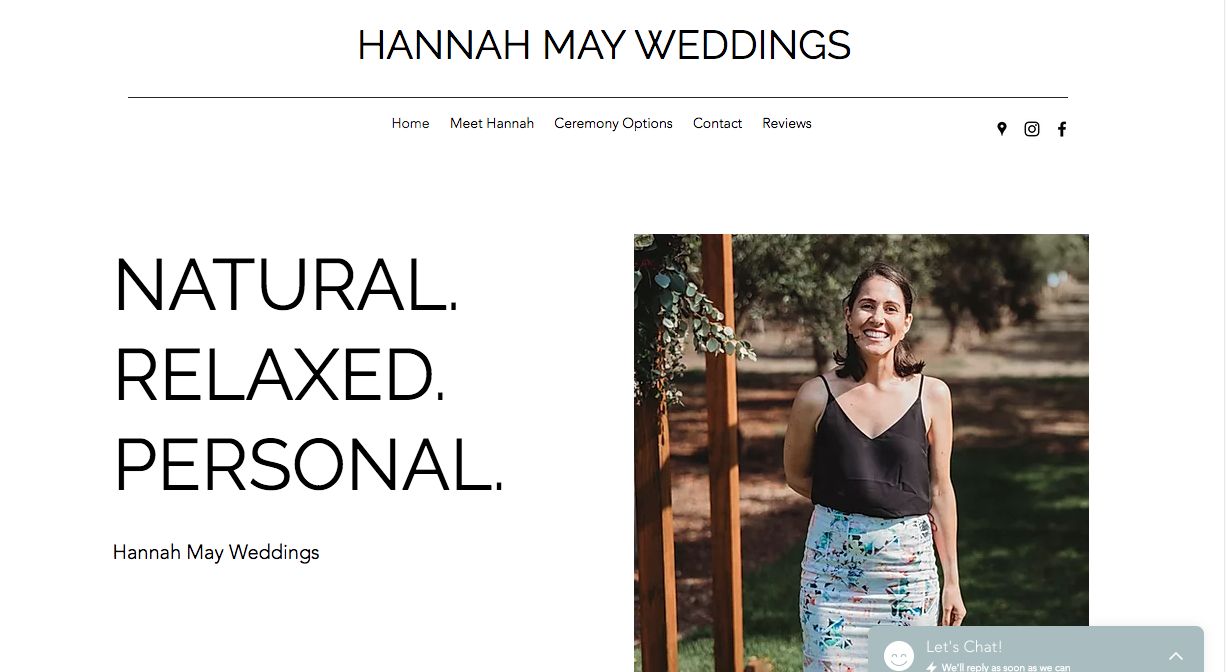 hannahmayweddings.com.au
400811156
MEET HANNAH
Lighthearted, relaxed and vibrant Marriage Celebrant!
People often ask me why I chose to become a marriage celebrant. The answer is pretty simple! When my husband and I were searching for our perfect celebrant we had real difficulty finding someone who ticked all of our boxes, we wanted someone we could relate to who was relaxed, vibrant, personable and who was able to deliver a ceremony that truly reflected us.
Eventually, we found her and she made the whole process such a simple and enjoyable one.
Now, I am the lucky one who is able to create for my couples what our celebrant did for us and I truly love the whole process!  From our first coffee catch up, to hearing all of the funny little stories that you've made throughout your own journey together, to the new journey you're about to embark on in becoming a married couple.
I love that after finding out all of your beautiful stories I get to use them to create the ceremony of your dreams; Lighthearted, relaxed, light-hearted and personal.
My ceremonies are not filled with soppy words but real words that come straight from the heart, from you both. This is where the magic happens!
With me by your side you can guarantee a stress free, happy and enjoyable process from start to finish. Your ceremony will truly reflect you as a couple and will be one that both you and your guests will never forget!
Marriage in Australia finally means all adults are free to unite in lawful commitment and I wholeheartedly support the legalisation of same sex marriage.
Linda Hamill Celebrant - Wedding Celebrant Melbourne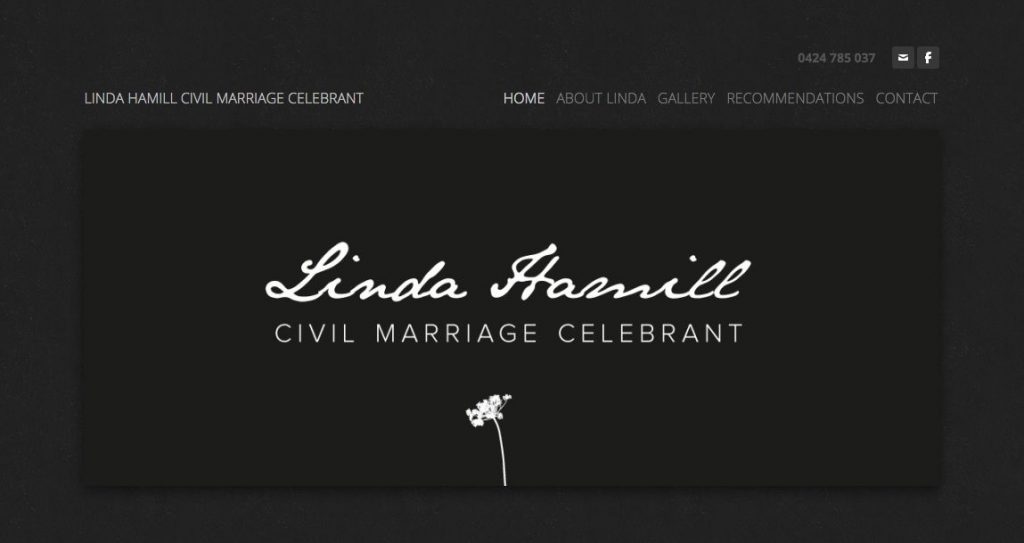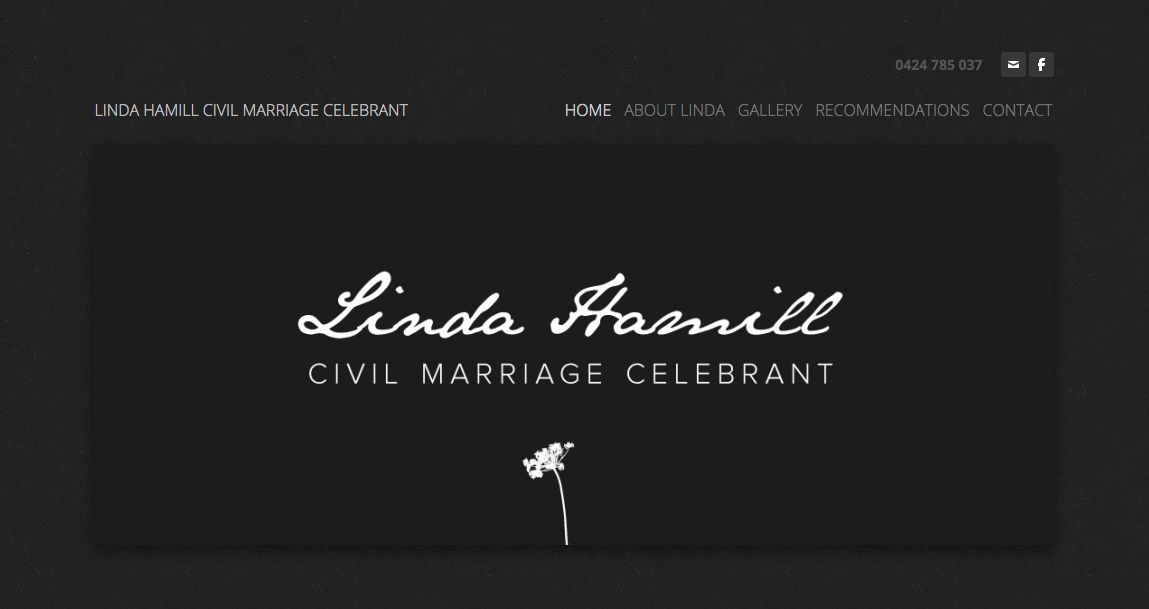 lindahamill.com.au
424785037
ABOUT LINDA
Marriage really is beautiful, it's how a couple can tell the world & each other that they belong together. But I understand that marriage to others may mean something different. It is my job as your celebrant to be able to put into words and deliver a ceremony that truly reflects you both as individuals and as a couple.
Whether you are seeking something fun, traditional or relaxed I can work with you to create a ceremony that is unique and special for you and your partner. A ceremony that reflects your personalities, beliefs and values.
One thing that is consistent with every wedding I have conducted is my style, I'm relaxed, down to earth, professional and genuine, I absolutely adore my job it is by far one of my greatest passions in life & I always strive to provide the very best for the couples I work with.
My fee's start at $850 for weddings based in and around Melbourne & Victoria (This fee will cover everything you will need from me on the day and leading up to your day, including travel, PA system if needed, a ceremony that is personal & completely unique to you, any meetings or rehearsals prior and all legal paperwork )  Over the past 8 years I have had the pleasure of marrying almost 250 brides & grooms,  so I also offer my experience and can guide you if you are unsure on what you are wanting.
I am a huge supporter of same sex marriage and I am absolutely thrilled that legislation has finally passed.
So why don't you give me a call or shoot me an email so we can catch up & say hi & see if I am the right celebrant for your day.
Sally Cant Civil Celebrant - Wedding Celebrant Melbourne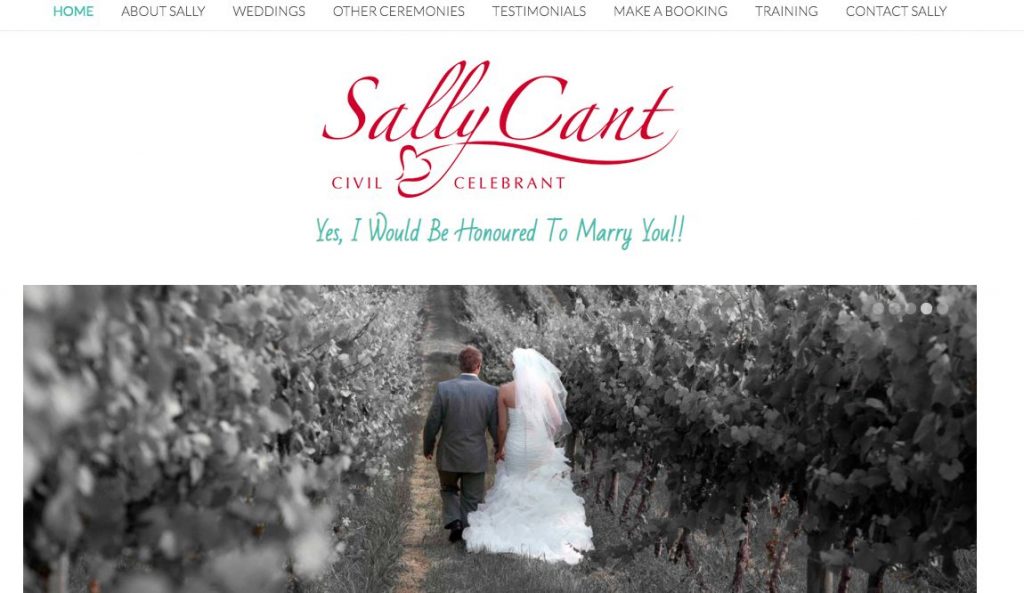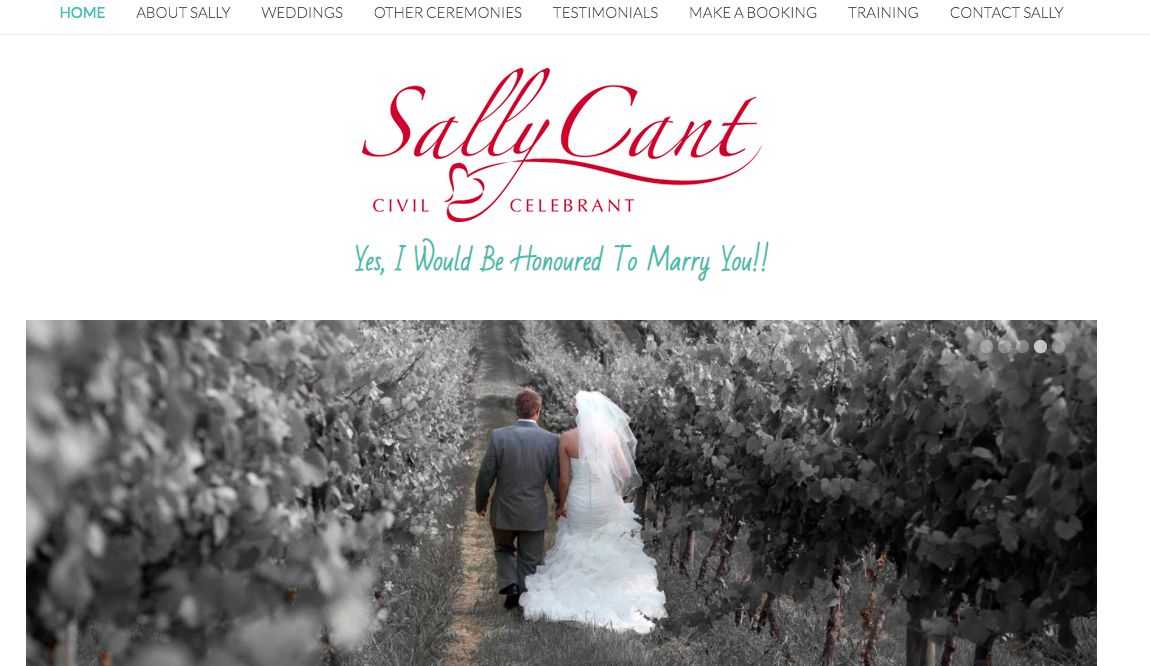 sallycant.com.au
408691405
About Sally
A Civil Celebrant and ritual maker, a corporate MC, and a published author – 'The Heart and Soul of Celebrancy' and 'Conversations About Death'. I am used to speaking at large gatherings and events – weddings, funerals, conferences etc – as well as the smaller intimate gatherings. So if you are after someone who is confident in front of a large gathering please don't hesitate to call me.
I am the the owner of The Celebrants Training College, the owner/director of Sally Cant Consulting – an IT consultant, a founding board member of FIMAC (Funeral Industry Ministerial Advisory Council), prior Vice President of The Natural Death Advocacy Network, a University lecturer, an award winning artist and a mother of three. I conduct myself in any of these areas, personal or professional, with integrity and with a high degree of ethics. And although I adhere to the Code of Practice that has been set down by the Attorney General's Dept for all celebrants I have always worked within Best Practice guidelines.
I am a President of an Association – 'Celebrants Training College Alumni' – and a member of a number of associations and I have the following insurances – Public Liability and Professional Indemnity.
Being invited onto the board of the Groundswell Project is also very exciting.
I have had a successful business career, with the skills learnt during that time helping me to communicate well with people and understand their needs. I am a vocal and highly visible advocate for the Celebrant Industry, a staunch advocate, and passionate about, social justice, the environment and discrimination issues. I am on a number of Boards, Advisory Boards, committees and charity work.
Weddings
I love creating ceremonies that are warm, personal, relaxed and fun. Ceremonies that celebrate 'you'. And, I am so thrilled that the laws have finally changed.
Now that the laws have changed, I am planing my own wedding for April 2018……
When I meet with couples I discuss their needs and show them samples of ceremonies that I have created. This gives them an idea of the options available to them so they are fully informed of what can be included in a ceremony. What I've come to learn is that one of the major reasons couples decide on a celebrant for their wedding ceremony is so that they have choices. I help couples create ceremonies that are indicative of their relationship, and spend time with them having fun putting together their ceremony. I keep the process relaxed, fun and professional.
By investing in a personalised customised process you will have the best possible marriage ceremony based on your needs and requirements and will be enjoyed by yourselves and every guest.
On average – I spend at least 20 hours on each wedding and my fee is around $1500. If you want a professional service – you usually expect to pay a professional fee.
Of course I am happy to try and work within your budget – so if you are getting married 5 minutes from me – or want to get married at my place – then I could offer you a discount. Other reasons for discounts are weekdays or off-season, or perhaps 5 people in your back yard…. Talk to me…..
Please remember a professional fee represents a professional service. Don't let price be your only consideration. Over 21 years of experience goes a long way to ensuring your ceremony is fabulous (for all the right reasons).
I am very proud to say that I also have full Accreditation from the ABS – which is quite rare for a Celebrant.
The words used in a ceremony should be special to you and consequently I encourage everyone to have as much personal input as possible. I encourage couples to have an introduction that is centered around their values and beliefs. This can be done with the help of completing a simple questionnaire that I prepare for the couple – but does require a bit of homework from the couple to ensure the ceremony is authentic.
Nothing personalises a wedding ceremony more than an introduction that tells the story of the couple meeting, developing their relationship and deciding to get married. This introduction can relate why the couple love each other, tell their family and friends what they mean to them and state the couple's vision for their future together. Writing this introduction is a creative, demanding and sometimes time-consuming task. The couple may do it themselves, but often I write it and the couple then make any changes.
I make this process as simple and relaxed as possible. So on the day you can relax and take it all in – knowing you have someone professional and organised to present it on the day. I am happy to handle the music for you if you choose CD's – I will legally purchase the songs and then burn the songs to CD to ensure they work on my PA. One less job for you to worry about.
Today we see people coming together to marry – be it young singles, to blended families, to the more senior people deciding to marry. Whatever your circumstance I would love the opportunity to help create a ceremony for your very special day. If you have children I would always encourage you to incorporate them into the ceremony. This is a very special time for them also, and how good would it be for them to feel a part of this day.
I have many resources available to help you create your own ceremony and I am more than happy to spend time giving you any assistance required to complete the wording. My fee includes unlimited consultations with you to ensure that you are given the time necessary to fulfill all your needs.
Marry Me by Somer Wedding Celebrant Melbourne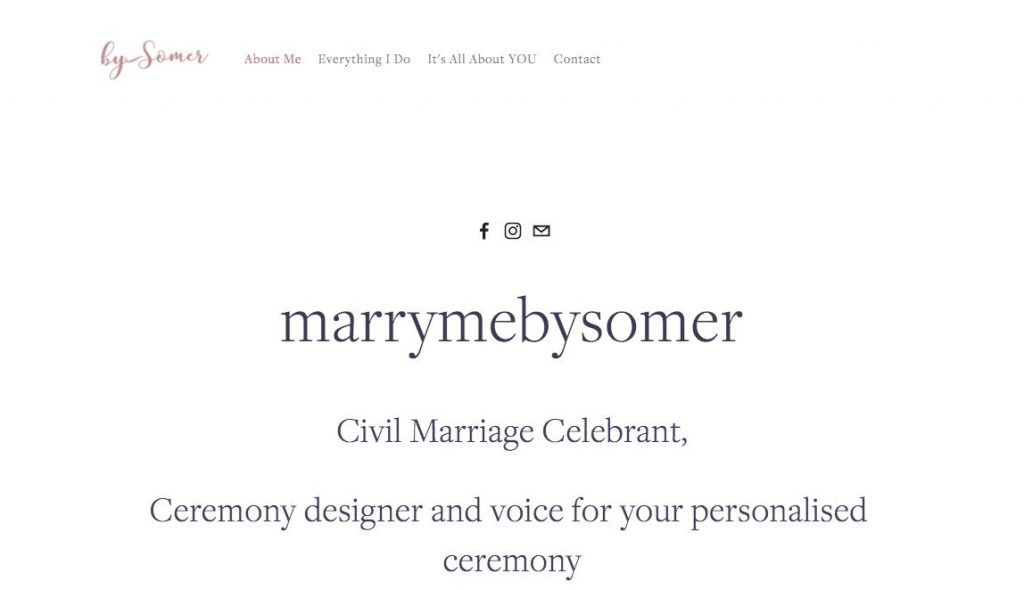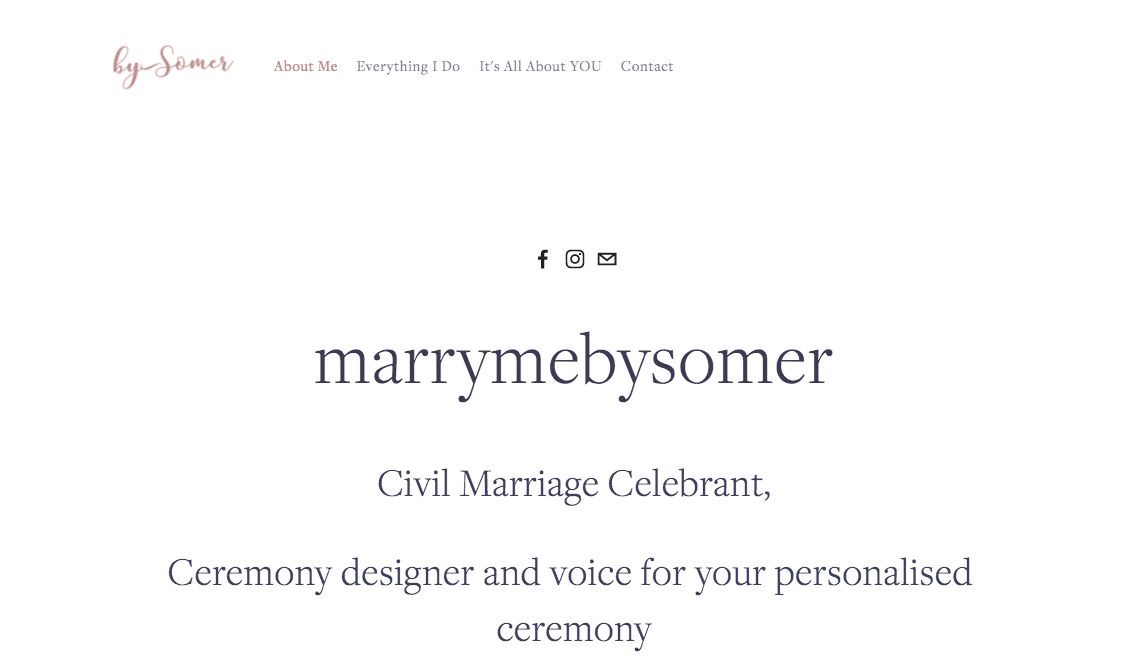 marrymebysomer.com.au
407943620
I love 'Love' and that's why I believe I have the best job in the world. Choosing the right Celebrant (or me) for your wedding day (or elopement) will ensure your day is unique, meaningful & memorable. Your ceremony can be as lengthy and detailed as your heart desires or short and punchy, but sweet. The most important thing is I will be telling 'your story' with purpose and meaning.
THE PASSIONATE CELEBRANT
I DISCOVERED YEARS AGO THROUGH PRACTICING GRATITUDE THAT I WANTED TO START CHASING 'GOOSE-BUMP MOMENTS' FOR MY OWN FULFILLMENT. I STARTED TAKING MENTAL NOTES OF THESE MOMENTS AS THEY HAPPENED AND WEDDINGS HAVE ALWAYS BEEN STANDOUT FOR ME. NOTHING GIVES ME JOY LIKE A BEAUTIFULLY WORDED AND DELIVERED CEREMONY.
EXPERIENCE
I WAS SO FORTUNATE THAT THE FIRST WEDDING I OFFICIATED IN 2014 WAS MY SISTER AND BROTHER IN LAW. IT WAS A BEAUTIFUL, INTIMATE WEDDING HELD IN THEIR BACKYARD, AND FROM THAT INSTANT I KNEW I HAD FOUND A PASSION THAT IS BOTH DEEPLY FULFILLING AND CONSTANTLY REWARDING.
FROM THE MOMENT I AM ASKED BY MY COUPLES TO MARRY THEM, THE MAGIC AND JOY BEGIN. I HAVE SO MUCH FUN GETTING TO KNOW EACH COUPLE, BOTH AS INDIVIDUALS AND TOGETHER. I LOVE THE EXPERIENCE OF GETTING TO KNOW THEM ON A DEEPER LEVEL AND HEARING THE JOURNEY OF HOW THEY MET AND FELL IN LOVE. FROM THERE WE BEGIN TO BUILD THEIR CEREMONY, CAPTURING THIS IN A CREATIVE WAY, WHERE I CAN THEN BE THE MEANS FOR THEM TO SHARE THEIR LOVE STORY AND COMMITMENT TO EACH OTHER IN FRONT OF THEIR LOVED ONES ON THEIR SPECIAL DAY. THE COUPLES THAT I HAVE MARRIED, I HAVE COME TO TRULY ADORE AND HAVE RESULTED IN SOME BEAUTIFUL NEW FRIENDSHIPS ALONG THE WAY.
Mark The Date Weddings by Mark - Wedding Celebrant Melbourne

markthedate.com.au
423463484
I'M HERE FOR YOU BOTH
I am delighted to offer you my services as a Civil Marriage Celebrant, authorized by law to conduct your Wedding Ceremony.
​Sharing in the significance and joy of two loving people coming together
in marriage is a absolute privilege. When we peel away the layers to find the essence of what is real and purposeful in our lifetime, there is only the love for one another, husband, wife, partner, family, friend or lover that truly exists. The strength and hope that keeps us moving forward through life.
ABOUT ME
Professional Marriage Celebrant
I'm a middle aged married man with two 20 something sons. I love people and I love weddings. Professional caring warm and witty a celebrant who is there for the two of you.
Whether you're contemplating an intimate affair or planning on filling the MCG; as a licensed Marriage Celebrant my integrity, honesty, humility, reliability, and desire to help you will make your day exactly how you dreamed it to be.
​It would be my honor to guide you through every step of your ceremony with passion, professionalism and attention to detail. As we produce and convey a Wedding Ceremony to reflect your distinctive style and personality, from the grander ceremonies to intimate elopement ceremonies. Whatever your desire is, I will work with you through the entire process and help you create a ceremony that you will remember .
Kelly Della Bosca Civil Celebrant Melbourne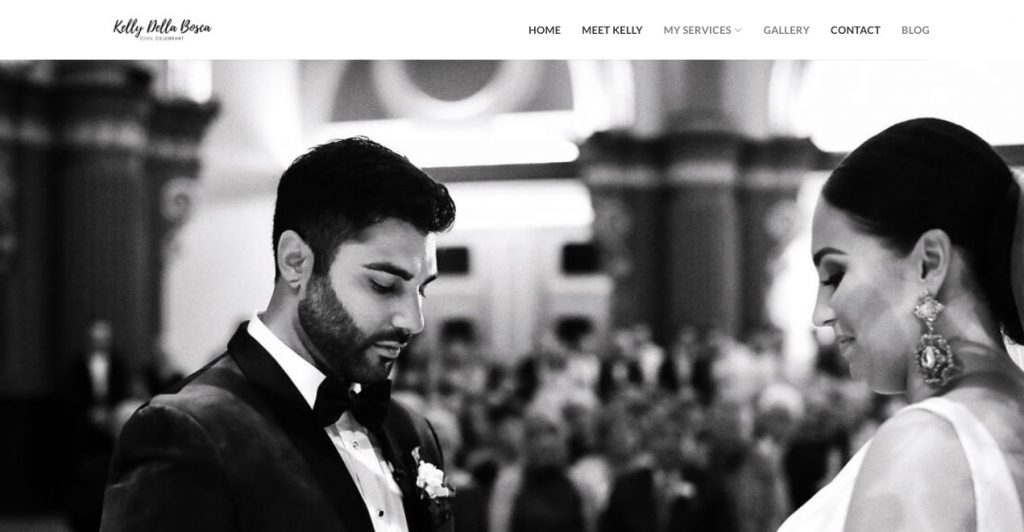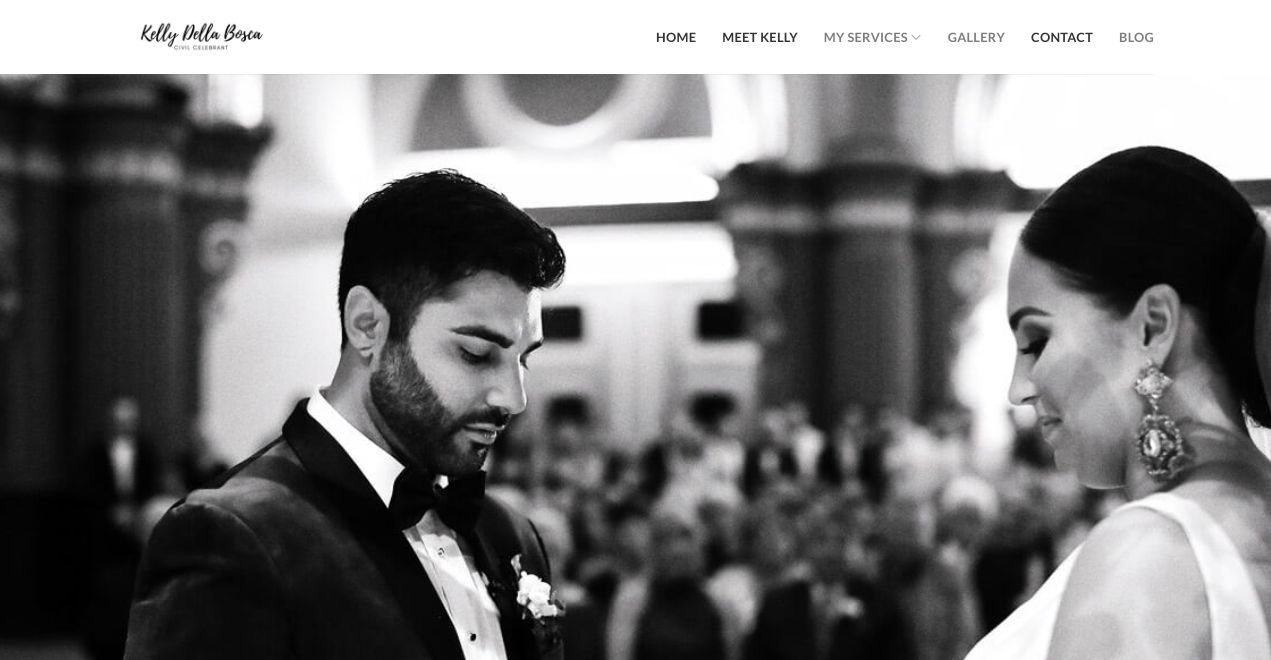 celebrantkellydellabosca.com.au
417099698
A LITTLE ABOUT ME
I am a Melbourne marriage celebrant with the experience and understanding to provide ceremonies that blend styles, cultures and religious beliefs.
I am perfectly placed to impart to my clients the experience gleaned in mixing and experiencing different cultures and various situations.
My caring and understanding manner is well suited to helping and working with you and your needs for delivering a stylish and memorable wedding.
WHY KELLY IS THE CELEBRANT FOR YOU
I offer all couples the opportunity to help write or discuss those poignant wedding vows which make your big day a memorable and enjoyable event.
I will make myself available for all rehearsals, allowing me to showcase the big event.
I offer couples the ideas of a young thinking Celebrant, one who understands the complexities of today's multi-cultural society.
I am enthusiastic, professional, devoted and able to assist in making your wedding one that will always be remembered.
I have the latest in digital equipment to enhance the audio experience.
Mighty Vision Melbourne
OUR FIRST MEETING
First meeting will usually be at my home or at a place that is more convenient to you. This relaxed initial meeting will allow you to express your plans and ideas to help me create something unique to you. During our meeting, I will go through the legal requirements and my role as a Civil Marriage Celebrant.
You will receive what I like to call, "my ceremony survival kit", which will include examples of vows, a guide to help you write your own vows if that is your choice, poems, ritual ideas and readings and a comprehensive questionnaire which will give me a greater understanding of who you are.
DO I NEED TO SIGN ANYTHING?
You are required to sign some documents during the ceremony e.g. the Certificate of Marriage, the Marriage Register and the presentation Marriage Certificate. You will need two witnesses over the age of 18 to sign these documents.
At the end of your ceremony, you will receive a professionally printed marriage certificate. Completion of all legal paperwork and lodgement with the relevant authorities on your behalf.  (Please note, after the marriage couples must obtain their own Registered Marriage Certificate from Births, Deaths and Marriages.)
Your ceremony is special to you and your guests and should be heard by all attending your wedding. I supply a PA Wireless Speaker with microphones – MP3, Bluetooth, USB, Wireless, iPhone connectivity.
Mark Doggett Wedding Celebrant Melbourne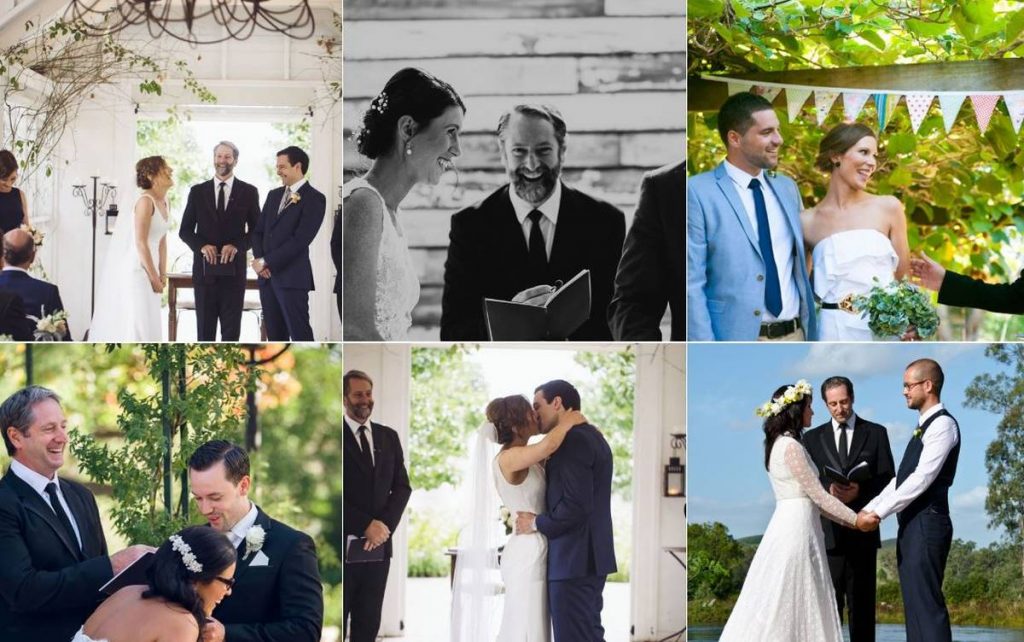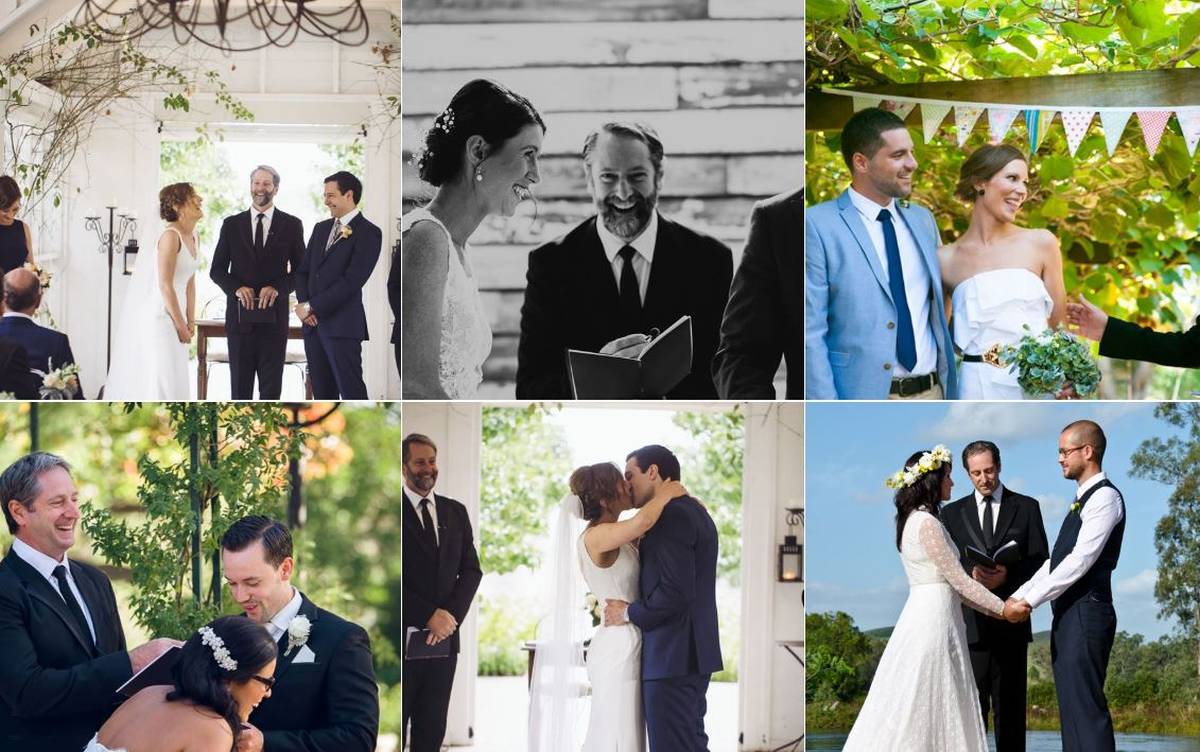 loveisallyouneed.com.au
413262277
Steps to Making it Real
Face To Face
We meet for a coffee & a chat and I let you know how easily it all works and give you some inspiration.
You then hit me with some Questions and see if you think I am the right man for the job.
The Right Choice
Once you say Yes and choose me as your Celebrant
(I am ever the optimist 🙂
I will prepare the initial paperwork and you simply sign the form then tell me some more of your story & adventures together so I can get creative & busy crafting your unique Celebration. You head home feeling completely Confident & Excited
The Main Event
I arrive early with all the legal stuff sorted, set up my PA / Sound System and make sure Everything is completely ready for your arrival. All you have to do is be there with open eyes & hearts ready to enjoy every moment. Then the magic happens, you kiss and everyone Cheers.
As the Celebrations continue you will be wondering how it all could possibly have been so fun and easy.
ABOUT ME
I am a professionally trained Celebrant and a well known, respected and professional Actor who has the skills and the desire to create and perform the ceremony that you want.
I believe that it is a great privilege to be able to contribute to such a significant and special part of people's lives.  I am committed to giving you the ceremony that you have dreamed of and take particular pride in personalising your celebration. After all it's your special occasion, whether it's just two people or two hundred, it's all about you. So I will take the time to find out who you are and what you like and will tailor a ceremony that reflects your personal style and the atmosphere you wish to create.  I am also a great believer in making the whole process as easy and stress free for you as possible.  I will do my very best to guide and support you from our first chat all the way to the big day.
I was born in Melbourne and have always called Australia home but I have spent much time traveling the world and meeting people from all sorts of places and cultures. I studied Sociology and Archaeology at University, and Music and Performance at one of the most prestigious Academies in the Southern hemisphere. I have a great passion for Art, Theatre , Music and especially people and take great pleasure in hearing and sharing in their unique and individual stories.  So, if you would like to share yours with me and let me help you share a little of it with your guests, then please give me a call.
Frank Servello Marriage Celebrant Melbourne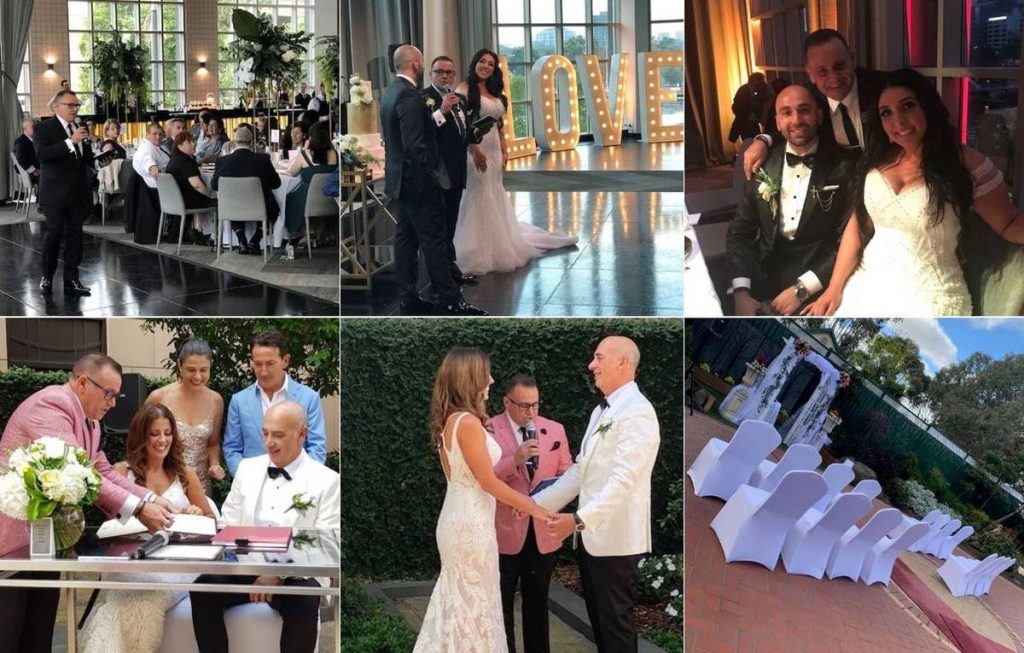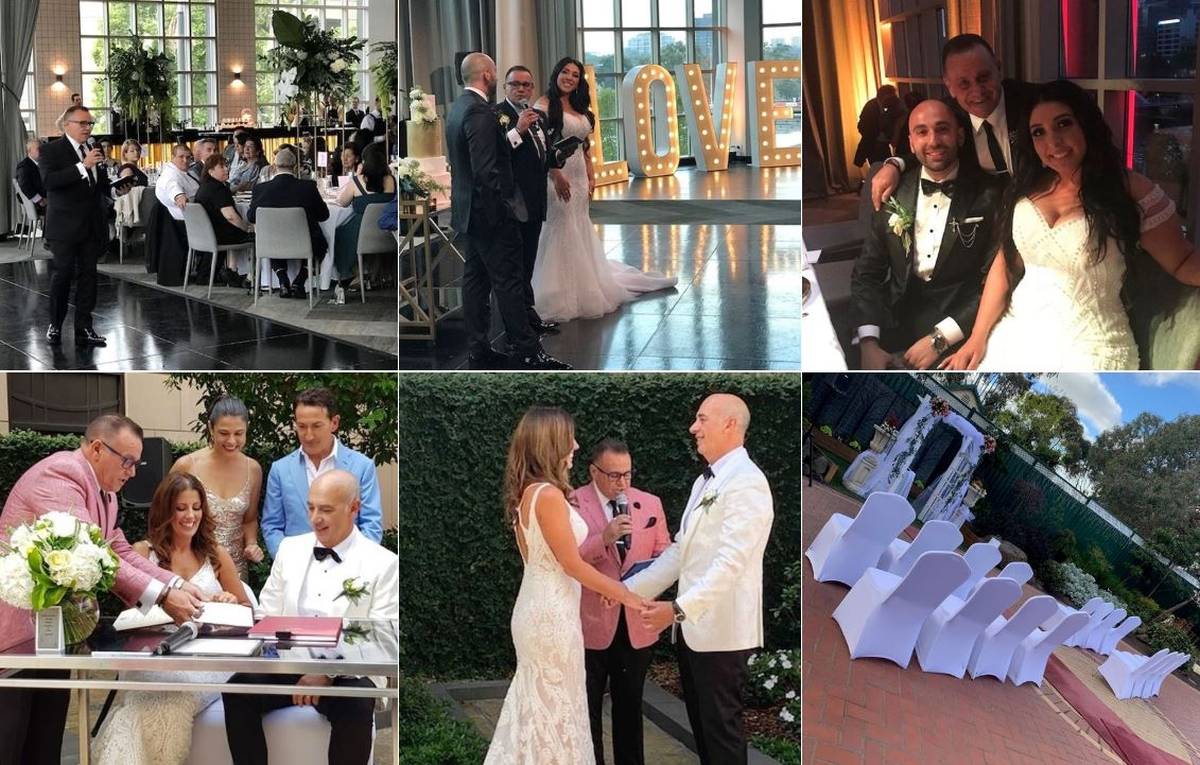 frankservello.com
418145945
About us
Congratulations to you and your fiancé/partner on your upcoming marriage and celebration. Thank you for visiting my website regarding my services for your wedding.
If you are looking for a celebrant who can offer an intimate, customized and very romantic wedding… Look no further!
As a registered celebrant, I can help you, arrange the wedding of your dreams
Hello! Welcome to Frank Servello.
As your marriage Celebrant I will assist you in designing the perfect wedding ceremony.Through careful planning with you both, we can create a tailored ceremony, totally free of constraints, to make your dream come true.
I offer a very friendly service and I will work with you both to ensure your ceremony is going to be lots of fun, relaxed, enjoyable and most importantly, what you both want. I will give you friendly and professional care with all the legal requirements taken care of.
I love what I do and bring a joyful presence to every ceremony. I have an eye for detail and a calming presence that will help you and your family relax and enjoy your special day – which I am sure is a high priority. I want your ceremony to be very special, relaxed and friendly.
It's important that the process of organising a wedding is kept simple and easy. So, setting up a free, no obligation time to chat is the best way to go.
I look forward to hearing from you and further discussing how I can assist you in creating the wedding of your dreams, the perfect wedding.
Sam Lavery The Celebrant- Wedding Celebrant Melbourne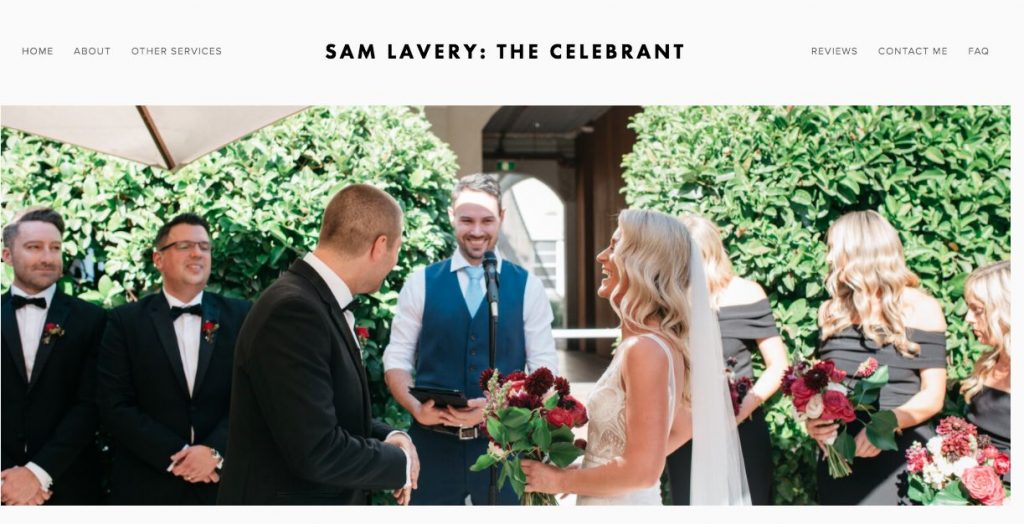 samlaverythecelebrant.com
411149378
So you got engaged, welcome..
Thanks for dropping by! My name is Sam and I am a Marriage Celebrant and MC based in Melbourne (but I travel far and wide; Yarra Valley, Mornington Peninsula, anywhere!)
I love weddings, when done right it is the most fun someone can have, that's a fact (I'm pretty sure it is). I have been to heaps of them, both as a spectator and professionally (I even like them so much I got married myself!).
How I work..
I have a really simple approach to the ceremonies I put together;
Modern: We have all sat through an "old school" ceremony that goes for 3 hours, it's tough work. I specialise in modern, fun and entertaining ceremonies. If you want a Pope Francis style ceremony I am probably not your guy.
Funny: Just like life, weddings should have lots of funny moments. I want you and your guests to laugh. I was a stand up comic in Melbourne for several years so I am happy to chuck in a few jokes when appropriate! But don't worry, the chuckles will be balanced out with the beautiful and sentimental moments of your story as a couple.
Memorable: Most of all I don't want your guests thinking "could I get away with checking the footy scores". I want your ceremony to be entertaining, I want it to tell the story of you so well that they have no choice but to be as present as Tibetan monks!
Essentially, I am saying I want to put the best-ever ceremony together for you.
So what are the next steps..
Step 1: Lets catch up and grab a drink, coffee or alcohol, I dont judge on time of day consumed for either 🙂 We will have a chat about your ceremony and what you are after! (no obligation, of course) I will run you through the process in detail and make sure it's as easy as humanly possible for you both!
(COVID update - we can meet virtually on Zoom!)
Step 2: So you've decided I am your guy, great! I will take care of all the legal paperwork and write a cracking 100% personalised ceremony telling your story so well that guests will think we are besties.
Step 3: Its go time! Lets marry you two awesome humans and give your big day the start it deserves!
Jak Nguyen Wedding Celebrant Melbourne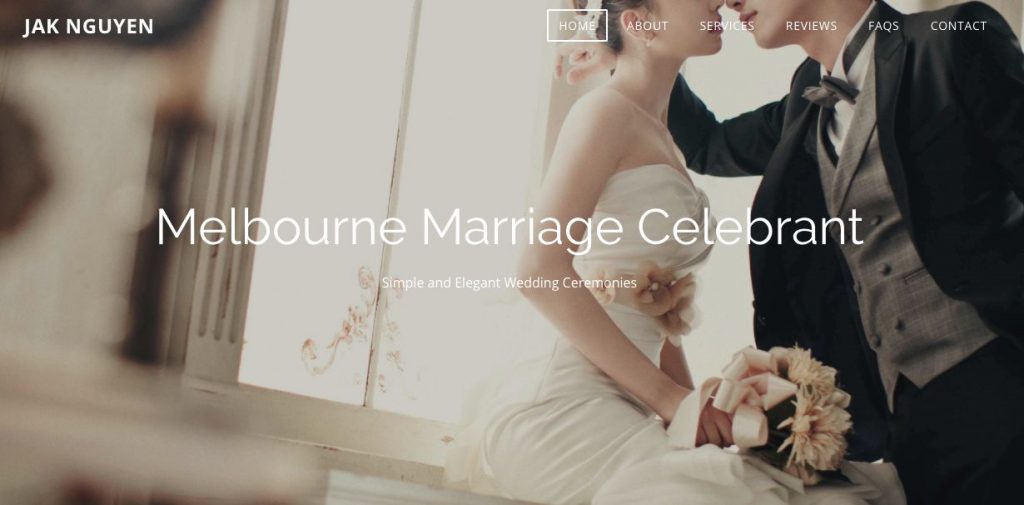 jaknguyen.com.au
430170091
About Jak Nguyen
I'm a full-time Civil Marriage Celebrant, based in Melbourne, Australia. As an event coordinator for over 10 years, I've been responsible for hundreds of weddings. Been a guest at a wedding that featured lobster or abalone? Chances are good we've already met!
I became a wedding celebrant because my friend wanted a Friends themed wedding.
That's a true story.
Growing from word of mouth alone, I've since become one of Melbourne's most in-demand wedding celebrants.
I pride myself in delivering personal and engaging ceremonies. Check out the Testimonials from many happy couples satisfied with my services.
Please Contact me any time to check if I'm available for your wedding day. I'd love to meet you for a drink and chat.
Leana Celebrancy - Wedding Celebrant Melbourne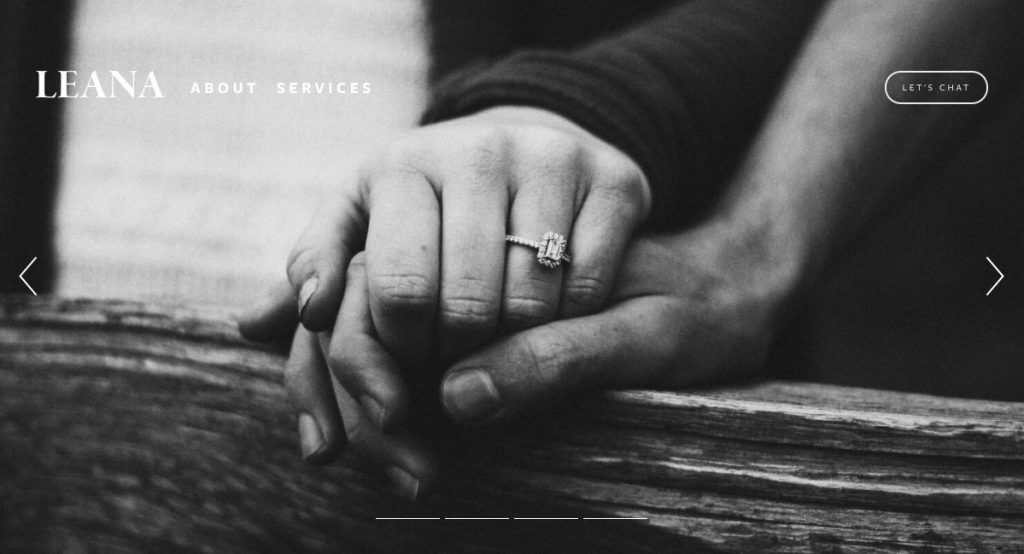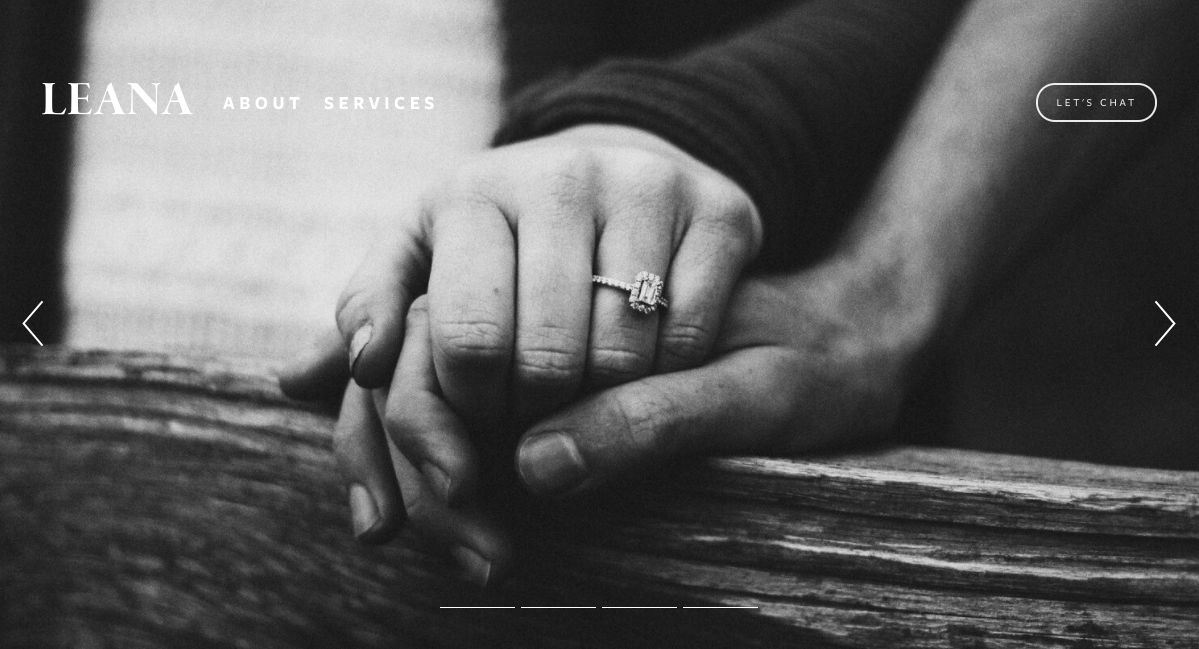 leanascelebrancy.com.au
431811209
If you are a couple wishing to create not just a special memory on your wedding day but celebrate your journey together to this point in time, I am the celebrant for you! I will help make your wedding day unique, I will reflect your personalities in your ceremony and help create a memorable wedding day.
Background
I have worked in the wedding industry for over 10 years although not always as a celebrant. Before choosing to become a celebrant, I was a wedding coordinator which gave me a great understanding of all aspects involved in creating a memorable wedding. I believe the ceremony is what sets the feel for the event, it is the beginning of the celebrations and when emotions are most prevalent. The ceremony is the special moment a couple publicly commit to each other for life and this is what I love to be apart of. Choose me as your celebrant and lets kick off your wedding in the most glorious way!
Dean Eddy- Memories and Moments in Time Wedding Celebrant Melbourne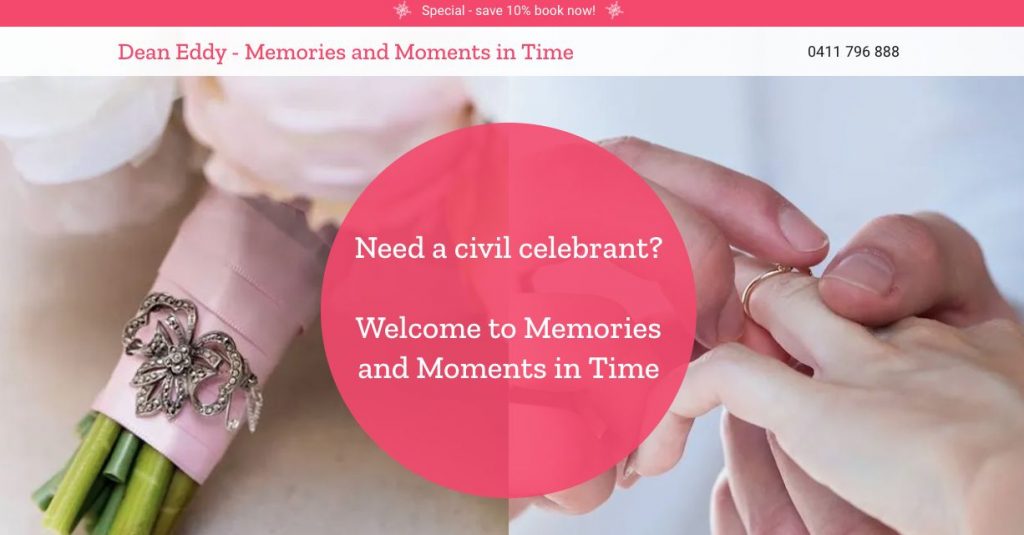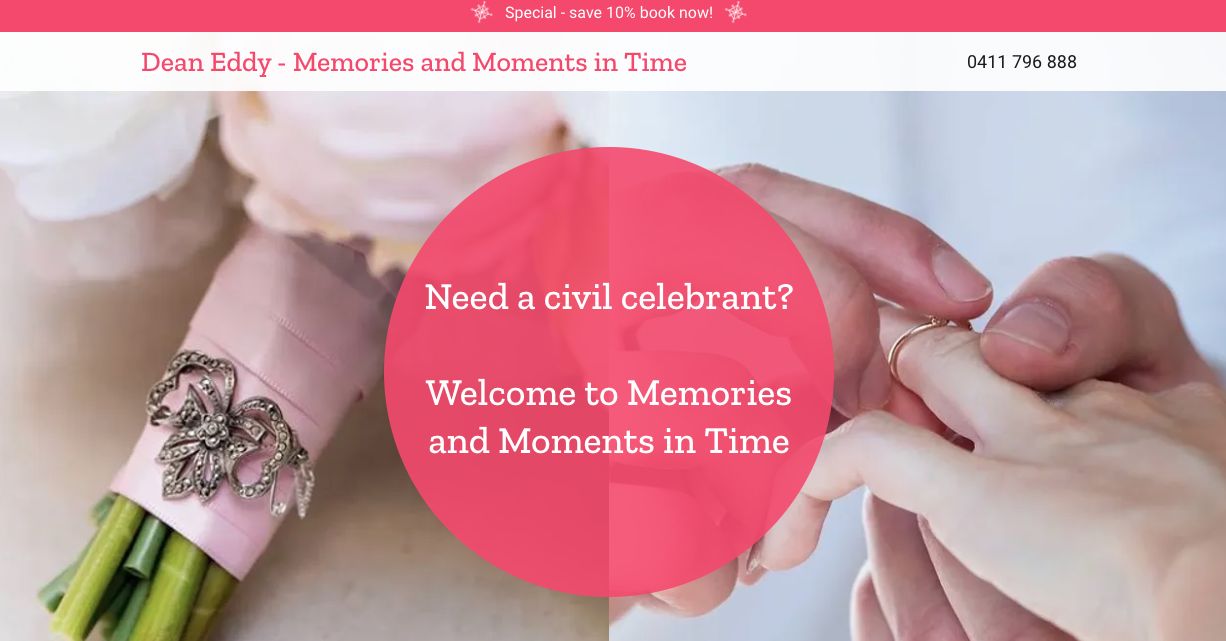 memoriesandmomentsintime.com
411796888
You never know the value of a moment - until it is a memory.
My name is Dean Eddy and I am a Commonwealth registered civil marriage celebrant with the Atternoy-General's Department living in the Docklands area of Melbourne. I have many years experience working both professionally and as a volunteer. My passions are people, food and life. I am available to conduct ceremonies anywhere across the Melbourne region, the wider State of Victoria and the rest of Australia.
I love nothing more than turning life events into memories that will last a lifetime. Please do not hesitate to contact me at Memories and Moments in Time for more information or to make a booking.
Getting Married
Legal Requirments
In Australia, Marriage is regulated by the Marriage Act 1961, which sets out the process for getting married and the legal requirements of a valid marriage.
Attorney-General's Department
The Notice of Intended Marriage
This form must be lodged at least one month before the wedding and is valid for up to 18 months.
You must produce evidence of your place and date of birth. All documents must be original - certified copies can not be accepted
Both parties must be over the age of 18 at the time of the marriage
If either party have been married before, you must provide evidence that there is no legal impediment for this marriage to take place
All documents must be in English, otherwise have them translated by a NAATI accredited translation service
If either party are related to each other you must disclose the relationship.
Planning your Special Day
Lets chat and set the initial date to meet in person
Get to know each other, tell me your story
Ask as many question, its your day
Run through your ideas of your day
Lock in your date
Unlimited email and phone calls
Write your personalised ceremony
Attend your rehearsal
Complete legal paperwork
Wedding Day
Officiate your dream wedding
Deliver the Monitum and Legal Vows as required by Australian Law
Signing of the offical Marriage Certificates
You need two witnesses on the day - these should be known to the couple and appear to be over 18 years of age.
Post Wedding Day
To complete the legal requirements of your wedding, your signed wedding certificates will be lodged with the relevant Registry of Birth Deaths and Marriages in the State where the marriage was solemnised.
Once this lodgement has taken place, please contact them to obtain a copy of your certificate of marriage registration, which can be used to change your name officially.
Melbourne Can Do Celebrants
Melbournecandocelebrants.com.au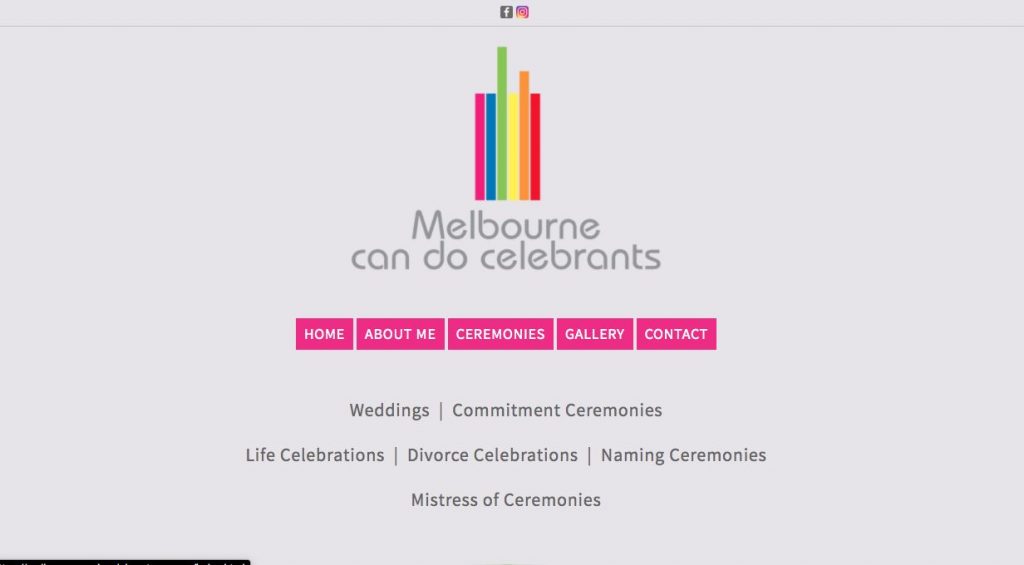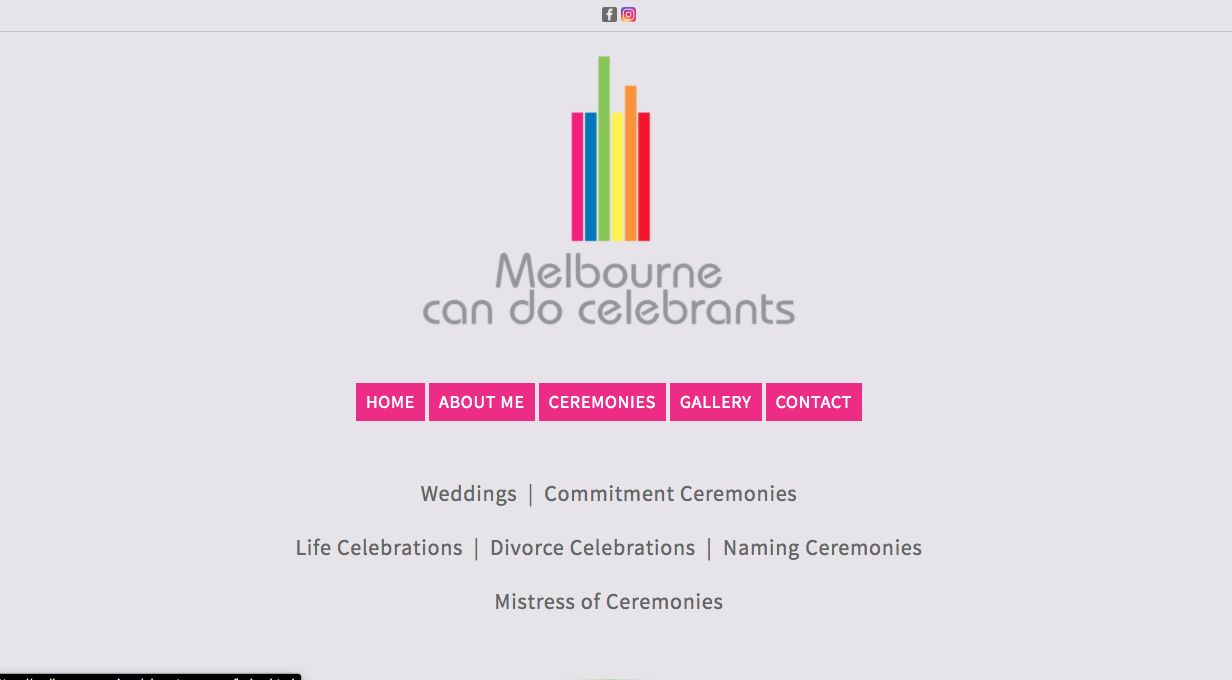 402085356
About Me
I 'm a Lesbian with two wonderful and successful adult children from my 20 year heterosexual marriage and two amazing grandchildren.
I am a social worker and am privileged to work with people from many cultures.
I love life, a fun time and my wonderful community of friends and family.
I respect and believe in the importance of ritual and ceremony and I love to help people to create ceremonies which say "yes" to them.
I am organised, positive, energetic and creative.
I love saying yes to adventure, growth and movement and making a positive difference in people's lives.
I live in the heart of Fitzroy where the street graffiti, cafes and old buildings link our past and present.
Celebrancy allows us to celebrate the loves and leavings in our lives with colour,ritual,food and music.
To me, Celebrancy links our past and present.
Weddings
Red symbolises love and life, vitality and joy. The colour red also symbolises prosperity, courage and passion.
Together we can create a ceremony that represents the two of you as individuals coming together to celebrate your journey forward as a couple.
Commitment Ceremonies
Pink symbolises universal love and a love of beauty. Pink is also associated with sexuality. In the gay community pink is a symbol of gay pride.
Commitment ceremonies and renewal of vows ceremonies aren't legally recognised but allow you to celebrate your ongoing commitment to each other with those important people in your life.
Commitment ceremonies may suit you
If you want to acknowledge your union as a couple but don't want to legally marry.
Renewal of vows
Provide a perfect opportunity to reaffirm your commitment to each other.
Life Celebrations
Green symbolises nature, fertility, life and balance. Green is the most restful colour and so a perfect colour for Life celebrations.
Life Celebrations provide an opportunity to reflect on and celebrate the life of that special person one more time.
I feel honoured to be part of these ceremonies and have spent much of my career working in grief and loss.
What I can do
Naming Ceremonies
Blue is the colour of youth and is the most calming colour and so is a perfect colour to symbolise naming ceremonies.
Naming ceremonies provide an alternative to a religious christening in welcoming a new baby to the circle of family and friends and formally acknowledge the existence of the baby and identify that baby with his/her name.
Divorce Celebrations
Orange is a healing and power colour and symbolises endurance and vitality. Orange is a perfect colour for divorce celebrations. In Australia 2.5 in every 1000 marriages end each year and more people are marking the end of this stage of their life journey with a ceremony.
Mistress of Ceremonies
Yellow symbolises the sun, wisdom, joy and happiness. Yellow is a perfect colour to symbolise those special occasions where you may require an experienced M.C to make sure your event is well prepared and conducted with warmth, humour and professionalism. With over 30 years experience as an M.C. I consider this one of the jewels in my crown and look forward to creating a perfect event with you.
Ceremonies of Love and Life Wedding Celebrant Melbourne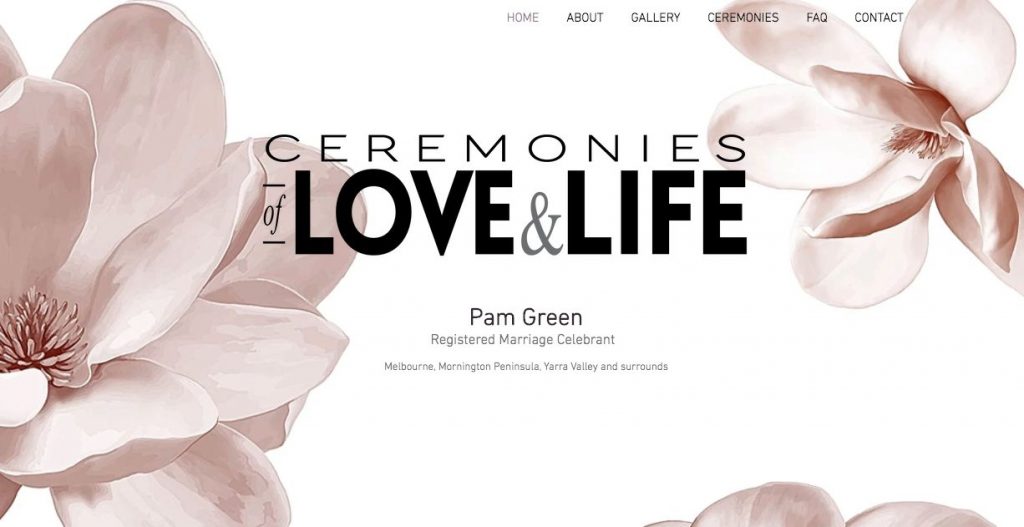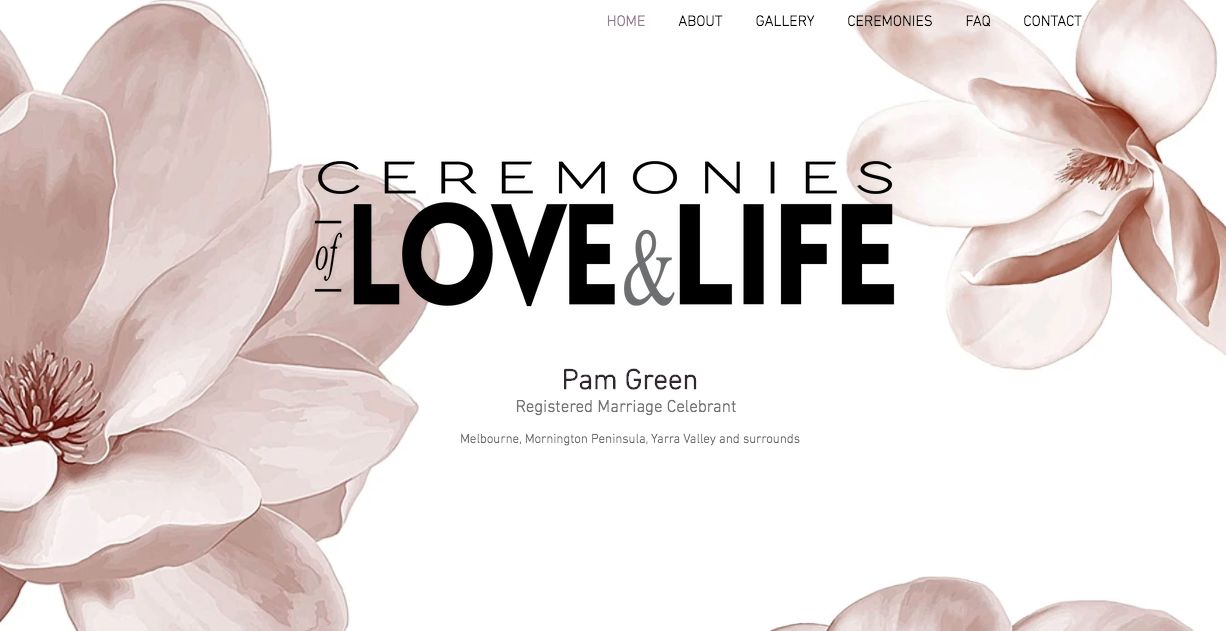 pamgreenmelbournecelebrant.com.au
0447889564​
My name is Pam Green and I am a registered marriage celebrant based in Melbourne.
I will work alongside you to create an absolutely perfect ceremony tailored especially for you and your loved ones.
I want to design 'the perfect ceremony': one that is perfect for you and yours.
Weddings are days of joy where you can float through the fabulous celebrations, champagne in hand, while others around you look after your needs.
I can do just that for you so that your special day is just what you desire: unique, relaxed, yet organised, fun, stylish … just gorgeous.
While I am based in Melbourne, I am happy to travel wherever you might be.
​I am a full time celebrant and dedicated to this work.  Thus, I am very flexible and happy to work in with your needs. I can make myself available on weekdays or weekends either during the day or in the evenings.
W E D D I N G S for A L L
So you are getting married?
How wonderful … congratulations.
​The coming together of two people in marriage is testimony to a commitment of love for all present to witness. The ceremony may take many forms and styles from formal to informal, from urban to rural, from indoors to outdoors, from large to small, from traditional to contemporary, and from serious to humorous. The choice is yours.
Do you want to tell your story of love? How you met?
Shall you write your own vows? Or shall I write them for you?
Favorite poems or readings? Or perhaps you would like some suggestions about what to include.
​Either way … I am here to help your create the ceremony of your dreams that reflects you as individuals and now as a couple.
A ceremony of love … and of life … your new life together.
I offer the following to you:
​A getting to know you meeting
An initial meeting (obligation free) so that we can get to know each other and chat about your 'perfect for you and yours' ceremony.
You choose. I am happy to come to you.
​Handmade ceremony
A beautiful ceremony written especially for you with the opportunity for redrafting right up to 48 hours before your special day.
Rehearsal
A rehearsal so that your ceremony runs smoothly and just as you want it to be. We will focus on important details such as timing, positions, wording, the use of any rituals and symbols, sound  and movement. This will ensure that you feel relaxed as we shall be super organised and ready for your special day.
​Contact
Unlimited contact for assistance.
Legal Paperwork
All of the legal and official paperwork will be prepared and lodged for you.
Keepsake
A beautiful certificate for you to treasure.
​Professionalism
Professional service from the outset.
Fees
Competitive rates just contact me about this.
PA System
A high quality PA system including wireless microphones.
​A special ceremony portfolio
- Clients booking a ceremony will have access to my portfolio of writings, readings, poems, vows and other creative elements.
- 'My wedding planner' is available for brides and grooms to assist with the other aspects of creating a perfect wedding
- 'Stepping through my wedding': a planning document that shows the main elements of a wedding ceremony. A useful starting point for developing your ceremony.
​COMMITMENT CEREMONIES​
Congratulations … making a public commitment is a time to celebrate.
For some couples a commitment ceremony is chosen as a way to express love for each other.
​Whatever your situation, we can work together to create a ceremony that you will love.
ELOPEMENTS (OR SMALL WEDDINGS)
If you want a stress-free, affordable yet stylish wedding, an elopement might be just what you want. Or perhaps a small wedding will fit the bill. Either way I will work with you to tailor your ceremony to suit.
If it means keeping a secret, I am good at that too. What fun!!
VOW RENEWALS
A vow renewal is a wonderful way to celebrate your wedding vows. Let me help you plan your special ceremony to reaffirm your commitment to each other in a meaningful way. Why not renew your vows with family and friends to celebrate an anniversary and acknowledge each other publicly.
Or you might want to redefine your commitment to one another and have a party.
SURPRISE WEDDINGS
Surprise it's a wedding … It's true!
​A surprise wedding can be a great way to celebrate without stress but with a massive wham factor. What a fun way to start a marriage and what a way to have a party to celebrate.
I can keep a secret, can you?
NAMING CEREMONIES
A naming ceremony to celebrate the arrival of your precious baby is a gorgeous way to share the miracle of birth surrounded by the love of your family and friends. During the ceremony, which often occurs around the time of the first birthday, your child is welcomed into the world. Life guardians might be nominated and special promises made.
Rituals of love, such as the light of candles, the release of balloons, fairy dust blessings and sand ceremonies, may be included.
FUNERALS
Many people are not aware that family members can choose the celebrant who will conduct the funeral or memorial service for their loved one. Each life lived has a story to tell and by sharing memories from family and friends, the pain of grief can be eased as joyous moments within that life are retold.
My aim is to ease your grief and to work with you through the struggle of loss to create a beautiful ceremony that touches on the details of the life lived and the impact of that person throughout their life on family and friends.
Celebrant.info Wedding Celebrant Melbourne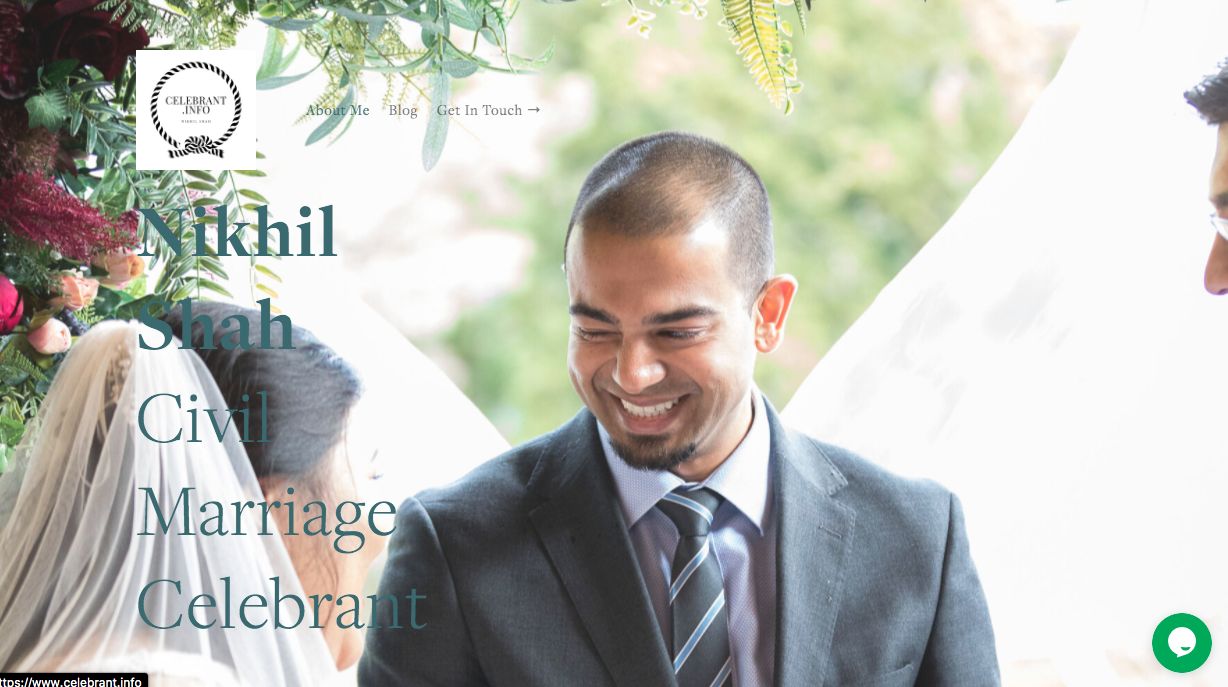 407060075
Hi, I'm Nikhil. That's pronounced like 'Shaquille O'Neal' with an 'N'. People sometimes call me Shaq but that's way too fly of a nickname for me.
One day many years ago I realised that I was really happy when I was speaking, and was at my happiest when I spoke about something that mattered.
Today I can say that it's love and passion that drives me in my pursuit of being the best Celebrant. I've always loved speaking publicly and I finally get to channel it into something that makes a meaningful impact in couples' lives.
My full package includes:
Personalised and custom-drafted wedding ceremony
Unlimited support via phone, email, text messaging, snail mail, homing pigeons, and smoke signals
Assistance with all wedding-related paperwork and lodgement
Use of high-quality Bose S1 Pro PA system and professional-quality Sennheiser microphones for the ceremony
Advice on wedding-day run sheets
My best attempt to appear handsome for your Instagram
So get in touch now and make my day!
Back in 2011 I had the honour of being my brother's best man. It was a beautiful Autumn day in Toronto. The caterers were catering, the photographers were photographing, the guests were…drinking.
Everything was going per the timeline almost to the minute–every couple's dream!
Just before the ceremony was scheduled to start, my brother turns to me and asks me to let the celebrant know we are about 5 minutes away from 'go-time'.
As the dutiful best man that I was, away I went in search of the celebrant. Only problem was–the celebrant didn't show up!
Australian Marriage Celebrants Inc. Wedding Celebrant Melbourne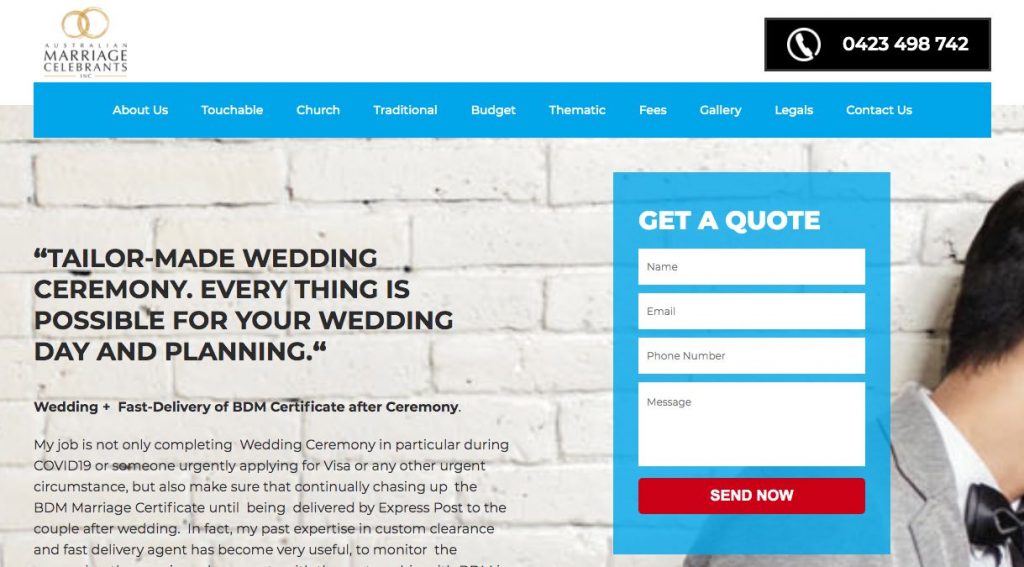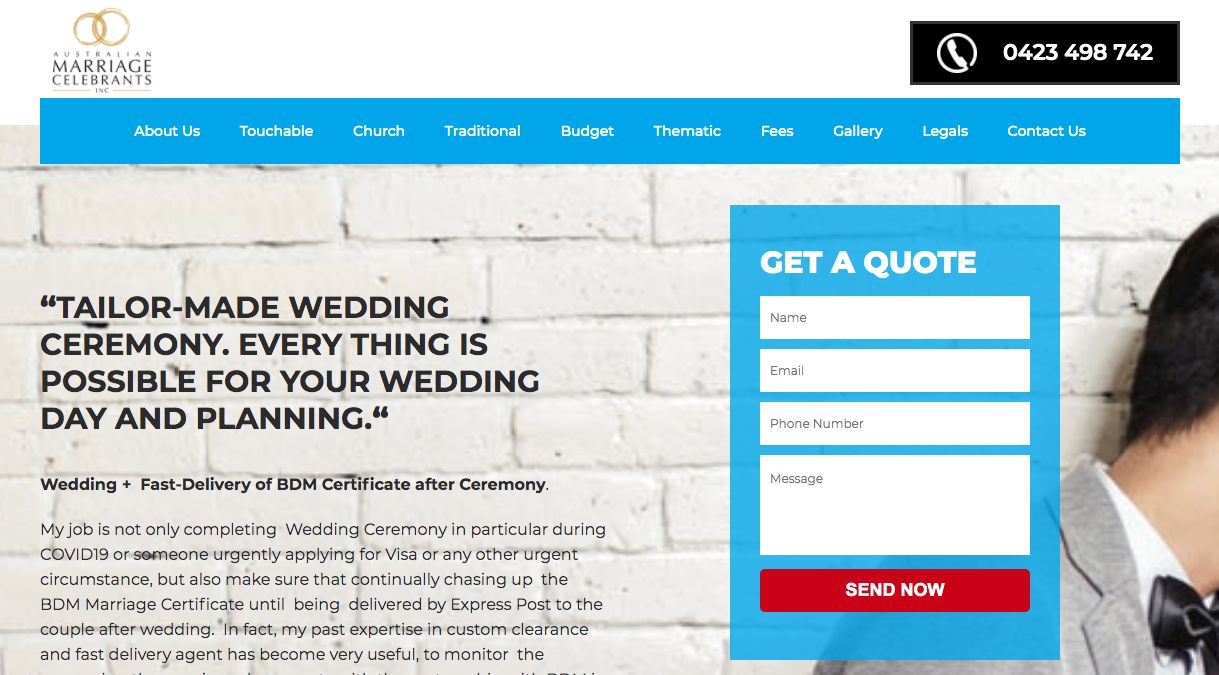 calebthecelebrant.com.au
423498742
ABOUT:
Hi, my name is Caleb Kim, living  nearly 38 years in Melbourne. Thank you so much for visiting my
website and congratulations on your most Remembering Day of many days of planning!
I am an authorized Celebrant – with a passion building relationship and serving the people.
All possible options for your special day and scheduling on the day of tea ceremony, wedding service order, photo taking, and MC at the reception. The broad knowledge about Melbourne nearly 38 years is coming from other careers of public speaking and touring business.   The best price is the motto of this business while your day will be creative and authentic with special attention.
For this reason, I have many stories of my own and others. I look forward to observing another happy story through your big day in your timeline. Every couple is special, and right to have a blessing from your families, relatives and friends. I love what I do – creating modern, traditional, simple, and creative Ceremonies with you and your wedding planner on the Day.
Located in Melbourne, I understand well the diversity of the cultures of each suburb as well as generation of baby boomers, Gen-x, and millennials. For this very reason, I am prepared to plan with your day together according to your need. Moreover, I do not hesitate to serve you anyplace and anytime for your big day. Again, congratulations to your wedding ahead!
Church Wedding
Marrying at home church or your choice of  church. ($750.00 Inc GST)
Free charge "Prepaid Fast-Delivery of BDM Certificate"  (all costs for a BDM fee of $33 or $112 for a prioritized visa application with short notice,  Expressed Post  and Handling Charges worthy $$$ 99.00) for Any couple booking in advance for 3 or 6 months.
Unlimited  personal interviews and emails for special theme.
Personalized scripts for Wedding Ceremony.
Special Discount Rate – Weekend wedding for week day rate if making  3 month++ advanced booking.
Traditional personalized wedding script provided.
Lodging  all legally required paperwork to BDM on behalf of Bride and Groom.
MC entertainment is optional for reception. (extra negotiable fee applied)
Travel within 50 km of Ashwood. (additional travelling fees may apply)
Although the church wedding seems to fade away over the decades, there are some religious people who look forward a blessing from God and their friends. The wedding dress representing the purity of the bride is popular choice for many brides. Still the atmosphere of the ceremony becomes more fashionable with contemporary music and multimedia aids, giving the couple story penetrable to the quests. For this reason, the communication experience in the religious environment is very important. As for the couple who wants to represent a designated church minister to give good words, prayer, blessing and other ritual in the ceremony, I can adjust the wedding program specially for you.
Traditional Wedding
Marrying at home or your choice of Vineyard, park, beach or other place. ($850.00 Inc GST)
Free charge "Prepaid Fast-Delivery of BDM Certificate"  (all costs for a BDM fee of $33 or $112 for a prioritized visa application with short notice,  Expressed Post  and Handling Charges worthy $$$ 99.00) for Any couple booking in advance for 3 or 6 months.
Unlimited  personal interviews and emails for special theme.
Personalized scripts for Wedding Ceremony.
Special Discount Rate – Weekend wedding for week day rate if making  3 month++ advanced booking.
Traditional personalized wedding script provided.
And lodging  all legally required paperwork to BDM on behalf of Bride and Groom.
PA high quality provided. You may invite 200 quests.
MC entertainment is optional for reception. (extra negotiable fee applied)
Travel within 50 km of Ashwood. (additional travelling fees may apply)
The white wedding dress originally representing the purity of the bride, a wedding ring symbolizing infinity, wearing ring on the fourth finger of the left hand believed to lead directly to the heart, and the groom waiting for his bride while the bride and her father marching into the aisle, that lead to the meaningful moment of "I Do".
In this contemporized wedding, the focus of the wedding ceremony is the couples' love story, face to face encouragements from the attending guests, and letters from far-flung guests.
Thematic Wedding or a Surprise Wedding
Marrying at home or your choice of Vineyard, park, beach or other place. ($1050.00 Inc GST)
Free charge "Prepaid Fast-Delivery of BDM Certificate"  (all costs for a BDM fee of $33 or $112 for a prioritized visa application with short notice,  Expressed Post  and Handling Charges worthy $$$ 99.00) for Any couple booking in advance for 3 or 6 months.
Unlimited  personal interviews and emails for special theme.
Two personalized scripts for Wedding Ceremony and Reception scripts provided.
Special Flat Rate – Weekend wedding for week day rate if making  3 month++ advanced booking.
Thematic personalized wedding script and secret planning something like  a Surprise Wedding for families and friends provided.
Lodging  all legally required paperwork to BDM on behalf of Bride and Groom.
PA high quality provided. You may invite 200 quests.
Free MC entertainment for reception.
Travel within 100 km of Ashwood.(additional travelling fees may apply)
If you want to make your wedding more special, you may add some venues of wedding invitations, cake and favors so as to show off your wedding theme to guests. When you love the idea of a vintage, Tea Ceremony, Garden Party, Gothic, Viking, beach theme, Country themed wedding, or peacock theme, you may need some special help from friends and wedding planner.
For this reason, the celebrant has to write a personalized service order for your inspiration. More often, the celebrant has to turn out in the ceremony with the right costume according to the theme.
Budget Wedding – Very Popular!!!
Two options:
Either Marrying at Marriage Registry Office in the city. ($650.00 Inc GST)
Representing for the couple for Interview requirement for BDM in the City.
Lodging  all legally required paperwork to BDM on behalf of Bride and Groom.
Booking for the Marriage Registry Office in the city.(normally  up to 3 months ahead booking required for the preferred time, and an extra fee for the room of $100.00 applied for Saturday and Sunday)
Or
Marrying at home or your choice.  (550.00 Inc GST)
One personalized interview or meeting.
Special Flat Rate – Weekend wedding for week day rate if making  3 month++ advanced booking.
Short personalized wedding script provided.
No Interview required for BDM in  the city.
And lodging  all legally required paperwork to BDM on behalf of Bride and Groom.
PA high quality provided. You may invite 5-20 quests.
Travel within 50 km of Ashwood. (additional travelling fees may apply)
Free charge "Prepaid Fast-Delivery of BDM Certificate"  (all costs for a BDM fee of $33 or $112 for a prioritized visa application with short notice,  Expressed Post  and Handling Charges worthy $$$ 99.00) for Any couple booking in advance for 3 or 6 months.
Kaye Mcgrath Wedding Celebrant Melbourne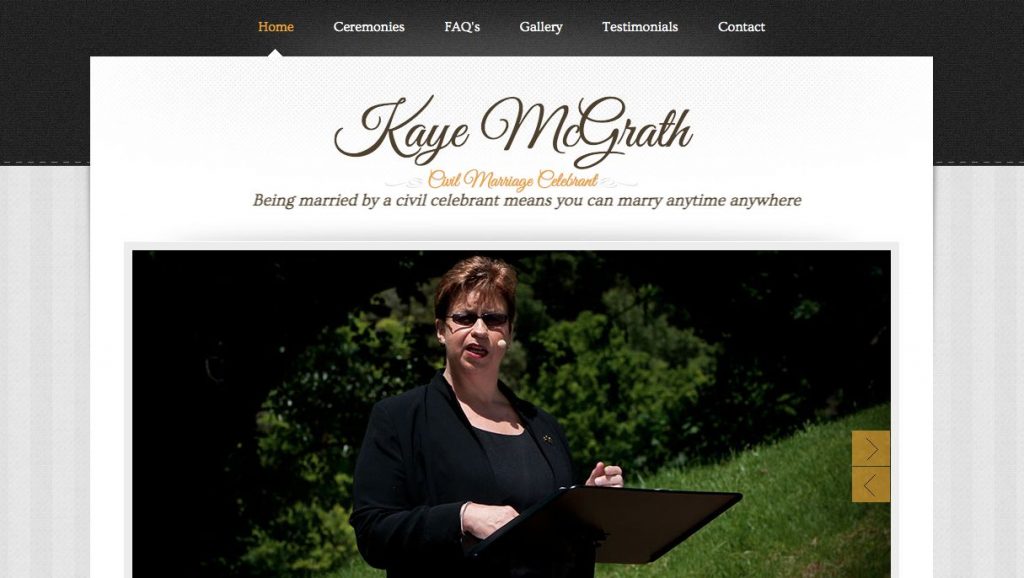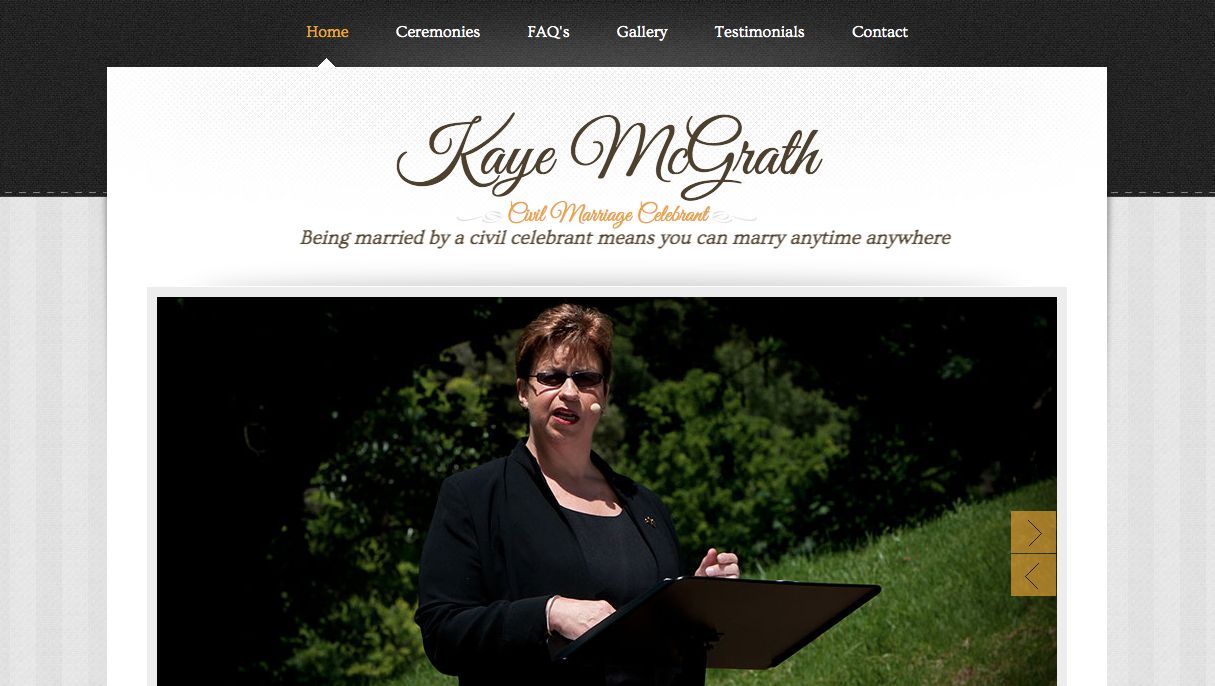 kayemcgrath.com.au
407257282
With my warm relaxed friendly manner I will put you at ease from our first meeting. Together we can create your own special ceremony.
I have a charismatic approach to weddings. My easy going approach provides couples with a unique opportunity, to experience a memorable wedding ceremony. As an experienced civil marriage celebrant, I officiate wedding ceremonies all over Melbourne.I will guide you through the legal process, and help you to create your ceremony, vows, readings and music. Whether you are looking for a wedding ceremony that is light hearted and traditional or a ritual ceremony, I will deliver the style and theme you require.
Ceremonies
Where do we start?
When most couples start looking for a marriage celebrant, they have no idea where to start. You ask the question should our ceremony be long, short, funny or formal. There are many types of ceremonies, some where family and friends can be involved.
I would love the opportunity to meet you and discuss ways in which we can create the wedding that is true to you in a way that is beautiful and memorable. The ceremony we design together can be as simple or as elaborate as you wish, and you may want it to contain readings, music or maybe you have been to a wedding lately and have seen some other element that you would like in your ceremony.
Apply for an application for a Marriage Visa / Fiance Visa
I can help you with your application for a Fiance Visa, by writing a letter to the Australian Immigration Department. There is a booklet available which gives you a lot of information about partner migration.
Fees
My marriage ceremony costs include all meetings, email and phone discussions, completion and lodgement of your Notice of Intended Marriage, preparation of other legal documents, taking the legal responsibility for your wedding ceremony.
Your feedback is always important and I am happy to help with any questions which may arise after your wedding.
Helpful Tips
Music
The music your choose for your wedding day is very personal. Your music may be live, a CD or USB as I have a PA system for your convenience.
Readings
Readings are a wonderful way to involve family and friends in your ceremony. It is a perfect way to include people you want to be a part of your ceremony. It may be a poem or some special words a family member has written. There are also many readings you may like to download, that represent the happy couple and what they mean to you.
Magda The Celebrant - Wedding Celebrant Melbourne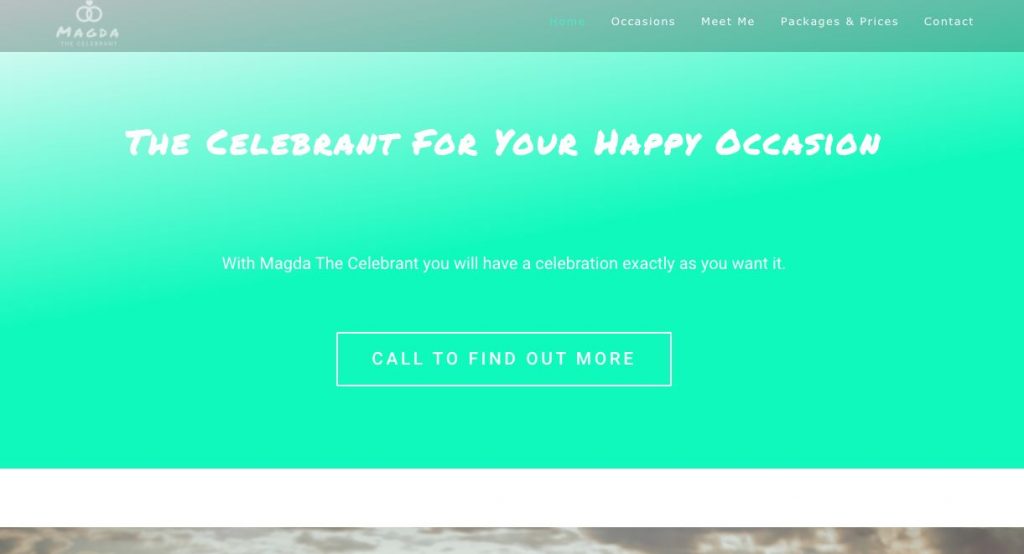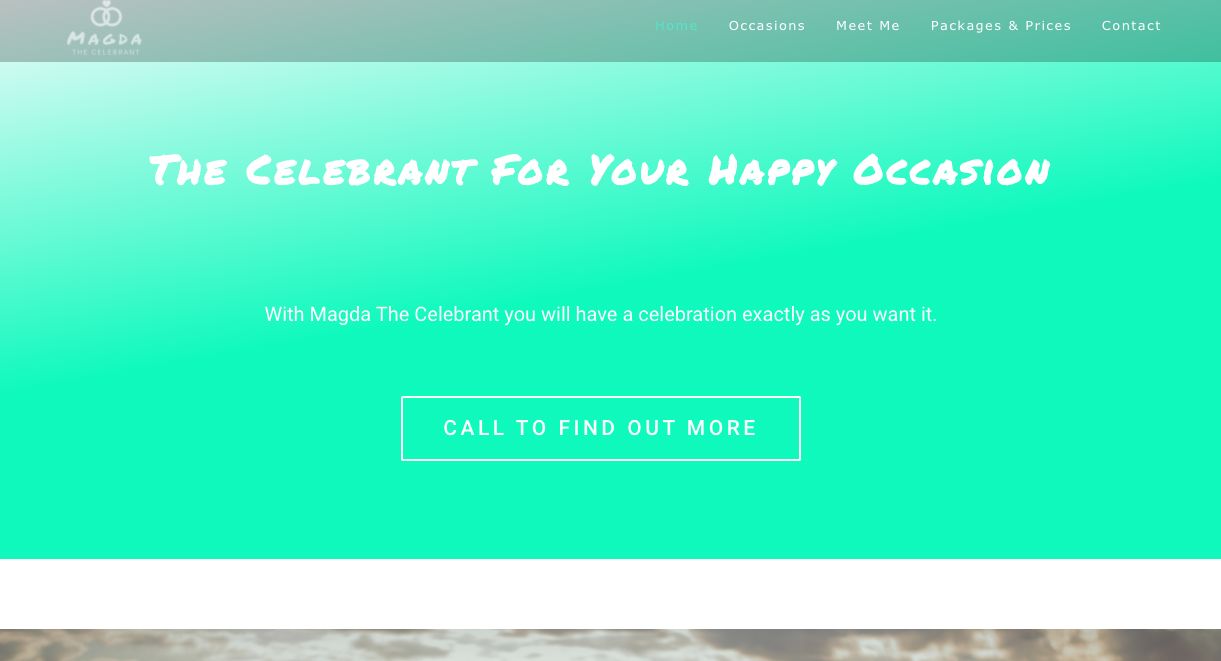 magdathecelebrant.com
433639757
Congratulations!
If you are here you must be either freshly engaged, have a new born baby, or have another reason for a celebration. Whatever your reason I am very happy for you and I will be honoured if you choose me to be your celebrant for your happy occasion.
Say 'I do' the way you want to
If you are the Bride or the Groom who wants a celebrant who will
listen to you & focus on your wishes
My motto: It is your wedding, so you have the say...
Being a good listener allows me to create a ceremony that reflects you as a couple and incorporate your wishes into the ceremony
work with passion & empathy
I love what I do and I am happy to go an extra mile for you...
Your ceremony will run smoothly and everyone will rave about it due to my attention to detail, excellent organisational skills and professional approach mixed with
creativity & fun attitude
Guide you through the process
I will walk with you through every step from the start till finish of the ceremony.
With my expertise and experience you will have a helping hand on your side. We will create your wedding together.