When it comes to wedding planning, there's no right or wrong way to do it. However, there is a simple way to organize your wedding planning tasks that'll reduce your stress levels and ensure you enjoy this exciting time!
If you were to draw a Venn diagram of wedding planning that catalogued the parts you thought were going to be fun versus the fun parts, I think you'd end up with an empty Venn diagram, save for some cake and dancing somewhere in the overlap. 
That's because once you sit down actually to start planning your wedding, all those dreamy Pinterest possibilities become a powder keg of decisions. Where are you even supposed to start with the wedding planning? Guestlist? Budget? Decor? And how are you going to afford everything? Also, why are you suddenly crying right now? Too busy with life to really plan your wedding in detail? Have someone else do it for you and check out our list of Wedding Planners in Melbourne to help take the stress away.
Hey, take a deep breath, primarily if you're recently engaged (like, in 2020) and facing these plans while also balancing this new world order. Just. Keep. Breathing. 
Luckily for you, we've spent the last decade answering all of these wedding planning questions, and we've got tools and information that is here to help you.  
How to Plan a Wedding
This guide on how to plan a wedding is designed to help keep you organized and on track, whether you're planning a wedding abroad or in your backyard, next year or next month, for 50 guests or 500. But before getting started, it's important to remember that every wedding is different. 
While this guide explores the main aspects of wedding planning, it may not fit your wedding — and all of the little details that come with it — to a T. And that's okay! Simply adjust and adapt accordingly, and you'll be well on your way to the big day of your dreams.
Daydream About Your Day.
You and your partner have probably already discussed the kind of weddings you like. You attended a friend's formal wedding together and agreed it's not your style. Or you both went to a lakeside ceremony followed by a laid-back reception in a tent and loved it. Maybe Justin Bieber and Hailey Baldwin's wedding was more your style.
Now's the time to ask yourself what you want your wedding to look like. Do you want it to be large or small? Perhaps you want to incorporate vintage elements into your attire and the decor. Maybe you want a traditional wedding with a classic design. What about a Game of Thrones-themed wedding with an elegant venue and an Iron Throne? What about location? Is there a specific wedding venue you have in mind or a unique setting you'd love? Close to home or a far-flung destination? 
Take a deep breath. You don't have to decide right now. This is simply about brainstorming. Most couples change their vision multiple times throughout the planning process. But you have to start somewhere, so explore your options and let your imaginations run wild over a lunch date or hanging on the couch.
Pro tip: Plan a "meeting" with your partner. Before the meeting, both of you should prepare at least two inspiration images and your ideas for the following:
Location

Theme

Colours

Food

Activities
This way, you can share your thoughts from the get-go, and both of you can be heard by the other. Surprises aren't usually a good thing when it comes to wedding planning. It's essential to be on the same page from Day 1!
Organize Your Wedding Planning Tools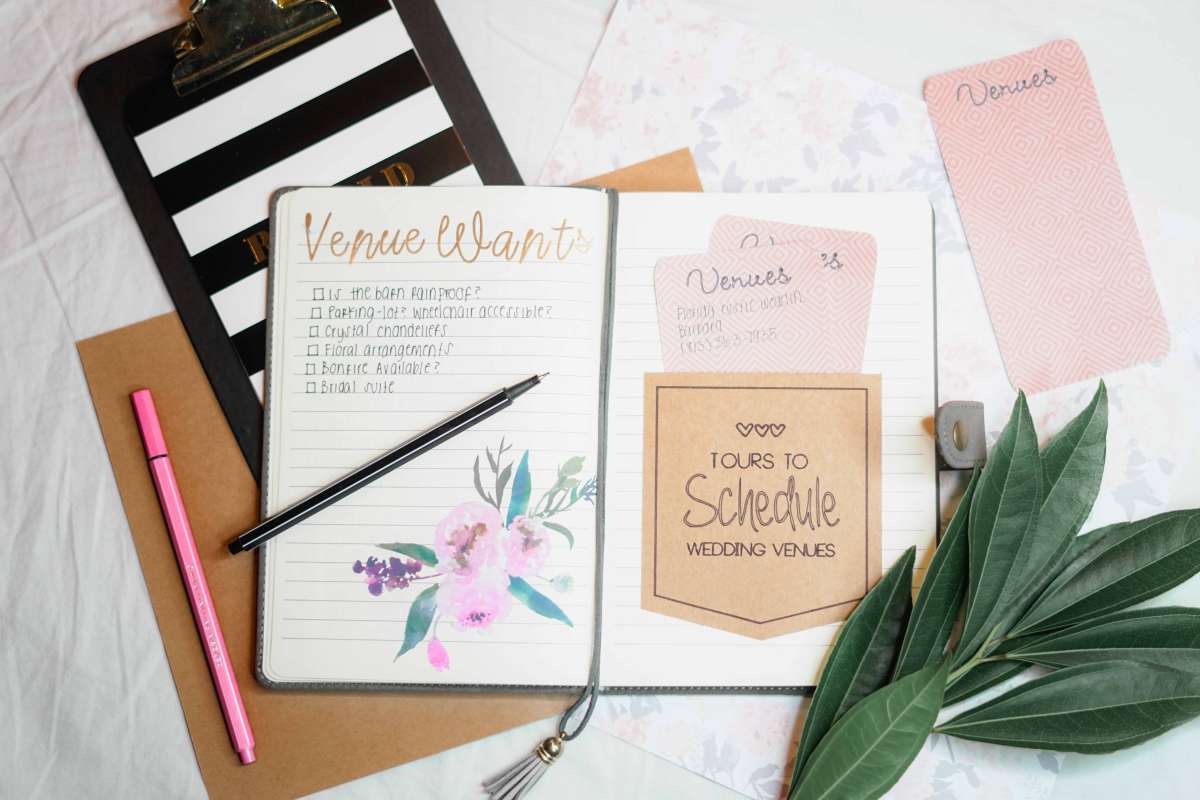 This wedding planning (sadly) isn't going to happen on its own. And that means that if you don't want to lose your mind, you're going to need some tools to help organize this thing, as well as some places to get sage advice. Let's talk about where you should start.
Checklists Galore
Before you even get started with actual wedding planning, you'll want a place to keep track of everything. We've got you covered with our free, downloadable checklist PDF. This is not your average three-hundred-line-item wedding checklist where valuable things are peppered in with nonsense like, "Shine crystal chandeliers at least one week before the wedding." Our goal is to make your wedding planning a stress-free experience that will keep you motivated and focused on crossing off your wedding goals, one by one. You can start by figuring out your wedding priorities, and then you can cross off all those things you don't care about because yes, that's allowed and encouraged, even.
Spreadsheets
You won't need them quite yet, but get these spreadsheets saved somewhere. We've got you covered on everything from your wedding guest list template to your vendor contact list to your day-of wedding timeline. You'll thank yourself later.
Set Your Budget.
One of the first things to think about when planning a wedding is your wedding budget and how much you can afford to spend.
We've broken down planning your wedding budget into seven steps, but the key things you need to do are sit down together and have an open discussion about your finances. How much you can both afford, will anyone else be contributing, and how much you will be able to save over the coming months?
If you think that your parents may help pay for the wedding, it's helpful to talk to them early in your planning stages to know precisely what they might be able to contribute. Not planning a wedding budget can lead to a lot of financial stress and disappointment later on in the process.
Pro tip: To minimize the chances of going over budget, you need to do two things: Create a comprehensive spreadsheet and add in a 5-10% buffer for unexpected expenses. Your spreadsheet should list every significant service, fee, and potential payment. It's not a quick task, but it's vital if you want to get a realistic look at what your wedding will cost.
Bring in Backup.
When it comes to learning how to plan a wedding, the most important step is realizing that you and your partner can't do it alone. There are simply too many details and intricacies. So don't be afraid to enlist support when and where you need it. 
Here are a few options to consider:
Hire a wedding planner. A wedding planner will manage many of the tasks on your wedding checklist and help you with decor, venue selection, wedding music, dress ideas that match your style, and much more. And they don't have to be full-service. Some couples opt for partial-service planners. Others hire a day-of coordinator but do the rest of the planning on their own. Weigh your wedding planner options and decide what's best for you! 

Ask for help from family and friends. If you don't have the budget for a planner, it's okay to seek help elsewhere. It's more than likely that your friends and family will be glad to help, but don't lean on a single person too heavily. Remember, they also have work and their day-to-day lives to manage.

Utilize technology and resources. There are many excellent free wedding planning apps to help you stay organized and relaxed throughout the process. Download them! Also, consider checking out some top wedding planning books and following wedding experts on social media.
Pro tip: When it comes to completing any wedding-related task, don't reinvent the wheel. Instead, lean on pre-made checklists and design templates (like the wedding invitation ones on Canva) to lighten the load. Chances are, there's a template, tool, or system already out there that you can work off of and save yourself the headache of learning new skills.
Choose a Wedding Date.
Select your wedding date as soon as you can. There may be some back and forth as you reach out to must-attend family and friends to hash out dates that work for everyone. But weekends for popular venues fill up fast, so decide as early as possible. If you're planning a weekday wedding (a good option when your budget is tight), you'll have more wiggle room.
Pro tip:
Have your top-3 wedding dates in mind as you begin your wedding venue search so you can compare rates at the same venue or expand your options.

Suppose you're planning 14+ months, including two dates in one season and one date in another for variety.

If you have less than 14 months and have a dream venue in mind, check what they have available first before choosing the best dates.
Pick Your Wedding Party.
Maid of honour. Best man. Groomsmen and women. Bridesmaids and bridesmen. Decide who among your close friends and family you want to be with you throughout your wedding. Choose wisely because they'll be the folks on hand from the rehearsal dinner until you drive off into the sunset.
Pro tip: Your choice for wedding party members should be based on what you want and how you feel. There will be egos involved. However, all you have to do to mitigate sore feelings is have an honest conversation with anyone who wasn't chosen that may have been expecting it. If you're stuck, use this handy decision flow chart by Brides of North Texas to help pick. Additionally, consider inviting the people who didn't cut some "special" wedding activities, such as the bachelor/bachelorette party, rehearsal dinner, etc. 
Build Your Guest List.
You'll notice that we've put the guest list before the venue search. That's because your first step in planning the logistics of your wedding (after budget) should be figuring out who you want there. Then make the rest of your plans around that. Doing it the other way around is how you accidentally realize you don't have enough space in your venue for your grandma. Whoops.)
Pro tip: An excellent way to start sorting who you want to invite is by going through the contact list on your phone, as well as who you're following/interacting with on your most-used social media platforms. Chances are, if you want them at your wedding, you'll at least have their phone number or Instagram handle.
Choose Your Wedding Ceremony Location.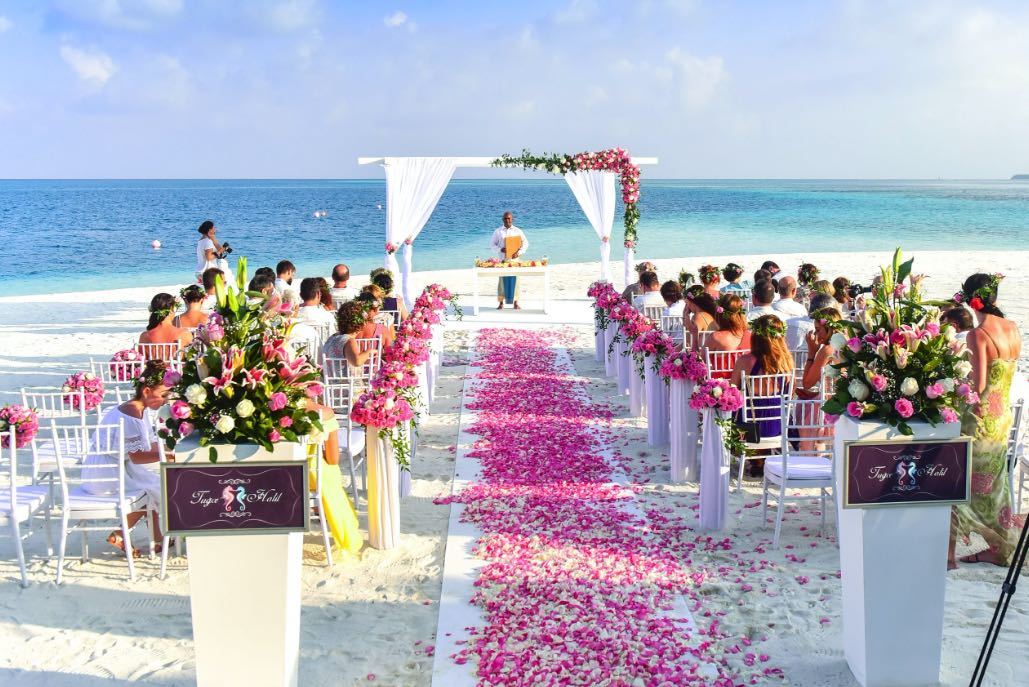 They are deciding where you're going to hold the ceremony impacts where the reception, and the rest of the wedding events, will be held. Some venues offer both ceremony and reception space, while others, like many places of worship, maybe ceremony-centric. Use a wedding venue search tool like Wedding Spot to sort venues by services offered, distance to other media, and more. 
Pro tip: If you're planning on having live music for your ceremony, make sure your venue isn't located in an area with a strict noise ordinance in place, and consider the needs of neighbouring homes and businesses. You'll also want to consider any sound issues your venue has that may interrupt your ceremony, such as nearby roads, gun ranges, etc.
Choose Your Wedding Venue.
Once you've set a budget, you can start to think about choosing a wedding venue that fits in with it all. Your wedding venue will determine your wedding date, location, and maximum guest numbers, making choosing your venue a priority. Before you start the hunt for your platform, sit down together and talk about what you both want from your wedding and what type of venue will fit with the theme you've chosen.
If one of you is picturing a fairytale castle venue and the other is dreaming of a rustic barn venue, then you may need to compromise. Think about other important factors such as whether you want to have a wedding venue with accommodation if you wish to use your caterers and what your evening guest number is likely to be. All these factors will play a part in determining which wedding venue you choose.
Once you've settled on your top three or four venues, it's time to find out if they're available on your wedding date. If they are, the next step is a site visit, either with your wedding planner or with your partner — or both.
Pro tip:
Narrow down your search by budget first, then aesthetic and scenery.

Choose several related aesthetics and scenery such as outdoor, beach, and waterfront to get the most options for your chosen area.

Use a tool such as Farmer's Almanac to estimate what the weather will be like on your wedding day and let that influence your venue decision.
Decide on the Wedding's Theme, Decor, and Details.
If you're having a Justice of the Peace wedding, followed by a dinner for one or two dozen of your closest family and friends, you don't necessarily need a theme — it's already baked in. This is a celebration, and you simply need good food, drink, and loved ones on hand.
But many couples like to dream up a theme that adds to the magic and fun for you and your guests. Here are a variety of popular articles, with decor and colour ideas to match:
Romantic. Oversized floral arrangements, satin ribbons, soft lighting, and pink, white, and pastel hues.

Formal. Black tie and a traditional wedding gown. Formal weddings usually include the whole nine-yards: Paper invites, multi-course sit-down feast, string quartet, sumptuous setting.

Winter/holiday. A winter wedding with indoor pines, fairy lights, and red ribbons adds a sprinkle of seasonal magic to an already special day.

Rustic. Add country-chic elements to your wedding for a traditional wedding style with a laid-back vibe.

Nature-inspired. This overlaps with rustic but goes further with the botanical elements. Many couples with a nature-inspired theme also make sure every aspect of their wedding is eco-friendly.
That's just scratching the surface. There's truly an endless amount of wedding themes out there. A library theme held in a historical library. A pets-welcome outdoor wedding. A fall, pumpkin patch wedding. A seaside or tropics-inspired wedding. Choose one that puts a smile on both of your faces and fits your personality, and you can't go wrong.
Pro tip: Remember that your venue can do a lot of the heavy lifting when bringing your theme to life. Use the architecture, wall colours, and layout to determine your crucial decor options. And keep in mind that while you don't want to DIY every aspect of your wedding, themed decorations are an excellent area to invest in.
Like everything else, weddings have gone digital. Online options and social media are great ways to keep guests up to date on the wedding details. It also helps out-of-town guests stay oriented and connected to the big day.
While you're in the process of creating your website, consider making a wedding hashtag for social media shares, too! It's often a combination of your names, the year, and perhaps the location. A wedding hashtag generator makes it easy.
Pro tip: Plan out what content you'll share on your wedding website and social media ahead of time. If you don't, you'll run the risk of letting it sit untouched. Updates such as your finished wedding registry, engagement photos, and accommodations are all great things to share.
Pick Your Save-The-Date Cards.
Save-the-date cards aren't necessary, but they're an excellent option to give guests a heads up, especially if your wedding date falls on a holiday or some other time that guests may be busy or out of town. Sending them 6-10 months before the big day is a good rule of thumb, but it can vary depending on the rest of your wedding timeline.
Check out our ultimate list of Wedding Planners in Melbourne to help you organise a stress-free wedding.
Pro tip: When wording your save-the-date messages, good things to include are the wedding date, location, hotel information, wedding website address, and an actionable next step with clear instructions on what to expect next.
Choose Your Wedding Invitations.
Consider picking out your formal invitations while your save-the-dates are top of mind. You don't have to send them until about 6-12 weeks before the wedding, but there's no harm in getting them ordered early. 
It's traditional to send out cardstock invites, and it's lovely to have a hardcopy invite to frame after the wedding. Visit a stationery store, or browse invite websites online. Select invites that reflect your wedding style and theme. The words you select will also set the tone for your wedding. For example, use traditional language for a classic wedding and opt for laid-back wording for casual, rustic, or beach weddings.
If you want to buck the traditional trend, there are many attractive digital options for invites as well, including Paperless Post, Greenvelope, and even. These are perfectly acceptable, and (double-bonus!), they're eco-friendly and usually more affordable. You can even give invitees a link to your wedding website and have them RSVP there.
Pro tip: As people RSVP, add them to a free wedding seating chart tool so you can begin to assign seats, add in dietary restrictions and meal choices, and make special notes for your catering team that they can reference as you plan your menu.
Research Vendors. 
How many vendors you need to hire for your wedding depends on various factors, including style and location. All-inclusive wedding venues will manage most of the vendors if you want them to, but you'll have to meet to discuss fashion and specific choices. If you have a wedding planner, they'll also do most of the research-based on your preferred style.
If you're planning the wedding yourself, vendors you'll likely consider include:
Musician for the ceremony

DJ/band for the reception

Photographer

Videographer

Catering service

Hair/makeup

Florist

Officiant
Pro tip: First, keep your budget front and centre when researching your preferred vendors. Then, ask around for recommendations in your area, preferably from weddings you've attended yourself. Finally, prioritize your spending. Ask yourself which areas you'd like to splurge and which you'd like to save. For example, some couples may prefer to spend more on food than flowers, while others may want to go all out with their videographer but book the same DJ for both the ceremony and reception. 
Figure Out What You're Going to Wear.
It's your wedding, so the best ensemble is the one you feel best in. There's no right or wrong option. Perhaps you'll wear jeans and a casual jacket. You might go with a bow-tie. Maybe you're going to honour your cultural heritage with a traditional look — colourfully patterned clothes, a Saukele, a kilt, a kimono. Just make your selection early, so you have time to get everything altered if you need to. 
Pro tip: Schedule enough time for multiple alteration appointments if needed, just if something changes between the first fitting and the last. Anything from weight to shoe choice to personal preference can change in a matter of months, so it's good to leave some buffer.
Choose the Food and Beverage for Your Wedding Reception.
Whether you're going with a third-party caterer and wedding cake designer or an all-inclusive venue that provides these services, you'll have plenty of decisions to make around food and drink. When creating your menu, pick a wide variety of options so every guest has something they'll enjoy (include vegan and vegetarian choices), and ask guests to share their dietary restrictions on the RSVP. Once you have some options narrowed down, schedule a wedding tasting so you can pick your favourite.
Pro tip: Keep in mind that you're not limited to one formal meal and dessert. You can opt for a budget-friendly buffet-style dinner, a multi-course serving of heavy appetizers, a food truck wedding, or even a brunch if you prefer an earlier celebration.
Create Your Registry.
Don't just start adding toasters, flatware sets, and crystal vases to your wedding registry. Look around every room in your home and take an inventory of what you have and what you want. If neither of you enjoys baking, do you need an electric mixer? Probably not. What about fine china? It can feel like you have to register for dishes, but not every couple truly wants a set for their home. Honeymoon funds are growing in popularity, so that's always an option, too. 
Pro tip: Create a spread of options across different price points and consider your guest list. For example, if you and your partner just graduated from college and plan to invite a large group of friends from school, plan to include enough options in the USD100 or less range for them to choose from. Or, if the majority of your guest list is close friends and family who are financially comfortable, don't be afraid to add in the pricier pillows or cookware items they can feel special about getting for you.
Plan the Before and After Events.
There's often much more to a wedding than the big day itself, though you won't necessarily do them all. As usual, the particulars depend on the size of your wedding, the logistics, and the complexity of the ceremony. These are the events you may prepare or need time for beyond the wedding:
Bachelor and bachelorette parties. This isn't your responsibility, per se, but if your wedding party is throwing bachelor or bachelorette outings, you'll have to fit them into your schedule.

Rehearsal dinner. This usually takes place the night before the wedding and involves you, the wedding party, family, and friends from out of town. To throw a memorable rehearsal dinner, consider reserving the event room at your favourite restaurant, an outstanding restaurant near the venue, or, depending on your budget, booking an entire forum just for dinner itself. 

Honeymoon. If you're having your honeymoon right after the wedding, you'll need to fit more planning into your schedule. Add honeymoon decisions and activities to your wedding planning checklist. A week before the wedding, invite friends over for a packing party, so you have your suitcase and travel necessities ready to go. If going out of town right after the wedding isn't for you, some couples decide to put off planning the honeymoon or take an easy weekend trip until they've had time to relax.

Wedding after-party. You may want to continue the celebration after the formal reception is over. Choose an after-hours bar or club and plan with the likely headcount.

Next-morning brunch. This puts a simple finishing touch on the wedding and is especially appreciated by out-of-town guests. If your marriage was in a hotel, they could often provide a set brunch. Otherwise, book a local restaurant.
Pro tip: You should also plan breaks for yourself and your partner into your schedule. This includes ten-minute breaks to catch your breath between activities to entire weekends off between events to recenter and relax. Do whatever makes you feel rested. It can be anything from booking a luxury massage to deep cleaning your storage closet to taking your dog on a hike. Just add in these non-negotiable breaks to your schedule to keep your sanity in check. 
Enjoy Some Non-Wedding-Related Activities.
It's easy to slip into endless wedding planning mode. To prevent this, put regular check-ins with your partner on your checklist. Are you enjoying the wedding planning process? Are you distracted by wedding "stuff" during dates or when spending time with friends?
Renew your commitment to enjoying the process and keeping things in perspective. The most important thing is your relationship and your life together today and in the future — not whether you decide on a doughnut wall or a cupcake tower.

Spend a weekend doing zero wedding-related activities. Of course, you'll probably talk about it (because that's fun!), but don't make phone calls or tick boxes off your to-do list. Go for a hike or to a museum or a live music event or dinner out — the stuff you two enjoy together. It's a good breather and a reminder of what matters.
Today, many people take advantage of couples therapy before marriage. If you're finding the stress of planning is causing a strain, make an appointment with a therapist. It's not a sign of weakness; it's a sign of strength, honesty, and vulnerability.
Pro tip: Look for fun hobbies to do in your spare time on sites like SkillShare to take your mind off wedding planning and learn about photography, taking care of plants, therapeutic journaling, and so on. You may even enjoy MasterClass with topics such as the Art of Negotiation, which will likely heavily factor into your future married life.
Send Out Your Invitations.
This is an exciting moment in the planning process. Once those invites are in the mail, or you pressed "send" on your digital invites, the big day starts to feel more natural.
Tips:
Everyone invited should receive an invitation. Don't overlook people you know will be attending (parents, bridal party, ushers, etc.).

Print the names of all invited on the inner envelope. This is your chance to state each person by name (this includes children).

Only one invitation per married couple.

Indicate a plus one is welcome by writing 'and guest' after the recipient's name on the inner envelope.

Invitations to unmarried couples should be sent to the closest friend, but each person's name (first and last) should appear on the inner envelope."
Get Your Marriage License.
You need a marriage license before you can officially get married. Usually, you'll get the permit from the city or county clerk, depending on where you live. Call your municipal or county clerk to determine the license requirements because they vary by state or local government. 
Pro tip: Something no one tells you about a wedding certificate is that it's not a piece of paper you can grab from the office and fill out at home. We've heard stories of people swinging by on a lunch break with a friend to who they were not getting married to then having to explain to the court what was going on. Save your friend the embarrassment and only go to the office with your partner when you're both ready to sign the paperwork.
Help Out-Of-Town Guests With Accommodations.
For weddings where many guests are travelling from out of town, it's traditional to help them find places to stay. 
Here are some tips to make it easier:
Talk to local family and friends about their ability and interest in hosting guests they know. Only suggest this option to people who love having (or being) houseguests.

Book a block of hotel rooms near, or at, the venue. Though you are reserving the room block, remember it is not your responsibility to pay.

Book rooms at multiple hotels if you are having a large wedding or options are limited in the area.

Book rooms early, especially if your wedding is on-season in a popular vacation area.
Pro tip: Send multiple reminders to your out-of-town guests that prompt them to book their rooms by the required date the hotel gave you. Set up an auto-reminder using Google's send later function or use an app like SMS Scheduler to text everyone at once.
Choose Your Wedding Rings.
It's possible you picked your wedding rings shortly after getting engaged. But if you didn't, we recommend that you start looking a few months before the big day.
Select matching bands or two distinct styles — they don't have to be made with the same precious metal. Choose the one each of you prefers. The rings can be simple bands with a polished, hammered, or matte finish. Or, you may choose ornate bands with faceted gems and a combination of precious metals.
Pro tip: If you're wondering whether or not a warranty is worth it, you're not alone. There are several Reddit posts on the subject. Here are some reasons why you should at least consider it, according to one user:
"If the plan is lifetime and doesn't have a maximum number of uses or total repair value AND you live close enough to have it checked twice a year, it will likely save you a boatload. Ask exactly what they cover (does it cover the stones or just the setting?) and if there are any maximums."
Another good rule of thumb is if you couldn't replace it all today in cash and feel good about spending that amount of money; then it's probably worth it to pay for a warranty.
Take a Break and Manage Last-Minute Issues.
The hiatus before the unrest. The pause before the big day. The calm before the celebration. However you want to think about it, this is the sweet spot between all the planning and the actual wedding. There will be things to manage and decisions to be made. But mostly, this is a time of anticipation and excitement. Enjoy it.
Pro tip: Assign someone to be your crisis manager during this time. They'll handle incoming requests, take care of tasks that they don't need you for, and can filter out anything that does deserve your attention. Wedding planners, maids of honour, and best men are all great for this role as long as you trust their judgment and feel they are reliable.
Touch Base With the Wedding Team.
Check in with all of the key people in your wedding. Talk to the wedding planner to see if there are any final details they need from you. Reach out to the venue and vendor teams, so you know they're all set. Give a call to family members and the wedding party to make sure everyone feels comfortable with the itinerary. And finally, prioritize a few relaxed evenings with each other before the wedding.
Pro tip: Create a "week before" checklist with everyone's names, contact information, and critical points to address with them. Make this in advance and keep updating it as you go along, so you don't miss anything. Have someone involved in the planning process review and edit it accordingly.
Start the Festivities and Enjoy!
You know what to do from here. Congratulations!
Pro tip: Remember that your wedding day is about you. It's okay if you don't have a full-blown conversation with everyone there. And it's okay if it's not the best day of their lives too. So remind yourself of that in the chaotic moments. Enjoy celebrating your successful planning, your love for each other, and your future together!
Looking for the Top Wedding Planner in Melbourne? Look no further and check out our ultimate list of Wedding Planners here. 
Top Tips for Planning Your Wedding
Before you start doing anything, pick a timeframe that works for you. Don't pressure yourself to get married within the year if that will be too much of a rush. 13 months is average but take as long as you need.

Work as a team with your other half – don't try and do all of the planning yourself, and remember that communication is vital. You can also delegate to friends and family you trust.

Only choose suppliers you're comfortable with and who understands your style and vision. The last thing you want is a photographer who you don't gel with as they'll be around all day.

Consider figuring out a social media strategy for your big day. Is it necessary to you that no one is distracted by their phones, or that day guests don't post photographs until the evening guests arrive? 

Consider setting up a wedding website. Your guests are likely to have many questions for you, so to avoid endless voicemails and WhatsApp messages, set up a wedding website where they can check out details of the big day, see the schedule and view your gift list. It'll save so much hassle.

Talk to other married couples! Ask them what worked and what didn't. After all, experience is the most outstanding teacher.

Make your wedding personal, and don't get too bogged down by tradition. If there's something traditional to weddings which you're keen to get rid of, then do! The better weddings are always the ones which showcase the couple's personalities.

Read every contract before signing. Read reviews, find out about cancellation policies and get clued up on their payment methods – it's always better to be safe than sorry!

Make sure you're keeping track as you buy items and book suppliers for your wedding. Either set yourself up a spreadsheet or buy a wedding planner book and be consistent with noting everything down. Make a folder for print-outs as you get receipts too.

Take some time off. Consider taking the week before your wedding off work to organize any last-minute details and spend some quality time with your OH. The last thing you want is to feel stressed when your wedding day rolls around!