If you've just got engaged, then congratulations! You're probably super excited to get started with planning your big day! Chances are you had given your dream wedding plenty of thought before you even got engaged and will be dying to make it a reality.
First things first: Planning a wedding can feel pretty overwhelming at times. While couples often hire a professional to help manage their wedding plans, there are plenty of reasons why they might also opt to take on most of their responsibilities. Maybe you're working with a tight wedding planning budget, or perhaps you simply love all of the DIY possibilities—in any case, it's a lot of extra details, but it is possible to plan the wedding of your dreams on your own.
The organization is key to keeping everything on track when you're faced with decisions, lists, deadlines, and everyday life to deal with. The first step is making sure to give yourselves plenty of time for wedding planning. A longer timeline is your friend here—aim for around a year, if possible. And don't forget to involve your significant other in this step, as well. Your wedding should represent both of you, together as a couple.
So, where to begin? We've got you covered. Just remember to keep one very important thing in mind: Try to have some fun! This is your wedding, after all. Don't get too hung up on the tiny details and focus on what's truly important: celebrating the love the two of you share and getting married, all while surrounded by your friends and family.
But the date that you set for your wedding will determine what you can tie down in terms of details, particularly if you have a slightly longer engagement. How far in advance is the right time to start planning your wedding?
"How to start planning a wedding?" That's what you'll find yourself thinking once the initial excitement of being engaged wears off. You'll need to start making decisions with the end goal of having a wedding that reflects you as a couple. Here are the most important steps to planning a wedding that is as unique as you. 
One of the first things you'll want to establish is your wedding planning timeline if you're recently engaged. You may already be wondering if you can relax and enjoy your love bubble for a few more months or if you should dive straight into checklists and Pinterest boards!
Every couple (and every wedding!) is different, but some simple guidelines can help you map out a realistic timeframe for your day. Keep reading as we explain how much planning is involved in the average wedding and whether a long or short engagement is the best option for your lifestyle, wedding vision and budget.
How to Plan a Wedding? 
Set a Wedding Planning Timetable
The minute you get engaged, everyone will be asking for your wedding date. But in reality, you won't be able to set an exact wedding date until other major decisions—like choosing (and booking) your venue—are made. So first, focus on determining a range of dates that'll work for you. The average engagement lasts 15 months, but also think about what season you'd prefer, any major holidays or family events you'd like to avoid conflicting with, and how long you predict you'll need to plan.
Create a List of Priorities
Figuring out what you want from your day is where to start when planning a wedding. What are the most important elements to you? Maybe you want an excuse to have great food and drinks? Want to throw a huge party late into the night with great music? Maybe big shindigs just aren't your style, and you want something small and quiet?
Having your priorities straight will guide the rest of the process, making it easier to choose where you'll compromise.
Find Your Wedding Vision and Pick a Venue
Before you try on a single wedding dress, book a reception band or sample a bite of wedding cake, look at the big picture and imagine the style and vibe of your ideal wedding. Is it a candlelit evening in a mansion or a barefoot ceremony on a tropical beach? While you're picturing your perfect wedding, here are some key questions to consider: Big (everyone you know) or small (just close friends and family)? Outdoors or in? Home (one of your hometowns or your current city) or away (a destination wedding)? Modern, classic, romantic, vintage, rustic or all-out glam? Fancy, casual or somewhere in between? To help you get a better idea of what you want (and what you don't want), take our fun Style Quiz that takes all the guesswork out of creating your dream wedding vision, then matches you with beautiful venues other awesome props that fit your style. Don't forget to check out magazines, social media and real wedding photos—and don't limit yourself to the obvious sources. Something as unlikely as a wallpaper pattern, a scene from a favourite movie, or a family heirloom can spark your creativity. Bottom line: Always keep your eyes open for inspiration.
Set a Wedding Budget
Sit down with your families and figure out how much everyone is contributing to your wedding. This number will affect every decision about how you plan your wedding and purchase you make, so be sure to work out your budget before you start planning with our The Knot Budget Calculator. It can be an uncomfortable conversation to have, but it's better to get it out of the way now so that you have a realistic picture of what you can spend. 
How Long Does It Take Plan a Wedding on Average?
It's difficult to put an exact timeframe on how long it takes to plan a wedding because no two couples are ever the same! With this being said, research shows that most couples spend approximately 12 – 18 months planning their wedding, which usually adds up to between 200 – 500 hours in total.
Now, your ideal wedding planning timeline might look longer or shorter than the "average" couple – which is fine! We've seen weddings planned in 3 months, and engagements that lasted 5 years. The right timeline for your wedding will all depend on a few key factors.
12 or More Months Before the Wedding
The Budget
While you may not determine exactly how much you plan on spending for each category, determining the event's overall budget is the first step in wedding planning. How much can you realistically afford to spend on the wedding and where is the money coming from? Are you paying for it all yourselves, or are family members pitching in to help with the costs? Also, determine which budget items are priorities and which you don't mind saving money on.
The Guest List 
Another of the first steps in wedding planning is to come up with a guest list. Otherwise, you won't know the size of the venue you need. The number of guests also has a huge effect on the various budget categories. Sometimes, the easiest way to cut spending is to limit the guest list.
The Date and Time
Before you can finalize any other details and booking the vendors, you must know when you want to get married. If you're flexible within a range of dates, this makes it easier to book the venue. Check with the officiant and your must-have guests before finalizing the date.
The Overall Look and Feel of the Wedding
Decide how you want the wedding to look and feel, perhaps choosing colours and a theme. This makes other decisions during wedding planning, such as the venue and the decorations, easier. Check out wedding magazines, Pinterest, and other sources for inspiration.
The Wedding Planner
If you want to use a full-service wedding planner, book one now. Then you'll have the planner's help in making all the other wedding planning decisions and making sure no important details fall through the cracks. Even if you only want a day-of coordinator, booking this professional way in advance ensures they're available on your wedding date.
The Venues
Once you decide on the budget and the guest list, the next step in wedding planning is to choose your venues. People sometimes book venues more than a year ahead of time, so don't leave this decision for the last minute. Look for a convenient and affordable venue available on your date that won't take too much decorating.
The Officiant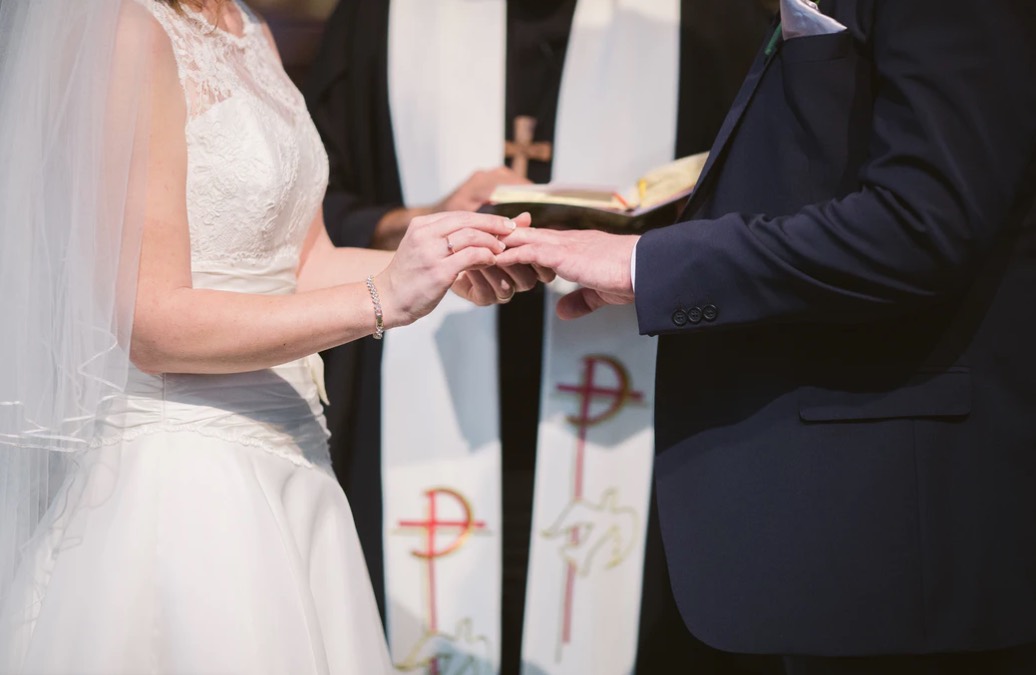 Book the person who'll be performing the wedding service. You can't have a wedding without an officiant. In many states, a friend or family member can get permission to officiate if you don't want a religious ceremony. However, this may take some time to sort out, so take care of this during the earlier stages of wedding planning.
The Wedding Party
Choose your wedding party members and ask them if they're willing to serve in this capacity. This gives the wedding party members time to plan and makes it easier for them to help you. Discuss any expectations you have for them during the wedding, intending to know what they're getting into if they agree. This is especially important with destination weddings.
Wedding Insurance 
Think about getting wedding insurance, as this protects you if something goes wrong and the wedding can't go off as planned. This is especially important if you're having a destination wedding (or even a wedding near the coast in the U.S. during hurricane season).
8 to 10 Months Before the Wedding
The Gift Registry
If you will register for gifts, this is a good time, as some people plan early. You don't have to register for only household items, especially if you don't need these. You can include other items or even a honeymoon registry.
Save-the-Dates
Send out save-the-dates, especially if you're having a destination wedding or one where many people are coming from out of town. Only send them to people who you are inviting to the wedding. Start with those that live far away, as they'll need the most planning time to attend the wedding. If most of the guests will be local, sending out, save-the-dates can wait until closer to 6 to 8 months before the wedding.
The Engagement Party
If you want an engagement party, this is when people have them. Make sure you've already registered for gifts and that you only invite people who you are inviting to the wedding.
Wedding Attire
Find your perfect wedding outfit and order it. You'll want plenty of time to make any necessary alterations and find the perfect accessories to go with it. Purchasing off the rack or buying a sample from a bridal shop can cut the time frame down but limits your choices.
Hotel Rooms for Guests
Look into reserving blocks of hotel rooms for out-of-town guests. This way, there will be plenty of room for them to stay and they may even get a discount. Consider reserving rooms at a budget hotel and a nicer hotel, so people have options depending on their budget.
The Wedding Website
Consider making a wedding website where guests can see any necessary details regarding the wedding plans. Perhaps they can RSVP on the website, get directions to the venues, find links to your gift registry, learn about local hotels, and find out more about the wedding dress code.
The Caterer 
Decide what type of food you might want for the reception and research caterers. Remember that some venues have their required caterer or have special rules caterers need to follow. Have tastings with the top choices and book the one that best suits your needs.
The Entertainment
Decide what type of entertainment you want during the ceremony and reception. Book the band, DJ, or musician. Make sure they can provide the music you want and will include your must-have songs in the playlist.
The Photographer and Videographer
These professionals provide pictures and videos that will help you look back on your wedding day. Do your research and spend as much as you can afford to get the right professional photographer to handle the task. Couples often regret skimping in this area.
The Flowers
Florists have to plan way sometimes to get the specific flowers they may want. Talk to a florist early in the wedding planning process once you know what type of flowers you'll need. This is one area where you can often cut costs, so book the other vendors first to see how much of the budget remains for flowers.
6 to 8 Months Before the Wedding
The Engagement Photo Shoot
Some people have an engagement photoshoot. This gives you a chance to get more familiar with the photographer and make sure he's right for the wedding. These photos can also go on the save-the-date cards.
Wedding Party Attire
Choose the dresses for the bridal party. Get input from your bridal party to make sure they're within the budget and comfort level of all the ladies. This gives the bridesmaids plenty of time to order the dresses and get any necessary alterations done before the wedding. Also, choose the dresses for the flower girls, if you have them.
The Wedding Stationery
Decide on the wedding invitations and any enclosures and order them. You may also want to consider wedding programs, but these need to wait until you set the wedding timeline.
The Wedding Cake
Choose a wedding cake designer. Do a tasting to help you decide which flavours and style of wedding cake you'd like. This can be one of the more fun parts of wedding planning.
The Wedding Suite
Some people book a hotel room or suite for the wedding night or to use to get ready the day of the wedding.
The Honeymoon
You may want to start planning your honeymoon, especially if the destination requires passports or immunizations.
Rental Arrangements
If you need to rent a tent for an outdoor wedding, tables, chairs, linens, portable toilets, lighting, or any other items for the wedding, now's the time to arrange for these.
Wedding Transportation
Rent or otherwise arrange for transportation for the wedding party to the venues. Depending on the venues' parking situation, you may also want to arrange for transportation for all the wedding guests from the wedding venue to the reception venue.
Wedding Timeline
Plan the timeline for the day. Make sure each essential component has a time slot. Leave plenty of room in between as things don't always go as planned. It's good to have some leeway in the schedule to deal with last-minute issues that pop up. Send this to the vendors for their input before finalizing it, as they can advise you if you've left too little time for any item on the schedule.
4 to 6 Months Before the Wedding
Dress Fittings
Arrange for dress fittings and get any necessary alterations started. Attend these with the undergarments and the shoes you'll wear at the wedding.
Wedding Rehearsal and Rehearsal Dinner
Plan the wedding rehearsal and decide the timing and location of the rehearsal dinner. Make the guestlist for dinner.
Mail Invitations
If you haven't already mailed the invites, do so now. People should have at least 6 weeks to respond, and you'll need at least two weeks before the wedding to give the final headcount to the caterer and venue. Mailing wedding invites on the earlier side gives time to invite people on the B list of people from the first round of invitees who can't make it.
Ceremony Planning
Plan out the wedding ceremony. Plan for seating for everyone and some shelter or shade for those who need it during an outdoor event. Figure out who you want to do any readings, who will escort who down the aisle, and any other important details. Consider personalizing the ceremony by opting for less traditional readings and music.
Hair and Makeup
Book hair and makeup appointments. Start hair at least three hours before the ceremony and makeup at least one hour ahead. This limits the need to rush. Book a trial run to go over options and find one that works for you.
Groomsmen Outfits
Order the outfits for the groomsmen. You don't want them arriving at the last minute if there are any mistakes in the orders or the sizing is off.
Wedding Favors
If you have wedding favours, consider ordering them now. Food favours are popular right now. Guests may be less likely to leave these favours behind than some other options.
2 to 4 Months Before the Wedding
Wedding Party Gifts
Choose something useful that the wedding party will enjoy. This could be jewellery to wear for the wedding for the bridesmaids, for example.
Wedding Incidentals
Order all the other random items you may want or need for the wedding, such as a garter, guest book, toasting glasses, cake knives, and unity candles.
Wedding Shower
Attend the wedding shower if someone throws you one.
Vows
If you're writing your vows, get started. It can take some time to come up with just the right words.
Budget Wisely When Planning In A Short Period
As you're keen to pull everything together quickly, you'll have to be financially prepared to spend your budget in a faster than usual manner. Rather than being able to spread payments out over a year, you'll need to pay your final balances sooner than most couples do.