A professional belly dancing show is elegant and vibrant. If you have never seen great belly dancers before, prepare to be captivated by the grace of the dance form, impressed by the control and intricacy of the movements, and swept away by the beauty of the costuming. It's fun and family-friendly.
Even if you are Middle Eastern and accustomed to dancing at family events, a professional bellydancer will bring an extra level of sophistication and can probably add many more moves to your repertoire!
Are you looking for something special to entertain your guests for your wedding? A Bellydancer is simply a 'party starter'. She acts as a way to mark the place in the evening where your guests are invited up onto the dancefloor.
Be at her hens' party having fun with our belly dancers. Let us entertain your besties at your hens' party to celebrate your special day to be pampered as the Bride to be! Then all jump in and learn how to let your inner goddess shine through the art of Belly dancing.
Are you located in Melbourne, Victoria, planning a wedding and looking for Belly Dancers? When you are planning your big day, you probably want everything just perfect. One of the best ways to make sure that it all turns out the way you dreamed it to select every vendor yourself personally. This way, you can choose the ultimate location, the best entertainment and the most delicious food, and craft your perfect wedding day.
We've created an ultimate list of Best Belly Dancer Hire to save you time and money.
Best Wedding Belly Dancers in Melbourne
Belly Dance Bohemia - Belly Dancer Melbourne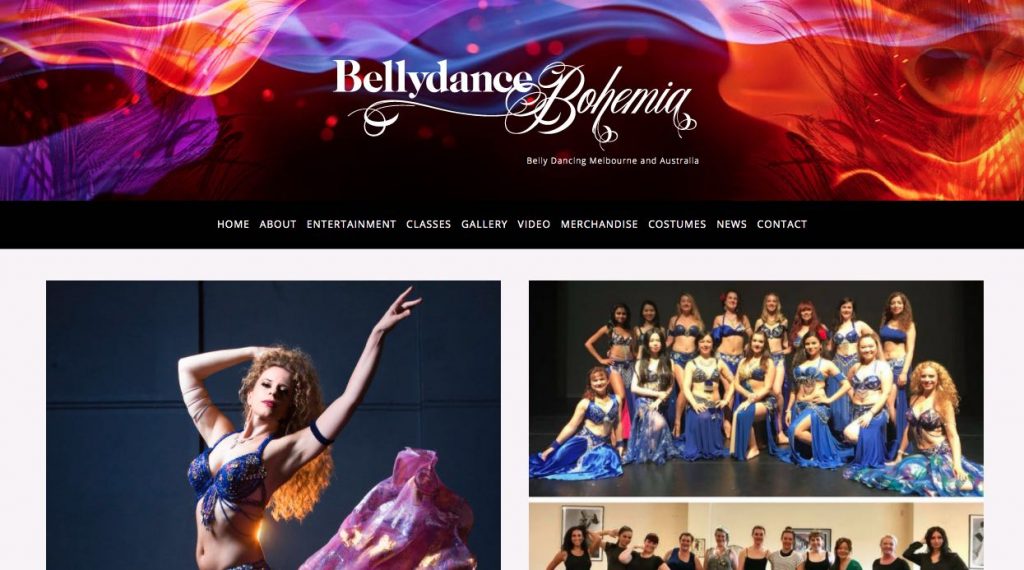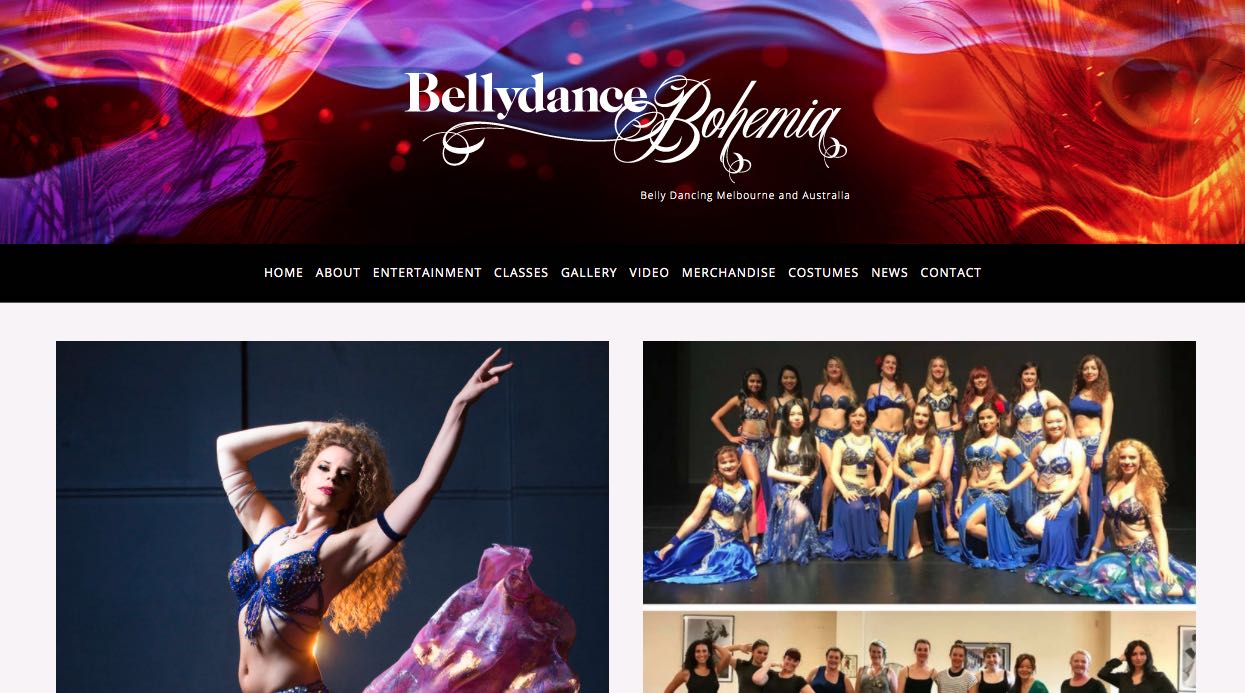 Ekaterini is a renowned belly dance performer, instructor and choreographer and has been involved in the art of Middle Eastern dance since 2001. Established as one of Melbourne's most highly sought after professional belly dancers, she has performed countless shows in the region and across Australia.
Ekaterini has been a popular choice at festivals, weddings, corporate events and special occasions as a solo artist as well as a duo with Middle Eastern percussionist George El-Azar, and the Bellydance Bohemia, troupe.
Founded by Ekaterini in 2010, Bellydance Bohemia has rapidly grown to be one of Melbourne's most recognised belly dance schools and entertainment agencies, hosting an annual school concert which showcases the talent of students as well as local Middle Eastern musicians and professional dancers.
Ekaterini travels often and has spent many years training with accomplished teachers in Australia and abroad who have been influential in the development of her own unique style of belly dance.
Ekaterini has travelled extensively through the Middle East and recently visited Lebanon where she trained with belly dance superstar Amani. In 2014 Ekaterini travelled to Turkey and trained with some of Istanbul's most respected belly dancers including Ozlem Idilsu and Serup Su. In 2010 she travelled to Egypt and completed private belly dance workshops with master dancers Madame Raqia Hassan, Randa Kamel, and Soraia Zaied. Her training has also extended to workshops with world-renowned dance artists Jillina, Aziza and Tamalyn Dallal from the US, and Mohamed Kazafy from Egypt.
In 2011 she collaborated with celebrity Jason Coleman (TV judge on So You Think You Can Dance) to perform at a high profile event held at the Grand Hyatt and has since been invited to teach belly dance workshops to the full-time students at Jason Coleman's Ministry of Dance.
Ekaterini has also been selected to be one of the new faces of Ausdance Victoria, representing belly dance in 2013.
Her expression of belly dance is elegant, authentic and polished, bringing an enchanting presence and a natural musicality to her performances. Her style of dance and choice in music can vary from classical and modern Egyptian, Turkish Oriental, Lebanese and Greek Tsiftitelli.
Ekaterini is dedicated to promoting the beauty and integrity of belly dancing. With its graceful control and discipline, belly dance is a magnificent expression of feminine power.
HIRE A BELLY DANCER TO SPICE UP YOUR NEXT EVENT!
We provide Melbourne's most elegant and skilful belly dancers that have trained and performed internationally and have years of experience in quality entertainment.
Our entertainers wear dazzling haute couture belly dance costumes in a variety of colours. They are in high demand for their technical and performance skills, as well as their beautiful presentation.
We use a variety of traditional props including colourful silk veils, Isis wings, zills (finger cymbals), said canes and scimitar swords! Our shows create a visual feast that will leave a lasting impression.
Our performances can also include audience participation, where appropriate.
Belly dance is an incredibly enchanting art form that is appropriate for all ages, bringing joy to your event as nothing else can.
BELLY DANCE PERFORMANCE OPTIONS
BELLY DANCE FLOORSHOW
A stunning 15-20 minute belly dance performance that will liven up your event and delight your guests.
Traditional belly dance props including colourful silk veils, Isis wings, zills (finger cymbals), Saiidi canes and scimitar swords are used throughout the performance as well as audience participation when appropriate.
Suitable for: Weddings and engagement parties, corporate events, birthday celebrations and Christmas parties.
BELLYGRAM
A belly gram is a shorter performance by a belly dancer ranging from 10-12 minutes in length.
Traditional props including colourful silk veils, Isis wings, zills (finger cymbals), said canes and scimitar swords are used as well as audience participation.
Suitable for: Smaller gatherings at birthday parties, corporate events, bridal showers, product launches as well as restaurants.
BELLY DANCE PERFORMANCE AND WORKSHOP
A 10-15 minute belly dance performance followed by a mini-workshop to get your guests up and dancing, laughing and having a wonderful time!
The duration of the performance and workshop is flexible to your specific request. The workshop works best when it runs between 10 - 30 minutes in duration.
Azra Belly Dancer Melbourne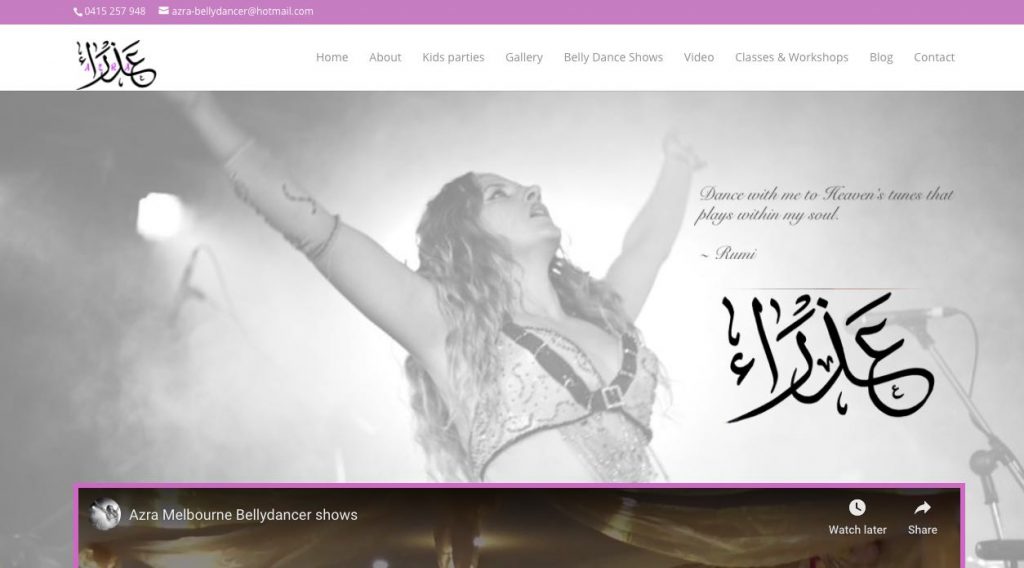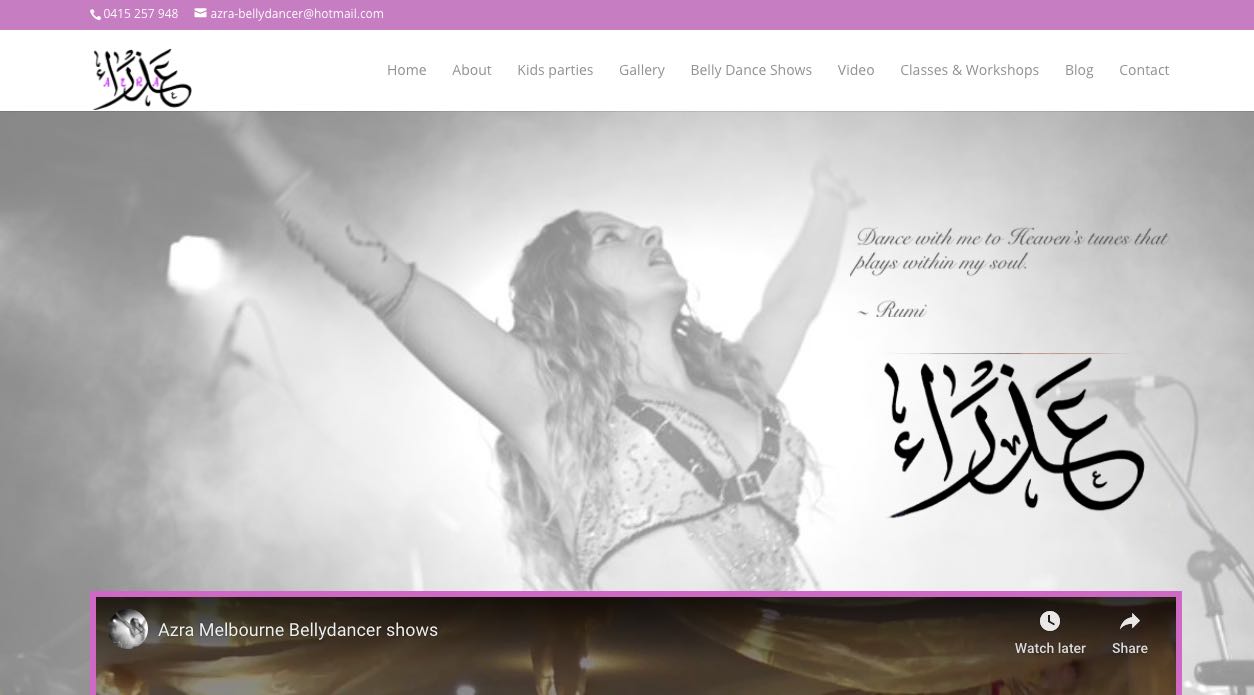 0415 257 948
Azra is a vibrant and captivating belly dancer available for any occasion as a solo belly dance performer using swords, wings, veils or a cane (Turkish, Egyptian or Arabic style, Tribal, modern or traditional) or as a part of a group belly dance performance. Both female and male dancers are available.
Azra has been enchanting Melbourne with her beautiful belly dance shows since 2007 at venues and events such as birthdays, exhibitions, artist gatherings, hen's nights, corporate functions, public affairs, bands, festivals, weddings & restaurants, as a solo artist and in group belly dance choreographies.
Azra is available for any event requiring a Middle Eastern touch as she will ensure to provide the best Middle Eastern entertainment in the city.
Besides belly dance shows and classes as a versatile artist, she offers entertaining and energetic Bollywood and Zumba workshops. Azra is also a Butoh performer.
Azra had started studying Hatha Yoga and various dance styles 10 years ago and fully committed to belly dance 7 years ago. Since 2004 Azra has actively explored: Bollywood Street Latin, Salsa, Contemporary, Flamenco, West African dance, healing through dance methods and Zen Zen Zo physical theatre and Butoh dance.
Only a few of the places where Azra has performed or performs: Moomba Festival, Woodford Festival, Diwali festival (Sandown racecourse), Riverview Function Centre, Laila reception, Masquerade Ball, Fringe festival Restaurants: Pinarbasi, Minzaman, Rumelis, Safi, Adanali, Little India, Mod-Oz Cafe, Tandoori Flames, Biva, Cupido, Taksim, Ancient Memories, Riverview Function Centre
Spice up your party with the most captivating belly dance show! Make your event memorable explosion of music and colours mixed with the sensuality and cheekiness that Azra brings to your birthday, Christmas party, hens night or any other occasion.
Azra is a very versatile, experienced belly dance performer that performs in restaurants, dinners, functions, weddings, hen's night, children parties, with bands, for the council etc. using various props like swords, veils, candles, wings, cane and she easily adjusts to any of your needs.
She is available solo or with other dancers and musicians (darbuka and sitar players).
Besides belly dance, she can add to your event some flamenco, Bollywood and modern vibes.
Aya Belly Dancer Melbourne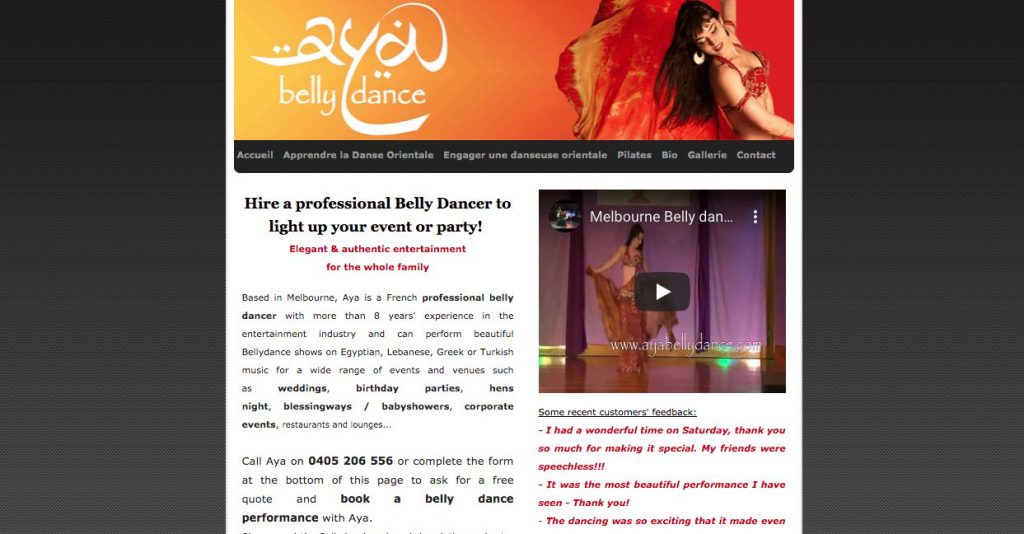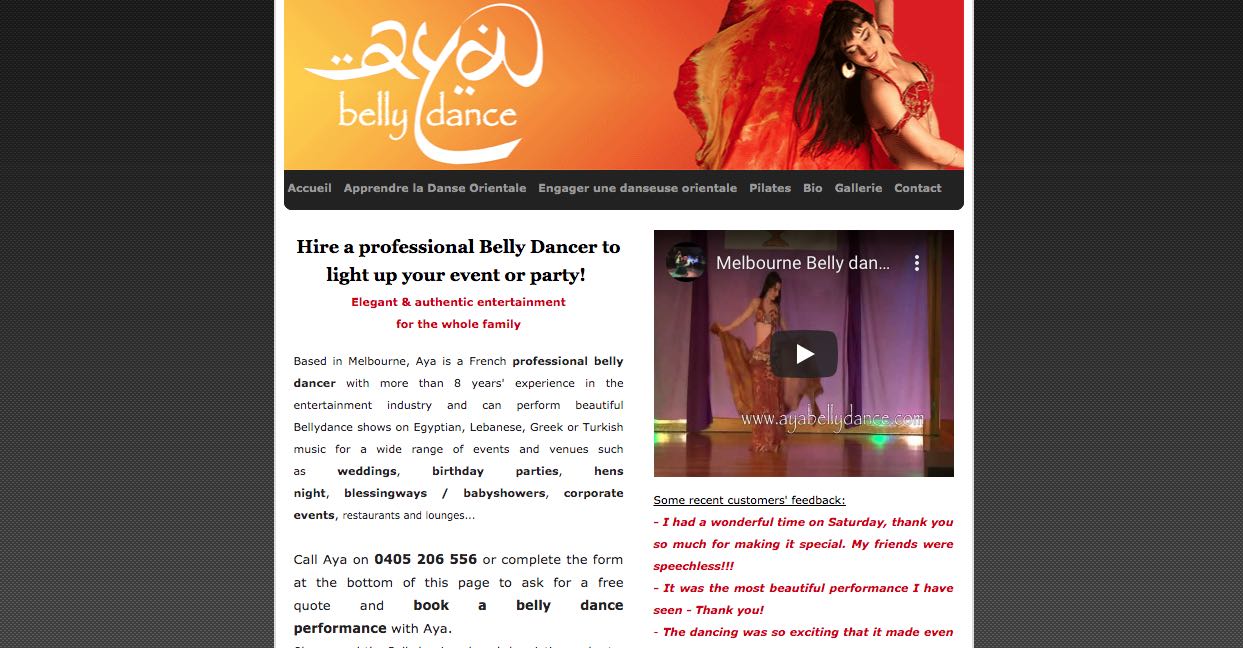 0405 206 556
Hire a professional Belly Dancer to light up your event or party!
Elegant & authentic entertainment for the whole family
Based in Melbourne, Aya is a French professional belly dancer with more than 8 years' experience in the entertainment industry and can perform beautiful Bellydance shows on Egyptian, Lebanese, Greek or Turkish music for a wide range of events and venues such as weddings, birthday parties, hens night, blessing ways/baby showers, corporate events, restaurants and lounges.
Call Aya on 0405 206 556 or complete the form at the bottom of this page to ask for a free quote and book a belly dance performance with Aya.
Please read the Bellydancing shows' description and rates before enquiring (see below) and visit the gallery page for more photos and videos of belly dancer Aya.
High-end Bellydancing shows in Melbourne
Choose from one of the following Bellydance shows or request a tailored program to suit your needs:
Short and Sweet Belly Dance show - 10 to 15min - from $170: Don't be fooled by the apparent short time of this show! Comprising a classy oriental entrance piece, a drum solo and upbeat songs to get your guests moving, it is fun and entertaining—the ideal choice when hiring a belly dancer for small private parties, birthdays or dinners at home.
Classic Belly Dance show - about 25min - from $200: A lively performance featuring a dramatic entrance piece with isis wings or veil (depending on the size of the venue) followed by popular songs (cane or finger cymbals may be used as a prop), a drum solo and a grand final. Audience participation is usually included before or after the drum solo. Perfect for larger venues, weddings and for audiences who love to dance!
Live Bellydance show - about 25min - from $400 for 1 drummer and 1 dancer: Experience the unique and powerful energy delivered by a highly-skilled Tabla/darbouka or Lebanese bass drum player. The interaction between music and dance is beautifully underlined with live music, and you'll feel like dancing in no time! Other musicians can also be organised, or Aya can dance to the live band you've hired.
Double Belly Dance show - 2 x 15 to 20min - from $280: Double the fun with two full shows! With a change of costume in between sets, one part usually features more traditional and folkloric styles of middle eastern dances, but the show can be tailored to your needs. Also available as a Wedding entrance (Zaffe, Zaffeh, Zaffa) followed by a Classic Bellydance Show. Starting from $280 depending on waiting time in between sets.
Shimmy Parties - 1h Belly dancing class + optional show and time for photos - from $200 (up to 20 participants, then $10 per extra person): including hip scarves & veils hire plus a FREE beautiful hip scarf for the bride-to-be! Learn shimmies, hip drops, snake arms and more exotic moves, then combine them in a fun routine to remember. A great bonding time with the girls! Aya will travel to your location or can arrange a dance studio hire for you (specify your suburb when asking for a quote). Music is provided, but a good sound system is needed.
Special package - from $250: Enjoy a short performance in bejewelled costume after the class! This is our best selling options for Hens nights, baby showers / Blessingways.
Audience participation is included in every show unless otherwise requested.
Note that Aya's belly dance shows are always family-friendly. Kids are more than welcome; they are usually the first ones up and dancing! No all-male audience, please.
Aya can travel around Melbourne, a travel fee may be added.
Are you looking for several bellydancers and drummer / middle eastern musicians? Contact Aya to arrange a show with the best belly dancers in Melbourne!
It is always better to book well in advance, especially for Saturday nights; however, Aya will always try to accommodate last-minute enquiries when possible.
Siduri Belly Dancer Melbourne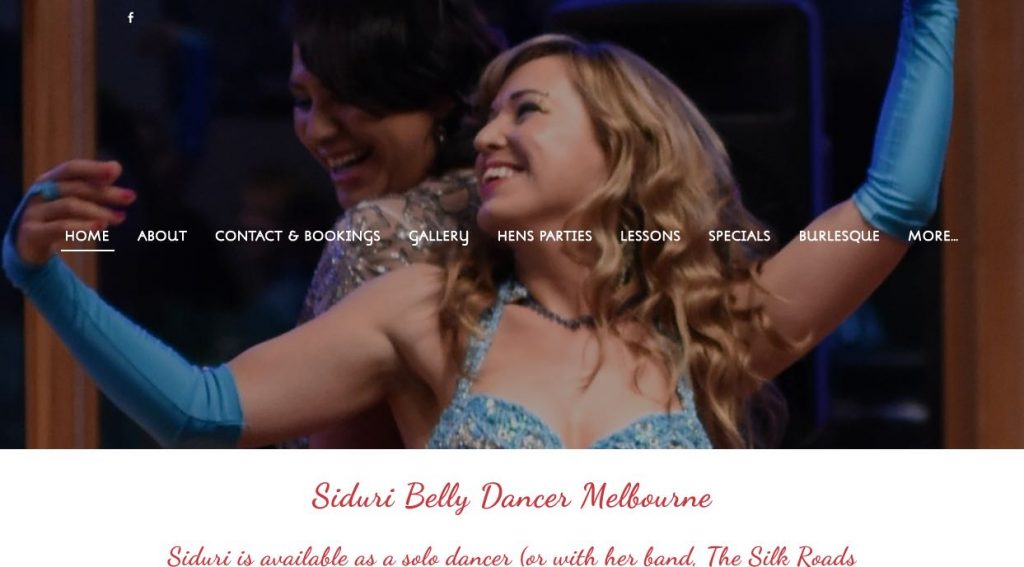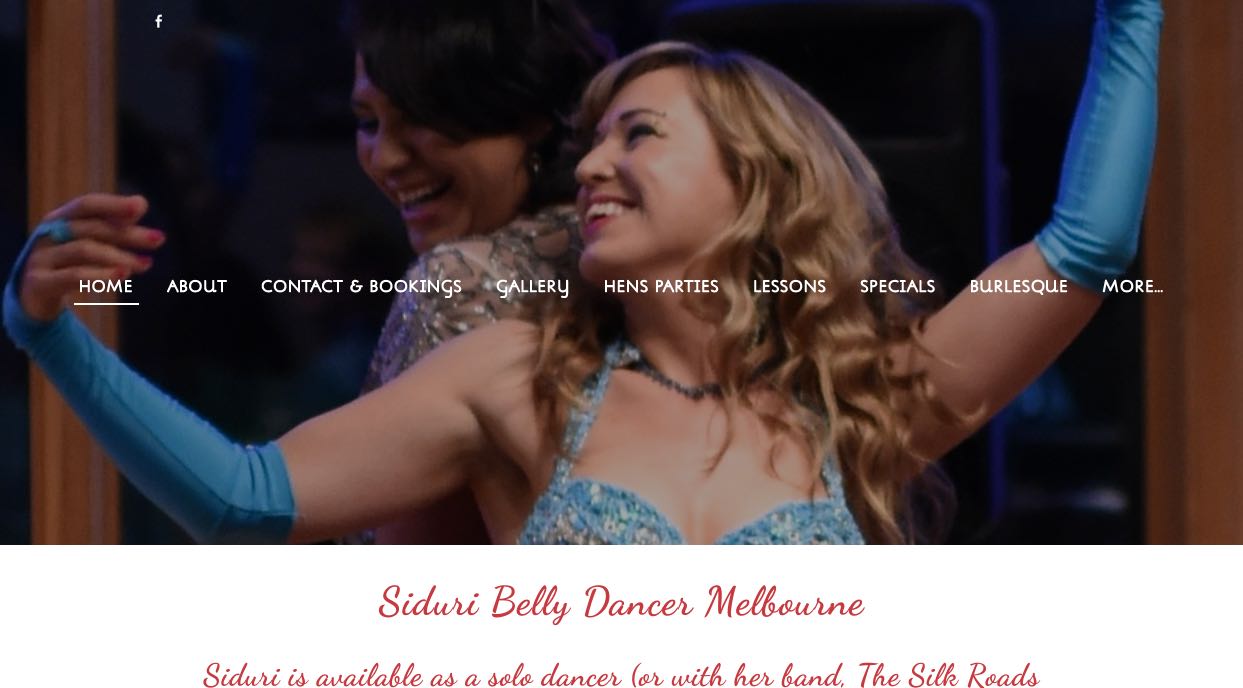 About Siduri
"Siduri" was a brave young woman from an ancient Sumerian epic who wisely advised the hero Gilgamesh to be kind to others and live a rich and full life - a life that included lots of dancing. Siduri belly dancer will bring plenty of joy to your next event with her elegance and warmth. Hens Parties a speciality!
Siduri Belly Dancer Melbourne
Siduri is available as a solo dancer (or with her band, The Silk Roads Collective) for hens parties, birthdays, weddings, festivals and events in Melbourne and surrounds. Hens parties a specialty! Click the contact button for a quote!
Hire a belly dancer (or burlesque artist) for a Hens Party to remember! Siduri's Hens Parties are fun for women of all ages and sizes.
Packages start from $250 & include:
A short performance
A 45-minute lesson
A gorgeous outfit for the hen to borrow
Coin belts (or gloves for burlesque) for everyone to wear during the class
A gift for the Hen including CD and coin belt (or feather boa for burlesque option)
Plenty of wiggles and giggles!
Golden Sand Belly Dance Melbourne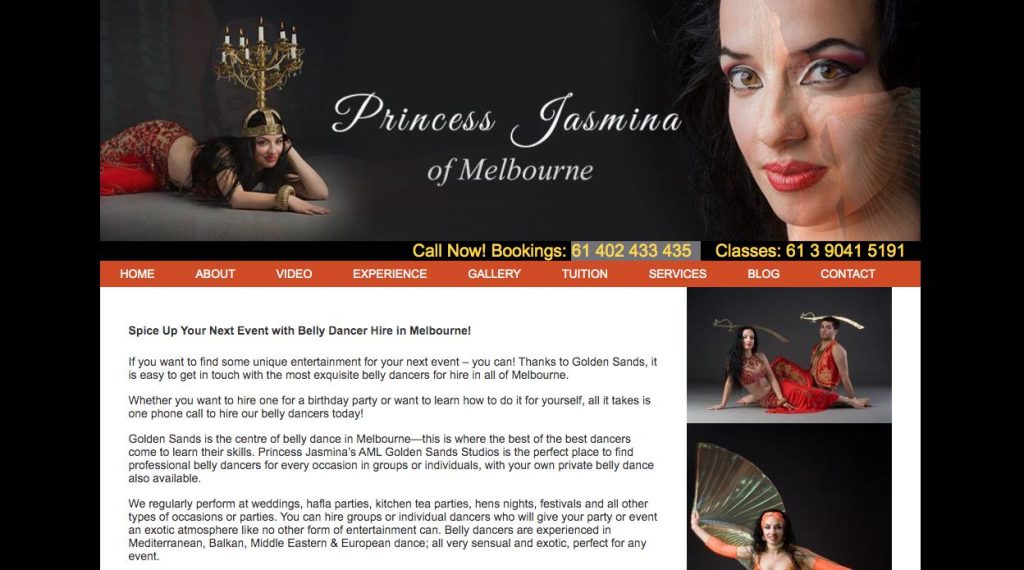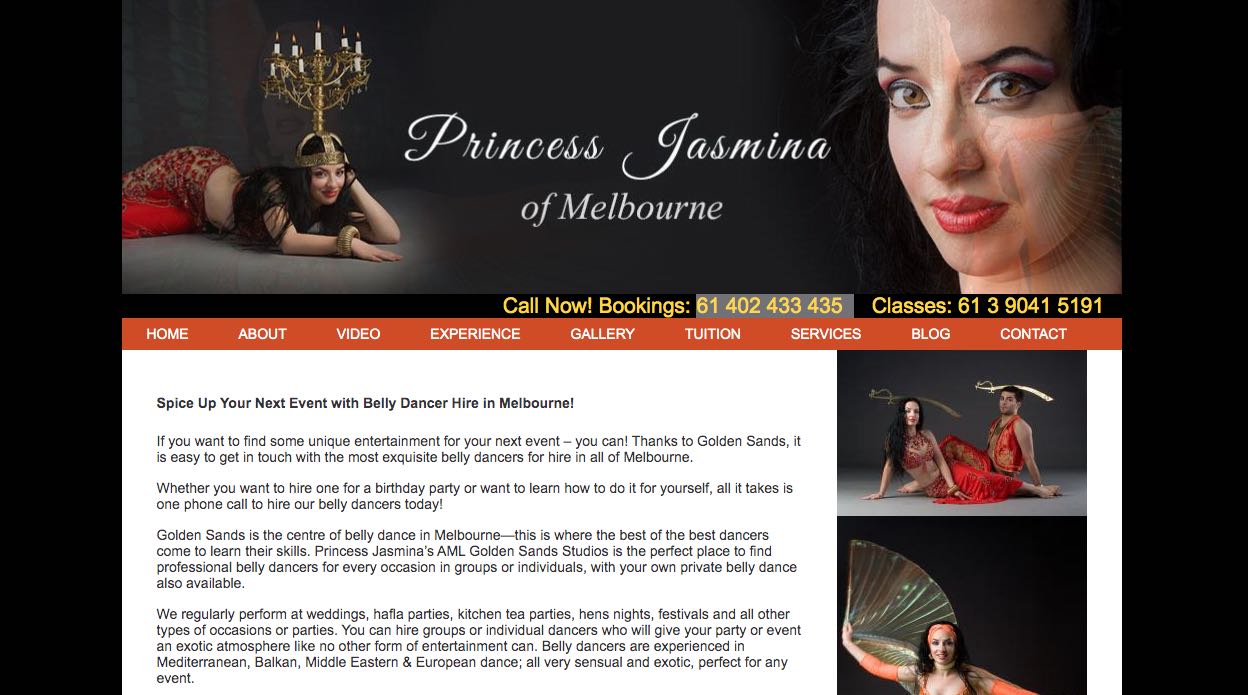 61 402 433 435
Spice Up Your Next Event with Belly Dancer Hire in Melbourne!
If you want to find some unique entertainment for your next event – you can! Thanks to Golden Sands, it is easy to get in touch with the most exquisite belly dancers for hire in all of Melbourne.
Whether you want to hire one for a birthday party or want to learn how to do it for yourself, all it takes is one phone call to hire our belly dancers today!
Golden Sands is the centre of belly dance in Melbourne—this is where the best of the best dancers come to learn their skills. Princess Jasmina's AML Golden Sands Studios is the perfect place to find professional belly dancers for every occasion in groups or individuals, with your own private belly dance also available.
We regularly perform at weddings, hafla parties, kitchen tea parties, hens nights, festivals and all other types of occasions or parties. You can hire groups or individual dancers who will give your party or event an exotic atmosphere like no other form of entertainment can. Belly dancers are experienced in Mediterranean, Balkan, Middle Eastern & European dance; all very sensual and exotic, perfect for any event.
Hire a belly dancer for your birthday party, festivals and functions
Princess Jasmina has danced in all kinds of shows and displays. She continues to perform as a regular professional belly dancer in Melbourne club venues, bars, nightclubs, restaurants, festivals, cultural events, and university open-days. From your birthday, wedding, or engagement party, to mitzvahs, circumcision celebrations, private parties, corporate functions, RSLs and Television, our belly dancer Jasmina is the best you could hire in the business.
Solo Performances
Call us now for an exciting, sensual and sizzlingly fast LIVE SOLO PERFORMANCE from one of Melbourne's hottest and most sought-after belly dance sensations PRINCESS JASMINA! She is the ideal guest artist to have at your next event or celebration: Wedding Celebration, Engagement Party, Kitchen Tea Party, Hafla Party, HENS PARTY, Birthday Party, Christening, Circumcision Celebration, Dance Festival, Music Festival, Arts Festival, Exhibition, Concert, Night (Venue) Club Party, Night (Venue) Bar Party, etc.
Princess Jasmina's live solo performances:
Live, energetic belly dancing
Princess Jasmina performs in All styles and genres:
Greek, Turkish, Lebanese, Gypsy, Egyptian, Indian, Arabic, African
Tribal, European Folkloric, Latin, Samba and Bollywood.
Highly professional, artistically skilled
Beautiful and elegant presence!
Props used in her performances:
Veil, 1 to 4 Swords, Wings, Zills, Cane, tarabuca (tabla drum),
Tef (skinned tambourine), daggers, shamadan (candelabra)
Interaction and involvement with audience participation
Indoor and outdoor (except in cold and wet weather climates)
Small or large scale dance floors and on-stage solo performance
routines (non-choreographed)
Dance to CD music compilations and CD long tracks & audio
tape backing
Improvised belly dance to live orchestra and live band
Hire belly dancers as a duo, trio and more
Princess Jasmina & Chris are currently Melbourne's most highly requested duo. Their show caters for live floorshows at big receptions, corporate functions, celebrations and parties. Both belly dancers complement each other's skills with years of experience behind them. The female and male duo is a much-requested combination to please all onlookers.
Their dance is high-charged with loads of fun and excitement, skill and audience interaction. Their presentation and services are very professional and respectable. Both dancers are dressed in colourful belly dance costumes and animated with varying props listed above. Clients may request a preference of costume colour and reinforcements preferred at their celebration.
We also cater for an all-female cast of dancers should clients make the proposed request. Our dancers are very professional, exciting, fast, and highly skilled in their craft. They are beautiful and very appealing in appearance.
Belly dance troupe
Why not consider surprising your guests with a bigger surprise by booking a live belly dancer troupe show with Princess Jasmina, Chris and the Golden Sands Bellyrinas. Our performances are colourful, highly skilled, and well presented with exotic feminine beauty. Shows are animated with props, original troupe choreographies and improvised dances.
Club Rakasah Belly Dancer Melbourne

0422 518 671
Our History
Club Rakasah is proud of its involvement with the Belly Dance Community over the past 20 years. There have been many remarkable and outstanding performances gracing our stage.
Pamela's Belly Dance has presented Club Rakasah since 2005. We have had a break...now we are back and once again ready to bring you the Middle Eastern Dance Spectacular, that is Club Rakasah.
Below are a selection of some of the events.
From the moment you walk into Club Rakasah, you are taken on a magic carpet ride to the exotic Middle East, with intoxicating and hypnotic music filling the air.
Discover the exuberant beauty of Bellydance, Oriental dance, Raqs Sharki - all names for the same ancient art form from the Middle East's sands of time. An antique style of dance that combines the joy of body, soul and spirit. Its evolution has taken different forms depending on the country, region & culture. With differences both in costume and dance style.
Belly dancing is considered to be the oldest form of dance by many historical experts, and its roots have been traced to The Middle East, Turkey, The Mediterranean and Africa.
Club Rakasah provides a platform for Bellydancers and musicians to showcase themselves and their art, all for your entertainment. Our performances are mainly Bellydance based, but on occasion also showcase other disciplines of dance such as Burlesque, Polynesian, Flamenco, Capoeira, Lebanese Dance Troupes, Hip Hop, Ballroom and Latin.
Club Rakasah has also paid tribute to iconic belly dancers: Samia Gamal, Taheyya Kariokka, Soheir Zaiki, Nadia Gamal, Nagwa Fouad, Naima Akef & Fifi Abdou.
Come "Dressed To Impress" in after five attire.
Enjoy a meal, or show only - seated at our linen clothed tables with atmospheric candle lighting.
There is also the opportunity for our audience, to shimmy and shake on the dance floor to our live Middle Eastern band Platinum Desert, with excellent DJ: Audi...bringing the hottest Arabic music to our stage.
Pamela is a Melbourne, Australia based professional Belly Dancer and teacher, with over twenty years of experience. She has held numerous and long residencies in Melbourne, Victoria, Australia, with thousands of performances at weddings, cultural events, christenings and other special occasions. Internationally she has danced in Egypt, Turkey and Lebanon.
I have loved every moment of sharing this beautiful art form with my audiences!
As a Bellydance teacher, it is a truly humbling and rewarding experience to teach such a graceful, elegant, dynamic and energetic dance style. With women from all walks of life. All cultures, all ages, all shapes and sizes, including 'Belly Babes', little girls under five years of age. Seeing the inner beauty shine and their self-confidence grow a wonderful experience.
I have taught special needs classes for over ten years and continue to do so...it is a pleasure. The benefits for the participants of such a dance class are:
Giving People the Ability to Express Emotions.
Elisa Jade Belly Dancer Melbourne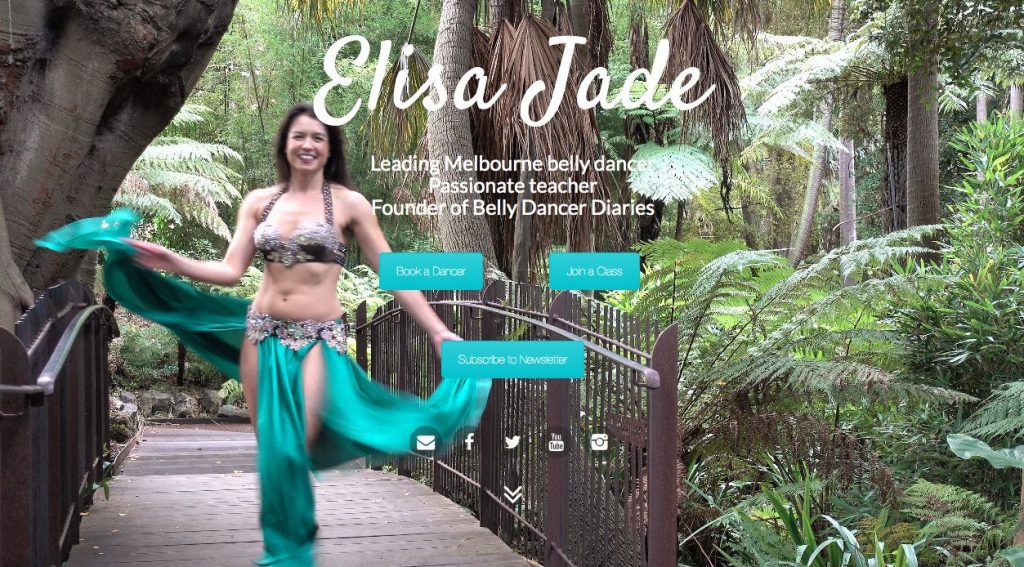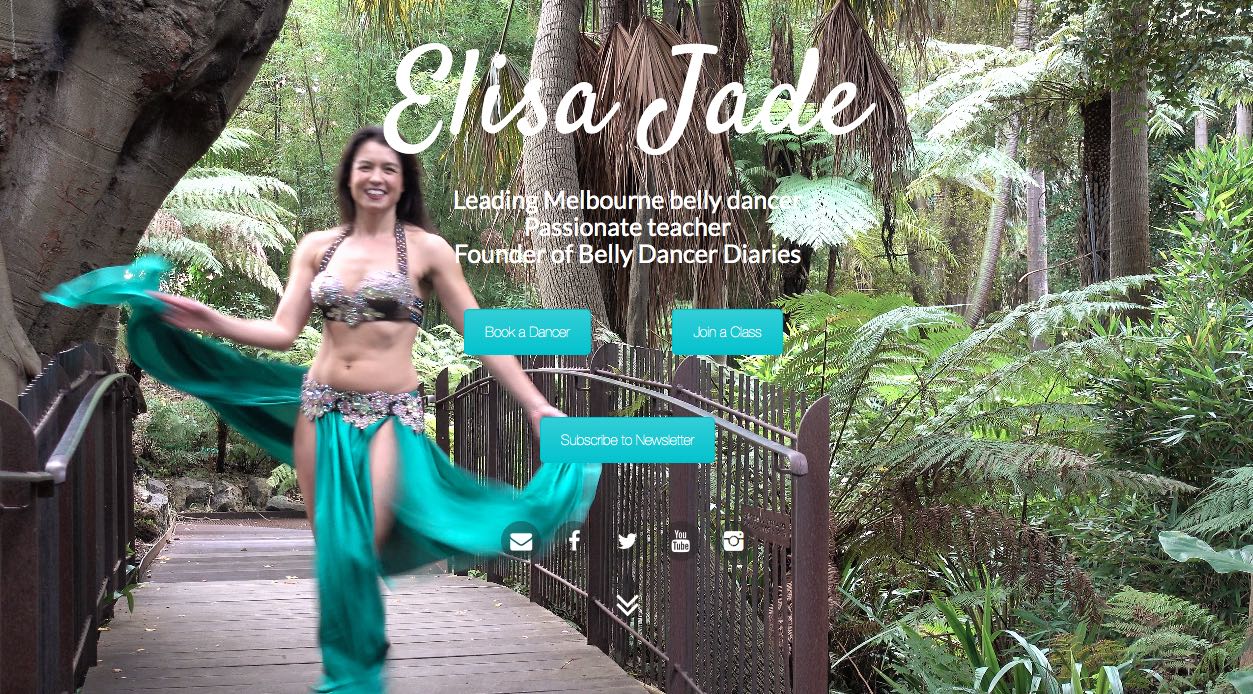 Elisa is one of Melbourne's top belly dancers, having trained and worked in both Melbourne and Egypt. She has performed at hundreds of events in Australia and internationally. That's a lot of experience to bring to your party!
Book a spectacular belly dance show
Wedding entertainment and zaffe
Solo and troupe Bellydance shows
Recorded music or live drumming
Teaching and workshops
Elisa loves sharing her passion for her art form. Elisa teaches in a way to extend all students' technique and expression, no matter what their level from beginners to professional. Book her for a workshop or join her upcoming classes.
ELISA JADE
Belly Dancer
"I love the sensual melodies of Egyptian music. Belly dance is the essence of natural and feminine movements, no matter what age or body shape, every woman is beautiful when she dances."
Belly dancing is a fantastic way to get fit and have fun!
There are many benefits of this ancient dance form. It has proven to build strength, improve fertility and even reduce back pain and PMS. As it is a low impact physical exercise, it is excellent for all ages. Not only that but belly dancing lets you unleash your inner creativity, grow self-confidence and stimulate your mind through learning new moves.
Never tried it? Elisa will have you feeling comfortable and enjoying this beautiful dance in no time.
An expert dancer? Join us for our performance classes where we perfect techniques and work on stage presence and expression.
Learn how to belly dance with Elisa's free online tutorials. Elisa offers a range of tutorials to help you perfect your techniques. Remember always to maintain correct posture.
Learn Choreography Online
Join our Patreon group and learn beautiful choreographies step by step. Each choreography is broken down into technique, steps and timing and then run through with music and voice prompt. Repeat the lessons as many times as you need. This is perfect for those wanting to extend their dancing to the next level, or for performers wanting choreographies for their shows.
Elisa is currently in Melbourne, Australia and available for privately booked individual and group lessons.
Achieve your belly dance goals with specifically tailored private lessons. Elisa specialises in belly dance technique and how to extend and enhance moves for your body. She is also an expert instructor for performance presence and choreography. If you have been struggling to progress your dancing to the next level, or if you have an impressive performance coming up, private lessons with Elisa are guaranteed to help you reach your goals.
Private lessons cost $95 per hour with an additional charge for studio hire (if required).
Join a group class
Learn the beautiful movements of Egyptian dance whilst practising performance techniques and how to capture audiences on stage. All levels welcome, from beginners to professional. Elisa teaches focusing on individuals' levels and concerns, perfect for all backgrounds and ages.
Wednesdays 12:10 pm, Aqualink Nunawading
Please see the links to the venues above for group classes prices.
Nadira Johara Bell Dancer Melbourne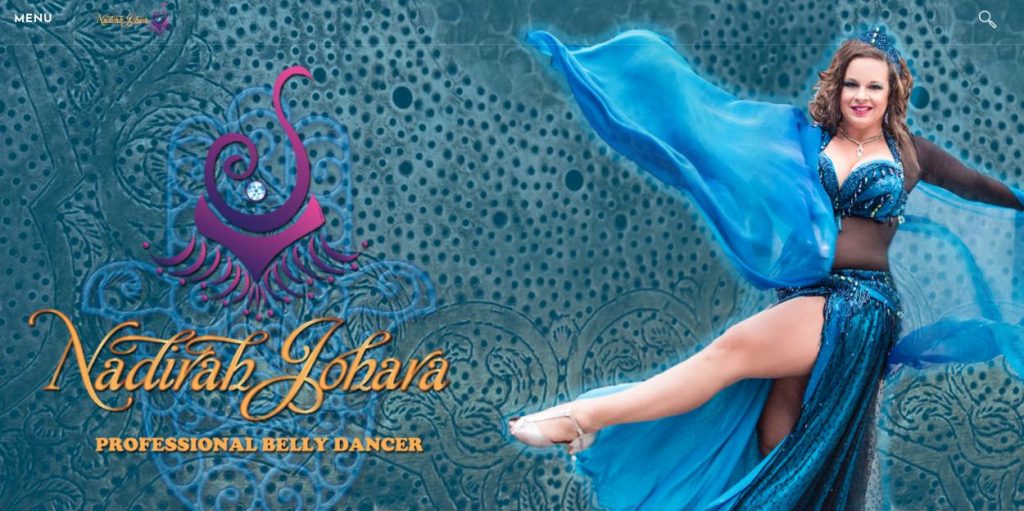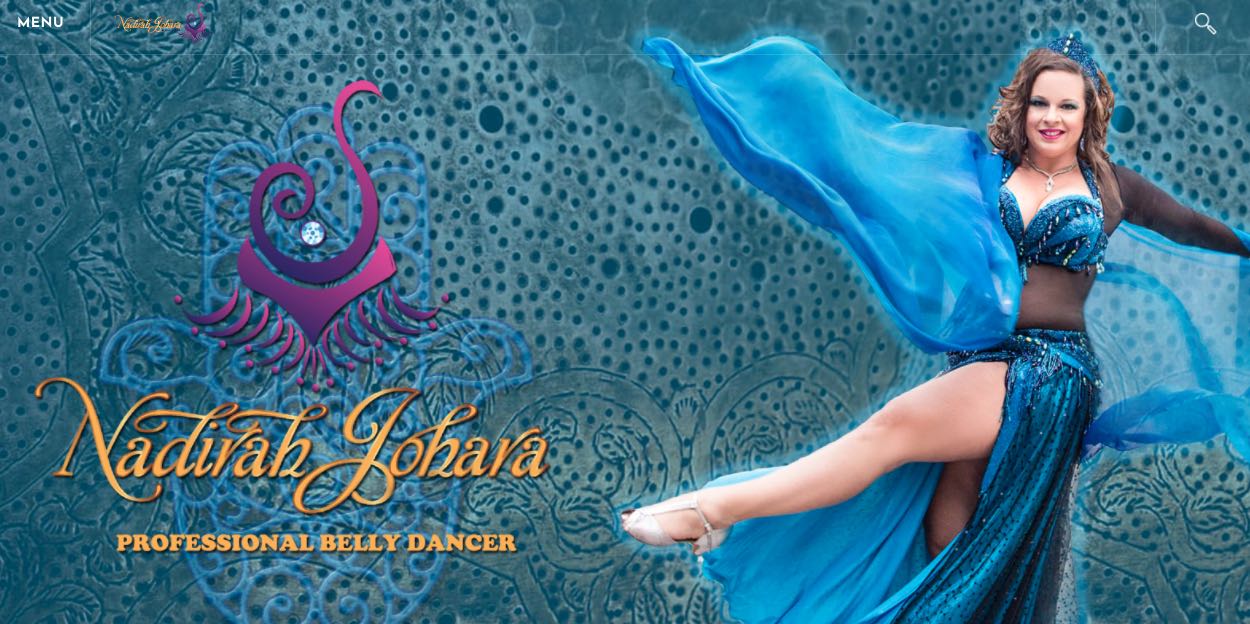 About Nadirah Johara
BIO
Nadirah Johara's captivating style, versatile technique, and compelling stage presence make her a dancer that truly sparkles! Her dynamic performances, innate musicality, and charming company have made her a favourite with audiences everywhere. Whether performing classical belly dance with veil and finger cymbals, or using other props such as sword, wings, or cane, her exhilarating and powerful performances will leave you breathless!
She is a passionate perpetual student, dancer and instructor who works hard to keep this living art form alive. Nadirah Johara has trained under the best instructors in the world, is certified in Hadia's Belly Dance Teacher Training, and has frequented Egypt to deepen her knowledge and experience of the societal and cultural links to Raks Sharqi (Belly Dance). She is certified in Sahra Saeeda's "Journey through Egypt" series.
Nadirah Johara is a featured dancer at the Middle Eastern and Mediterranean restaurants in the Melbourne and Space Coast areas of Florida. Besides, she performs regularly at cultural festivals, corporate events, stage shows, and private celebrations all across Central Florida.
​Professional dancer Nadirah Johara founded Melbourne Belly Dance (MBD). MBD is a collaboration of dedicated Belly Dance Instructors who strive toward common goals. Located on the Space Coast, Florida's East Coast, MBD seeks to lead the extended Melbourne and Space Coast area belly dance community by continuing to elevate the artistic integrity of belly dance as an art form through the education and training of all aspects of belly dance via classes workshops, retreats, teacher training and event/studio-to-studio support. We aim to develop new standards of achievement for the art form as a whole and redefine the spectrum in which belly dance is perceived, strive to educate both students of dance and the general public by providing a cultural exchange through dance. MBD encourages sharing among community members to increase the success of the community and dancer-sponsored events and is committed to the growth and diversity of the Melbourne and Space Coast Area Belly Dance community.
​Nadirah Johara offers a wide variety of Bellydance workshops ranging from fun Bellydance Fitness for beginners to advanced professional masterclasses. Workshop length can be designed anywhere from a couple of hours to multiple day or weeklong seminars. Nadirah Johara can customise a workshop package to meet all of your requests and needs. You can mix and match any of Nadirah Johara's formatted workshops or have her design one particular for your group.
Contact us for a media packet of topics and promotional materials.
Dance Baladi Belly Dancer Melbourne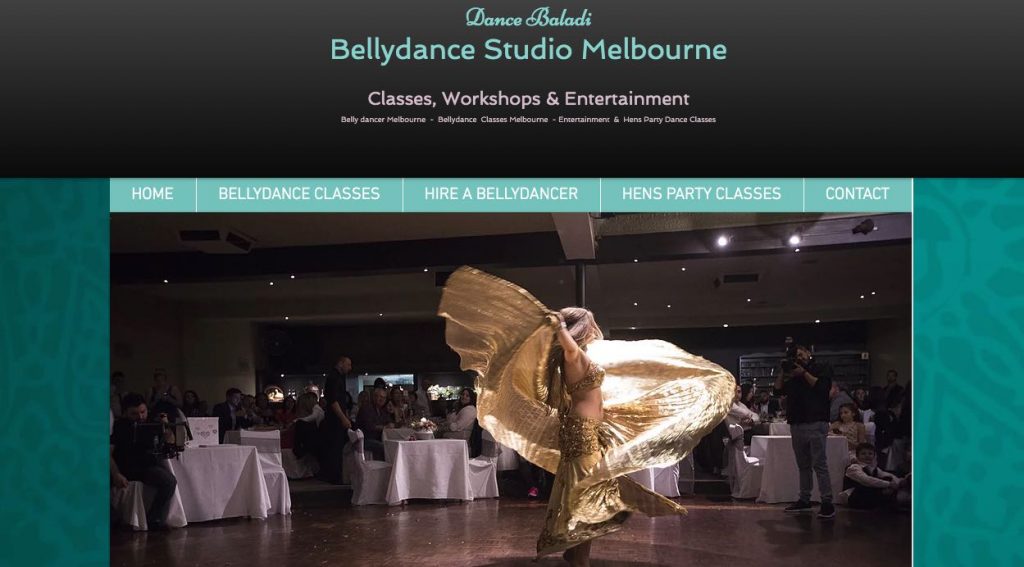 407770164
Book a Bellydancer Melbourne
Eugenia has been performing and teaching Egyptian belly dance since a young age and has visited Egypt on many occasions to study the art of belly dance.
Eugenia is passionate about this art, and her performances are lively and dynamic.
To enquire or get a quote contact us with information about location, date and approximate time.​
Jessy Spin Belly Dancer Melbourne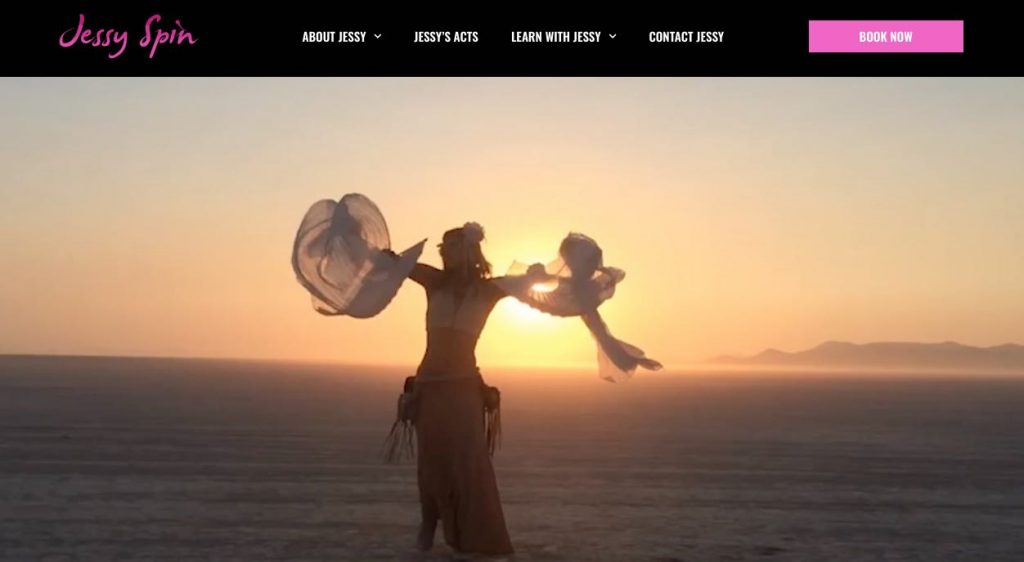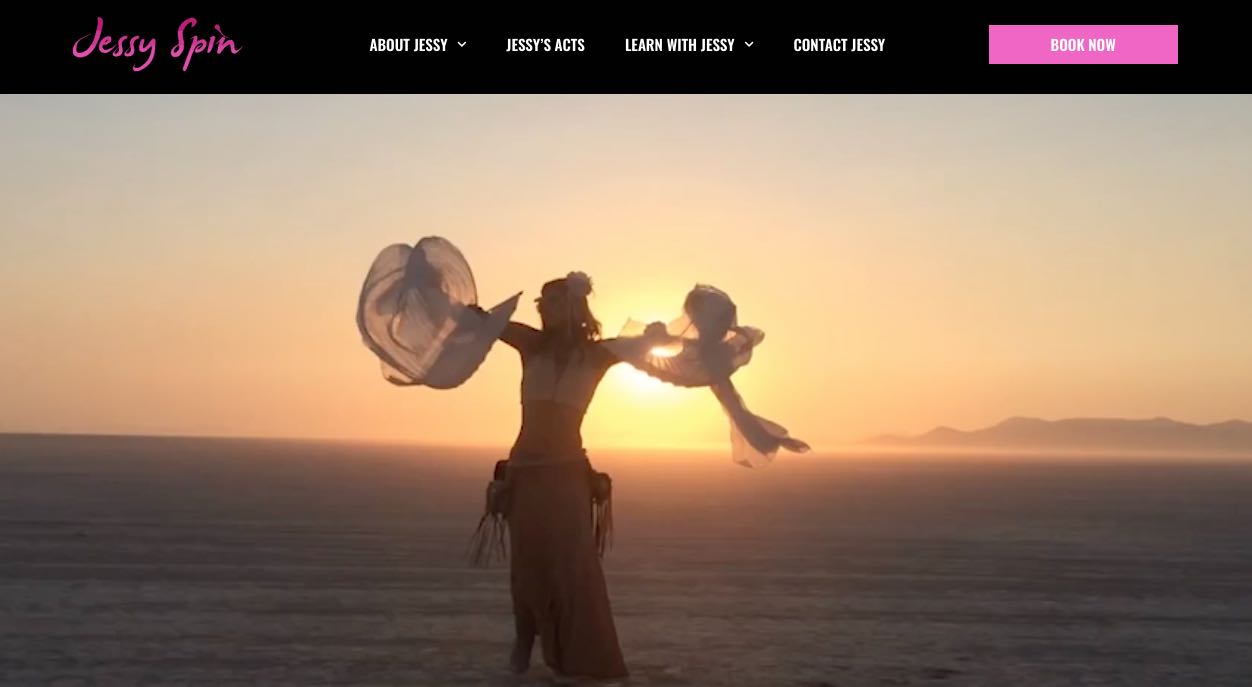 FIRE DANCER & FLOW ARTIST
A world-renowned fire dancer and flow artist, Jessy's diverse experience has seen her perform and teach classes in eight different countries. Most recently, she was part of Asia's largest modern circus troupe Psycusix in Malaysia.
Jessy has trained intensively with Spin Circus Training Academy in Australia, as well as internationally at circus and fire spinning conventions across Europe, America and Southeast Asia. She has also completed several intensive dance programs in America, studying under iconic belly dancers such as Rachel Brice.
Jessy's unique movement quality, as well as the upbeat and positive energy she exudes in her classes, has seen her social media presence exponentially grow – she now has over 23 thousand Instagram followers and over 4 thousand YouTube subscribers supporting her on her journey.
In her hometown of Melbourne, Australia, Jessy works both independently and with other artists to create corporate event entertainment, wedding entertainment, hen's parties and more. She teaches local fire dancing classes and is continuously pursuing creative projects, which she loves to share with fans.
ARTIST STATEMENT
Jessy Spin dances with fire. She manipulates objects with technical skill. She fuses different styles of dance with musicality and sass. Jessy creates fierce and mesmerising movement pieces that embody her passion for dance and spinning props. Her art aims to inspire others, perhaps unlocking a fiery desire to learn, to create and to take a step outside of one's comfort zone.
As a teacher, Jessy strives to help her students connect more deeply with their minds and bodies. To follow their passions and to understand that they are 'enough' in a world that can sometimes make us feel otherwise. Through her local, international, and online dance classes, Jessy's purpose is to empower students with the knowledge of flow.
O L E N A
BELLY DANCE SHOW
A powerful dancer is unveiled from behind magical silks. Weaving these silks with mystical skill, the enchantress captivates her audience – they become transfixed upon her commanding presence and prowess. Beautiful undulations, mesmerising shimmies and awe-inspiring isolations prepare to be spellbound by the enthralling belly dance show Olena.
Fire and LED props can be added to this act, including "LOGO REVEAL" – for a unique and high impact effect, LED lights can be programmed to feature your logo or personalised message
Appropriate for indoors or outdoors
Tips On How to Choose the Right Wedding Entertainment for Your Big Day
Watch your entertainers perform elsewhere.
Modern technology has made it possible for you to watch past performances of wedding DJs and bands from the comfort of your own home, thanks to YouTube.
But nothing compares to seeing these entertainers live in action. If you have the time and ability, we strongly encourage you to check out your entertainment prospects at one of their events. That way, you can assess how well they do with the crowd, and if their entertainment value remains consistent throughout the evening.
Don't flock to the most inexpensive option out there.
It doesn't take long to realise that planning a wedding – no matter how simple or complex – can be costly. It's only natural to look for ways to trim your budget, but your entertainment should not be one of those elements impacted by cost-cutting.
In the end, you'll get what you paid for. Pricier musicians and DJs will almost certainly have tremendous experience with weddings, making them far better suited for your event than, say, a local band you found at a coffee shop.
Don't take their word for it. Ask around!
Wedding DJs and entertainers are just like any other business out there: they do well to talk themselves up to their customers and clients.
Don't just believe everything these folks feed to you. Getting unbiased reviews and feedback from past clients should be a non-negotiable. If a band or DJ isn't willing to put you in contact with a previous client, that's your cue to move on to the next option.
Make sure they'll take requests.
When it comes to hiring a wedding DJ, requests shouldn't be a problem. But they become a bit more complicated if you hire a live band.
Unlike DJs, bands typically don't have access to thousands of songs. They have a specific setlist they can turn to, meaning your wedding song requests could go unanswered.
As you begin your search, try to come up with a variety of songs you could potentially have played at your wedding. That way, your bands can tell you whether they're intimately experienced with these genres.
Should you allow music requests from your wedding guests? Learn more now!
Sign a contract. Always.
Having a contract in place is a good idea for each and every single one of your wedding vendors, entertainment included.
Your entertainment contract should include the performer's fee, arrival/finish times, and any other extras you want to have.
For example, some performers bring their supplies, but others may wish to use existing speakers or cabling.
You also want to outline cancellation fees, while establishing a fail-safe in case someone in the band falls ill.