Choosing a wedding car is an exciting and fun part of the wedding planning process. You get to pick a car that reflects the personality of you and your significant other, one that will drive you to your special day and that you'll drive away as a wedded couple in, ready to start a life together. Why not pick a car that's a bit different to the norm? Check out our ideas for an unusual wedding car.
Wedding Car Ideas
Volkswagen Beetle
A VW Beetle is a delightfully cute option, for anyone wishing to have a quaint country or vintage-inspired wedding. There are plenty of different kinds to choose from, too! 
Volkswagen Kombi
This one's for the free-spirited couple. There are so many possibilities when it comes to using a Kombi as a wedding car. You can deck out the interior, and there are heaps of beautiful colours to choose from. 
Red Double Decker Party Bus
This vibrant, London-feel vehicle is a great option if you have a lot of guests or a big bridal party to transport from the ceremony to the reception venue. They also look fantastic in the wedding photos! 
Limo
For a luxurious impression, you can go for the classic limousine. Sip champagne as you make your way to the big event, and have a boogie in the backseat with the rest of the crew. A limo is also a great option for if you need to get a larger bridal party from A to B. 
Vintage Car
Whether you're after a vintage Rolls Royce from the 1930s, a 1950s Bentley or a Cadillac DeVille, a vintage car adds a touch of style and class to any wedding day.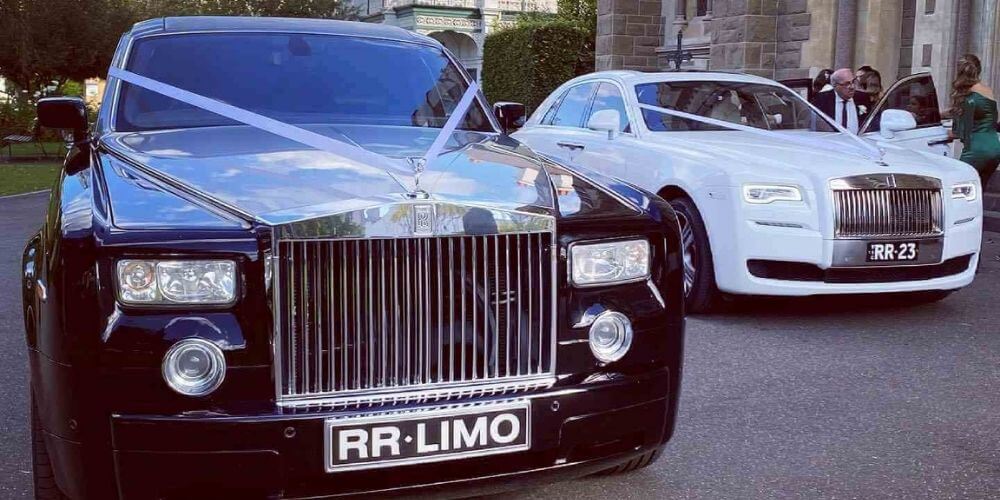 Sports Car
Whether you're a fan of a Lamborghini or a Porsche, if you and your significant other prefer the sportier of vehicles, why not opt for a sleek sports car? You'll be sure to turn heads on the way to the event. 
Horse and Cart
We know this isn't a car, but we thought it deserved a mention anyway as an unusual option. It's what every girl dreams of, and a horse and cart can provide that classic fairy tale wedding vibe.
At Vogue Ballroom, you can rock up in style and have a day to remember. Our stunning ballroom offers the perfect venue for your special day. Get in touch with us to arrange a viewing today!
Frequently Asked Questions About Wedding Cars
The best wedding cars of all time
Rolls Royce Phantom. Whether you're looking for classic or modern option, no list of weddings cars would be complete without mentioning the Phantom. 
Bentley Flying Spur. 
Range Rover. 
Volkswagen Camper. 
Austin Princess Limousine.
There is a requirement to be licensed as a private hire vehicle. Is the vehicle constructed or adapted to seat fewer than 9 passengers and is made available with a driver?
The Bride travels to the ceremony accompanied by her Father or the person who is giving her away in one car. Most couples go for a second car that will carry the Brides Mother and the Bridesmaids. The Groom will arrive with his Best Man or Ushers, not necessarily in a wedding car.
Bear in mind that most luxurious wedding vehicles range from 3-6 passengers. Also, as mentioned above, these cars could be used for the bridal party also. Traditionally the bridesmaids, the mother of the bride, and the flower girls travel together.
Self-drive wedding hire is increasingly popular because it is cheaper, more flexible and, frankly, more enjoyable than chauffeur hire. You get the car for longer, generally at a lower price than chauffeur hire, and you can drive it yourself.