If you love the full, rich sound and abundant energy of live music, then hiring a wedding band to perform during your reception is an absolute must! One element you'll need to carefully consider is the music. There are two musical elements to the wedding – the ceremony and the reception.
Keep in mind that people of various ages will be in attendance, from grandparents to younger co-workers and relatives. Without wedding entertainment, the guests will become easily bored. Wedding music needs to work for everyone. 
Your wedding Singers and Band will ensure that every special moment happens on schedule and will moderate the mood of your gathering, from introducing the happy couple to filling the dance floor with your friends and family. 
Here are wedding Singers and Band options available that you can hire in Perth.
Ultimate List Of Wedding Singers And Bands In Perth
Melbourne Entertainment Company - Wedding Singers And Bands Perth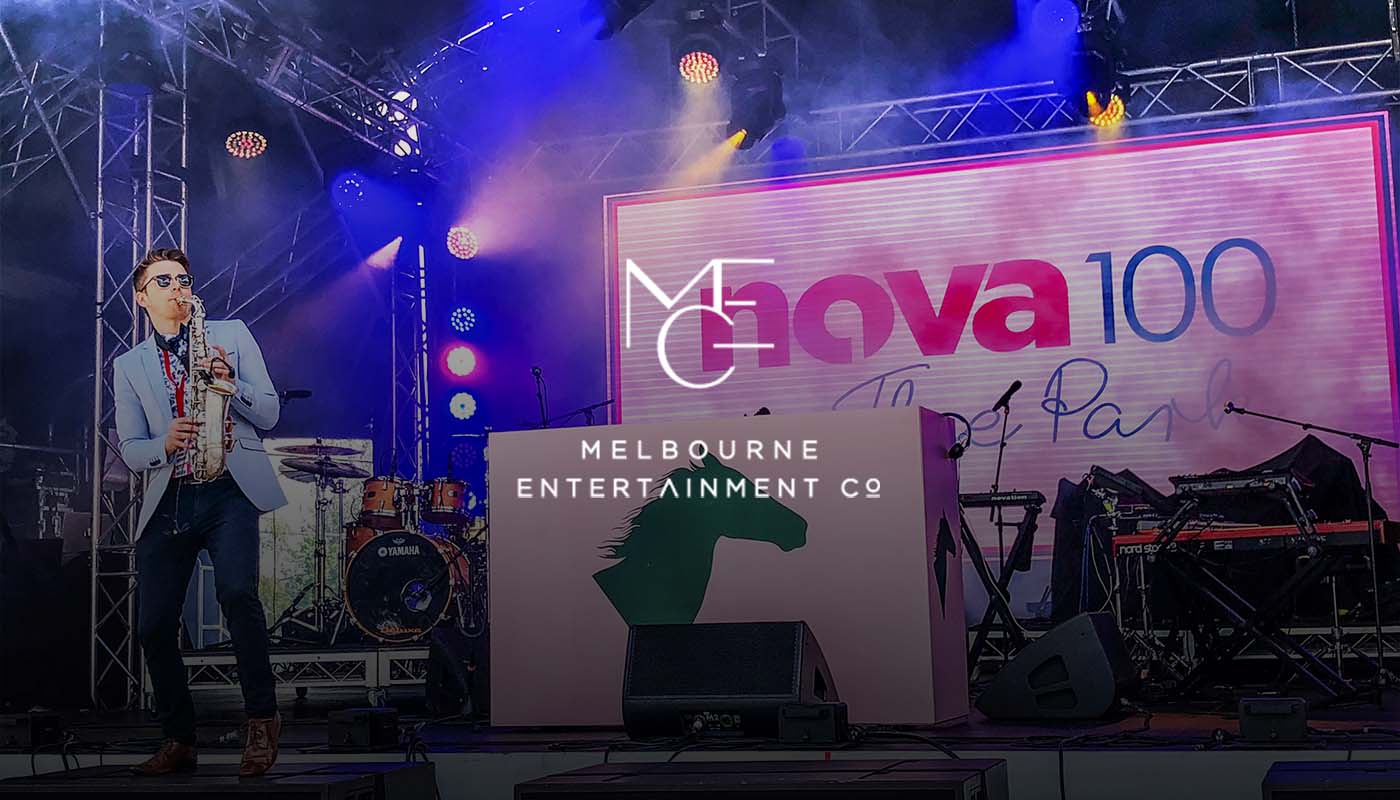 melbourneentertainmentco.com.au
1300 858 981
The Melbourne Entertainment Company is a comprehensive wedding & events entertainment supplier. We deliver a refreshing, personalised service to each client for every event. We are highly active in the Melbourne wedding/event market delivering over 700 events last year. With a more than a decade of experience, we understand the need for a bespoke, memorable and premium service.
Offering elite DJs, DJ-Sax, Acoustic Solos, Duos, Trios, Bands, Singers, Guitarists, Saxophonists, Percussionists, Photographers and Roving Performers. MEC is your friendly, reliable and knowledgeable go-to provider for seamless corporate, wedding and function entertainment.
SINGERS & ACOUSTIC DUOS
When it comes to looking for an Acoustic Duo or the best wedding singer Melbourne Entertainment Company has the most talented artists and greatest diversity of choice. Hire an incredibly talented Event / Wedding Acoustic Duo or guitarist who will knock your socks off. These Acoustic soloists and duos will serenade you down the isle, or provide the perfect chill background vibes at your cocktail event. There are vocal virtuoso's who can play guitar, piano or use loop pedals to create a multi-instrumental soundtrack live before your very eyes. With so much acoustic talent on offer, you'll have trouble narrowing it down to your favourite soloist. If you're not sure sure about whether or not to book a DJ or an acoustic musician, and don't have the budget or both: check out our amazing complete soloists who can tick both boxes for you.
EVENT & LIVE WEDDING BANDS
Nothing beats the performance and the crowd interaction that an incredible live band can provide. The experience that the music is actually being made, produced & delivered live right before your very eyes! It's encapsulating, invigorating & all encompassing.
The most talented professional event and wedding bands Melbourne has to offer will create a vibe that your guests will not shut up about at your hangover brunch the next day. "How incredible was that Cover Band Singer!?" "The drummer was so hot!" "What about that Sax solo in the Jazz Band?!"
It's our job to create the memories that last a lifetime. It's our job to guarantee when you hire a band Melbourne Entertainment Co ensures that everyone from your grandma, to bridal party, to your niece/nephew is dancing around to your favourite requests and d-floor hits.
WEDDING ENTERTAINMENT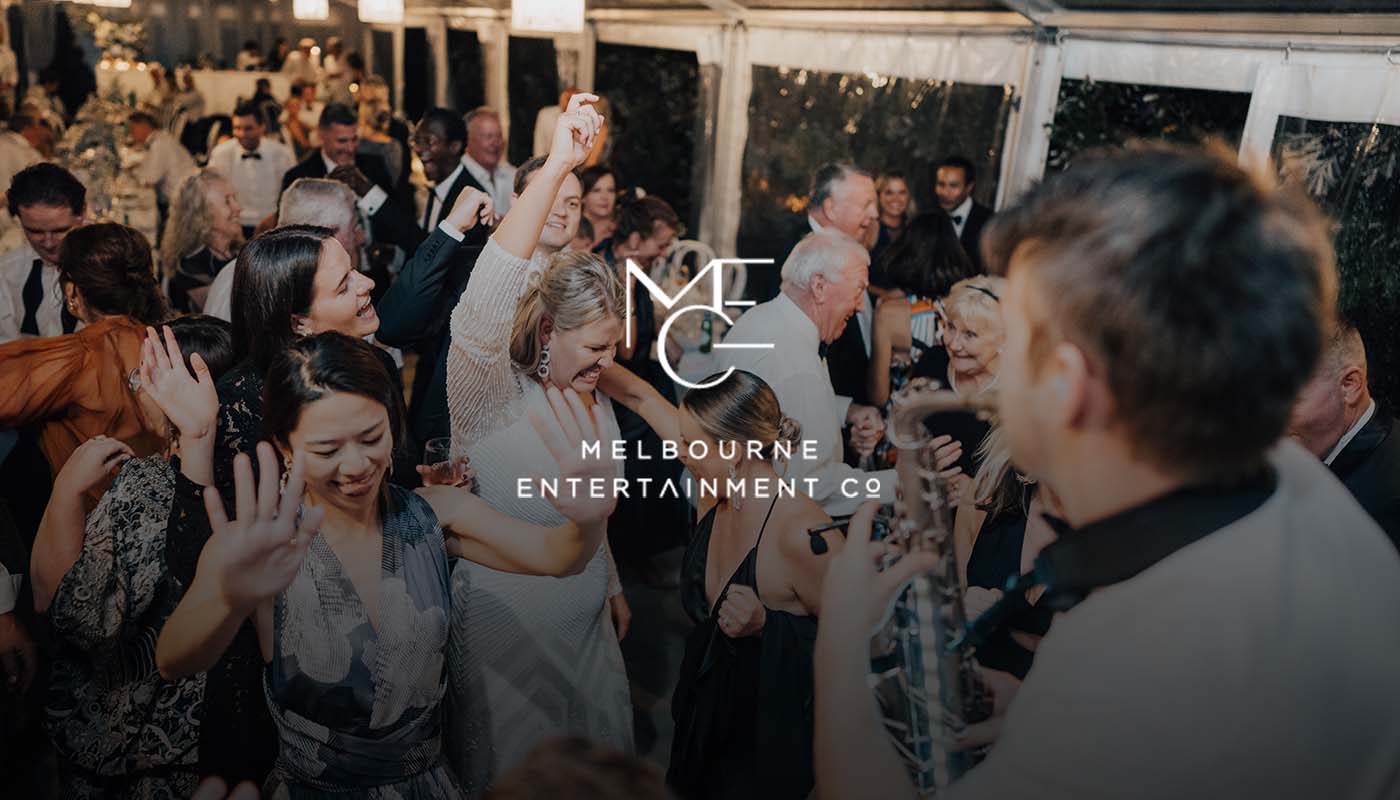 CONGRATULATIONS ON YOUR ENGAGEMENT
Your perfect music and wedding entertainment starts here. We'll guide you from your ceremony to beyond the last dance, ensuring everything that is important to you and your fiancé is catered for. Whether you're after a wedding DJ, an acoustic duo, a wedding band, or a mix of everything, our experienced musicians have you sorted!
YOUR DAY
Your upcoming wedding day is a significant, once in a lifetime experience. It should be forever treasured and remembered as the most exciting, sentimental, beautiful and fun day of your life! Together, our polished wedding entertainment performers will have a profound impact in creating peak moments of joy on this happy and wonderful of occasion!
ABOUT OUR WEDDING DJS
Our committed wedding DJs and entertainers are youthful, skilled, perfectly presented and versatile in catering to audiences of all ages and music preferences. We lovingly listen to your desires and ideas to curate a fresh & modern playlist for your special day.
EXCITING LIVE ELEMENTS
Our live wedding entertainment options know how to bring a vibe-ing atmosphere to your special day. Don't be stuck with an out-of-touch has-been DJ. Look at our exciting young & fresh talent. The addition of Saxophone or Vocals to a regular DJ performance brings an incredible surprise to the dance floor.
Bravo Singing Waiters - Wedding Singers and Bands Perth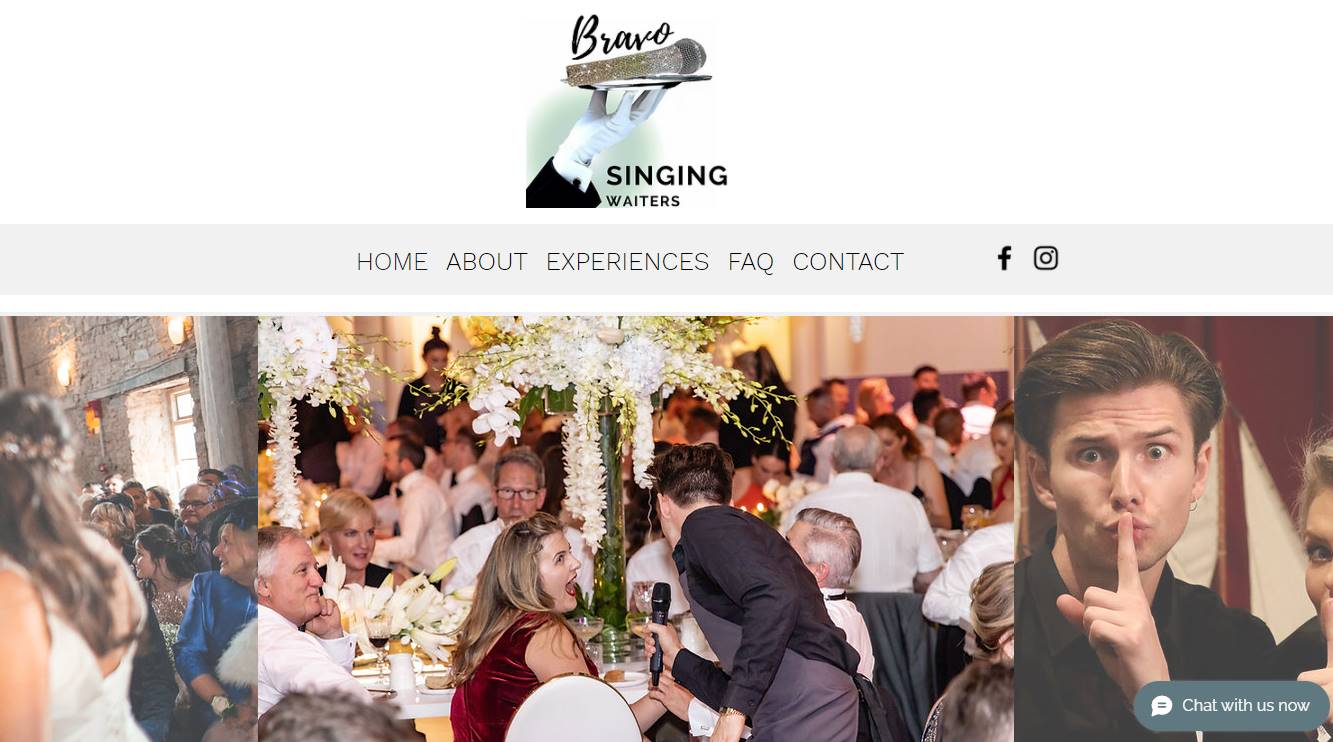 +61 450 511 946
Bravo Singing Waiters is high energy, surprise singing entertainment that is your event's best-kept secret. 
We arrive at your venue before your guests are due to arrive. The sound system is installed, the required sound checks are made, and then we plant ourselves as your guests or waiters before any guests enter the room. We blend in and dress exactly the same as your chosen venue's waiters or guests, so we are a complete surprise when the magic starts.
At the perfect moment, our singers come to life and surprise your guests with a performance that really gets the room alight.
With trusted songs and professional singers drawn from the world of musical theatre and opera, we are able to perform a wide selection of musical styles to suit all tastes to get the very best reaction and have people talking about your event for weeks to come!
We are delighted to announce that we are now able to cover events in both W.A. and Victoria!
Bravo Singing Waiters now have a team of performers based in Melbourne and are ready to entertain you and your guests with our WOW factor 'undercover' performance!
We are taking 2022 bookings for both our private and Corporate 'Under cover' singing act.
We look forward to bringing you the excitement of our High energy entertainment soon.
If you have a forthcoming party or corporate function that you would like BRAVO SINGING WAITERS to attend…we are happy to hold the date for you WITHOUT a deposit.
Price List
We look forward to bringing you the excitement of our High energy WOW factor entertainment soon. If you have a forthcoming event that you would like us to attend, we are happy to hold the date for you WITHOUT a deposit.
We believe we can put together a fun and unique experience for you, your family, and your guests, and we are happy to give advice and suggestions without any obligation.
BRAVO SINGING WAITERS
One Waiter
$895.00
Two Waiters
$1595.00
Three Waiters
$2045.00
Four Waiters
$2695.00
COMPLETE ENTERTAINMENT PACKAGE
Singing Waiters + 6hr Disco Cover
One Waiter
$2895.00
Two Waiters
$3400.00
Three Waiters
$4050.00
Four Waiters
$4695.00
Monty Cotton - Wedding Singers and Bands Perth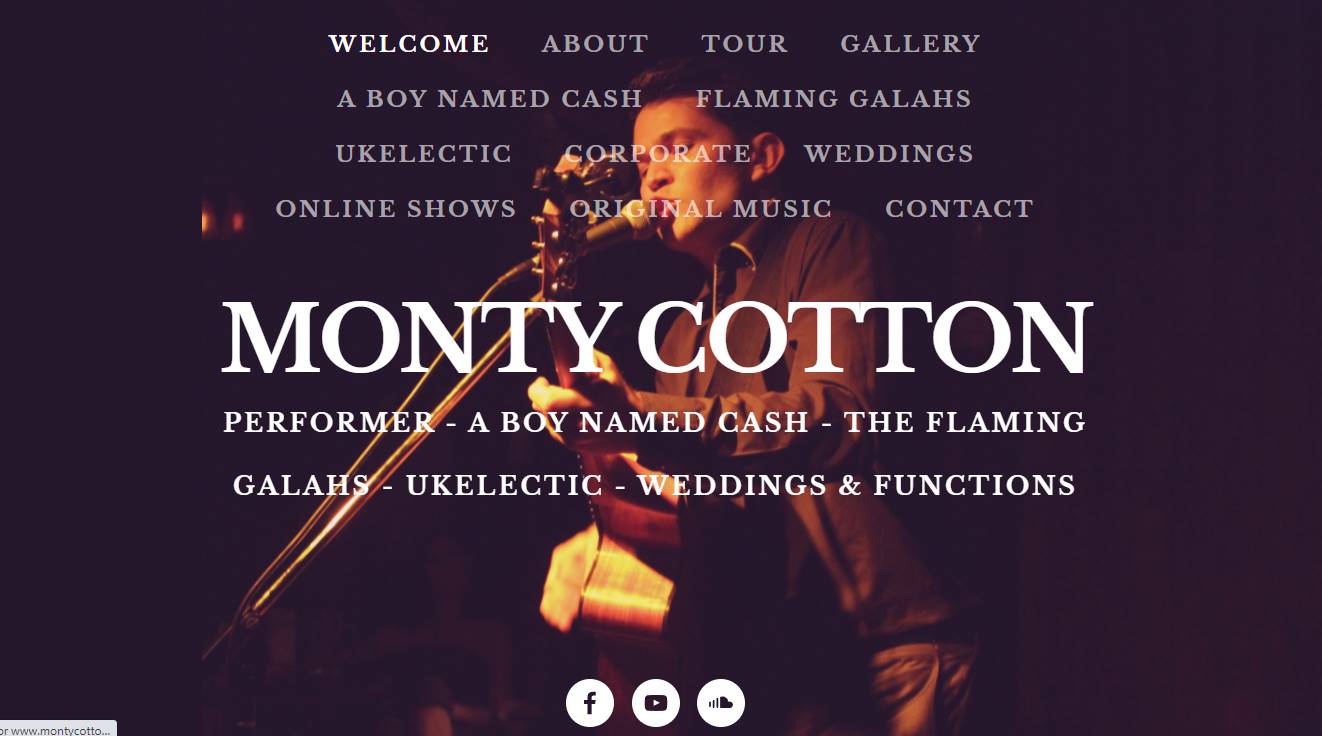 0418 110 878
A few years ago, Monty decided it was time for a sea change. Leaving a corporate accountancy job in Sydney, Monty set sail to pursue the life of a musician in Western Australia. With a singing voice uncannily like the legendary Johnny Cash, and with a love of his music, Monty created his Greatest Hits tribute to Johnny Cash called A Boy Named Cash.
He now travels the globe performing A Boy Named Cash at arts festivals, corporate functions, weddings, cruise ships, pubs and clubs, shopping centres, breakfast radio and morning television. He has also performed on The Voice Australia.
Monty also covers a broad range of other music styles, from rock and roll and country to R&B and modern pop. His audience-engaging style and musical versatility have made him one of the most sought after entertainers for corporate events, weddings, parties, pubs, clubs and more.
Monty is available as a solo, duo, trio and big band act. The most popular option is a duo with double bass for the ceremony, then a band playing all the best party tunes for the reception! The band can be a three-piece with double bass and drums, or something larger with keyboards, or piano accordion, or even a full brass section. It's totally up to the bride- and groom-to-be!
WEDDINGS
Monty's audience-engaging style and musical versatility have made him one of the most sought after entertainers in Western Australia for weddings, engagement parties and other private functions. Monty covers a broad range of styles from rock and roll and country to R&B and modern pop. Both individual session and package options are available for the ceremony, canapes, reception, D.J. and MC.
Choose the songs for your special day – a sample song list is below. Feel free to choose your favourite bands, musical genres, and songs, and we can focus on those to make your night one to remember! Monty can also learn selected songs for those special moments during the ceremony and the wedding reception.
Monty is available as a one-man solo band, duo, trio and big band act. Popular options include a duo with double bass for the ceremony, then a band playing all the best party tunes for the reception! The band is usually Monty with double bass and fiddle and/or drums, but other popular options include piano accordion and a brass section (saxaphone/trumpet). It's totally up to the bride- and groom-to-be!
FAQs About Wedding Singers And Bands
For most groups of 50 or less, a quartet or 5-piece would work well and for under 150 guests, a 5-6 piece will do the trick. Once your guest count reaches 150-200, we'd recommend at least a 7-piece band, our most popular band size, to make sure the sound level and energy fit the guest count.
Any love ballads that you choose are guaranteed to sound more heartfelt and emotional when performed by a live band. A band can improvise and adjust the tempo of the songs to jazz things up when needed! Even guests that don't enjoy dancing will have fun watching a live band perform.
Play dinner music in the background as early as the cocktail hour and right up until the couple's first dance. You can choose to have cocktail hour music before dinner or skip it. You may even want to change the vibe of the music for cocktail hour and calm it down for dinner.
The basics should be fairly obvious; the band will need an electrical supply and space to set up. If they have worked at your wedding venue before, they should know what sound equipment is available there and what to bring with them. Otherwise, they should call in advance to check. Ask your caterer if they will provide food for the band at a reduced rate.
The main difference between a good wedding reception band and other live bands is that a live wedding band will be able to play many different styles of music in a professional, versatile way. The chances are that you have seen and heard bands perform at a wedding reception. Though some of the music bands for weddings will be similar, no two brands are the same, so when you are looking for live wedding music, it is important to choose the band that suits your requirements.
Proof the Band - Wedding Singers and Bands Perth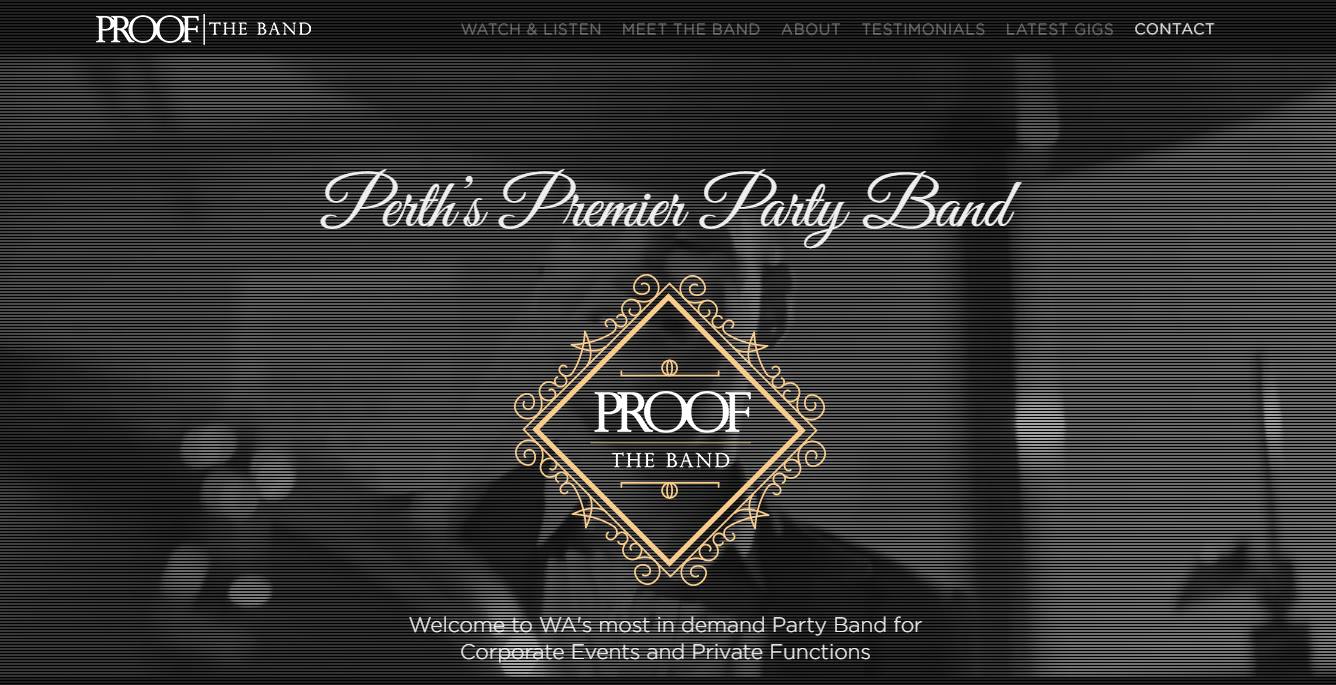 +61 421 303 597
PROOF has been entertaining audiences at high profile corporate events in Perth and overseas for a decade.
All members of PROOF are WAAPA (Western Australian Academy of Performing Arts) graduates, and most have completed further studies in the arts.
PROOF has shared the stage with the 'who's who of the Australian & International music industry, supporting: Guy Sebastian, Ruby Rose, DJ Havana Brown, Psuedo Echo, Hunters and Collectors, Daryl Braithwaite, Dragon, Jon Stevens (Noiseworks), Marina Prior, Dami I'm (X-factor), Kate Ceberano, Choirboys. PROOF has also hit the stage after international superstar Chris Isaak, playing to 6000 people at the 2016 Leeuwin Concert.
PROOF has performed at some of the biggest events in Western Australia, including the Gold Plate Awards, Lexus Ball for Telethon, WAFL Sandover Medal Awards, Hopman Cup Ball, OASIS Ball, RAC Ball, Boobalicious Ball, 40 Under 40 Awards, Western Force Awards, Brightwater Longest Lunch and WACA's Award … to name a few!
Meet the Band
PROOF is available in 4 dynamic lineups, from the full 11 Piece Show Band complete with live saxophone, percussion and backing vocals right down to the intimate Blake & Rick Duo. Whether you're organising a wedding reception, corporate gala dinner, cocktail party or charity fundraiser, we have the perfect lineup to suit the style, theme and demographic of your event.
6 Piece Party Band
This lineup is a staple on the stages of Western Australia's biggest events and functions. Having performed at over 1100 events in Australia and overseas, PROOF's performances are dynamic, versatile & engaging.
11 Piece Show Band
Featuring 5 of Perth's best singers and backed by some of WA's top musicians, the extended PROOF 11 Piece Show Band is the ultimate in corporate event entertainment in Western Australia.
10 Piece Big Band
Experience the full sound of a live horn section with our fresh take on classic hits and modern dance floor anthems, sure to get your party started!
Tres Classique - Wedding Singers and Bands Perth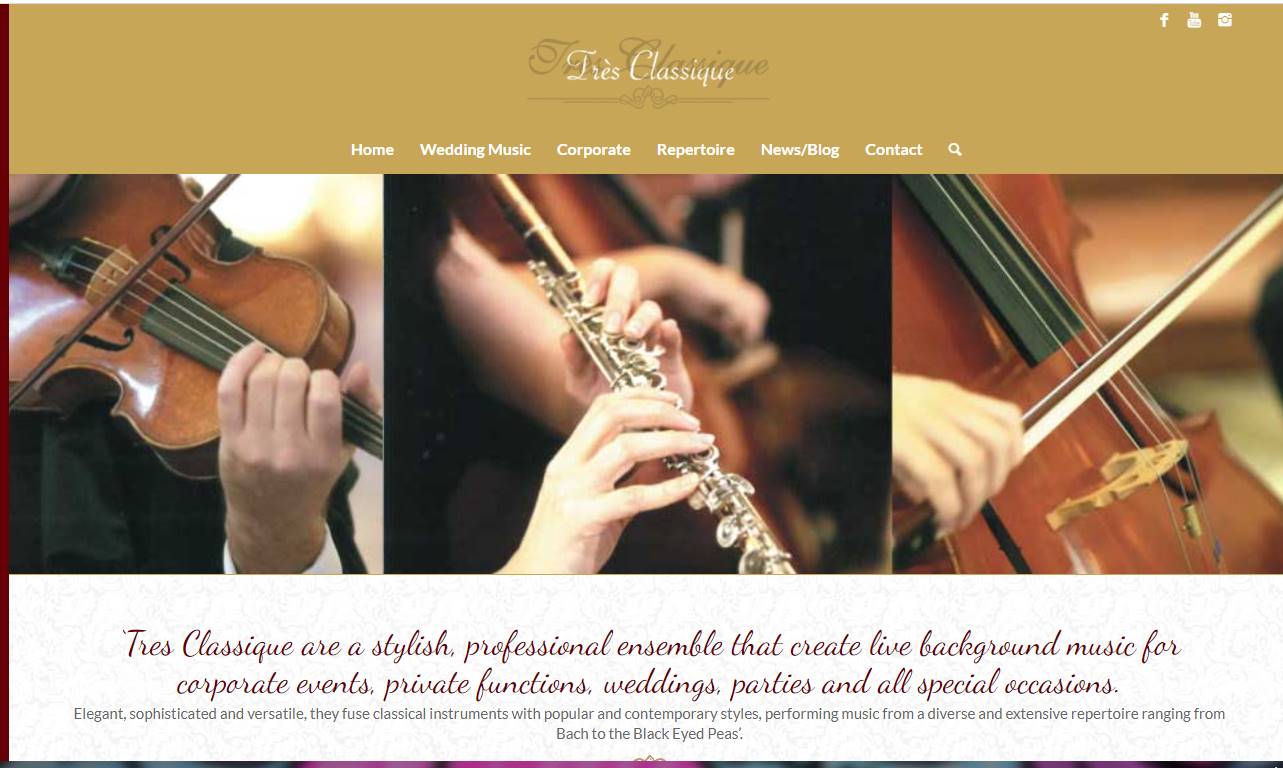 +61 417 992 991
Tres Classique is Perth's premier wedding and special events classical music group. Tres Classique has been setting the industry standard in both the corporate and private sectors with its combination of high-quality classical music performance and elegant and professional presentation in Perth and nationally. Tres Classique has built a well-deserved reputation for professionalism and musical excellence, developing strong relationships with our individual and corporate clients.
Tres Classique is experienced at providing quality background music for events ranging from Product Launches for corporate clients such as Linneys & Willie Creek Pearls, to dinner receptions for M.P.'s at Parliament House, to intimate weddings and grand celebrations in venues such as the Pan Pacific, Hyatt Regency, Duxton, and Parmelia Hilton Hotels, Burswood Crown Casino, Perth Convention and Entertainment Centre, to performing on stage in front of HRH Prince Charles at Government House.
Tres Classique has also been on stage with renowned artists such as Anthony Warlow, Rod Stewart, Delta Goodrem, Olivia Newton-John, John Farnham, James Reyne, Suzie Mathers, Diana Krall, Lisa McCune, Teddy Tahu Rhodes, Il Divo, Marina Prior, David Hobson, Russell Watson and the Chieftains. As a group and as individuals, Tres Classique has already achieved great things, recording at the ABC Studios and performing in the most prominent venues throughout the state.
Elegant Wedding Music
Your selection of wedding music says as much about you as makes your choice of dress, location, photographer, flowers and vows. The amount of preparation that goes into the beautiful music you hear at your wedding might surprise you, and as professionals who have performed at many ceremonies, we can make suggestions and offer advice that will make the event seamless.
The prelude music is generally chosen by the musicians, though you can let us know of some favourite pieces/composers, and we will make sure to include as many as possible.
Kemistry Sounds - Wedding Singers and Bands Perth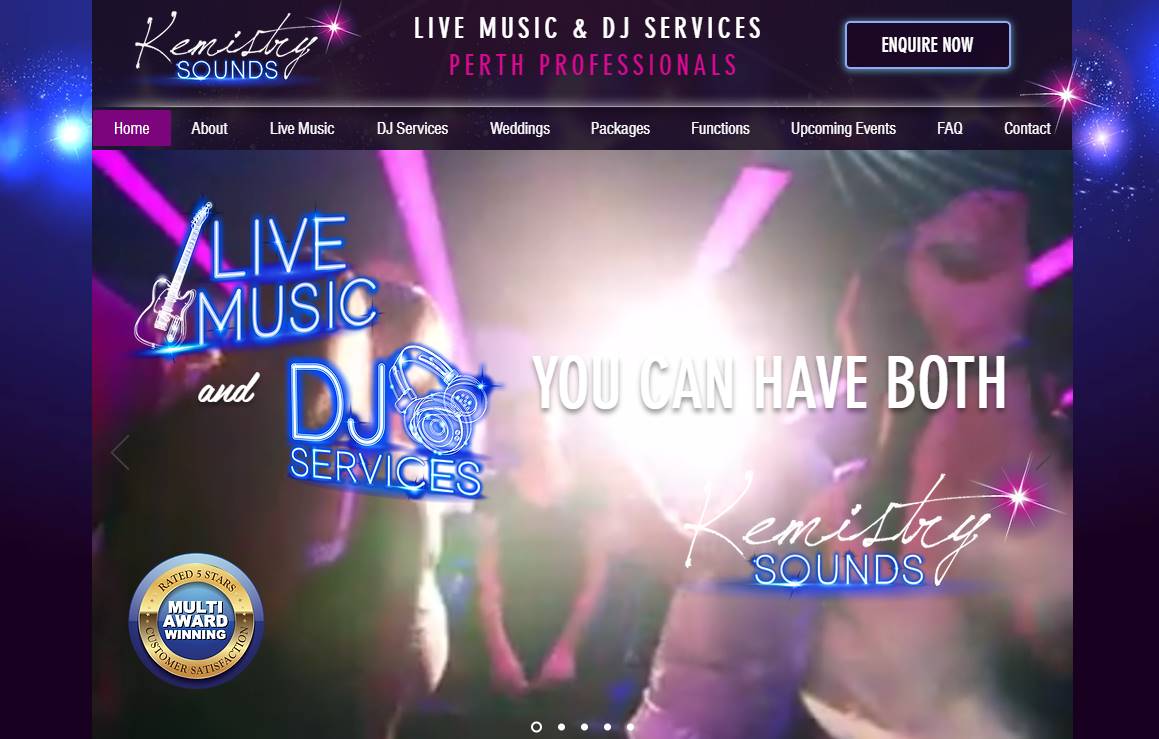 +61 1300 062 305
At Kemistry Sounds, we exclusively represent Perth's most memorable live performers & D.J. for Weddings, Corporate and functions to give your event the music it deserves!
We're very selective about the quality of our acts, so you don't have to be. Hand-picked by us, we're proud to have an elite team of world-class live music acts and DJs, making sure we only represent the "BEST" contemporary talent in the entertainment industry.
Constantly striving for perfection, we specialise in the design of personalised entertainment packages that deliver unparalleled excellence in the creation of extraordinary and memorable events and wedding celebrations.
Weddings
Do you want to break the mould and have a wedding like no one else's? With your thoughts and feelings planned into all the stages? A day that none of your family and friends has seen before? Then read on because that's what we aim to offer you for your day.
Why not change the standardised wedding format? Everyone gets roughly the same experience on their day. Well, if it's not broke? Well, what if I can offer you a day and night that no one in your family and friends has experienced before? Audience interaction, live musical atmosphere, lots of emotion. A personal touch! Getting the idea? What's more, like the idea?
Live Music
In an age of instant music and an overabundance of choice, we're rewriting the rule books and bringing live music back to the heart of special occasions. Events like weddings, birthday parties, and corporate functions are often once in a lifetime get-togethers, so we love providing guests with unique performances that are more memorable and engaging than the typical track played through a sound system.
There's no underestimating the power of live music to create the perfect atmosphere for your occasion, whether it's the melody to match the emotion of a bride-to-be walking down the aisle or the upbeat dance hits to get guests up and out of their chairs. We're experts at adapting our performances to meet the occasion and help set the mood. When you look back at your event in 10 years' time, we bet you'll be smiling more knowing that every detail of our performance was uniquely catered to you and your guests.
Kemistry Sounds can match the ideal artist and songs to meet the requirements of your next event. Whether it's soloists or group performers you're after, we've got you covered! In fact, we strive to only work with the best and most professional artists in W.A., which has helped us build a strong reputation and become recommended by some of the finest venues across Perth.
Our artists are versatile in their preparation and performance at your event, and whether your occasion calls for the 60s or top 40s hits, we cover all genres, including rock, soul, funk, jazz, swing, Motown and disco. Explore our team of live musicians and contact us today – you won't be disappointed!
Complete DJ - Wedding Singers and Bands Perth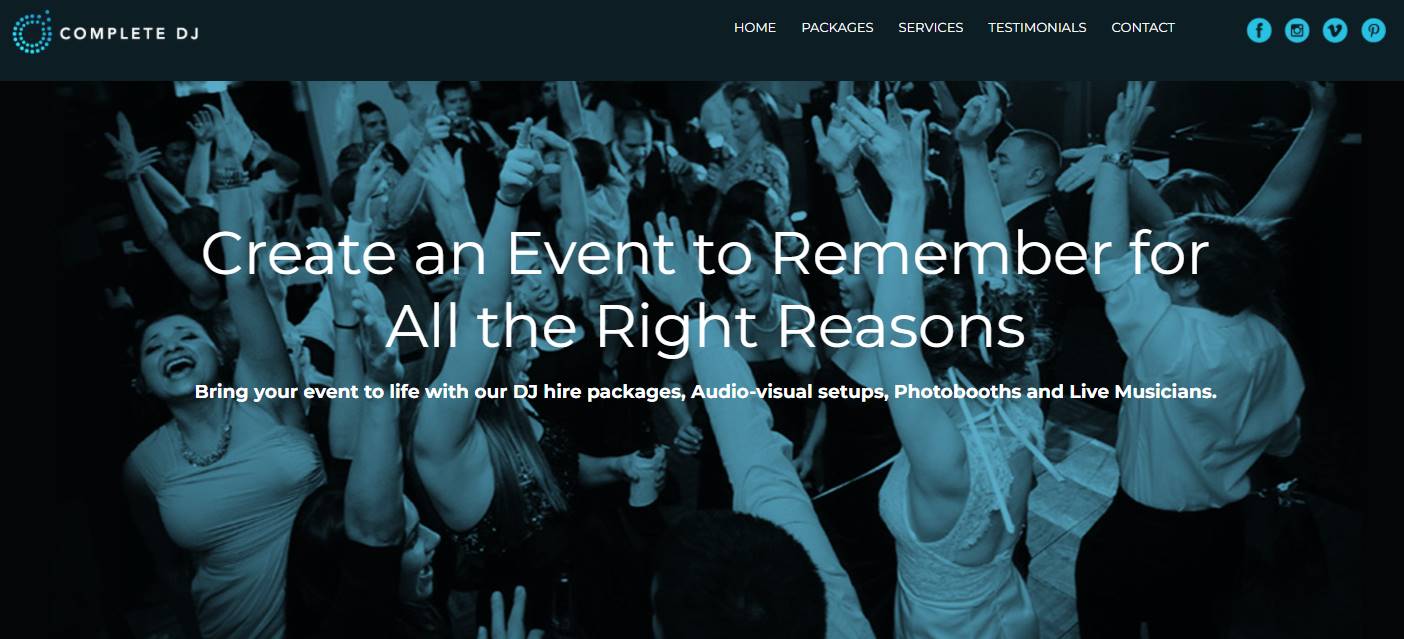 0420 947 271
ABOUT COMPLETE DJ
Complete D.J. is an events company in Western Australia. Our team has a shared passion for creating memorable events and bringing people together in celebration.
What are we good at? Providing exciting and upbeat D.J. entertainment to suit every unique audience with the latest in audio-visual set-ups, decorative event lighting, custom photo booths and live performers and musicians.
LIVE BANDS
Do you want the energy and atmosphere of Perth's best live bands? We have a range of three pieces to six-piece bands to suit various music preferences. With the added option of a DJ/MC as part of the package, it means you get the best of both worlds.
ACOUSTIC SOLO ARTISTS
From smooth acoustic vibes to upbeat party tunes to get people grooving, our solo acoustic team can create the atmosphere you are after. Get in touch to check out our full range of solo guitar/vocalists, keys/vocalists, violinists, saxophonists and more.
ACOUSTIC DUOS
An acoustic duo can take your live music to another level and create a truly engaging atmosphere. We have a diverse range of duos to suit various styles. Whether you want laid back tunes or more upfront party hits, we can help provide the perfect acoustic duo for you.
ACOUSTIC TRIOS
With acoustic trios, there is the option to transition from laid back ambient music to fun, upbeat party music that will have all your guests dancing away. We have 3-piece options to suit many styles and tastes.
Perth Wedding Singer - Wedding Singers and Bands Perth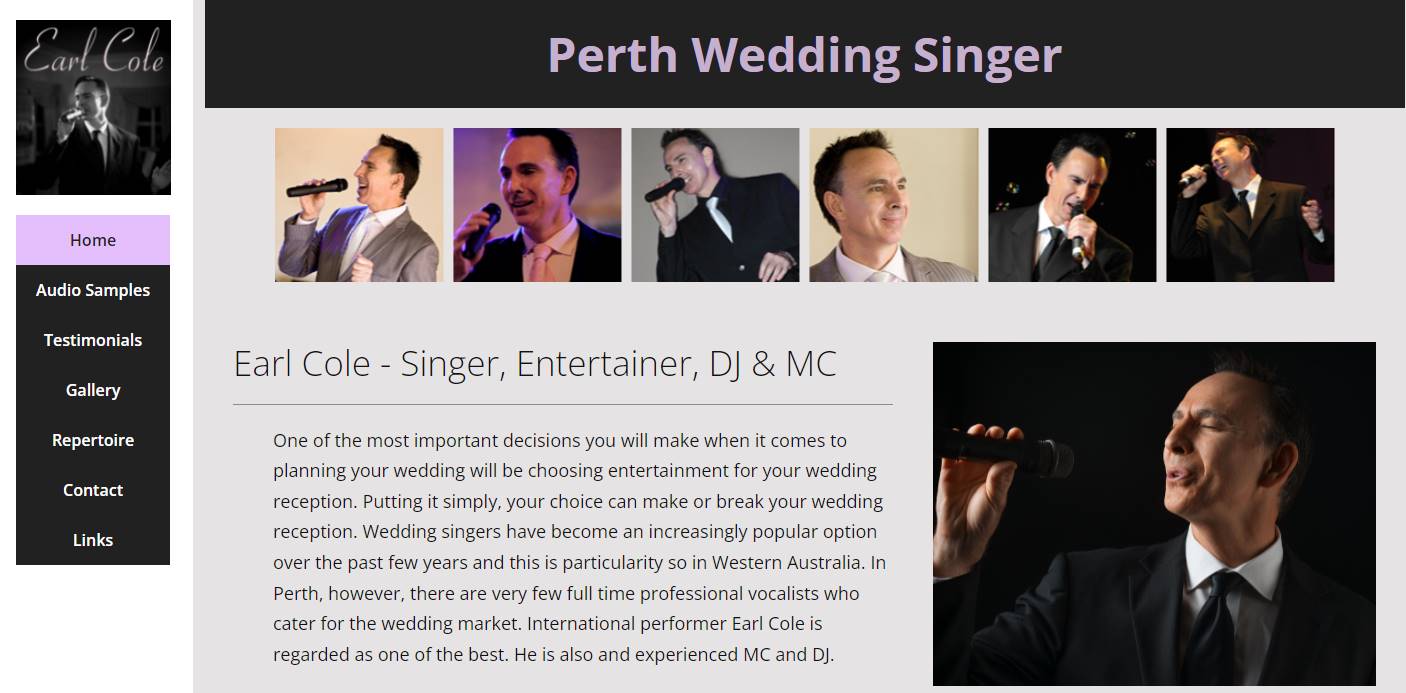 0437 295 858
One of the most important decisions you will make when it comes to planning your wedding will be choosing entertainment for your wedding reception. Putting it simply, your choice can make or break your wedding reception. 
Wedding singers have become an increasingly popular option over the past few years, and this is particularly so in Western Australia. In Perth, however, there are very few full-time professional vocalists who cater for the wedding market. International performer Earl Cole is regarded as one of the best. He is also an experienced MC and D.J.
EXTENSIVE EXPERIENCE
Earl has the runs on the board. He has performed at over one thousand weddings, corporate functions and other events in Perth, interstate and internationally.
UNRIVALED REPERTOIRE
Earl has well over 400 songs in his live repertoire to choose from. He also has different versions/arrangements of many of those songs. There is no other wedding singer in Perth with such an expansive repertoire.
SOLO, DUO & QUARTET OPTIONS
Aside from performing solo with high-quality backing tracks, Earl also offers the following live music options:
jazz/standards duo (piano and vocals);

jazz quintet ("the Quintessentials"); and

6 piece 80s cover band ("80s Inc").
DJ SERVICE
Earl can provide a mix of live performance and D.J. music. His D.J. repertoire is always kept up to date.
MC SERVICE
Earl is an experienced master of ceremonies.
RECEPTION & CEREMONY MUSIC PACKAGE
Earl now offers a ceremony and reception music package. Earl can sing at your ceremony as well as your reception (if there is no clash with setting up for the reception), and he has a separate portable battery-powered P.A. system for that purpose. If acoustic instrumental music is what you would prefer for your ceremony, Earl can also arrange flute, guitar & cello music with solo, duo and trio options.
HIGH-QUALITY EQUIPMENT
Earl uses only premium quality audio and lighting equipment, including the very latest in LED lighting (including premium moving headlights).
PEACE OF MIND
Earl Cole Music is covered by public liability and equipment insurance. Electrical equipment and cabling are tested and tagged.
Your Wedding Singer - Wedding Singers and Bands Perth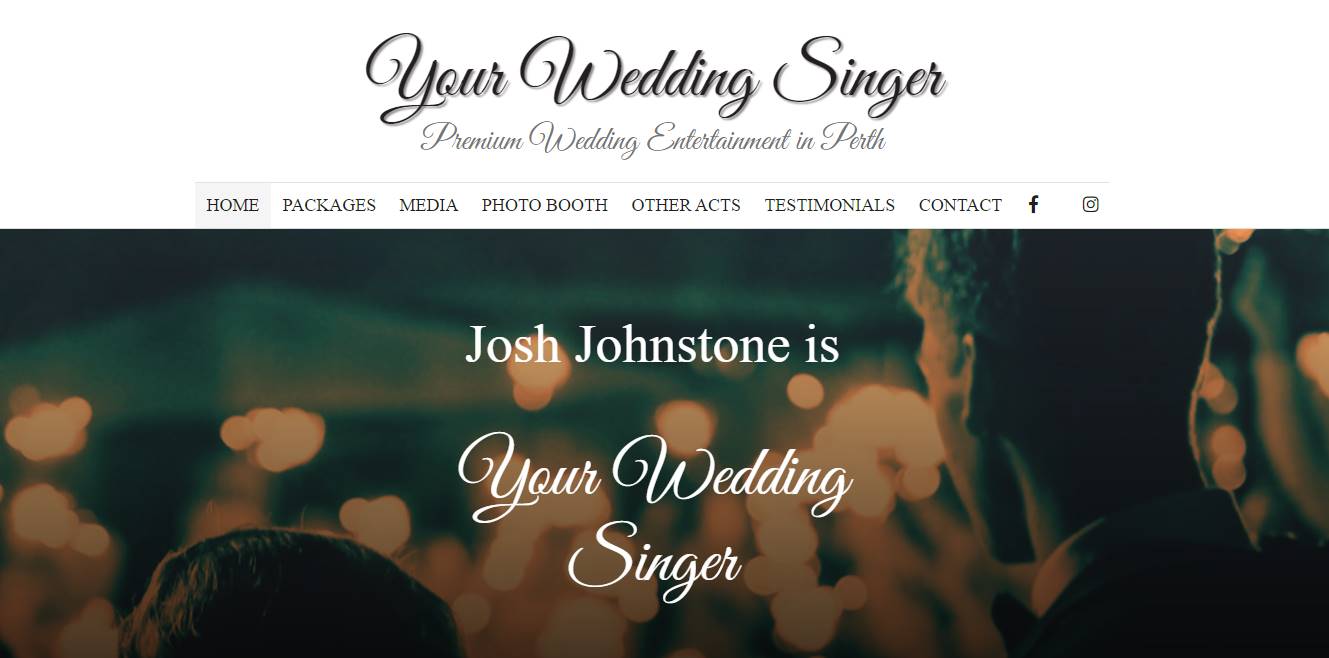 +61 410 696 901
With twenty years of experience as a musician, specialising in weddings and corporate events, Josh has performed at more than 400 weddings and boasts one of the largest song repertoires in Perth.
Rather than using backing tracks, his live solo performance features vocals, acoustic guitar, stomp/beatbox and loop pedal. When paired with top-quality audio equipment, it produces a full sound that keeps the party on the dance floor where it belongs!
Read below for Perth Wedding entertainment package options.
Reception
$1690 + GST
The basics, but far from basic
3 x 45 mins live music

1-hour D.J. set

Curated/background D.J. music throughout the night as required

A song of your choice learnt and performed by the act for your first dance.

Top-quality sound and lighting equipment

A personal meeting prior to your wedding day to plan and discuss any special requests

Early set-up and soundcheck – all done before guests arrive.

Based on a 6-hour event 6 pm-midnight

*prices based on the soloist. To increase band size, simply add $400+gst per musician
Ceremony & Reception
$2190 + GST
Our most popular package

Live acoustic picked guitar music while guests were arriving.

Live acoustic performance of up to 3 songs of your choice for your ceremony (i.e. walk down the aisle, signing, bride & groom exit song)

Battery-powered speaker supplied (ideal for ceremonies in locations with no power supply)

1 x 45min set for your canapés/post ceremony drinks

3 x 45 mins live music at the reception

1-hour D.J. set at the reception

Curated/background D.J. music throughout the night as required

A first dance song of your choice learnt & performed by the act.

Top-quality sound and lighting equipment

A personal meeting with us prior to your wedding day to plan & discuss any special requests

Early set-up and soundcheck – all done before guests arrive.

Based on a weddings 3 pm-midnight

*prices based on the soloist. To increase band size, simply add $400+gst per musician
Gold
$2990 + gst
Ideal for bigger / outdoor events
All the benefits of the Ceremony & Reception Package, plus:

Perth's finest wedding DJ/MC – DJ FINKS curating music throughout the night, MC-ing your event and of course spinning all of your dance-floor requests.

Wireless microphone and speaker for speeches

Full Lighting package – moving lights, fog machine, bubbles (if requested)

Premium Sound Package – 2 x Sub Speakers, 2 x 15" speakers

Early set-up and soundcheck – all done before guests arrive.

Based on a weddings 3 pm-midnight

*prices based on the soloist. To increase band size, simply add $400+gst per musician
Depending on the size of your event, Josh will perform solo or with his duo, trio and all the way up to a six-piece band, which features a female singer and some of Perth's absolute best musicians and performers.
Josh's accompanying musicians are all not only WAAPA trained (Western Australia Academy of Performing Arts) but have also been playing with Josh for several years. So expect nothing but the highest quality, whichever lineup you choose.
Josh and his wedding band not only perform in Perth but also have performed and delighted wedding guests in areas like Fremantle, down south, South West, Margaret River, Yallingup, Dunsborough, Broome, north-west, regional W.A. and even Darwin!
As well as both stripped back acoustic and uptempo party music, Josh also offers a D.J. service. This D.J. service is part of all Your Wedding Singer packages.
Baker Boys Band - Wedding Singers and Bands Perth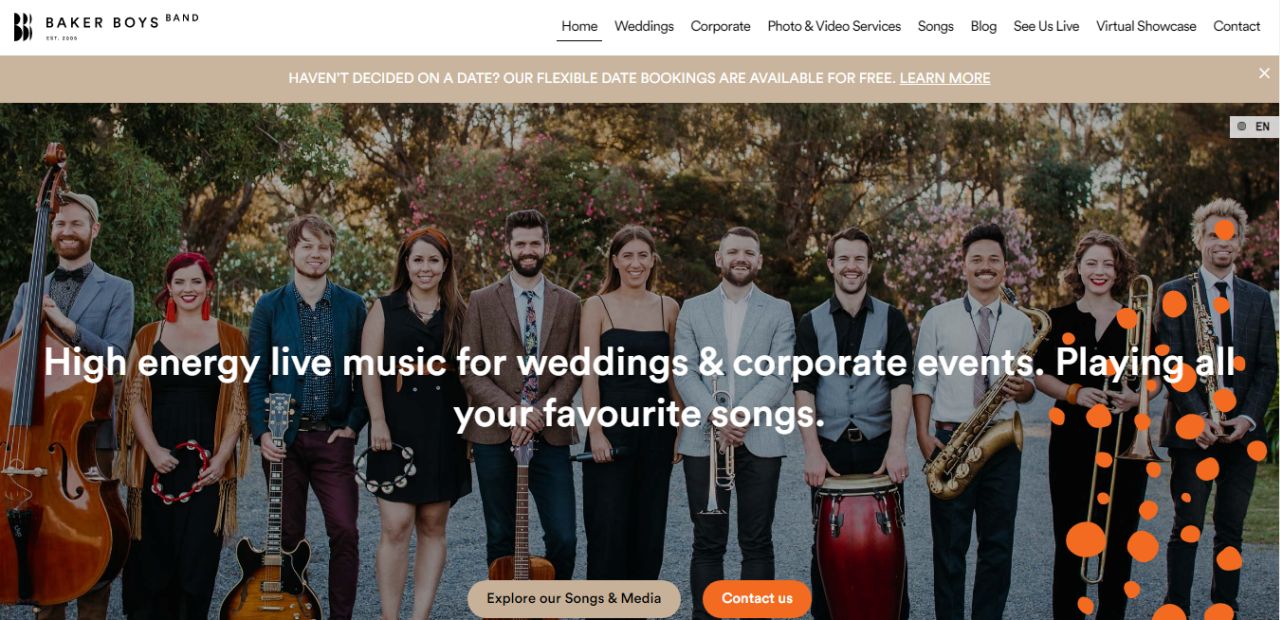 0438 301 314
We're live music experts, wedding enthusiasts, and party starters. We're a premium, customisable 3 to 14 piece band specialising in high-energy music for festivals, weddings, corporate events, and private functions–at a sensible price. We infuse every event with energy and fun and pride ourselves on filling dance floors.
Weddings are our Jam
There's no better feeling than seeing the look of love on a couple's face when their friends and family join them on the dance floor. That feeling is why we love what we do.
Ceremony
Whether you prefer traditional music, classical songs, or modern tunes, we can work with you to set the perfect tone for your day. Ask us for a Free Demo Pack to hear for yourself.
Cocktails & Canapés
Start the party off right with a jazz quartet or easy listening trio to accompany your cocktails & canapés.
Reception
This is where we really shine - amazing dance parties are how the Baker Boys have earned their fantastic reputation! We pride ourselves on our high energy, flawless performance–it's all about great preparation and a genuine love for what we do to ensure you have the best night of your life.
We want you to love the music!
We pride ourselves on knowing just what to play and when to play it. It isn't enough just to fill your dance floor–we want you to love the music! Every song from the start of the day until you drive away together as a married couple can be tailored especially for you. Or, if you prefer, just leave it all up to us.
Rock

Dance

Pop

Ceremony

Funk & Motown

Top40
Catherine Summers - Wedding Singers and Bands Perth
+61424583830
Singer Catherine Summers is a Perth performer of choice at top venues, festivals and high-end functions with an impressive career behind her. Summers is known for performing a full 400+ song repertoire of jazz and modern interpretations with ensembles from duo to full 6-piece band. She's widely performed her modern 'Jazz Re-imagined' style of pop, soul and Motown songs. Summers regularly features on the Perth music scene and performs a number of shows and concerts across W.A.
LIVE MUSIC TO ELEVATE YOUR NEXT EVENT.
CONCERTS. EVENTS. FUNCTIONS. JAZZ. POP. SOUL
Catherine is as at home in jazz as she is in modern and soul classics. She has an extensive repertoire of jazz classics, from traditional jazz gems and The Great American Songbook to many French, Spanish, and Brazilian Jazz songs. Such a diverse repertoire means her performances are rich with a variety of styles appealing to a broad range of audiences.
Catherine's vocals have been likened to a deep raspy Amy Winehouse mixed with the soft, mellow breathy tones of Lana Del Ray and strong, powerful bluesy sounds of Joss Stone.
Performing in different ensembles also adds to the varied style of Catherine's performances. For example, her 4-piece modern band brings a fresh vibe to pop, soul and Motown classics. To check out all of Catherine's ensembles, styles and shows,
You'll hear your favourite hits but not in the way that others perform them. Described as a 'Like a Version' style sound, the upbeat sounds of Catherine's ensembles deliver clever versions of songs from Coldplay, Jamiroquai, Stevie Wonder, Michael Jackson, Beyonce, Supremes, Maroon 5, Adele, John Legend and more… it's upbeat funk you're going to love!
Daniel Tropiano Music - Wedding Singers and Bands Perth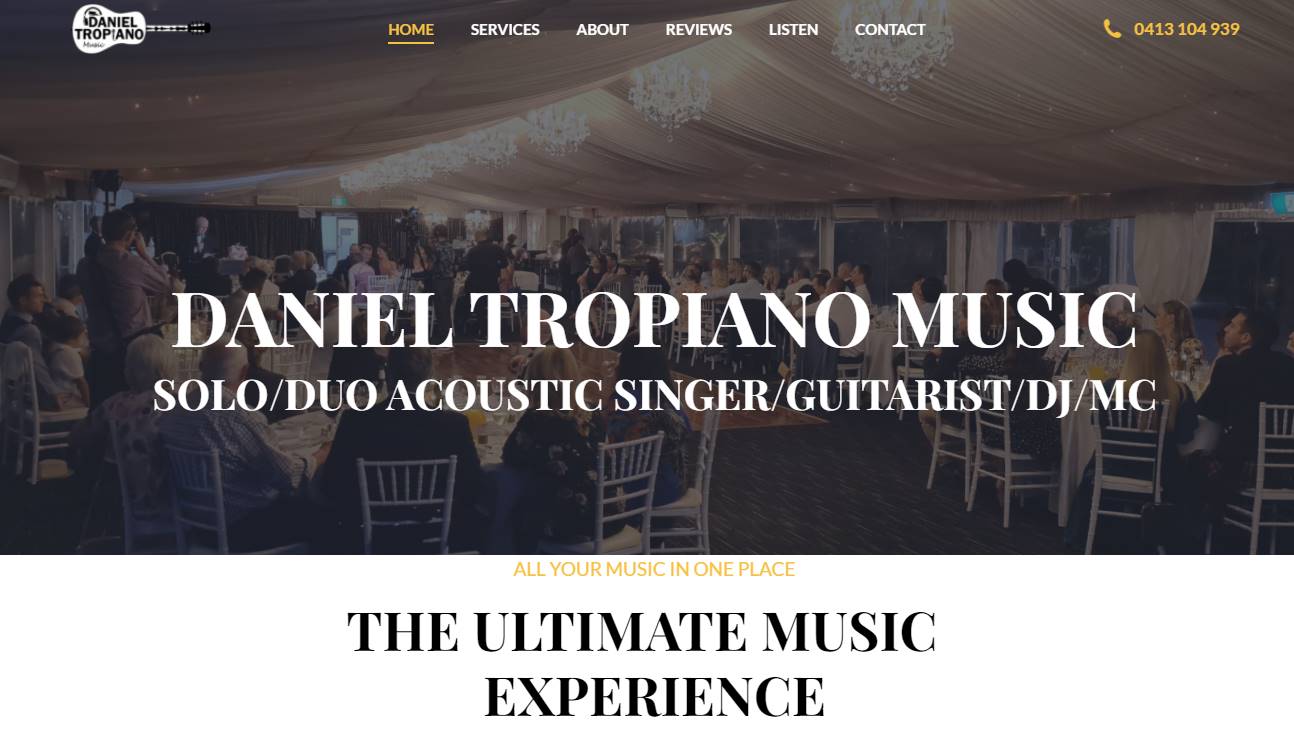 +61 413 104 930
Daniel is an award-winning acoustic solo singer-guitarist offering unforgettable raw acoustic music to add a special spark to your event. Having performed for a number of years, he has built a large repertoire of great-sounding music for all ages. He provides his own high-quality sound system and instruments for all events.
Perfect for public venues, corporate and private events, including Wedding Ceremonies, Pre-Dinner and Receptions, Engagements, Birthdays, Parties and more.
He also offers DJ and MC services with high-quality dance lighting and wireless microphone, so you don't have to worry about booking a number of people to cover your music needs. You can choose from either live music, DJ services or a combination.
Specialising in weddings, Daniel can create a package that can take care of the full day and evening. A popular package includes live music for your ceremony, pre-dinner and reception, followed by DJ services.
Please also take a look at the Dynamic Duo in the Services section. Daniel and Rochelle combine amazing male and female vocals and harmonies to take the live music to the next level.
Lock Daniel in now for your next event and make it a memorable one. His goal is to put a smile on everyone's face and create great memories together.
SERVICES
LIVE SINGER/GUITARIST
Daniel provides professional live raw acoustic music for any celebration, including Weddings, engagements, birthdays, private and public events.
Award-winning entertainment

High-quality sound equipment provided

Tailor-made packages to suit your requirements

A great mix of music for all ages
DYNAMIC LIVE DUO
DANIEL & ROCHELLE
Daniel and Rochelle are an award-winning Dynamic Duo providing professional live music for your next celebration, including Weddings, engagements, birthdays, private and public events.
Award-winning entertainment

High-quality sound equipment provided

Tailor-made packages to suit your requirements

A great mix of music for all ages
WEDDING PACKAGES
Daniel specialises in weddings and will tailor a package to suit your requirements and budget. Provide Daniel with your wedding date, location, number of hours and what services you would like him to provide, and he will provide a competitive package to ensure you have the highest quality music for your special day. 
Ceremony music

Pre-dinner music

Reception packages up to 6 hours - Live music and/or DJ services

High-quality sound and dance lighting equipment and wireless microphone provided

Complementary meeting 

All documents provided to assist in the easy preparation of your special day
Kieran Samuel Music - Wedding Singers and Bands Perth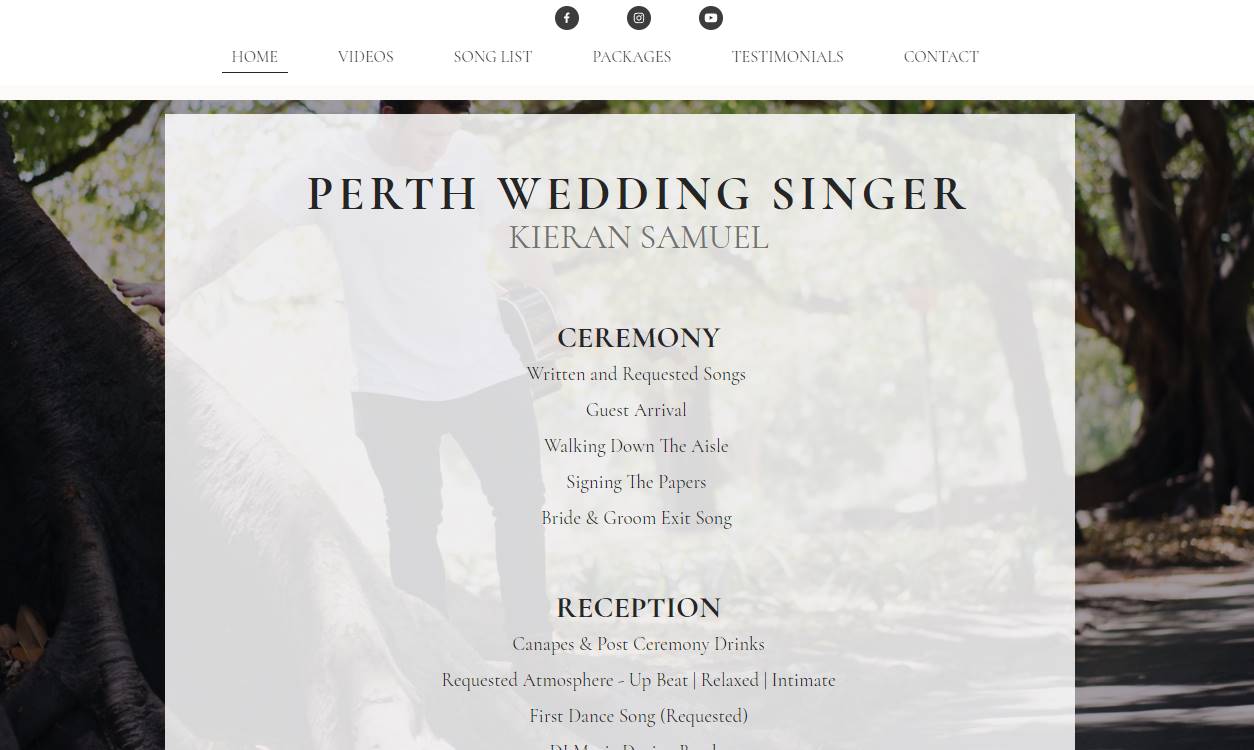 +61 416 922 629
Kieran has played at countless weddings, engagement parties, birthday parties, private functions, community events and more throughout the Perth region. He has the ability to cater to any event, whether it be relaxed background music, intimate & soft for more romantic occasions, or loud & upbeat.
Kieran works with what you want.
Solo and Duo Options
Kieran is able to please any audience with his diverse mix of cover songs suited for all ages. He has the ability to create an upbeat dance atmosphere or a relaxing vibe for those who enjoy a more laid back approach.
Kieran Samuel Duo
The Kieran Samuel Duo has the ability to uplift any venue with its vibrant and upbeat performance. Riley and Kieran bring a great vibe, with popular songs that everyone knows, banter, fun, drums, harmonica, acoustic guitar and raw folky vocals. 
Packages
Ceremony & Pre - Reception
Relaxing Guitar for Guest Arrival

3 Song Requests for Ceremony

Battery Powered Speaker

1-2 Hours of live music 

whilst photos are being taken

$799+gst
Ceremony & Reception
3 Hours Live Music During Reception

First Dance Song Upon Request

Microphone & Speaker For Speeches

Lighting Provided if required

$1299+gst
Live Music & Party
Live Music & Party Set (Reception til Midnight)

Full Sound System With Subwoofer

Dance Lighting Provided

Custom Spotify Song Requests prior to the wedding

$1799+gst
Les Trois Amies - Wedding Singers and Bands Perth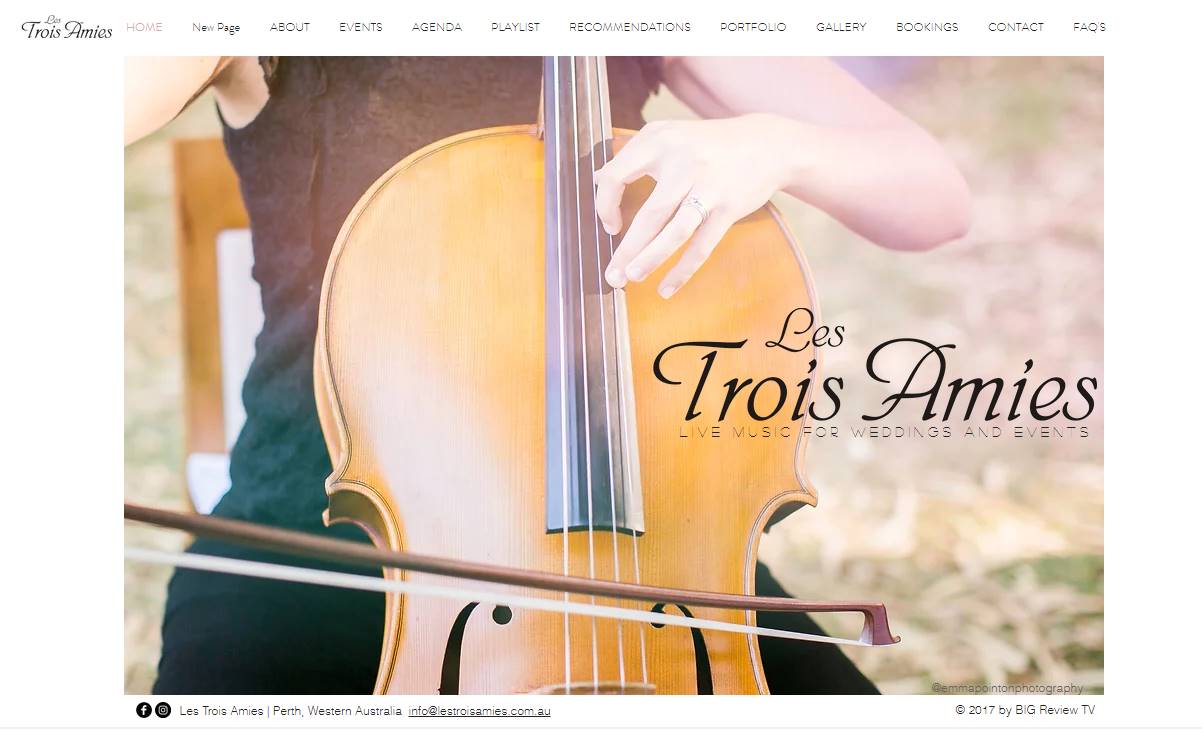 +61 8 9317 3301
Les Trois Amies offers Flute, Violin & Cello trios for weddings and events, providing talented, experienced musicians for exquisite professional performances. Since its formation, Les Trois Amies has become very well known and loved in Perth for exceptional service and beautiful music.
As well as trios, Les Trois Amies offers string quartets, duos and solos and can work with a harpist and/or a singer.
Les Trois Amies is passionate about creating an amazing ambience at wedding ceremonies, receptions, events and celebrations. Our extensive, eclectic playlist has something for everyone and is constantly expanding.
Les Trois Amies was voted Australia's Best Ceremony Music Supplier at the Australian Bridal Industry Awards "Designer of Dreams" awards for 2016 and was voted in the Top 5 in Australia for Best Ceremony Music Supplier 2015, 2017, 2018 & 2019. 
Les Trois Amies was also awarded Best Ceremony Music Supplier in Western Australia for 2011, 2012, 2013, 2014, 2015, 2018 & 2020 in the Australian Bridal Industry Academy awards. These awards are the result of ratings by past bridal couples on Product, Attitude, Value and Service.
Currently, the main musicians comprising the group are flautist Rebecca McGregor, along with violinist Susannah Williams and cellist Amber Day. All hold a Bachelor of Music degree, majoring in Classical Music Performance, and have performed locally, interstate and internationally.
Les Trois Amies also uses many other talented Western Australian musicians to cope with demand and requires no amplification (except if performing for a large crowd or large outside area), which reduces cost, and is very portable, so it can move relatively easily from one part of a venue to another if necessary.
The live music of Les Trois Amies creates a very special ambience at a wedding ceremony, whether it be held in a garden or a church. The quality background music is also suitable for pre-dinner drinks and dinner at a reception. The group is also available for other functions such as cocktail parties, corporate functions, birthday parties and dinners. 
Events
Weddings
Music is a very important and personal aspect of both a wedding ceremony and reception and for any function for that matter. The live wedding ceremony music of Les Trois Amies creates a very special ambience at a wedding ceremony, whether it be held in a garden or a church. The quality background music is also suitable for pre-dinner drinks and dinner at a reception. 
Not just a wedding musician group, the group is also available for other functions such as cocktail parties, corporate functions, birthday parties and dinners throughout Perth, WA, its surrounding areas and country Western Australia.
Over the years, Les Trois Amies has developed a playlist featuring a wide variety of both classical and contemporary music. This allows us to be flexible and adaptable in providing suitable music for a variety of clients, as we can cater for all age ranges and tastes. There is sure to be something for everyone.
In addition, Les Trois Amies is able to read the mood of a function and play an appropriate music selection to suit that atmosphere and the guests present. The many years of experience gained through performing at so many functions have also given the musician good knowledge of almost every venue in Perth, WA, and many wineries and other venues in country Western Australia.
As an acoustic group, Les Trois Amies generally requires no amplification (except if performing for a large crowd or large outside area), which reduces cost, and is very portable, so it can move relatively easily from one part of a venue to another if necessary.
If you are unsure of the music you would like played at your function, Rebecca McGregor can provide free advice and assistance with your selections. Les Trois Amies welcomes special requests for a particular song or piece that does not appear on their repertoire list, given the availability of sheet music and sufficient time to arrange the music (additional fees apply).
Shimmer The Band - Wedding Singers and Bands Perth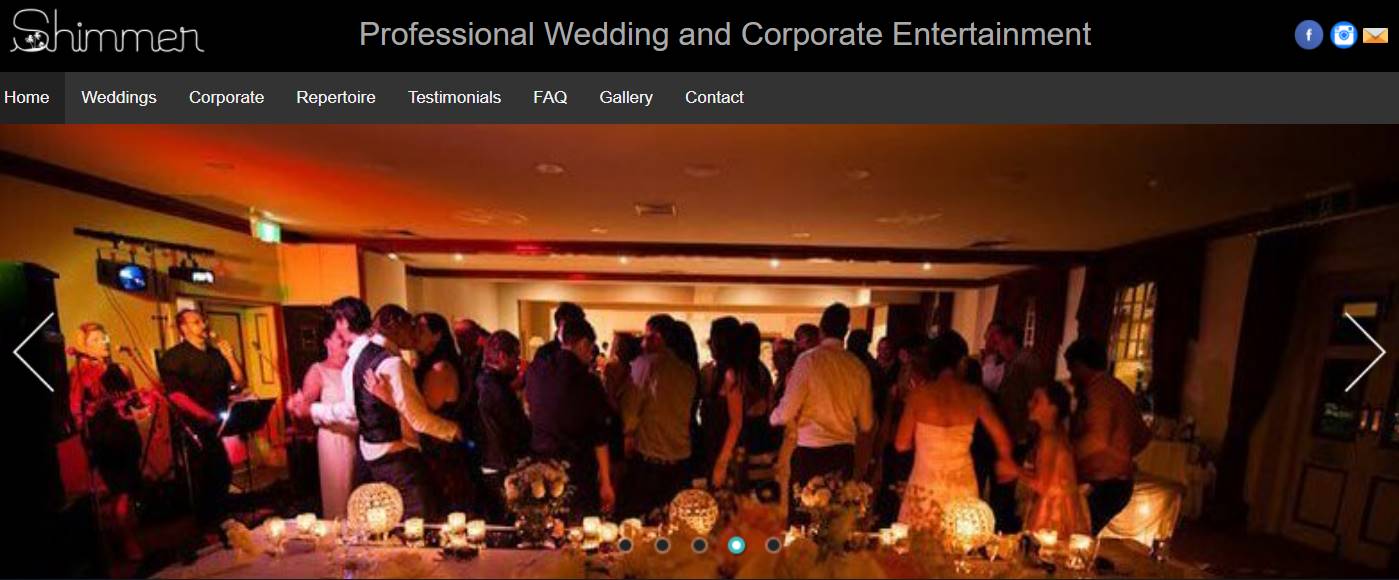 0407081061
Shimmer is an acoustic/sequenced trio located in Perth, Western Australia, that specialises in wedding and corporate entertainment and have been providing Perth with first-class entertainment since 2010!
Shimmer offers both low volume dinner acoustic music and a more up-tempo dance orientated repertoire that would typically follow a night's formalities such as the dinner, or in the case of a wedding reception, the first dance.
Playing the Perth wedding and corporate scene since 2010, you can be confident that Shimmer has all the experience and professionalism to make your next event a great success! Visit our Facebook page, see the testimonials and listen to our demos to get a flavour on what Shimmer has to offer!
Weddings!
If you have made the decision that you would like some live music at any part of your wedding, then Shimmer can help. Because Shimmer offers both acoustic and sequenced styles of music, we can cover any part of your wedding day; from easy listening background music at your ceremony to up-tempo dance music at your wedding reception.
Wedding Ceremony
At your wedding ceremony, many people like the idea of some live background music to be performed as light entertainment as your guests arrive.
Ceremony
When your bridal party arrives, you may then have a special song that you would like to have played as the party makes the entrance. Here you have the choice of Shimmer performing this, or alternatively, you may opt to arrange for Shimmer to play a CD of your song.
Next, you may want Shimmer to perform a song while the marriage certificate is signed, and then again once you have been announced, Bride and Groom. Shimmer may then continue with some more light music for the congratulations and as the party leave the ceremony.
Canapes
After the ceremony, and before the reception formally begins, a Bride and Groom may include Canapes/pre-dinner drinks and may also like Shimmer to provide some more background acoustic music at this part of the day. Pre-dinner drinks may either be in either the same room as the reception or maybe in another room, such as an entrance hallway, at the same venue. 
Whichever it is, Shimmer will discuss and organise this with you. If you are booking Shimmer for both pre-dinner drinks and for the shortly to follow reception, we can set up two different sets of sound equipment so that all we need to do is transfer the onstage instruments and microphones from one room to another.
Wedding Reception
This part of the day/evening typically has the most activities. Apart from the live music that Shimmer can provide for you, we will discuss with you the proposed layout for the whole evening and liaise closely with the MC on the night to make sure everything fits together smoothly. Shimmer will need to fit in both the live performances, as well as the in-between CD/DJ music with other events such as
People being seated

The arrival of the wedding party

The entrance of the Bride and Groom

The various announcement, such as the serving of meals

Speeches

Any games and events that may be organised (for example, Garter, single man's games, bouquet)

Cake cutting

Bridal waltz

Bride and Groom leaving
Typically, the initial part of the night, before and during dinner, and before the bridal waltz and the dancing part of the night, Shimmer will continue with a relaxing acoustic selection of songs, with mellow, easy listening CD music between the live performances. Once the night comes to the time of the bridal waltz, Shimmer will typically pick up the pace and volume for some fun and dancing!
Diamond Road Duo - Wedding Singers and Bands Perth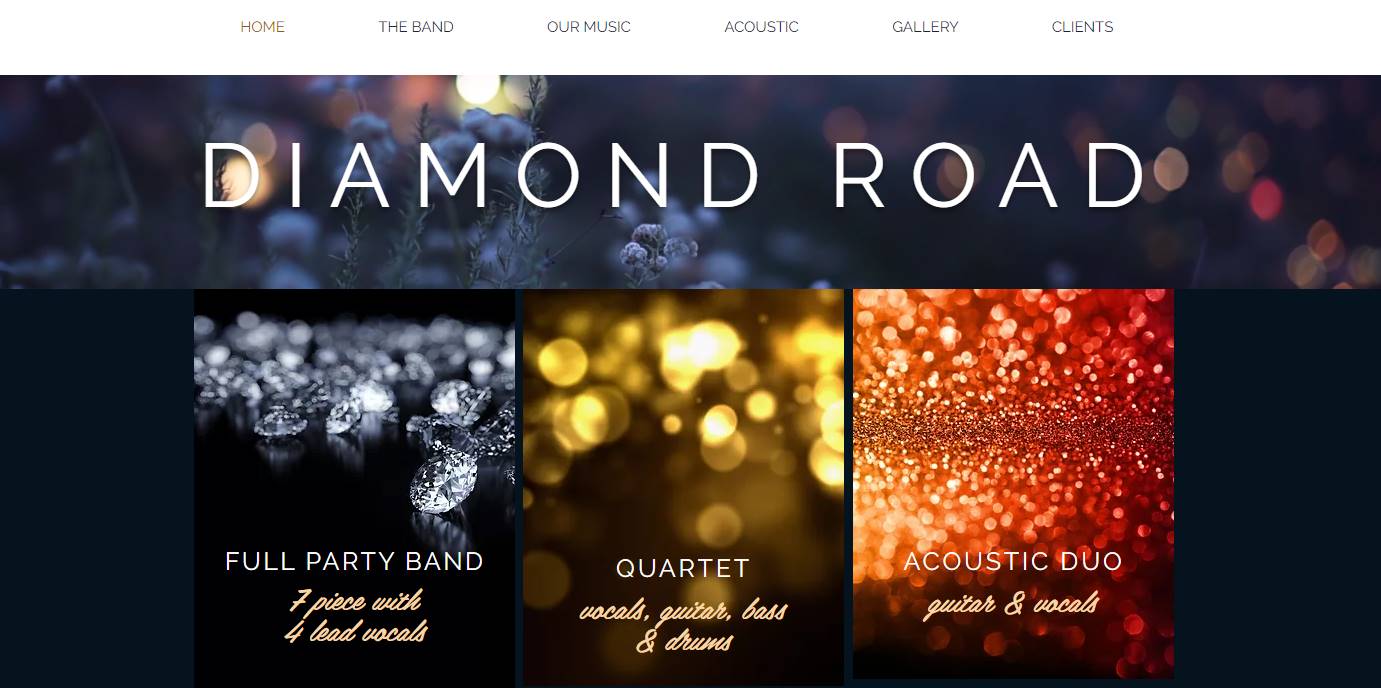 0417 919 542
Diamond Road is truly one of Perth's most entertaining bands covering all your favourite hits with a mix of classic and contemporary pop and rock and all the best of the top 100. 
With some of the best lead vocals in Perth, they're guaranteed to get you singing along with their famous brand of showmanship and plenty of crowd interaction.
Diamond Road looks great on stage, sounds even better and involve the audience in every song to ensure your event is one to remember.
They've performed at hundreds of events over the past 8 years, earning a reputation as polished, professional and guaranteed to please with party sets packed full of dance-floor anthems or a smoky blend of acoustic tunes for drinks and dinner either as a full band, quartet or duo.
SOMETHING FOR EVERYONE!
Diamond Road is entertaining and versatile - with customised setlists to suit every audience.
CONTEMPORARY HITS
A wicked mix of the hottest 100 including Dua Lipa, Taylor Swift, Jonas Brothers, Post Malone, Bruno Mars, Katy Perry, Jessie J, ​Harry Styles, The Weekend, Beyonce, Pink, 5SOS, Avril Levigne, Maroon 5, Miley Cyrus and others.
CLASSIC HITS
All the best of the past 5 decades and beyond from artists like Abba, ACDC, The Killers, Kiss, Queen, INXS, Beatles, Elvis, Cold Chisel, Tina Turner, Guns N Roses, Kylie Minogue, Cheap Trick, Pat Benatar, Black Keys, Choirboys, Roy Orbison, Bryan Adams, Rick Springfield, Madonna, Hudu Gurus, John Farnham, Shaniah Twain, Easybeats, Michael Jackson, Grease, Gloria Gaynor, Joan Jett, The Proclaimers and more.
DINNER
Cool and classy laid back tunes for drinks and dinner - Norah Jones, Van Morrison, Hunters and Collectors, Fleetwood Mac, Crowded House, John Lennon, Tina Arena, Tracy Chapman, Ed Sheeran, Adele, Amy Winehouse, Elton John, and so many more.
Summer Club Band - Wedding Singers and Bands Perth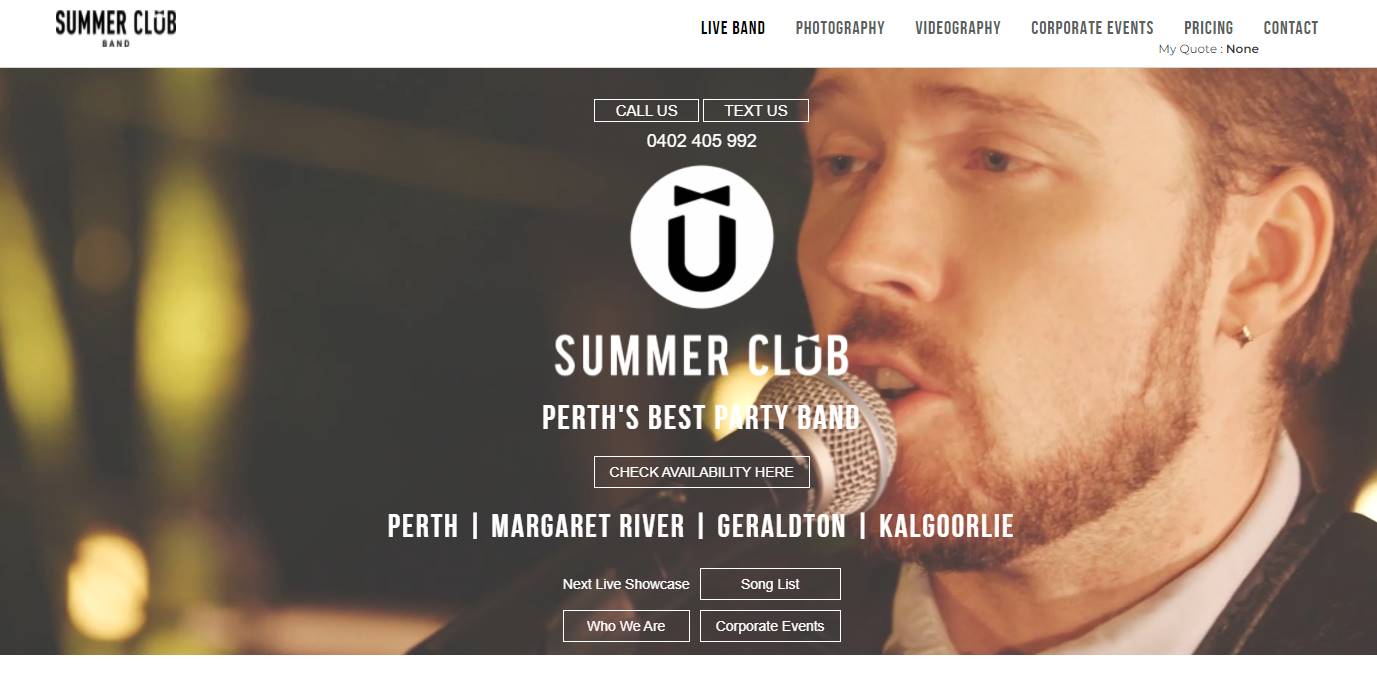 +61 402 405 993
Give your Wedding, Party or Corporate Event the atmosphere only a live band can bring at very affordable prices. No matter what style of music you're after, Summer Club Band is easily the best band available in Perth.
Unlike other less capable party bands, Summer Club is a collective of Perth's most sought-after professional musicians who focus only on making sure your guests are up dancing with the party atmosphere that only a live band can provide. With a wide range of band sizes available, we can cater to your requirements whether you are looking for jazz or classical, through to top 40, rock, RnB and everything in between.
WHO WE ARE
Perth's most sought after Wedding Band, Party Band & Live Wedding Entertainment.
The most qualified, young and energetic musicians in WA (Many of us are WAAPA graduates).
A tailored band for any budget. We offer Duos, Trios, String Quartets, and 3 Piece – 10 Piece band.
Summer Club – Skilled & Experienced
Summer Club Band's musicians have seasoned professionals with many years of experience performing all over the world. To get a feel of what Summer Club Band can bring to your wedding or special event, please have a listen to a couple of samples and videos on the front page of our site.
Corporate Events
Summer Club Band is perfect for your corporate events. We perform at Corporate Events, Sporting Functions, Awards Nights, Charity Functions as well as Christmas Parties, Birthdays, Engagements and Weddings. Whatever your size or budget, we can tailor a band to match.
Groove Night Avenue - Wedding Singers and Bands Perth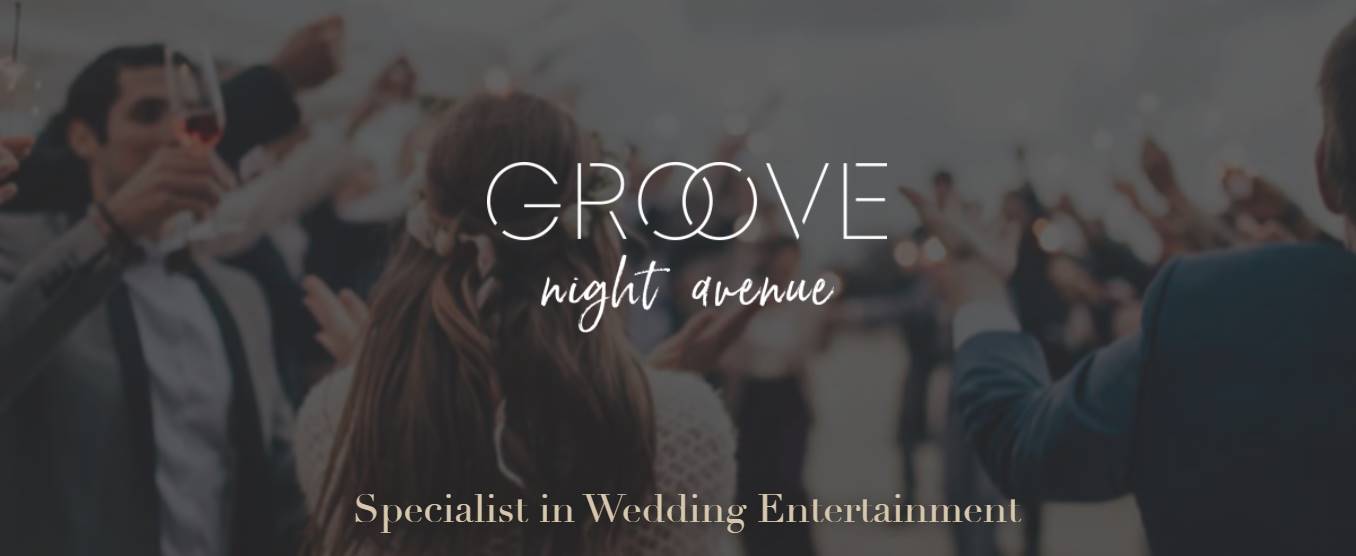 +61 412 468 739
Groove Night Avenue has been providing fun and quality entertainment around Perth and Western Australia for over 14 years. Whether your taste is old school party classics, the '80s, Alternative, hip hop or anything in between, Groove Night Avenue has an unmatched ability to deliver elegant dinner music to a full party vibe, which can include live music. DJ or an awesome blend of all! 
This has set them apart and has seen them regularly requested to perform at many prestigious private parties and corporate events throughout the state every year. Some events include the Police Commissioner's ball for 4 years running, The Telstra Awards, West farmer's black-tie ball, Rio Tinto and Woodside Christmas parties. Sharing the stage with Jessica Mauboy, Samantha Jade and many more talented Australian and international acts.
All Groove Night Avenue packages focus on bringing you quality entertainment and include state of the art sound and lighting, pre-wedding consultation and a range of special services to make your wedding an exciting and unforgettable celebration with your loved ones.
We achieve this with our exceptional range of experienced Wedding Singers, DJs, musicians, MCs and wedding bands, and we encourage you to enjoy exploring our unique packages below to see if you feel a connection to the music that we love to share.
Packages
Congratulations on your upcoming wedding! We appreciate the importance of your special day, and we respect your individual taste. Our Wedding packages cover a variety of options and flavours that bring fun and excitement and, in particular great entertainment! We encourage you to check out the uniqueness of each package and also to contact us should you have any questions.
Trio Band
4hrs x Live Band

2hrs x DJ

Sound & Lighting

Microphone for speeches

Pre-wedding consultation

Choice of 3 female vocalist
Solo & DJ
3hrs x Solo

3hrs x DJ

Sound & Lighting

Microphone for speeches

Pre-wedding consultation

Add female singer (+$300)
Mim Fitze - Wedding Singers and Bands Perth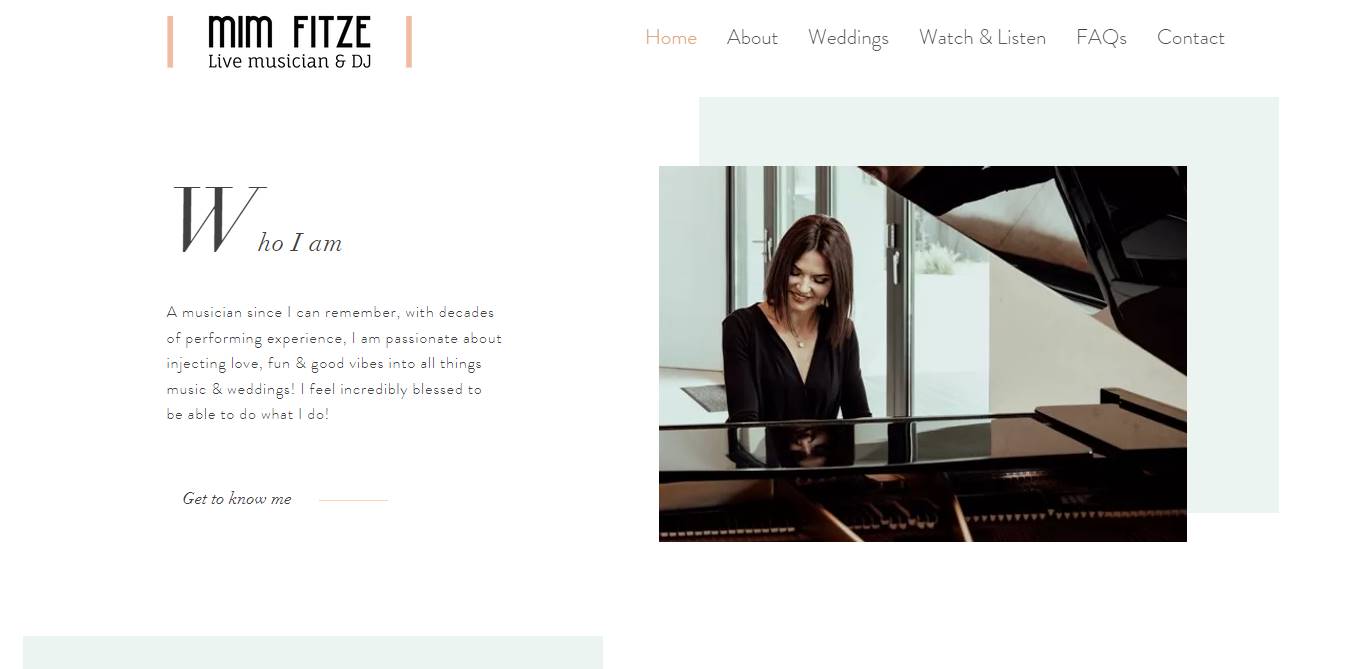 0401463873
A musician since I can remember, with decades of performing experience, I am passionate about injecting love, fun & good vibes into all things music & weddings! I feel incredibly blessed to be able to do what I do!
What I do
Performing acoustic music on guitar & piano, complemented by luscious vocals, are just the beginning. I also have almost a decade's worth of experience in DJ'ing & MC'ing at weddings.  
Why me
I take pride in creating the perfect atmosphere for your wedding or event, from beautiful, individually tailored live music performances to a DJ'ing service that will have the dance-floor pumping all night long. I offer affordable and convenient live music & DJ packages to suit your needs for your day!
Austrian-born, I boast a rich history in the musical and wedding sphere. I've performed live for over two decades, travelled to and dazzled several weddings throughout Europe, South America, and Australia, and have taught music to others for 10+ years. 
Covering Perth to the Southwest, I offer a unique blend of gorgeous acoustics, romantic jazz, soft rock, and several other melodic compositions that will undoubtedly wow you and your guests at your wedding or special occasion. I also boast quality, lively DJ-ing services to get your guests up and to dance! With fluency in English, German, and Spanish, the ability to play several instruments, including piano, guitar, and saxophone, and a relentless drive to enhance my musical skills, I'd be thrilled to add some extra romance and ambience to your wedding day or special occasion. 
What others say you'll love about working with me for your wedding or special occasion:
Stunning vocal and instrumental talent. 

Mim's angelic, rich vocals and insane instrumental skills will add the perfect amount of charm and magic to your wedding day. She can perform your very own couples song in her gorgeous, soulful style, offer soft tunes during your reception dinner, and upbeat party tunes throughout your evening celebrations. 

Fluent in several languages.

 If you've always dreamt of having your wedding song performed in your native language, this may be your lucky day. Mim can beautifully perform your desired wedding songs in English, German, and Spanish. 

Highly experienced and professionally trained.

 If an experienced, well-travelled, professionally trained musician is what you seek, look no further. Starting her musical ventures at the age of eight, Mim has since gained invaluable experience as a student at the University Mozarteum in Salzburg, Austria, trained under world-class instrumental and vocal tutors. She's taught music for over ten years, performed in various countries, and now is ready to share her wealth of knowledge and talent with couples in Perth and surrounding areas. 
Highlights of working with me:
Over two decades of musical experience

Trained under world-class instrumental and vocal tutors

Gorgeous smooth vocals and instrumental talent 

Fluent in English, German, and Spanish 

DJing services with high-quality equipment 

Professional, organised, passionate 
Grand Boulevard - Wedding Singers and Bands Perth
08 9382 1895
Fresh, fun and fabulous! Grand Boulevard is Perth's leading music cover band and party trio!
Grand Boulevard loves to create a lasting impression and give far more than expected with every performance.
With multiple packages and formats available, including:
Solo Acoustic

Solo Acoustic + D.J.

Duo

Duo + D.J.

Trio

Trio + D.J.
We can create a package or combination to suit any situation and event - as an example:
Band Package
This is for the band to perform over a 4 hour period, typically between 7:45-11:45 and 2 hours D.J. (6 hours total). We would perform a stunning set of acoustic and light dining music during mains, then several party sets of fun and dancing. A great time to kick off the dance sets is with the first dance/bridal waltz, which always opens this part of the evening beautifully. 
The package also includes Dean Anderson as a D.J. to look after all other aspects of music for the evening. Typically this is the music between 6:00- 7:45 as well as the band set break music and music to compliment all the special moments such as bridal party entry, cutting of the cake, First dance, throwing of the bouquet and farewell. All PA system and lighting is supplied as well as early set-up and use of a wireless microphone for speeches.
Solo Acoustic Performance & D.J.
This option includes a live Solo performance for Pre-dinner drinks and Dining (6 hours). D.J. service for the evening covering all aspects from Bridal entry right through to farewell. All requests are met, and you meet with Dean to organise the music around your tastes and run sheet.
All packages include quality sound equipment and lighting. We work together to sort all performance times to suit the order of events of the evening as well as lots of tips to help the evening to be absolutely perfect!
Please feel free to give us a call, and we can help you decide which option is going to suit you best or if we need to tailor something specific. Locking in the date is a matter of a 50% deposit, with the final payment being made one week prior to the wedding. You need to feel comfortable and confident that you are making the best choice, so let us know if there is anything we can do to help that! 🙂