It's the first day of Autumn, and it truly is one of the most beautiful times to get married in Melbourne. The weather sits at a perfect temperature, and the sun still glistens brightly which is perfect for your wedding photos. If you're lucky enough to be an Autumn bride this year or next, then here are some unique wedding ideas that will definitely assist with your wedding planning:
Wedding Flowers 
Flowers by Classic Bouquets
What perfect floral arrangements! Allie from Classic Bouquets has put together follies with flowers which really make the perfect addition to any autumn wedding. Her flowers are fresh, locally grown and always styled elegantly.
Wedding Invitations 
Invitations and Save the Date Cards by Kerr Wedding and Events
Some great colour tones for autumn are used on these wedding invitations. The invitations are filled with florals but still use a touch of greenery that really gives that seasonal feel. Another great idea are the unique Save the Date cards where you can personalise them to be themed for your special day.
Wedding Cakes 
Wedding Cakes by Sweet Happenings 
These beautiful cakes can both make a statement for any autumn wedding. A classic wedding cake with a touch of gold, and light floral is a beautiful choice as seen on the left image. Or, a naked cake with a hint of greenery together with a pop of delicate flowers as seen on the right image can also give that perfect autumn feel.
Wedding Hire
Wedding Hire by Kerr Wedding and Events
Nothing like floral filled letters to compliment your autumn wedding. Floral filled letters are a great idea, they really add to any setting or theme so eloquently. You can spell out the word 'LOVE', or choose to have you and your fiance's initials! Another great idea is to have a white carpet at your ceremony, or at the venue upon arrival. The colour white truly goes so well with any type of greenery – as seen in the image on the left, and those autumn vibes will definitely be captured on your wedding day.
Flower Crowns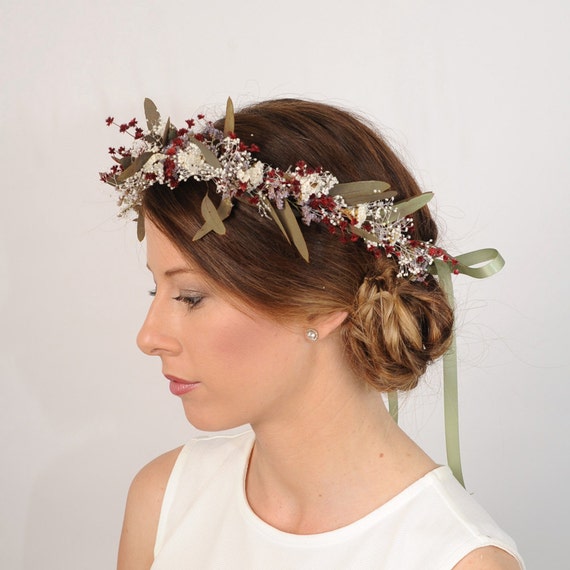 Image: Etsy
Flower crowns are a beautiful addition to any autumn wedding. They can be styled with fresh flowers, baby's breath and leaf foliage. Any bride can wear one with her hair up or down.
Bombonieres
Image: Chic Fusion
Nothing like drawstring bags with a hint of florals. You can fill these bags with a beautifully scented potpourri. It would be a great idea to even tie these around a scented candle.