The wedding's over and your gown, the most expensive item of clothing you've ever bought, is hanging in your closet. Now what? You only really need your gown for one amazing day, but we're willing to bet you're not about to throw it into the trash afterward.
If you want your gown to look beautiful way into the future, wedding dress preservation and wedding dress cleaning are ways to make sure any day-of stains and aging discolorations don't stand in your way. But what's the difference between preservation and cleaning—and should you do both?
Check out our similar posts...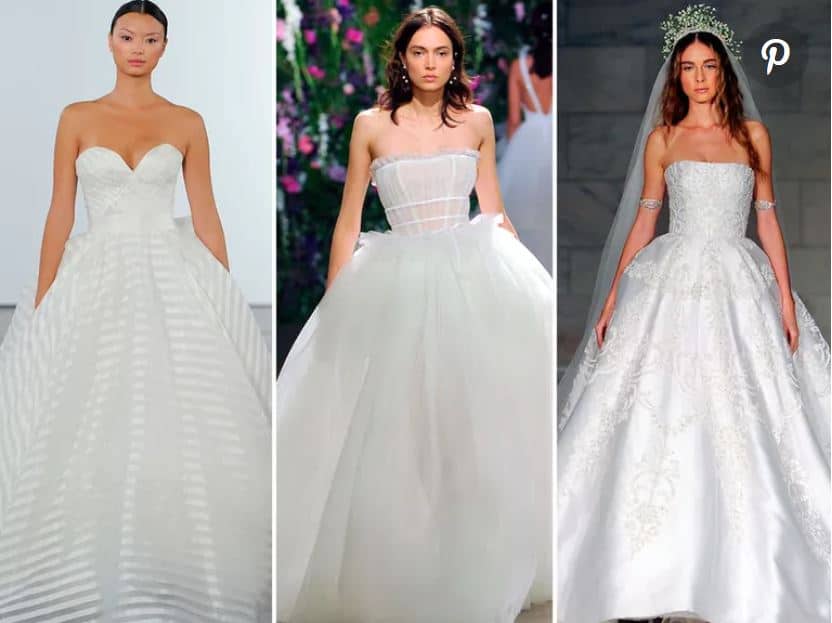 Dress Preservation
What Exactly is "Gown Preservation" Anyways?
Simply put, wedding gown preservation is the process of cleaning and preserving a wedding gown after it is worn during a ceremony and reception.  The process normally consists of multiple steps that not only inspect and clean the gown of visible and non-visible stains, but also includes a "preservation" process which protects the gown as it ages in the preservation chest and protects it in the event it is worn again.  For many years this process was performed using simple cleaning agents and dry cleaning equipment, however, modern advances in the dry cleaning industry have allowed for special products and techniques to be developed that can remove everything from dreaded cooking oils to grass stains.
Why Should I Have My Gown Preserved?
Think about what happens on your wedding day.  There are pictures to be taken, many times in fun locations such as an open field or beautiful outdoor setting.  There is a lot of walking around, many times on dirty sidewalks, dance floors, and reception halls. There are family members to hug, food and drink to enjoy …you get the idea.  Throughout the day your dress is put through the rigors of an average wedding day and often times you will accumulate dirt around the hemline, sweat stains under the arms, and food and beverage stains regardless of how careful you are during your amazing day.  Having your wedding dress professionally cleaned and preserved will completely eliminate all the little (and big) blemishes that accumulate from your wedding day activities.
Another big reason to have your gown preserved is yellowing caused by aging.  Because your wedding dress is made from natural, delicate fabrics, those materials tend to begin to yellow and brown over time if left untreated.  Having your wedding dress professionally treated will eliminate this yellowing and help keep your wedding dress looking as amazing as the day you first fell in love with it at the bridal store.
Wedding Dress Preservation vs. Cleaning
Quite simply, wedding dress cleaning is essential. Preservation is optional.
"All wedding gowns should be cleaned by a professional after use to remove soiling," says Jeff Schwegmann, president and owner of Happily Ever After, the exclusive gown preservation partner of Wedding Dress Preservation by The Knot. There's probably at least one stain on your dress after the celebration, whether it's champagne, dirt, or a little bit of frosting. Some substances—sugar, sweat and other oils, for example—might not be visible right away, but can show up as stains over time.
If you're planning to save your gown as a family heirloom, preservation is important.
"Wedding gown preservation is the process of packaging a gown in archival boxes using accepted preservation methods and materials for long term storage," Schwegmann says. "You should only preserve clean wedding gowns."
So if you're going have your gown preserved, you'll need to have both steps taken.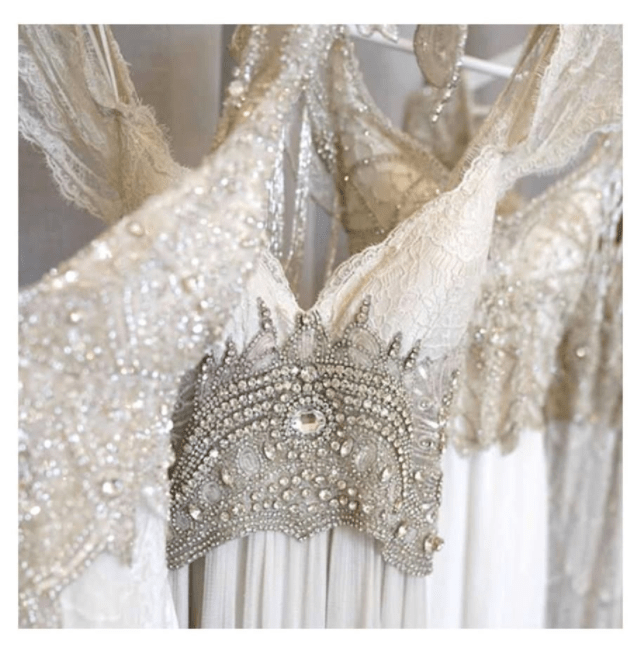 Which one should I do?
There are a few reasons you might want to just get your wedding dress cleaned. One is if you want to wear your dress again in the near future—for example, if you're a bride having two wedding celebrations or you bought a short or less formal dress that can double as a party dress.
You should also have the dress cleaned if you're considering donating or selling your dress. "Selling gowns is on the rise because of effective websites that help facilitate the sales," Schwegmann says. If you're interested in going this route, we personally recommend Nearly Newlywed.
Definitely have preservation done if you want your dress's beauty to last long term, and you aren't planning on taking it out of its box anytime soon. Dresses that aren't preserved can yellow over time. Even if you don't think you'll pass along the gown to a loved one, you may want to reuse it a different way. Some brides choose to repurpose their gown into a veil, baby blanket or christening gown.
"Wedding gown preservation is the process of packaging a gown in archival boxes using accepted preservation methods and materials for long term storage," Schwegmann adds. "You should only preserve clean wedding gowns." So if you're going have your gown preserved, you'll need to have both steps taken.
How much does wedding dress cleaning and preservation cost?
Sometimes fabric, decoration, ornamentation and degree of stain damage determine the preservation price of a gown. "Your heavily beaded silk ball gown will cost more than a simple polyester gown you wore on the beach, and you should never trust your designer gown to someone offering a bargain price," Conant says. "Saving a few dollars is simply not worth the risk of ruining your wedding dress." Expect to pay roughly $250 to $700, though prices can go as high as $1,000 depending on the gown and location. Costs vary across the country, with higher prices in metropolitan areas.
Beware of companies that give quotes over the phone, since different materials and stains require specialized care. You may get charged more later, or you run the risk of them not giving your dress the attention it needs. 
All that said, there are vetted services that work with flat fees. Wedding Dress Preservation by The Knot doesn't skimp on the details, but still manages to offer competitive rates. The Cleaning and Preservation package costs $285, while the Wedding Dress Cleaning Only package costs $230. Minor repairs, pressing and steaming, and shipping and handling are included.  
The preservation process takes a total of 6-8 weeks depending on the time of year.  Our busy season is normally from July – October which can sometimes take a few weeks extra depending on volume.  The reason it takes 6-8 weeks is that every dress that is preserved receives the utmost care from the time it arrives and is checked in at the preservation facility, to the time it is lovingly placed in the preservation chest and shipped back to you.
We are confident in saying that sending your wedding dress in to be preserved is as safe, or safer, than bringing it down to your local dry cleaning service.  The fact is that 95% of dry cleaning services that advertise wedding dress cleaning & preservation services send their dresses away to be preserved to services like those offered by the Wedding Gown Preservation Company.  The reason why is that most do not have the budget or the expertise to offer cleaning systems such as SYSTEM K4 that we utilize to offer the quality of service brides demand. We can say that for as long as we've been offering this service to brides, we have not had one lost gown in the mail.  To be extra safe and protect our customers, each of our kits comes with a set amount of insurance to keep your gown extra safe during shipment.

Check out our similar posts...
Wedding Dress Preservation Tips
If you've had preservation performed, it'll come packaged in a sealed box that will keep it looking fresh. The only thing you really need to worry about is storing it correctly.
"Wedding gowns that have been cleaned and preserved should be stored in a room that has air-conditioning and out of direct sunlight. For example, in a closet or under the bed," Schwegmann says. "No attics or damp basements. Select a location that is consistent in its environment, and does not have temperature and humidity changes."
If you were to open the box, you'd need to have it repackaged professionally to keep it preserved, so resist the urge to try it on when you're feeling nostalgic. (The nice thing is that Wedding Dress Preservation by The Knot's boxes have a window, so you can take a peek whenever you like.)
Many preservation companies offer a lifetime warranty. So long as you store it properly, your preserved wedding dress should stay beautiful for decades to come.
Is Wedding Dress Preservation Worth It?
 One question we see asked quite a bit is if wedding dress preservation is really worth it.  Maybe your gown has been sitting around a while, hanging in your closet or maybe you just purchased your wedding dress in anticipation of your upcoming big day.  The question is not whether it's worth it to preserve your gown but rather is it worth the chance that your gown may yellow and fray if you don't have it preserved?  Let's jump into a few reasons why wedding dress preservation is worth the effort and the worth the small price.
Wedding gowns are made of delicate materials
Let's face it, wedding dresses aren't exactly built for wear and tear.  With most gowns being constructed from materials such as lace, taffeta, and silk, it's important that your gown is properly stored over the years.  Leaving your gown hanging in the closet for years is one of the most damaging places you can store your gown. Material gets stretched and damaged around the hanger and material can get frayed or damaged as the gown is brushed against and moved around.  By storing your gown in a proper preservation box, seated on a bust to keep the gown's original form, you are protecting those delicate materials from wear and tear as your dress ages over the years.
Create a family heirloom to be worn again one day
Wedding dress styles have a tendency to come and go out of style over the years.  From plunging neck lines to sleeves to bustles, the current "in" style tends to come around full circle.  Wouldn't it be great if when your daughter or granddaughter's big day came around, the dress you wore on your wedding would be back in style?  What better way for them to honor you on their wedding day by wearing the same gown that you were married in. Having your gown cleaned and preserved is the only way to be sure your gown looks just as beautiful on their wedding day as it did for yours.
Air doesn't cause gowns to yellow, stains do.
One of the top reasons for the yellowing of wedding gowns as they're stored over time is due to untreated stains over time.  Out of all the stains you can get on your wedding dress, sugar is by far the most damaging. The compounds found in sugar cause the fibers in your dress to break down, giving the fabric a "yellowed" appearance over time.  Other stains that can cause yellowing include sweat stains, grass stains and other food related stains such as oil. Regardless of how you store your gown for the long term, failing to have your gown properly cleaned before storage can mean disaster for your dress years down the road.
It's never been more affordable to preserve your gown
About 20 or so years ago, wedding dress preservation was reserved for the upper class as the process required special machines not normally provided by local dry cleaners.  With the advent of the internet and mail-in wedding dress preservation the service has been made available to all at a very affordable price. Mail-in preservation is safe, insured and guaranteed for over 100 years.  Preserving your dress with a mail-in service will still save you $100's off having your gown preserved locally and in many cases local dry cleaners will outsource their cleaning to the same service online companies use with a steep markup.
What are You Waiting for?  Preserve Today!
Did you know that your gown begins to yellow from the moment you purchased your dress at the bridal store?  Did you also know that the longer you let stains absorb into the delicate fabrics of your wedding dress, the more they will set in?  Sending your dress in today ensures you're creating a family treasure that will be enjoyed and cherished for generations to come.
About the Editors - Suzie & Eugene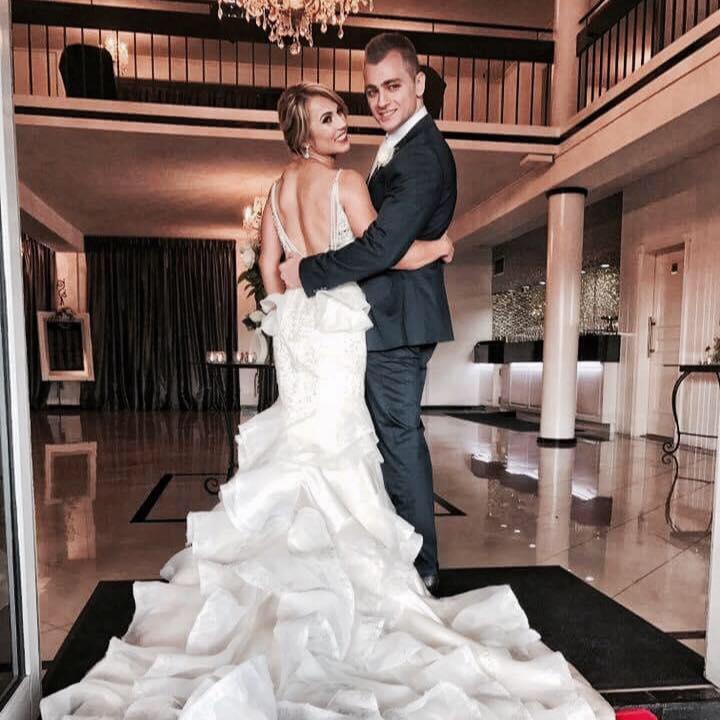 Suzie & Eugene got married at Vogue Ballroom in 2017 and had the best day of their lives!
Ever since they have worked closely with Vogue Ballroom & Vines of the Yarra Valley, managing the websites, social media and content.
For queries please contact via [email protected]om.com.au or ranked.net.au