Often we receive very humbling feedback from couples who hired us for their big day. Many couples simply love our work and are amazed by our films. One thing we notice is that they always comment very positively about our creative short films. And that's fair. Short films are epic. They highlight the greater, more dramatic events that occurred during the wedding. HOWEVER, we notice that many couples overlook a very important edit – the documentary edit.
The truth is, I get it. They aren't as exciting as the creative and cinematic short films. A 1-2 hour documentary film isn't as "shareable" on social media. A fun, the short film seems like a simpler and more exciting alternative to reliving your wedding memories. It covers the main, sensational events that happened on your wedding day. So, some couples tend to think the creative film is good enough.
But, the bottom line is, for the couple, a documentary edit is just as important as, if not more important than a short film. Years down the line, the documentary film will still contain all the finer details of your special day.
Vogue Ballroom is your perfect wedding venue in Melbourne delivering fairytale weddings for the bride and groom.
We're often asked by clients and prospective clients how long it takes to deliver a wedding or event film. I understand that immediately after a big occasion like this, there is a huge desire to relive it all again. However, film-making is not an off-the-shelf product, but rather a painstaking creative process that demands a considerable amount of professional time, thought and attention. Furthermore, to maintain our high standards, we don't rush projects through the studio or hire inexperienced temps. Instead, we give each project all the time it requires.
This means we usually deliver our films about 3 to 6 months after the event depending upon the time of year. Of course, our business is very seasonal, so it does mean we get bottle-necks with Summer bookings and a few may take a little over six months. However, we firmly believe the wait is worth it as our client testimonials clearly demonstrate. We believe the film we are making for you will become a piece of family history and the pleasure it will bring will soon overshadow the waiting.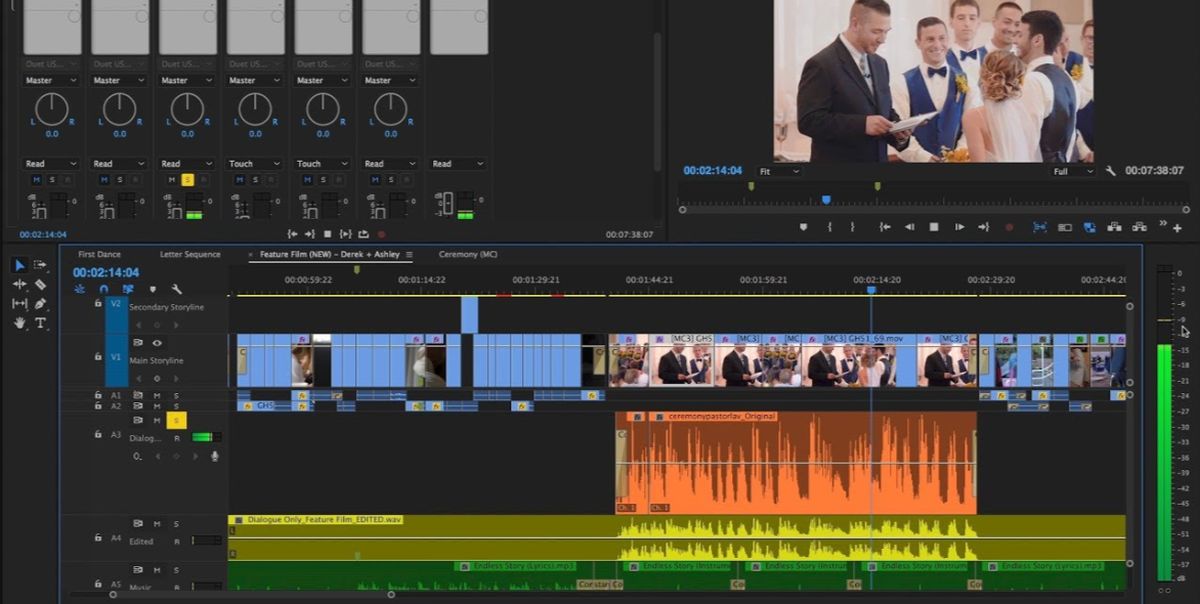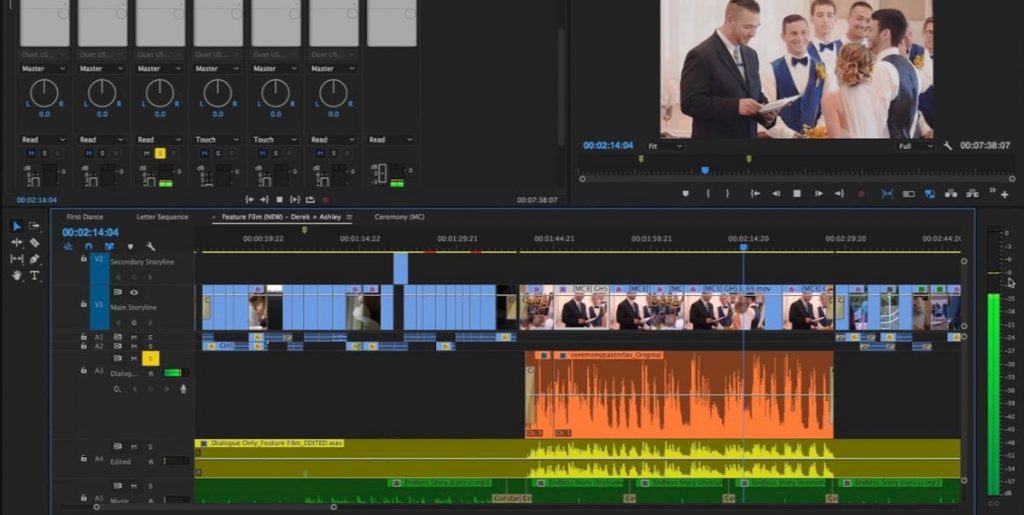 That said we understand there are occasions when a film might be required by a specific deadline, such as to coincide with a special event or a second wedding abroad. For this, we have a handful of 'Express Edit' slots which we offer clients at an additional cost. The surcharge is to cover the cost of overtime and weekend working on completing the project within one month. We only have 4-6 slots per year as we do not want to over-commit ourselves – or fall into the trap of rushing a job that might then fall below our normal standards. Frankly, an Express Edit is not something we recommend, unless you really can't wait!
However, there are some ways in which clients can minimise the waiting time. Firstly, bear in mind we edit projects in the order in which they are ready for editing, not the order in which they were filmed. This is because some clients cause delays by not providing the necessary information to commence the project (e.g. their music preferences or credits) or have an outstanding balance. In these instances, the 3 to 6-month wait only begins when we have everything in place. Therefore, it is important to settle such matters before the event (as we encourage clients to do) or immediately afterwards. Another tip is to consider hosting your wedding outside July, August or September when resources are most stretched. In our experience, April and May can be just as dry or sunny, while October, December and January are all very atmospheric months for weddings and are under-appreciated.
Of course, whatever happens, you can be sure of our complete attention and commitment – we love making films and always want to do our best for you!
You've said your vows and danced until the early hours. Your wedding day may be over, but push those post-wedding blues to one side. You still have the excitement of receiving your wedding video and reliving all those precious moments.
Although it is now thoroughly expected that brides and grooms will hire a photographer to capture their day, fewer employ the services of a videographer. However, the results can be tremendous, and often a lot easier to share than hundreds of photographs in an album. But, once you've decided to have a videographer film your wedding, how long will it take to get the film back?
The Editing style in a documentary edit is traditional and clean. It follows a chronological order of your wedding ceremony and reception. It includes every moment from those two events.
The Audio includes unedited dialogue. So you can rewatch any speech from your wedding reception over and over again. And your wedding vows, well, you'll have all of them too, the full thing.
Music is the same music that was played at the events. Yes, you'll have to live with those song selections forever.
The length varies but is based on the length of the actual event. Ceremony documentary edits are typically 30 minutes to an hour and reception documentary edits run up to 90 minutes.
The documentary edit is everything important from your wedding day. It's an edited recording of your wedding ceremony and/or reception in its entirety. This version cuts between all the camera angles and audio recordings. In the end, it creates a professional and chronological video of your wedding ceremony and/or reception. One important thing to note: the documentary edit does not include morning preparations, first look, decorations or any creative photo sessions. We save those artistic shots for short films and feature films. Don't worry about those awkward gaps and funky transitions. Even if they did happen, we make sure to edit each video professionally, assuring a pleasant viewing experience.
Time Of the Year
So you are getting married in May, a great time to get married. The weather is warm and dry, and there is plenty of light. Fantastic. However, a huge amount of people are getting married this month also. June, July and August will probably be even busier. 
What I'm trying to say is that it is the time of year that all wedding videographers are flat out, if they are any good. Why is this important? Because the videographer may be actually filming 2 to 3 wedding videos per week during this time of year. It can take a week of full time editing to finish one wedding video.
So if the videographer is gone three days a week filming, that means he is not editing. So that leaves four days per week for editing provided that he does not take one day off. So he won't be able to fully edit one wedding per week during this 3 to 4 month period. Looking for a Video Company in Melbourne? Check out our ultimate list of videographers here. 
Therefore, the biggest factor in wedding video delivery time is what date of the year you get married. Obviously, the time of year suitable for weddings can vary in different parts of the world.
NB: So if you want your wedding video back quickly, in less than a month say, I would strongly advise you to employ a larger company with many videographers and editors so they can edit the videos full-time as they come in.
Also, something to remember is if your wedding takes place in the low-season in your country, then you will probably receive your wedding video a lot quicker as the videographer won't be as busy.
Another caveat to take into account is winter weddings, especially around Christmas and the New Year. These can be very popular in some areas. There will be a two week period around Christmas and New Year that is actually busier than the busiest time of the summer or high season. 
Therefore, if you want to save in all aspects of your wedding from a financial perspective, then booking a low-season wedding will not only save a lot of money but also reduce the wait-times for your wedding video and photo album.

How busy is your videographer?
How busy is your videographer? This can have a dramatic influence on the length of time it takes to receive your video. If he has 50 weddings this year, I guess that it will take at least three months before you see your video, that is if he works alone.
How Experienced Is Your Videographer?
Is this your videographer's first wedding or has he done hundreds? An experienced videographer may have his editing process down to "Tee" which will greatly speed up the delivery time.
However, sometimes these experienced videographers have lost their love of the work and will have a template that may be jaded and like every other wedding video on the planet. 
Sometimes, inexperienced videographers with a creative flair can make a unique video that will break the mould, and the love of their work is very evident. This will probably be a lot cheaper, but this is important it could be a disaster. Make sure he has some camera skills and ask for other projects he has shot like short films etc. The delivery time could be longer because it is his first time to edit a wedding video.
How Elaborate Is Your Video?
Wedding videos vary massively from one package to another and from videographer to videographer. If you order a package with all the "bells and whistles", then editing time can be at least a week of full-time editing, five to 10-hour days or more. 
If you go for a simple documentary edit with no music videos etc., then that could probably be edited in one day.
High-end videographers put a lot of work into unseen elements like colour correction, colour grading, noise reduction in low light shots and sound syncing and mixing, for example. There may be a pre-wedding shoot, trailer which is 3-5 minutes, a 20-minute edit, a full documentary edit and raw footage to contend with which has to be in a format which is watchable by the couple. This can all take a lot of time.
What's Written In The Contract?
Most legit wedding videographers will have a contract that both you and the videographer sign. Be sure to read it thoroughly before you sign and see what is written down for the delivery time of the final product.
Most videographers edit the weddings in a queue like fashion, as in first wedding shot is the first wedding edited. You may be able to ask the videographer to speed up the process by asking to jump the queue, but this may cost extra.
Find the perfect wedding video company to help capture those special moments here. 
NB: Sometimes, your videographer must have enough time to make your video as good as it possibly can be. So if he has started editing, it is best not to put too much pressure on him as the video may suffer.
Was There A Legitimate Excuse?
Is there a legitimate excuse why the video is taking so long? Did the videographer get sick and that has delayed the process? Did his house burned down or has someone close passed away lately? You never know. Sometimes life gets in the way of the best-laid plans, so it is best to be patient and let them do the best job possible that your special day deserves.
Editing
Many videographers work around the fact that most couples go on a honeymoon immediately after their wedding. The average honeymoon period is eight days, but many couples will set aside up to two weeks or more to recover from their wedding antics!
So, be sure to discuss the time frame and your expectations when booking your videographer. It is important that you and your chosen videographer are on the same page to avoid any confusion or disappointment.
How long will it take my wedding videographer to finish editing my DVD?
With you and your new spouse on honeymoon, your videographer has the perfect opportunity to work on your special video without distraction. We're all guilty of a little email now and again, aren't we? "How's the video looking?", or, "When do you think we'll receive the final edit?"
Making a good-quality wedding video is a long process with many stages of editing. We have outlined the basic schedule that most videographers will follow when creating your DVD.

Uploading
Depending on the format and amount of your wedding footage, the videographer will very likely spend a portion of the day after your marriage uploading the captured film to their computer. For your peace of mind (and theirs), they will back up all of the content multiple times. Phew!
Sorting the wheat from the chaff
Your videographer will break down the footage of the day into several clips. From here, they will sort out what can be used and in what sequence for your final film. It's a long, thought out process, with attention to detail being key. Put your trust in your videographer and allow them to work their magic. Besides, you booked them!
How long will it take my wedding videographer to finish editing my DVD?
The rough cut is a basic edit of your wedding, missing out transitions, complete titles and filters, and most certainly does not represent the final product. The videographer will include the vast majority of the useable sequences captured on the day, which will be narrowed down as they ascertain which clips you want to keep. Videographers will use these rough cuts as a basis from which to get vital feedback from you. This is a crucial stage, where you must ask yourself a few questions about how you want your wedding video to turn out:
Is there any particular style that you want your wedding video to match? Quick cuts, slow fades? 

Do you want your video to have a particular feel? Discuss this with the videographer.

Are you happy with the general order of sequence in which the clips of your wedding day have been organised?

Which clips are most essential for you to to keep? Are there some any clips that you would like removed?
How long will it take my wedding videographer to finish editing my DVD?
The videographer will provide the rough cut either in DVD format, online services such as YouTube or Vimeo (if this is the case then the video will probably have to be split up into multiple parts), or even presented in person. Discuss on booking your videographer their preferred method of working, so you are both on the same page.
This is a process that depends to an extent on the lifestyle of the videographer, or the volume of clients that the videography company has to deal with! Expect a wait of between 2-3 weeks for your rough cut to arrive.
Cut or not?
Once you have shared your feedback, then it's down to the videographer to get on with finalising your product! Some videographers will come back later with a second draft, perhaps this time with some basic DVD menu functions in place. Others will just plough on and create the final DVD for you. This will probably take between 1 or 2 weeks. Remember, good things come to those who wait! Looking for a Wedding Photo Company? Look no further. Vogue Ballroom has compiled an ultimate list of wedding photo companies to help you choose. 
Providing music
If your videographer has a licence to include music on your wedding DVD, then they may ask you for a list of preferred songs to play in the background. Expect to provide slow and romantic songs for the ceremony and first dance, then some upbeat music for everything else!
How long will it take my wedding videographer to finish editing my DVD?
We have a little advice for when you are selecting your wedding video music playlist: ensure it is as close to the tracks that were played on the big day as possible. Chose classic songs to ensure you don't tire of them and, lastly, ensure the music is emotive and means something to you and your other half.
The big viewing
Finally, you're home from the honeymoon, bronzed, relaxed and excited to start the next chapter of your life together. You push open the front door to find a small, perfectly formed package from your videographer lying on your doormat. Well, pull up a pew, pour a brew and sit back and enjoy! You could even invite friends, family and the wedding party over for an exclusive viewing. What a brilliant welcome home!
How long will it take my wedding videographer to finish editing my DVD?
Moving forward, your wedding video will most likely become a key part of your anniversaries, reminiscing at the wonderful memories over a shared bottle of wine and some delicious food. A wedding video is a must-have for your big day. Add it to your wedding budget spreadsheet now we mean it, NOW!
The whole process can take just under a month to complete, depending on the videographer involved. But throughout this whole process, you have to remember that it is your wedding video, and it is advisable to communicate fully with your videographer in order to arrive at a finished product that you are completely happy with. Just bear in mind that your videographer ultimately understands their limits in a given time frame.
Editing wedding film takes some time. Think of it as a movie. There are hours and hours of footage, but not everything makes the final cut. It needs to be finessed in a way that the final wedding video documentary is everything you want it to be.
A Creative Outlook
Our trained eye and the way we creatively interpret your story is going to take a little time. We know that you "can't wait to see the film", but it takes 15-25 weeks to put together your final product. At least it's something to look forward to after the wedding. We allow this time frame to ensure that all couples get the top-notch wedding film of their dreams. Being proud of the work we do is just a perk of our business. It is truly personal movie making at its finest.
What To Know More About the Editing Process of Wedding Film?
Editing a documentary film is a lengthy process. We use the same variety of techniques that most documentary editors use. It helps to weave your entire day into one cohesive film that follows a logical progression that the wedding videographer has carefully shot. Plus, it will be entertaining and fun for you to watch, over and over again. Your wedding film isn't the only one we are working on, so be patient with us to make sure your final product is exactly what you want. A treasured memory comes to life.
We highly recommend a documentary edit of both your wedding ceremony and your reception. That means you will have a complete video of your wedding ceremony – from beginning to end, and a complete video of your reception – all the speeches, toasts, and special dances in one long video. The documentary edits are really for the couple, closer family/friends, and essentially, anyone who didn't make it to the festivities.