Fresh off your engagement, you're probably ready to book a venue, secure a wedding planner and buy a dream dress. But before you tackle any of that, there's one major question you have to address: who pays for the wedding?
The lines of who pays for what when it comes to weddings these days are blurred. First of all, we have to throw out the disclaimer that there is no official ruling regulating financial responsibility. Traditionally, we probably all know that the bride's family foots the majority of the bill, but that's not stopping modern couples from spending their own savings to have the wedding they want. 
Building your wedding budget is one of the most important and challenging things to do, but taking the time at the forefront of planning can be one of your most excellent aids along the way, according to Alicia Fritz, A Day's owner in May Events. Budget conversations should begin at the same time that guest list and venue discussions start. Most couples do not draw a correlation between their budget and their guest count, but understanding your 'cost per guest' early on will allow you to make better budget-aligned decisions, especially when reviewing vendors whose fees are independent of the guest count. 
Whether it's their second marriage or they want independence from their parents, many modern couples choose to take on all wedding costs on their own. In some situations, it's also possible that their parents aren't in a place to help out at all. "More couples are hosting their weddings, or a portion of the day, than in years past. For the clients, we do not see that it's based on control of the day, but rather it's the choice, or success, that they have had to invest more in areas or aspects of their day that means more to them versus their parents," Fritz says.
Rather than following tradition verbatim, a three-way split among the couple and family members is another contemporary payment plan option to take into consideration. It's a rare situation, but if that works for everyone, that's an easy way to do it. What's most important is to strike a balance that works for all parties involved. Since the landmark 2015 U.S. Supreme Court ruling recognizing same-sex marriages, more LGBTQ couples than ever before reported having increased parental involvement. However, most LGBTQ couples in the United States still pay for their own weddings entirely out of pocket. 
Whether you (or your parents) want to stick to tradition or you're just interested in knowing the traditional breakdown of costs, you should know that there are some very strict delineations. Ahead, we outline precisely who should front which finances, according to age-old customs.
Traditional weddings have explicit roles for a groom and a bride and each of their families. Etiquette dictates which side pays for which events and items and who is responsible for each wedding-related task. While many modern couples don't abide by these rules (for example, some teams pay for their wedding themselves, and others divvy up expenses based on who wants to or can pay), it's still helpful to understand them. They might even be a great place to start when dividing up your wedding budget and things-to-do list.
Consider Who Traditionally Pays for the Wedding
Traditionally, the bride's family assumed most of the financial costs associated with a wedding, including the wedding planner, invitations, dress, ceremony, and reception, according to Lizzie Post, co-host of the Awesome Etiquette Podcast and great-great-granddaughter of Emily Post. "It's harder to think about this now, and I am a feminist, but historically it has to do with the ancient practice of a bride's family giving a dowry to the groom's for assuming the 'burden' of a bride," she says. "In Victorian times, that changed a bit to giving a trousseau, which was a year's worth of clothing and home items in addition to paying up-front costs."
The bride's parents also traditionally hosted the engagement party. The bride herself was responsible for the wedding flowers, bridesmaid gifts, the groom's ring, and a groom's present.
The groom's family traditionally paid for all costs associated with the rehearsal dinner and honeymoon, wedding day transportation and the officiant. That came with a string, in that the groom's parents typically then chose the officiant, as well. The groom paid for the bride's engagement ring, wedding ring and groomsmen gifts.
Since talking through how to divvy up your wedding budget fairly between you two and your families, you may have tossed around the traditional way of splitting costs where the bride's family pays for the majority of expenses, from the engagement party to the rental linens covering the reception tables. First of all, you'd be far from the only couple to do so. The Knot 2017 Real Weddings Study revealed that tradition still rings pretty true in this department: On average, the bride's parents contribute 45 percent to the overall wedding budget, whereas the groom's parents contribute 13 percent—but what exactly is the groom's parents' responsibility?
The Bride's Family
Even though this rarely applies these days, it's interesting to note all the costs expected of the bride's family once upon a time. Think everything from invitations and stationery (with the exception of rehearsal dinner invites) to accommodations for bridesmaids. Also included are obvious things like the wedding dress, accessories, and hair and makeup. Nowadays, perhaps a sweet grandmother offers to purchase your gown, or maybe you're paying for it on your own. The bride's family also pays for big-ticket items such as a wedding planner, the bachelorette party, and ceremony reception costs (music, guest favours, rentals, etc.).
"While some couples do prefer to honour the tradition for which family pays for certain items, we open the discussion to our couples without the pressure of 'following suit' and what it means to follow tradition for tradition's sake versus what the family is comfortable with," Fritz says. "Hosting weddings in the current times are much different than they were when traditions like payments were established."
Traditionally, the bride is only solely responsible for paying for the groom's wedding band and wedding gifts for her bridesmaids. However, there are many wedding costs (everything from a coordinator to flowers and décor) that are often shared between the bride and her family. With monetary contribution comes control in the planning of your nuptials. Determine who has the final say by addressing expectations from the start. "You cannot assume that because parents are gifting money, that financial contribution does not come with a stipulation," Fritz says. "It would be a shame to have hurt feelings or mixed messages if there was an expectation for 'control', but it was never given," she adds.
A word of advice to fellow brides: "If you are setting a budget, then set the budget. Don't set a low budget to try and skimp on things that you know you are going to spend more on later," Fritz says. "Be realistic. Make certain that you keep in mind the direct correlation between the number of guests and the overall spend—the more people, the more the wedding will cost. That is not the case for every aspect, but if you are working with a budget, this is something you must keep in mind. Do not willingly put yourself in debt for your wedding. You have your whole life in front of you. Get creative, and you can do more with less!
Traditionally, the bride and her family are responsible for paying for all wedding planning expenses, the bride's attire, all floral arrangements, transportation on the wedding day, photo and video fees, travel and lodgings for the officiant if he comes from out of town, accommodation for the bridesmaids (if you have offered to help with this expense), and all the costs of the reception. The bride personally pays for the wedding flowers and gifts for her attendants, the groom's ring, and a present for him.
The Bride's Family Is Responsible For:
Engagement party

Wedding dress (including veil and any accessories)

Wedding planner/coordinator

Invitations/stationery/save the dates/wedding programs

Photography/videography

Transportation/accommodation for bridesmaids

Pre-wedding parties

Ceremony/reception

Flowers/décor

Wedding cake

Morning-after brunch
The Groom's Family
The groom's parents are expected to pay for the marriage license and officiant fee, the rehearsal dinner (including the venue, food, drink, decorations, entertainment—and yes—the invitations, too), and accommodations/transportation about the groom's family and groomsmen. The groom and his family would traditionally plan and pay for the honeymoon, but nowadays, the planning and budgeting is generally more collaborative—and even crowd-funded. Some couples set up a place at their reception for guests to throw in some fun money towards their "honeymoon fund," while others add honeymoon costs—ranging from airfare segments to honeymoon activities and experiences—to an online honeymoon registry.
This is based on tradition, and the list can be cut or expanded based on the couple's preferences and financial situations. With that being said, a lot of people find comfort in following the formula, said McKee. "Most of our clients stick to this tradition," she said. Others tweak it a bit. "Sometimes the groom's family will just pay for the rehearsal dinner, and that's all, and in that case, the bride's family just handles everything else," she said. "I've had some brides who didn't want to mention the groom's expenses to the groom's family at all and decided to pay for all of it unless they came to them and offered or asked what they were expected to pay." 
Precedent proposes that the groom purchases the bride's engagement ring and wedding band. As per tradition, the groom is also responsible for covering his attire's cost—whether he buys or rents—but it's not uncommon for the groom's family to pitch in. Lastly, the groom is expected to pick up the tab on any gifts to his groomsmen and the bride.
Bride's Rings
By the time a wedding rolls around, the groom has already bought and gifted a beautiful engagement ring to his bride-to-be. The groom (or his family) is also charged with buying the bride's wedding ring that she will be given as part of the ceremony. Even when a couple chooses the ring together, the groom generally picks up the bill.
Groom and Groomsmen Attire
Whether the groom and his groomsmen are buying new tuxedos or suits or renting for the occasion, his family is traditionally responsible for paying for that outfit (Note: In many modern weddings, the groomsmen pay for their own outfits.)
The Groom's Family Is Responsible For:
Honeymoon

Marriage license/officiant fee

Rehearsal dinner

Bride's bouquet, boutonnieres, and corsages

Transportation/accommodation for groomsmen

DJ/band and liquor/alcohol for wedding reception
Who Pays for What in a Wedding in 2021?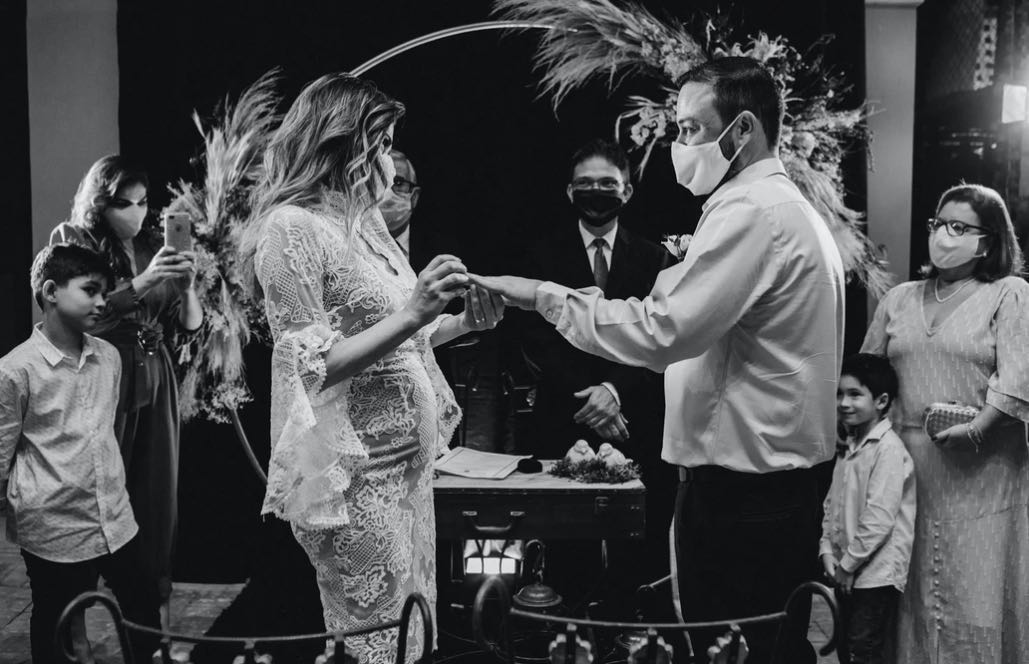 Before we jump into the traditional breakdown of who pays for the wedding, let's take a look at how things stand right now. According to the 2020 WeddingWire Newlywed Report, parents pay for 52% of wedding expenses, while the couple pays for 47% (the remaining 1% is paid for by other loved ones)—so parents are still paying for a majority of the wedding. However, couples are chipping in reasonably significantly. This does vary based on the age of the team. Younger millennial couples (those born between 1981 and 1996) pay for less—42% of the wedding expenses, while parents pay for 56%. On the other hand, Gen X couples (those born between 1965 and 1980) pay for 78% of wedding expenses, while parents only pay for 20%.
The who pays for what breakdown also varies for LGBTQIA+ couples, who pay for 61% of wedding expenses themselves, while their parents pay for 37%. 
And if it's a couple's second wedding, they'll most likely foot the bill themselves, paying for 88% of wedding expenses, while their parent's chip in for 10%. 
From a wedding etiquette perspective, remember that money equals control—whoever pays for the wedding can take an active role in decision-making. This means, for example, that if your parents are paying for a good portion of the event, they should have a say in the guest list, wedding venue and vendor selection, and more. They'll also be listed as the hosts of your event on the wedding invitation.  
Financial Contributions to Your Wedding Can Come with Strings
If your family helps to foot the bill significantly, you might find yourself in tricky situations where they insist on their way rather than your way. If you can foresee that happening, you may want to consider taking care of the expenses yourself. You'll be far calmer having the wedding you want on your terms, even if you ultimately end up scaling back the festivities. 
Don't Go There
Starting out thousands of dollars in debt is a great stress for a newly married couple, who may still be paying off college loans or planning for a family. If your son or daughter is considering taking out a wedding loan, do everything you can to discourage him.
Only when you learn how much money each family and the bride and groom can chip in can you know what kind of wedding to begin planning.
Don't feel bad if you're a bride's parent and can't afford to pay for the entire wedding. Very few people expect that anymore. And don't offer to pay for something you can't afford. There's no law that says every wedding has to cost more than $15,000, $10,000, or even $5,000.
Some couples, or their families, decide they must pull out all the stops for a wedding. They want nothing but the best, even if they can't afford to pay for it. To facilitate their dreams, they take out wedding loans.
Companies that offer wedding loans, such as the MBNA America Bank, will tell you that it's great to take out a loan, so you can have exactly the wedding you want. Information on MBNA's Web site (where you can apply online for a loan) tells the bride to go ahead and order beef for her guests instead of chicken. She should get that designer gown, MBNA says, instead of buying one off the rack. As you can imagine, there's a catch involved, and it's a huge one.
The small print at the bottom of the ad tells you that MBNA will set your interest rate between 12.99 percent and 27.99 percent, depending on your credit rating. We'll let you know right now that anyone who takes out a loan for a wedding at nearly 28 percent interest is crazy. She'd do better to charge the whole thing on a credit card and pay it off over time.
If you feel you absolutely must take a loan to pay for a wedding, don't even think about a wedding loan. Look at a home equity loan instead, for which the interest rate would be much lower.