Truth: People love brunch nearly as much as they love weddings. So, it makes sense that it was only a matter of time before couples combined the two to create the ultimate wedding bash. But, on the other hand, maybe you have your heart set on a church that only performs morning ceremonies, or you and your fiancé(e) are just not big on the drinking and dancing part of traditional receptions.
Solid brunch foods are waists, bagels, frittatas, omelettes, fresh fruit, doughnuts, and croissants.
Classic breakfast staples like bacon, smoked salmon, and scrambled eggs are always popular choices, but a brunch wedding opens itself up to fun items; consider having an omelette or waffle station, mini breakfast sandwiches, a cereal bar or French toast dippers.
Who gets invited to an after-wedding brunch? If your budget allows it and you want to invite all your wedding guests, awesome! But it's by no means necessary or expected. However, your immediate family, grandparents, and the wedding party (and their plus-ones) should receive an invite as a rule of thumb.
And some people ask: are brunch weddings boring? Or are brunch weddings tacky? And the answer on both counts is no. with a morning wedding, you have the flexibility to make it as casual or as formal as you wish. You have less time to keep your guests amused with a shorter timeline.
However, a morning wedding is a great way to shave a little off that final bill! Whether you go for a quick continental breakfast or a full-blown brunch spread, serving breakfast food at your wedding will always be cheaper than a lunch or dinner menu.
Your Day Will Start Early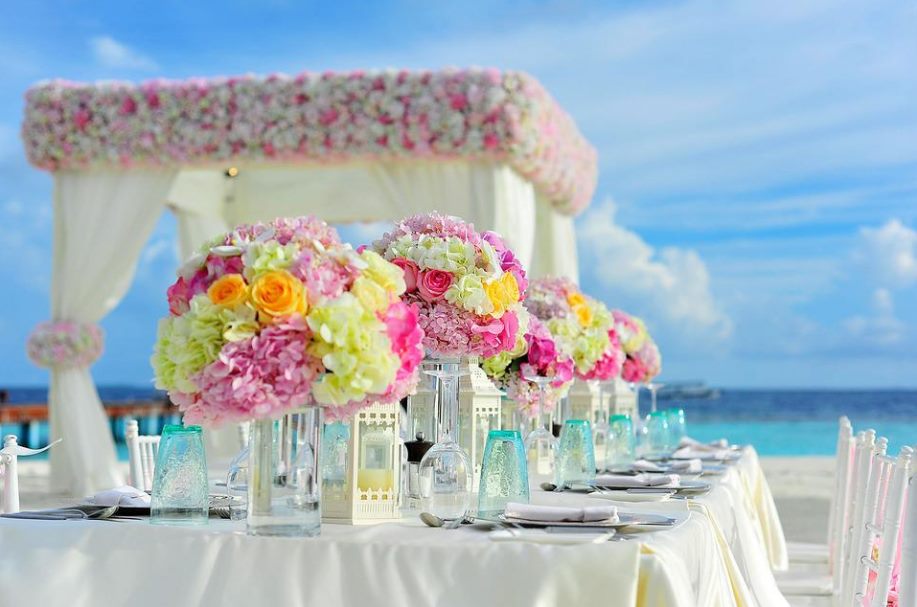 Day-of wedding prep is no joke: Hair, makeup, and final touches will take hours, no matter how you plan to walk down the aisle. If you're interested in a brunch wedding, consider talking to vendors ahead of time to estimate timing: How long will your hairdresser need to style you and your bridesmaids with different hair textures? Does the makeup artist want everyone's hair done before starting? Is it possible for the venue (including the church, if that's in your plans) to set up everything but the flowers and food the night before?
If not, how much time—and workforce—will it take to kick things off before noon? Depending on the details of your big day, you might be working with a tight schedule that starts before the sun is up. Preparing for the wedding day is not a joke: hair, makeup, and finishing touches will take hours, no matter how you want to walk down the aisle. If you are interested in a wedding brunch, you should talk to the suppliers in advance to get an estimate of the calendar: how long will your hairdresser have to style you and your bridesmaids with different hair textures? Does the makeup artist want everyone to comb their hair before they start? Is it possible that the place (including the church, in your plans) will put up everything except flowers and food the day before?
Otherwise, how long — and how much work—will it take to get started before noon? Depending on the details of your big day, you could be working with a tight schedule that starts before sunrise.
Some Guests May Not Be Able To Attend
The morning hours pose a challenge for guests who tend to work weekends. "You know your guests," says Tracie Domino, founder and creative director of Tracie Domino Events in Florida. "If your guests all own their businesses and have to work Saturdays, it might be challenging for them to get there." So consider your crowd before settling on a brunch wedding—or at least be prepared to receive a handful of regrets. 
Tracie Domino is the founder and creative director of Tracie Domino Events. Domino is based in Florida and has 16-plus years of experience in the industry.
You'll Have Less Time With Family And Friends.
Sometimes the pre-wedding festivities can feel just as special as the reception: sipping mimosas during hair and makeup, distributing gifts for your 'maids, and taking the "getting ready" photos that might feel silly at the moment but will be some of your fondest photo memories. If you opt for a brunch wedding, it's still possible to have these moments, but it's tough to stop and take it all in when you're crunched for time. You might also swap out pre-wedding mimosas for coffee or caffeinated tea—after an early wake-up call and super-busy morning, you don't want to be yawning at the altar.
The Reception Will Be More Casual
A brunch wedding differs from an evening event in more ways than just the time of day. For one thing, "no one's wearing sequins at 10 a.m.," Domino says. A brunch wedding tends to feel more like a garden party or a co-ed bridal shower, which could be something your guests look forward to. "It's fun to make a fashion show's brunch event," Domino says. The gentlemen can pull out the seersucker suits, brightly coloured pants, and playful bow ties they rarely have a chance to wear.
Your Décor Should Match The Brunch Wedding Vibe
For those of us who've kept a mental wedding inspiration board long before Pinterest existed (you know who you are), it might be tough to rethink colour schemes, flower choices, and gold trim on the flatware. But because a brunch wedding is generally more casual, it's important to consider the ways décor details can reflect that: Instead of billowing floral centrepieces, use wildflowers in mason jars; or have your caterer set up a food bar instead of a sit-down meal or traditional buffet. Casual décor options are different but just as endless as formal ones.
You'll Save Money On Some Things But Not Everything.
A brunch wedding is a simple way to stick to your wedding budget while ensuring it's an event to remember. "If you have a traditional brunch menu and not elaborate, it should be substantially cost-saving over a multi-course dinner," Domino says. You'll save even more by opting for mimosas or a Bloody Mary bar over a full open bar and choosing a casual wedding dress and simplified décor to fit the event's tone. "Flowers, linens, and décor, it depends what you pick, but no one's expecting a crystal chandelier at 10 in the morning," Domino says. Still, the cost of some things won't budge, such as your wedding planner, photographer, band or DJ.
This Will Impact The Food Choices, Perhaps More Than You Think
A few things may come to mind when you hear "brunch wedding" (pancakes, waffles, and mimosas, anyone?). But you might not have thought about this: Brunch may be fun, but brunch food is serious business. And choosing a spread that's got something for everyone is no easier at brunch than at dinner. Not to mention, it might be a good idea to rethink your cake preferences. While layers and layers of fondant and icing are beautiful and perfect for the evening, most people won't be interested in that at the end of brunch, especially if they've just had three servings of chicken and waffles.
Consider a smaller cake in a lighter or breakfast style—angel food, coffee cake, and crepe cakes come to mind, along with the ever-popular doughnut offering. If you're still somewhat traditional in this area, have the baker make a small, one-tier wedding cake to eat on your wedding anniversary.
You Shouldn't Expect A Wild Dance Party.
"People who would normally have a few cocktails in the evening and dance might find that strange at brunch," Domino says. But, on the other hand, it may be music to your ears if you and your fiancé(e) are generally dragged onto the dance floor against your will. "You can have what you want without thinking all of your guests are doing something you wouldn't even do," Domino says.
You'll Need To Make A Plan For What Happens Next.
When the reception ends, "you just don't want your guests staring at each other like, 'Now what?'" Domino says. You have two options: First, you can keep the party going by transitioning from brunch to another activity, like relaxing in cabanas by the pool. Or, you can signal the party's over by jetting off on your honeymoon and leaving guests free to spend the rest of the day however they'd like. Consider setting up a city tour or including other activity suggestions in the welcome bags. "Happy wedding guests are informed wedding guests," Domino says. "As long as they know what's going on, they will be fine and enjoy it."
Trendy And Fun Wedding Brunch Ideas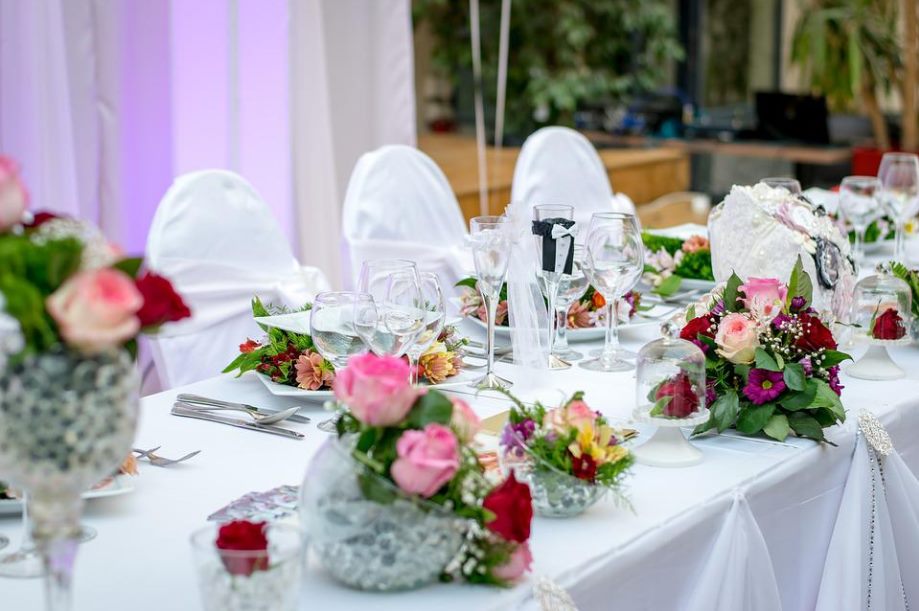 The Timing
According to Kristin Doggett, co-founder and creative director of Bellafare, a boutique event and wedding planning company, brunch receptions are typically scheduled between 11 a.m. and 2 p.m., with the ceremony happening right before. Doggett recommends walking down the aisle no earlier than 10 a.m. since not all guests will love the early morning wake-up call. To make sure everyone feels comfortable and welcome, set up a coffee cart, pastry trays, or other treats to "ease guests into the morning," she says.
The Venue
Brunch weddings are typically smaller and more casual than evening celebrations, so the bride and groom can be flexible with the venue. Popular locations include gardens, greenhouses, an outdoor patio at a restaurant, or your backyard, says Doggett. Something rustic and picnic-esque works well for an early afternoon party, which will make the event feel like a traditional BBQ. A word of advice: Before booking a venue, visit it during the scheduled time of your reception. Please make sure the shadows and lighting lend themselves to good morning photographs. Also, look into the venue's other events on your wedding day. According to Lindsay Landman of Lindsay Landman Events, "Unless you're doing it at home or at a venue with no time restrictions, a daytime event has to end at a certain time. There's a high likelihood the venue has scheduled an evening event."
The Dress Code
Although the bride and groom make the final call on the dress code, morning wedding ceremonies and brunch receptions are inherently more casual. A floor-length gown or fancy cocktail dress would look strange before noon. Doggett says a safe clothing choice would be a floral sundress for women and slacks with men's shirts. Even the bride might don a more relaxed gown with a shorter length, minimal train, or casual fabric. Men tend to wear lighter coloured suits for daytime ceremonies, although Landman stresses that the dress code depends on the couple's preference.
The Drinks
Since most guests will drink less at brunch receptions, a full open bar isn't necessary (but it's acceptable if the couple wants one). Instead, a couple can serve typical brunch-style cocktails, like mimosas, Bloody Marys, screwdrivers, and sangria. Landman suggests having a Bloody Mary bar or a "bubble bar," which offers different types of champagne with berries.
Make sure to have drink options for guests who don't want alcohol so early in the day. Consider having a coffee or iced tea bar, espresso shots, a lemonade stand, or a juice and smoothie station. Also, cutting down on hard liquor at your reception is a great way to save money.
The Menu
At a brunch wedding, brides and grooms can get creative with the menu. Guests probably don't want a hearty meal only hours after waking up, so instead, serve a light buffet with a mix of different breakfast and lunch foods. Classic breakfast staples like bacon, smoked salmon, and scrambled eggs are always popular choices, but a brunch wedding opens itself up to fun items; consider having an omelette or waffle station, mini breakfast sandwiches, a cereal bar or French toast dippers. The lunch items can be similar to finger foods at an evening reception. "Some of the popular things at night can still work in the morning," says Landman, mentioning sliders and chicken fingers as good options.
Instead of a buffet, the bride and groom can also choose to have a sit-down meal. However, the menu items should still reflect the brunch atmosphere. "Usually for a brunch meal, if there are two entrée options, we tend to do one that is breakfast," says Landman. "And something that tends to be a little more punchy, like a light chicken dish or a light fish dish."
The Cake
No matter the time of day, a couple should have a traditional wedding cake if they want one. However, if you want something a bit more non-traditional, you can also choose to serve a breakfast-friendly dessert. Angel food, fruit, and naked cakes (served without frosting) are lighter options. More creative treats include doughnuts, a waffle or crepe cake, and a pastry tower.
The Music
Brunch receptions typically feature less dancing than evening celebrations since it's hard to get a rowdy dance crowd before noon. But music is still a necessity. "Small-piece live music is a more fitting option," says Doggett, who suggests "more casual entertainment than a 10-piece band." Consider hiring a Bluegrass band, string quartet, or jazz band, which are more fitting for the time of day than a loud DJ. Of course, couples can still have a first dance, mother-son dance, and father-daughter dance.
The Festivities
Since an early celebration probably won't centre around dancing, the couple needs to plan other activities to fill the time. Doggett suggests having lawn games, like bocce ball, croquet, cornhole, and horseshoes. But, like a fun photo booth, most typical wedding reception festivities will be just as fun at noon as at midnight.
The Budget
One of the benefits of a brunch reception is the reasonable price tag. Venues may reduce rates because your event isn't during "peak time." In addition, eliminating the full bar and band cuts down on additional costs. You'll also save on food since breakfast fare is cheaper than traditional dinner options like steak and seafood.
Other Considerations
Besides the reasonable budget, brunch weddings have many other perks. For example, the natural morning lighting makes for great pictures, and the photographer won't need to take grainy nighttime shots. In addition, since the reception will end at 2 p.m. or 3 p.m., you'll have the rest of the day. Take advantage of this extra time to prepare for your honeymoon, have dinner with your new husband, or plan an activity with your family. Plus, "you don't need to sleep for three days following your wedding," says Doggett.
Above everything else, make sure to embrace your brunch reception. Landman advises not to pretend the event is an evening ceremony, where you'll dance until the wee hours of the morning and ride off into the darkness. Instead, take your wedding for what it is, and you'll create lasting memories for years to come.
Conclusion
So, if you're considering a brunch wedding reception, be sure to keep the following in mind. First and foremost, make sure that your guests will be able to enjoy the meal - no one wants an early morning feast filled with dishes they don't like! Secondly, plan to spend plenty of time preparing both the food and drinks menus beforehand. Finally, give yourself enough time for cleanup to relax and enjoy your special day!