Depending on the options your wedding venue provides, you may or may not be able to have much input in the timing of your wedding ceremony.
However, if you're lucky enough to be totally in control of what time of day you say "I do," you'll want to be sure to look at all your options carefully: morning, afternoon or night?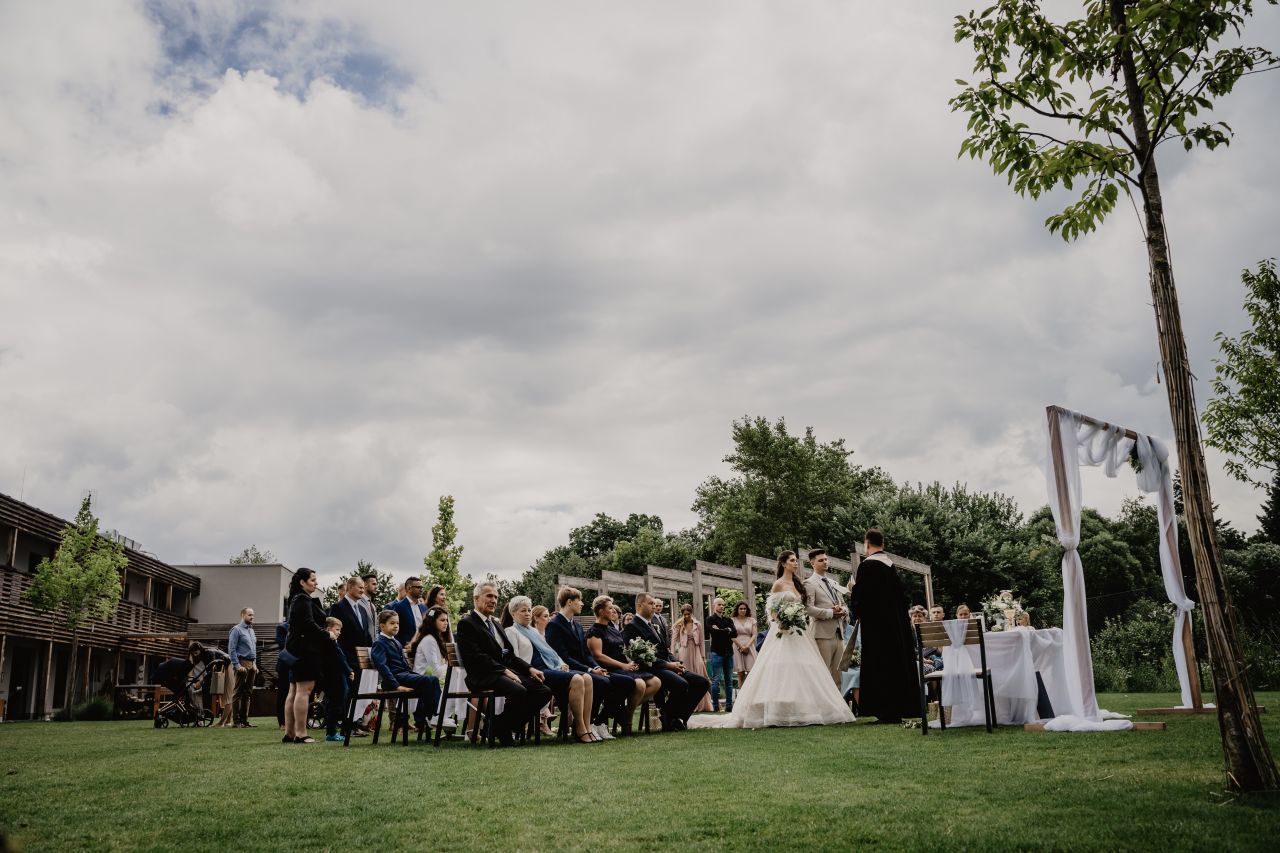 What Is the Best Time of the Day to Get Married?
When it comes to the time of the day to have your wedding ceremony, most couples choose a time between 11 am and 1 pm.
Historically, these have been the most popular times for wedding ceremonies. But you don't have to feel pressured to stick with tradition.
How about a romantic candlelit wedding, or a wedding at sunset? You can have your ceremony at any time of the day, but there may be a few things you will want to take into consideration before booking everything.
Choosing the Perfect Time of Day for Your Wedding Ceremony
Timing Is Everything
The time of day you decide to get married can have a big effect on the rest of your wedding day, even down to how much your wedding will cost.
Every couple wants their special day to last as long as possible, so they tend to have the ceremony in the late morning or early afternoon.
If you like the idea of a beautiful early morning wedding, you know that the flowers will be fresh, you will have plenty of daylight hours left for photographs, and if you are leaving for your honeymoon in the early evening it will give you enough time to enjoy the celebrations with your guests.
However, it could mean a more expensive day than if you had a late afternoon or evening ceremony
Planning your wedding day around an early morning service with a reception to follow could prove quite expensive in the long run as you will need to provide not only entertainment for your guests throughout the day but also food and drink.
You will need to contact the venue to see if they will be available for your guests at such an early time as it can take some time to set up the decorations and prepare the menu.
There have been changes in the law surrounding the time you can get married. This now allows couples to have their wedding ceremonies in the evening.
This is a great time if you want to get married and throw a party immediately afterwards. This time of the day has become more and more popular, with couples taking advantage of the darkness, having candlelit ceremonies and firework displays afterwards.
Things to Consider When Choosing the Time of Your Ceremony
One of the main things to take into consideration when choosing the time of your wedding ceremony is the time of the year it is taking place.
For example, if you are getting married during the winter months, you may want to have your ceremony around midday. The reason being is that there are limited daylight hours and the mornings and evenings are colder.
If you have your ceremony early or late in the day, guests may have a problem getting to your venue because of adverse weather conditions, and the dark evenings would make outdoor photography difficult.
Early morning weddings can be expensive, as you must cater for your guests all day.
Late afternoon and evening weddings are great if you are on a budget, or if you want something a little different.
Late wedding ceremonies have a more relaxed feel, ideal if you don't want to feel rushed and would rather enjoy a relaxed day getting ready for your wedding.
Figure Out How Much Time You'll Need for Pre-Wedding Activities.
Are you the kind of gal who can be ready for a night out on the town in 30 minutes or less?
Or, perhaps you're the type who doesn't like to rush and prefers to take her time with hair and make-up?
Determining how much time you'll need to get ready for your wedding is an important factor when choosing what time of day you want your wedding ceremony. If you know you won't need a ton of time to get ready, a late morning or early afternoon ceremony may work out just fine for you!
However, if you have a large bridal party or know you'll want to relax while getting your hair and make-up done, a late afternoon or early evening wedding ceremony is the best bet.
You'll also want to think about wedding photos and if you plan on having those done before or after the ceremony.
It may be difficult (but not impossible!) to have a late morning or early afternoon ceremony if you want to get all your family and group shots done before you and your groom say your vows.
Determine What Time of Day Will Work Best for the Day of the Week of Your Wedding Ceremony.
If you're getting married on a Saturday, any time of day generally tends to work for a wedding ceremony. However, Friday and Sunday weddings can get a little trickier.
If people are getting married on a Friday, they'll choose to have the ceremony in the late afternoon or early evening time.
This allows for guests to have more time to travel from work and be present at the wedding.
On the other hand, for Sunday weddings, brides often choose to get married earlier in the day so they'll have more time to spend with friends and family before guests have to head back to work.
Make Sure You Allow Enough Time After the Wedding Ceremony Before the Wedding Reception Begins.
A third factor in choosing the perfect time of day for your wedding ceremony involves considering how much time you'd like to have between your wedding ceremony and reception.
About 90% of the brides she works with go for a late afternoon/early evening wedding ceremony followed by a reception that starts at sunset.
These brides search their wedding date on Google to find out what time the sun is supposed to set.
Then, brides can work backwards, figuring in time for a cocktail party and photos between the ceremony and reception, to determine the best time for the wedding ceremony to start.
Wedding Timing Pros and Cons
An Afternoon Wedding
With an afternoon wedding, your time is going to be limited.
If your ceremony is scheduled for 2pm and you then host a wedding reception afterwards, before leaving for your honeymoon at about 6pm, that only gives you four hours to fit everything in; this should be more than enough time for a small, intimate wedding, but if you've dreamed of a big event you might find it all a bit of a rush.
If you have young children whom you want to be part of your big day, then they'll be at their best during the afternoon rather than the evening when they might become bored, tired and grumpy.
Because an afternoon event is shorter, you'll find it easier to stick to a tight wedding budget. After your ceremony you could simply hold an afternoon tea.
Apart from some fizz for the toasts, you can get away with serving cups of tea and coffee and soft drinks.
A vintage theme works really well with an afternoon tea and don't forget you can hire some really pretty china to add to the effect.
An afternoon wedding can open up your venue choices, too – you can hold an elegant affair in the conservatory of a stately home or country house hotel and maybe even have a string quartet playing as people arrive in the mellow afternoon light.
An Evening Wedding
Due to a recent relaxation in the laws surrounding the time you can get married, you can now hold your ceremony during the evening and then throw a party immediately afterwards.
If you fancy holding your event in a stately home or National Trust property, which normally only holds weddings outside of daytime opening hours, you may have the place all to yourselves. Talk to your venue about what's possible.
Don't feel you have to have a formal sit-down dinner if you're hosting an evening celebration. If you'd rather your guests mingled, then consider serving a buffet.
You can still have a table plan if you're planning on seating your guests, and how about trying a sweetie table instead of formally serving dessert.
If you opt for an evening wedding then you'll probably be having a DJ or live band to entertain your guests.
If that's the case, don't forget to have some sort of chill-out room for your guests who would rather sit, chat and catch up instead of dance.
They're going to need to be able to hear each other rather than have music drowning out the conversation!
Also, if you're having to clear tables away from the front to accommodate the dancing then think about where those guests are going to be sitting – particularly older ones.
You don't want people to leave early because they're uncomfortable!
Depending on the type of catering you decide on, an evening wedding may work out to be more expensive than an afternoon celebration as you're likely to be inviting more people, hence catering for them all.
If young children are attending, you may need to think about a quiet room where they can sit and watch on their iPad or have a nap.
An All-Day Event
An all-day event goes on for longer, which is lovely for you but you'll need to think carefully about your guests' wants and needs if you're entertaining them from lunchtime through to midnight.
Firstly, consider your budget. If you're holding your ceremony at 2pm then you'll need to offer your guests refreshments immediately afterwards, either a drinks reception or an afternoon tea.
For the evening event you're going to need to do the same again; greet your evening guests with drinks and canapés before an evening meal, whether it's a buffet, formal sit-down or something informal like a hog roast.
You're going to need to send out two different sorts of invitations – an invitation to both the afternoon and evening event for some guests and an evening-only invite to others.
Don't make your evening guests feel second-best. Greet them warmly; they're making the effort to attend your wedding, they've probably given you a present and you want them to have a good time.
If you can have a short break between the afternoon and evening event it gives everyone a chance to catch their breath – and it also gives you a chance to redo your hair and make-up.
If you're holding your evening do in a different venue, people can go back to where they're staying to get changed, freshen up and return invigorated for the evening ahead.
Children can be bathed and put to bed in the care of a babysitter so parents can enjoy an evening unencumbered.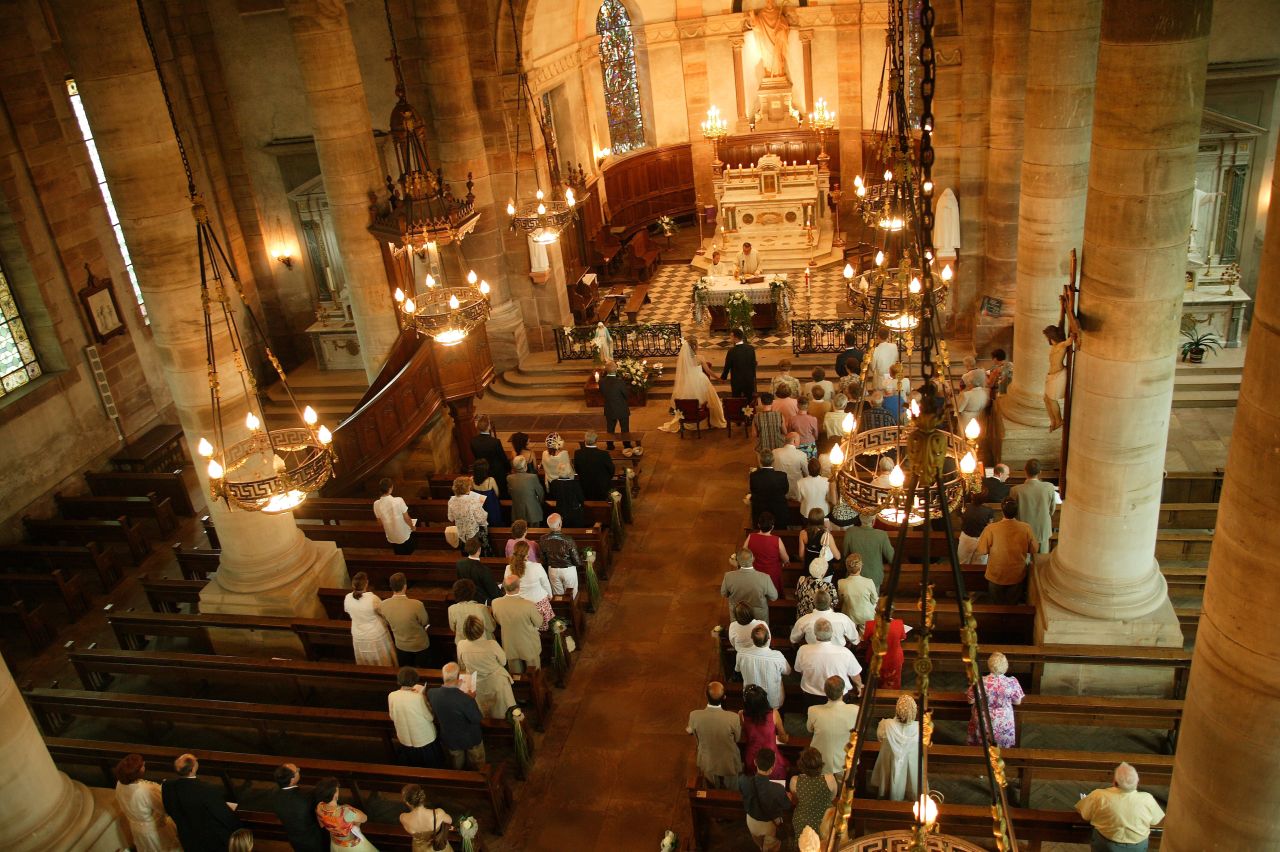 Factors to Consider When Deciding on Your Wedding Ceremony Start Time
Venue Restrictions: Timeframe Your Venue Allows You to Have the Rental Space.
This might be the most obvious, but there are brides who are surprised that their venue is not rented by the day, but by the time frame.
You will want to make sure that your ceremony time gives you plenty of lead time for getting ready (if you are getting ready at your venue).
Nature Restrictions: Time of Sunset.
You will want to ensure there is plenty of daylight left after your ceremony to accommodate family, wedding party and husband & wife portraits! This can vary from 1-2 hours.
How Long Will Your Ceremony Last?
Now that you know the sunset time, you will need to know how long your wedding ceremony will last. Some ceremonies are as quick as 7 minutes and others can last 1.5 hours.
Speak with your minister and discuss what traditions you will be performing during your ceremony. They can assist you in how long your ceremony will be.
Catering a Meal, or Hosting a Simple Cake and Refreshments for Reception?
If you are catering, you will want to consider the length of your ceremony, cocktail hour, and timeframe your guest normally eats.
This information will have a big impact on your ceremony start time.
If you are hosting cake and refreshments only for your reception, you will want to set a time that is not close to meal time.
Will You Be Doing a First Look or Having a Traditional Ceremony?
This will be a deciding factor in how much time is needed after your ceremony to capture photos of your full wedding party, your families, and bride & groom photos!
Considering if a First Look is right for you?
What Is the Average Age & Personality of Your Wedding Guest?
Do you have a young crowd? Ones looking for after wedding entertainment and a full on party into the night? Maybe a late afternoon or evening wedding would be best.
Or are your guests more interested in conversation and skipping out on the festivities? Do not overlook the idea of a brunch time or early afternoon wedding.
Do Your Wedding Guest Have Young Children?
If they do, and you really want them there; you might reach out with your ideal times and see what their thoughts are.Littles are in bed between 7-8pm. So taking them to an evening wedding would not work for us (as we do not want to be "those people" with the tired child crying as you exchange your vows).
Finding a babysitter might be ideal for families, but it is not always easy finding a sitter that is available to tackle bedtime. So if you truly want these families there, consider an early wedding time.
What Kind of Formal Wedding Send Off Would You Like?
Sparklers? Lavender? Bubbles? Rose Petals? Whatever it might be, you will want to consider how you want it to look in photographs!
Obviously, some things photograph best at night (sparklers) and other things photograph better in the day!
Keep in mind you can always have a formal send off walking down the aisle right after your ceremony! It does not always have to be at the end of your reception.
What Time Would You Like to Start Getting Ready?
Brides tend to start getting ready anywhere from 3-6 hours prior to their ceremony!
That may sound a bit extensive when you start pushing 6 hours, but when you figure in professional hair & make up, photographs of you, your wedding party, first look, and hiding away before guests arrive that 6 hour span seems to leave no wiggle room!
What Time Is Best to Have the Images You Want Captured?
Every wedding is unique so there is not a "one size fits all" wedding timeline!
We tailor fit your wedding day timeline so that we can capture your vision! It is always a great idea to reach out to your wedding photographer when you are finalizing your wedding start time!
If you set your wedding start time on your own, just remember that the one thing we can not control on a wedding day, is the sunset! We find it best to have a ceremony end no later than 1.5 hours prior to sunset.