You can plan, plan away 'til your heart's content. You can have the best team of vendors in place, a type-A maid of honor, an overachieving MIL, and a day-of coordinator who's as sharp as a whip. No matter how prepared you think you are, there are no guarantees for a no-mistakes, error-free wedding. It just ain't gonna happen (sorry!). Something ALWAYS goes wrong. Don't believe me? Read this.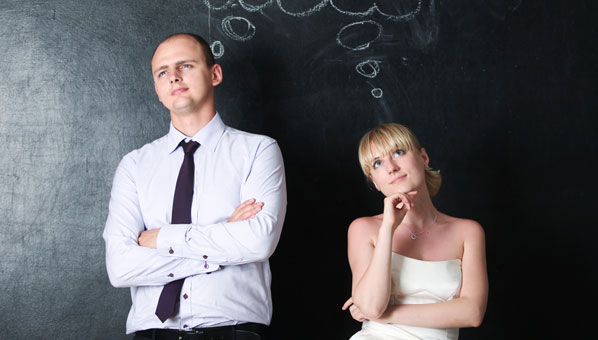 But the most on-their-game brides always have a Plan B (and C and D and E…). What is it? Hire a really stellar wedding planner. As one HuffPost Weddings blogger put it, "A good wedding coordinator is like great wedding insurance." Enough said. But in case you need a bit more convincing, let me elaborate. A wedding planner can make—dare we say—all your problems go away. She's your fairy godmother. Wedding planners are visionaries, they are budget mavens, they are master negotiators and all that jazz. But they're also the ones who have these David Copperfield-like tricks up their sleeve for fixing, well, pretty much anything! We spoke with wedding and event planner Amy Shey Jacobs, founder of Chandelier Events NY, and got the inside scoop on 13 things that may go wrong—and what a really crafty wedding planner would do about them. (It's your lucky day, we're giving away some best-kept secrets FOR FREE! So take notes.)
WHAT IF…
1. …there's a big 'whoops!' in the day-of timeline?
For starters, have a timeline. Wedding planners want a deadline not just for the day's events in general but very specifically for the production of the day (they'll map out when vendors are supposed to arrive, when the ceremony begins, when you are supposed to walk down the aisle, and so on). A timeline gives everyone involved a framework of what to expect. But we said it before, and we'll repeat it—there are just some things you cannot control. The weather, the traffic, an injury (hopefully not you or the groom). Your day-of schedule needs to have some built-in flexibility for circumstances beyond your control. "Weddings are living, breathing organisms," says Jacobs. "When planning your timeline, build in extra time, so no one panics when something goes awry." If something unexpected does occur, your planner will look at the schedule and figure out where to cut back and how to catch up without you, let alone any of your guests, even noticing.
2. …the ceremony gets rained out?
This is one of those instances where you need to "let it be." And any wedding planner will tell you-you must no-exceptions-must have a sunny day plan and a rainy day plan. Love your plan either way so you won't be disappointed when Mother Nature has her say. Too many brides fret that if their beautiful outdoor wedding is brought indoors, it will be less remarkable, less memorable. That's simply not true, says Jacobs. "Your wedding planner will make sure it's equally beautiful indoors or out. You do not want your guests' stilettos sinking into the grass. You don't want them toting umbrellas just for the sake of having your wedding outside." The easiest way to get your wedding topping the best-ever charts is to make sure your guests are comfortable, relaxed, happy. (And dry.)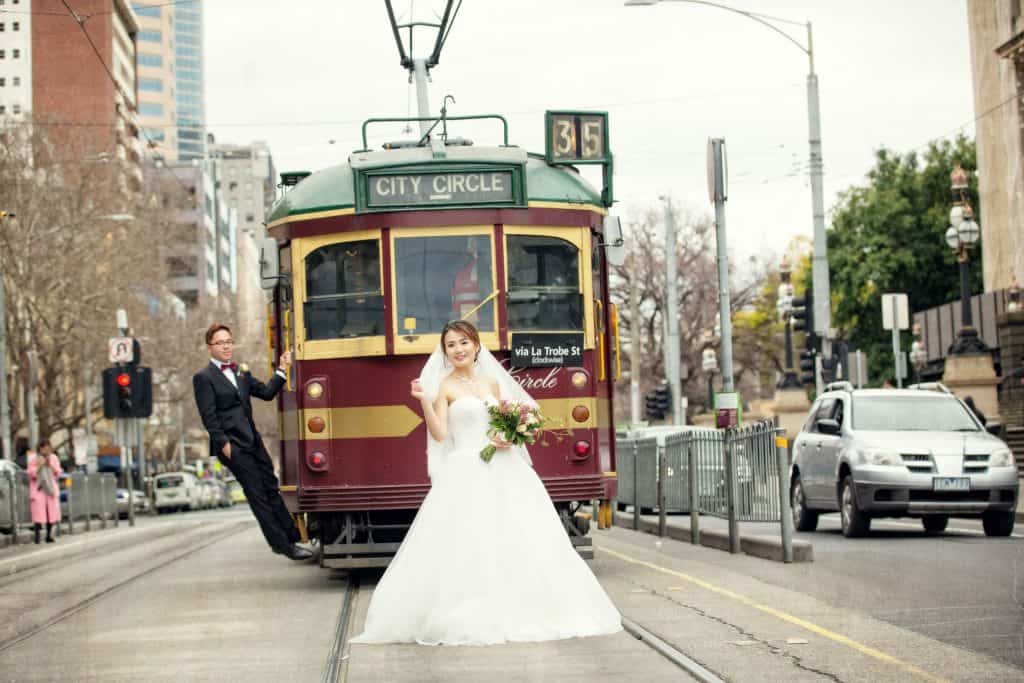 3. …there's a stain on your gown?
First of all, we'll say, we sympathize with you. Second, we'll say, where's that darn wedding-day Emergency Kit? Depending on the stain, use white chalk, Tide Stick, or club soda (that's been touted as working wonders). Whatever you do, DON'T RUB! Dab only. And at the end of the day, remember that you are (most likely) wearing a white gown. It's just screaming for a stain. Avoid red wine and chocolate and skip that one must-take shot if it means lifting your 50-pound gown over a pool of mud. But the best thing you can do to prepare for this mishap is asking your dress designer which stain removers are best for your fabric and then stock your emergency kit with some of those.
4. …the cake is late on arrival?
"Don't worry about it," says Jacobs. "The cake doesn't need to make a grand entrance until you want to cut it." But you REALLY WANTED to show-off your cake for the whole reception? We know you did. You (er, your cake designer) put a lot of time and effort into perfecting every sugary detail. But ce la vie. Worst things could happen. Have your wedding planner inform your photographer the second the cake is put on a table so that she can get a few stills of all its gorgeousness before it's wheeled into the room. Then put it on a rolling table and send it out for a big entrance before the cake cutting. "And if it makes a REALLY late arrival," says Jacobs, "ask the caterer or chef for boxes and send guests home with slices of cake. Cake for breakfast!"
5. …the sound system stops working?
It has been known to happen. Jacobs encourages brides to have a "power plan" laid out in advance. Will you need to bring in a generator? Are there outlets only in certain places of the venue? (Does this task sound as annoying to you as it does to me? Then, voila! Wedding planner, take it away, please.) "Often wedding planners will work with the venue director and schedule a meeting with the musicians on site ahead of the wedding day to assess power issues and sketch out a backup plan," says Jacobs. "But if the power does go out, have your band do a couple songs acoustic and have a good time with it. If your wedding is in a home, have an electrician on call so that if something blows, you already have them on your payroll to come to turn it all back on!"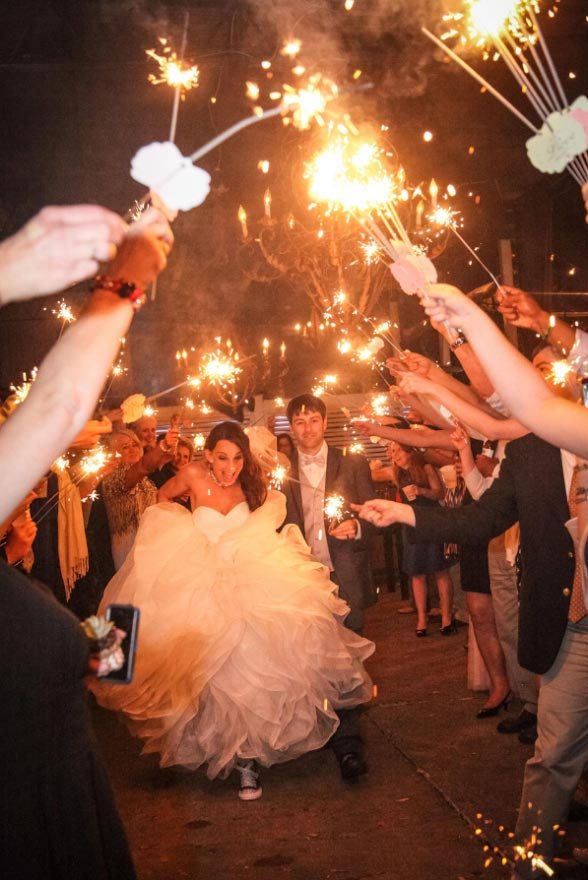 6. …your heel breaks?
Is this like good luck or something? Break a leg… break a heel… close enough, right? If your heel breaks, you could, uh, cut the other heel (I know it sounds blasphemous to me too, but it's that or ditch the shoes altogether). Really, the best plan is to have a backup pair of shoes. You might want these anyway as the night ticks on, and your feet are feeling tired and swollen. Choose something comfortable (a sandal, Converse, ballet flats) but make sure you love the look with your gown (just in case pair #1 is down for the count before the wedding even starts). "If all else fails," says Jacobs, "find a bridesmaid who has your shoe size. It's her call of duty, right?!"
7. …your friend shows up with an uninvited date?
This happens more often than brides would like to think (and p.s.—don't ever be this person). So let's just skip right over the "if" and say WHEN this happens, don't panic. But do let your wedding planner know immediately. "Be gracious and forgiving of their gaffe," says Jacobs. "And simply have your planner find a way to squeeze them in. This should not become a scene from Real Housewives of Beverly Hills." (Although we can't blame you if you duke it out after you return from the honeymoon.) "I always tell my brides if you plan on ordering special chairs, order 2-3 more; same for chargers, plates, etc.," adds Jacobs. On the flip side, last-minute cancellations happen too. Same rules apply. Tell your wedding planner immediately so she can shuffle things around with the help of the catering director. No need to stress the seating chart. If you have a table of 8 instead of 10, it's really no big deal.
8. …your officiant is late?
Of all the vendors, the officiant should arrive extra early to get the day off to a good start. "Then there will be ample time for any last-minute day-of rehearsals and preparation," says Jacobs. But to avoid any ceremony start time snafus, all brides should be putting the time on their invitations for at least one-half hour before the start to the actual ceremony. This allows a little cushion for guests to arrive. Have waiters pass around (non-alcoholic) drinks. Have your quartet playing while guests meet-and-greet. "If everyone is mingling and having a good time and not feeling pushed through a tight schedule, it creates a welcoming and refreshing environment," says Jacobs. Worried all this pre-wedding socializing will throw off your timeline? Re-read point #1.
9. …your makeup artist is a no-show?
"Mine was," says Jacobs. "So I know from experience, you need to have your arsenal with you just in case." Stock your bridal bag with your favorite streak-free mascara, a concealer, lip gloss. "Don't be afraid to apply your own makeup but stick to some basic rules," Jacobs adds. "Stay away from shimmer, for example. And don't apply too dark of lipstick as it could cause your lips to look black in black-and-white photographs." Once you have applied your makeup, call in your photographer to do a test shot (she may already be in the room snapping all your gorgeous getting-ready photos). A few test images will allow you to see if you've applied just the right amount to stand out and look FAB really.
10. …the florist sends the wrong flowers?
Florists are human, and although it may sometimes seem like it, they're not magicians. They can't make a wilted bloom spring back to life nor rescue a flower that got stuck in customs. They're amazing innovators through and will know just how to resolve almost any problem. So don't freak out if the shade of your bridesmaid bouquets is slightly off (we're sure they're still stunning). Or if your centerpieces have fewer peonies, more ranunculus than you agreed to. No one's out to get you. No one's trying to pull any wool over your eyes. It's just a simple case of must-improvise. "You can always ask to see a few photos in the days before the wedding of the work in progress," says Jacobs. "Then plan your flower delivery on the day-of with enough time to fix a small mistake before guests arrive. Have someone on site to 'check them in' (if it's not a planner, send a trustworthy friend)." In less than a minute, your confidant can message you a few photos to confirm you got what you paid for.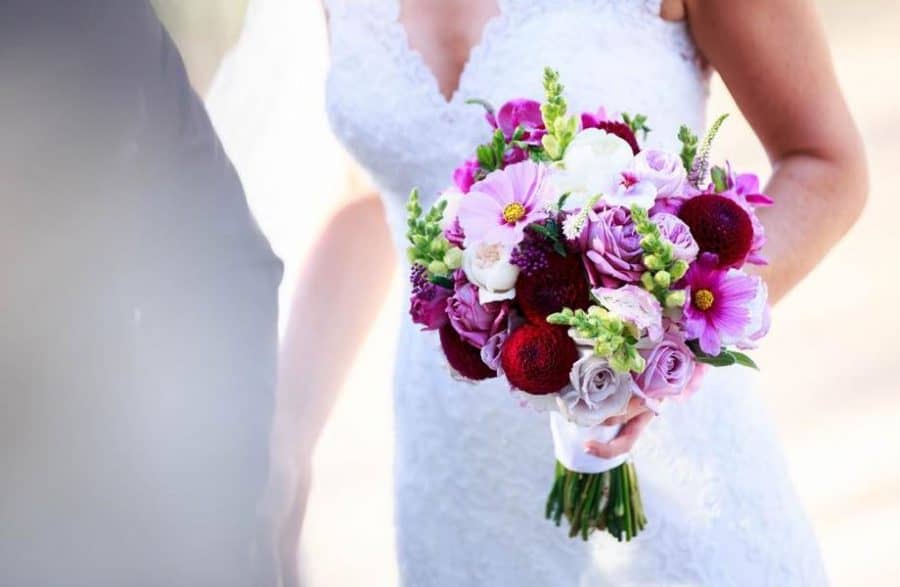 11. …an unexpected toaster toasts you?
Ugh. Or should we say UGH with a capital U-G-H! Of course with alcohol flowing, spontaneous toasting may happen, and you can craft a red-alert plan with your groom such as he goes up to so-and-so-annoyingly-drunk-guest, thanks to them, hugs them, and takes the microphone before said-friend gets a chance to say something they'll later regret. Better yet, suggests Jacobs, if you're planning on curtailing toasts and having a well-edited list of toasters, make sure you give this list to your wedding planner. Your planner will ensure the MC (whether that's the DJ, bandleader, or venue director) guards the microphone. WITH THEIR DEAR LIFE we might gently add.
12. …the bus doesn't show up to take guests to and from the wedding?
Stranded guests mean angry guests. Don't let it happen to you! First and foremost, always get an excellent recommendation for your transportation. Once you know you've hired the best, you still need to triple-confirm with them. Says Jacobs, "It's not enough to have the dispatcher's number. We always make sure to get the cell number of the actual driver too." Appoint someone to be in charge of the bus schedule and routes, making sure buses are filled and that someone seated in the front of the bus has a copy of the directions to the wedding venue. Leave directions and alternate means of transportation (taxi numbers, for example) in each guest's hotel room in case they need to find their own way there.
13. …people arrive with checks in hand?
I think it's safe to say everyone knows showing up with a wrapped gift is a big faux pas. But not everyone is sending a donation to the happy couple's home. And not every couple is registering for things to do on their honeymoon (although we think you should). "Don't ever leave checks or cash on a table!" warns Jacobs. "Make sure your wedding planner works with the venue director to put them in a safe place and assign one person to be in charge of collecting the money at the end of the night." Oh and speaking of money, it's not a bad idea to give that same person the duty of handing out tips to all your vendors. Don't forget to tip your wedding planner well—you don't even want to know the number of mini-disasters that were thwarted with a swish of her magical, mystical fairy wand.