Best Bachelor & Bucks Party Ideas
Whether your groom prefers an evening of bocce ball and beer or an afternoon free-falling from 13,500 feet, we found creative party ideas for all types and budgets in and around Sydney.
If your best friend is soon to be married and you're the one who's in charge of throwing an unforgettable Bucks party, just make sure to stay with us and keep on reading! Here are some amazing Sydney ideas and tips on how to accomplish that like a pro, so take a look at them and enjoy!
The Bucks party is a rite of passage, but coming up with the best Bucks party ideas that will keep a group of adults on board is a daunting task!
You've been charged with planning the Bucks party for your brother/brother from another mother. Your mission is to make sure everyone has a good time, and the groom-to-be's last hurrah as a Bucks goes down as a night to remember. We have rounded up Bucks party ideas in Sydney which are sure to appeal to everyone and that require minimal planning and maximum fun.
While there are grooms who still prefer to send last hours, before their wedding, partying with alcohol and female exotic dancers, many men are choosing to shift from the traditional Buckss' party to camping trips, sporting events, daredevil activities and even co-ed Bucks parties along with their fiancées and her friends around Sydney. Such activities before wedding are even helpful to avoid any trouble between the couple. Off course these activities will not make the groom sick to even remember his wedding day.
It's easy to fall into the trap of tired old traditions instead of making your own. The best Bucks party ideas are those that build off the groom's interests, but add something new and exciting to the mix. That's the recipe for memories, people. So take from our Sydney bucks ideas guide what speaks to you, modify the hell out of it (or don't), and have a great time.
 Who pays for the Bucks party, and who plans it?
Tradition dictates the best man should plan, invite guests, and pay for the Bucks party (and, incidentally, assist with groomsmen attire plans for the wedding). But the bigger the plan, the more the groom-to-be should get involved in the planning. This can be as simple as approving Bucks party ideas, or as in the weeds as constructing a time zone-calibrated itinerary.
The Best Man definitely has a full plate of responsibilities to tend to throughout the marriage process. There's helping to choose the tux, organizing the groomsmen's gifts, delivering a killer speech, attending rehearsals, and about a million other critical details. Out of all of the Best Man's duties is coming up with great Sydney Bucks party ideas and planning an event that will be remembered for a lifetime.
The point is, if you, the groom, want to do something elaborate, don't throw it all on your buddy. Likewise, if you get invited, you should probably prepare to chip in for the Bucks's expenses.
If you are searching the internet for Bucks party ideas in Sydney, you may be hard-pressed to find any that don't involve some less than tasteful activities.  But, don't the guys deserve to have a fun time? So, if you want your man to do something that doesn't involve Sydney strippers, then you might want to show him some of our suggestions. They definitely won't disappoint.
Bucks Cruises
So you have decided to round up the guys and take a Sydney cruise for your Bucks party.  Make sure you understand all the pros and cons of this type of trip before taking your talents to the high seas.
You don't have to own a boat to enjoy some time on the water. Look into chartering a yacht for a few hours during the day or evening for a luxe boating excursion worthy of the groom-to-be. Bring a few bottles of top-shelf champagne (or stick to your favorite beer) and celebrate in style on the high seas.
Throw the cruise party for your mate by booking a day or night boat for him and the friends. Food, entertainment, and drinks are provided on the cruise. Your work will be getting the right bucks party cruise company and expressing your desires. The rest will be for them to make it happen.
Party at sea? Relax on a nice yacht with a great glass of wine? Celebrate a special occasion? Why not do it on a boat. Sydney's coast and lakes are filled with opportunities to go for a booze cruise, the perfect way to enjoy a milestone occasion like a Bucks or Hens party or just enjoy having time off from the everyday grind. Check out the best booze cruises in Sydney!
We'll be the first to admit it.  Some guys are initially very skeptical about the idea of a Bucks party cruise.  Even if they like the idea of a destination Bucks party, their image of cruising may bring to mind elderly couples or lots of families.  However, Bucks party cruises in Sydney are a great, affordable Bucks party destination.
The main reason we like cruises for destination Bucks parties is so that the best man can be lazy bastard and still pull off an awesome Sydney Bucks party.  No googling for creative Bucks party ideas.  No checking out venues, worrying about reservations, planning a designated driver- just pick the cruise and make the plan.  One and done.  It you want to really complicate things, you add in some excursions.  Still takes less time to plan a whole cruise than a single night's entertainment for some destination parties.
Cruises also mean guaranteed guy-time.  Your cell phone might not even let you make international calls, and, if it does, it is going to be ridiculously expensive.  So, your guys can cut the leash for a few days and just enjoy time with the boys.  We've been told this sounds insensitive, but really, what can you do about some pseudo-wedding-planning emergency from the middle of the ocean, anyway?  Nothing.  You can do nothing about it, so enjoy the boat with your friends and feel guiltless about ignoring the fiancé.
Another reason we love Sydney Bucks Party Cruises?  Finances.  First, let's say your friends run the gamut from moneybags to paupers.  They can all take the same cruise.  Inside cabins on some of the most popular 3 to 5 night cruises cost less than $500 per person at almost any time of the year, while your rich friend can reserve a suite on the same ship for five or six times the cost.  Even on a big ship, you'll still be in the same place, able to meet at the same destinations.  Plus, we all have that one friend who conveniently forgets his wallet or takes forever to pay you back.  You pay for cruises before you go, which means no waiting six months to a year to collect for the trip; work with a travel agent on the cruise and have everyone pay for their accommodations up-front, avoiding having to turn into a bill collector when Johnny doesn't cough up the cash he owes you.  Plus, because Sydney cruises are all-inclusive, if one of your buds runs out of dough, that doesn't mean the party is over; there's plenty of for-free fun on a cruise ship.
We have compiled a list of our Top Picks for Bucks Party Boat Cruises.
5Star Cruises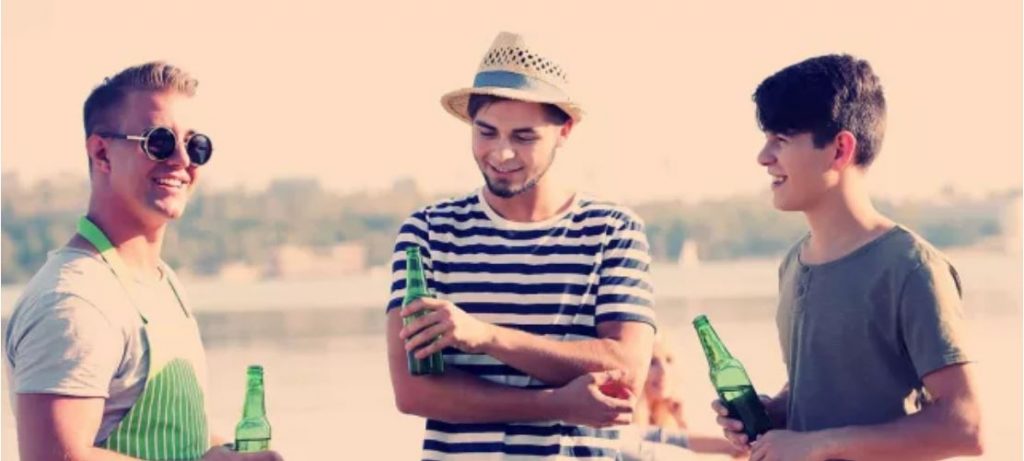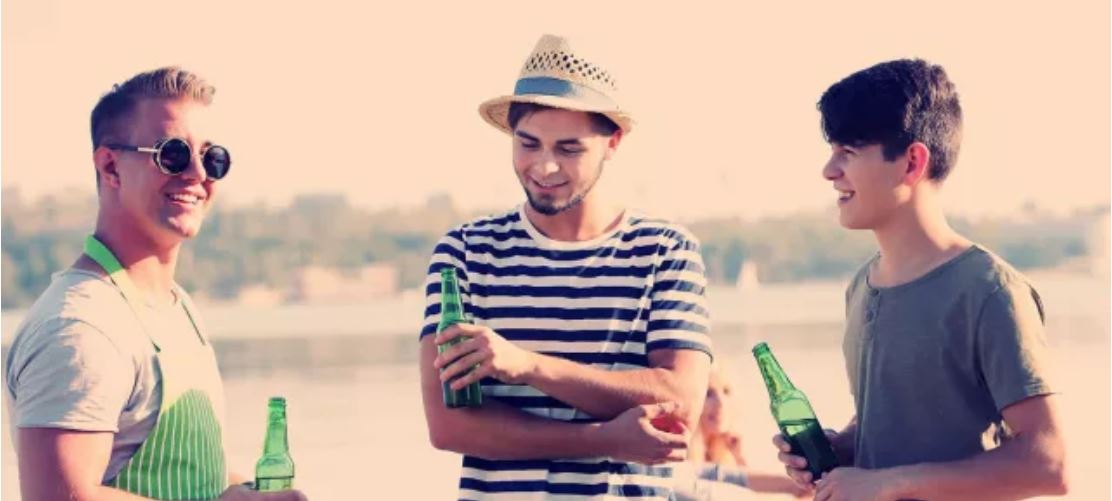 https://5starcruises.com.au/bucks-party-packages/
Alright guys, it's crunch time.
You've been tasked with organising the most important day of your best mates life (ahem – after the wedding, of course). You've got to get this right; plan a dull bucks party, and you'll never be able to show your face in town again. Get it right, and you'll be rolling in glory for years to come.
With a fleet of luxury boats at our beck and call, a host of veteran party planners on standby, and a little black book filled to the brim with the names of the hottest waiting staff in Sydney; booking your next event with us will ensure that your party planning prowess is the talk of the town.
Sounds like a lot of hard work though, right? Think again.
5 Star Cruises offer epic, private, tailor made Sydney bucks party cruise itineraries to suit every budget. Contact us (or chat to the lovely Cherie via our live chat) and we'll make your wildest bucks party dreams come true.
What's Included?
From down-and-dirty do's to sophisticated soirees, and everything in between, we know what makes a good party, and then we know what makes a 5 Star party.
Dedicated Party Planner
Pick a package or design your own
Seasoned skippers for a smooth-as-silk sailing experience
Exclusive use of the harbour's most luxurious private boats and cruisers
On-board entertainment (as naughty or as nice as you like)
Value-for-money food and drinks packages
Optional round-trip transport available
Keep the party going with a choice of exclusive after-cruise venues
When you book your party cruise with us, we will assign you a dedicated Party Planner to make sure that everything runs smoothly. Tell us what you want, and we'll do the legwork leaving you to sit back and relax, and enjoy the experience.
All that's left for you to do is grab your guys, your beers, your playlist, and a couple of our girls and take to the open seas on a luxury party boat for a boys bucks night out to remember.
Get Loose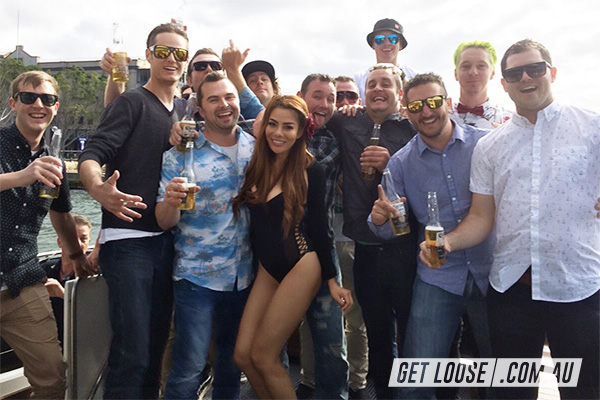 https://www.getloose.com.au
Get Loose on the harbour with a private boat cruise. We've got all the Bucks party friendly boats in Sydney. Catamarans, Cruisers and Luxury Yachts of different sizes and prices. All-inclusive packages for amazing bucks parties on the water. Strip Club entry included. Only quality vessels and the best value in Sydney. Design a package from only $89 per person. Think you've found a better deal? Get a personal party planner to help you. Bucks cruises are our specialty! Available for daytime cruise and bucks night cruises.
Vagabond Cruises

Sydney's best value bucks party cruise with dinner, drinks and entertainment included!
If you are looking for an unforgettable night with your mates to celebrate a bucks party, then look no further than our Bucks Party Cruise! With over 30 years experience, we are second-to-none for delivering the best bucks party cruises in Sydney! Unlike many other operators there are no hidden extras with our cruises as every aspect is already included in the price!
If you are looking for an unforgettable night with your mates to celebrate a bucks party then look no further than our Bucks Party Cruise! This cruise has been a favourite for bucks for over 30 years as it provides the best all inclusive package with nothing more to pay on the night!
With stunning lingerie waitresses serving you throughout, a live XXX rated strip show and drinks included for 3 hours, this will be a night for your buck to remember for a long time!
Cruise Inclusions
3 hour shared bucks party cruise on Sydney Harbour
Spacious indoor and outdoor decks across two levels
A delicious buffet including roast beef, succulent chicken, seafood & more
House beer, wine, spirits and soft drinks included for the entire cruise
Stunning lingerie waitresses serving you throughout
XXX-Rated show included
Spacious dance floors with disco lighting
Poker sets available to borrow from the bar
Good Time Harbour Cruises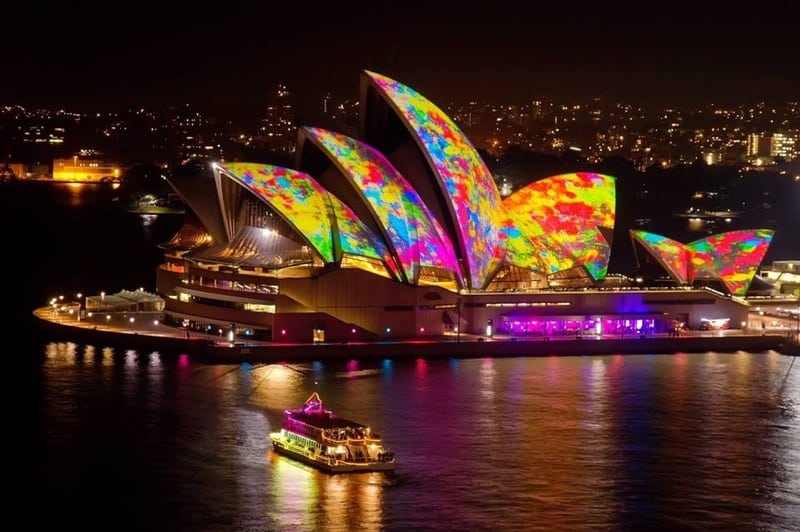 https://www.goodtimeharbourcruises.com.au/
A buck's night is an important event in the life of the groom-to-be so don't overlook the option of a buck's cruise in Sydney!
Buck's party cruises in Sydney Harbour are always a boys night out to remember.
Private exclusive charters are our only option. Everything you need is included with our standard package.
GoodTime Harbour Cruises can cater to all occasions, so get in touch and find out more about our buck's cruises in Sydney Harbour today.
We have three luxury vessels to choose from with the option to swim.
3 Hours Cruise
Sound and lighting
Smoke Machine
Plasma TV for Photos
Dedicated Cruise Director
One lingerie waitresses
Gold Drinks Package
In addition, guests have the options to upgrade at an extra cost the following:
Drink Upgrades
Special meal requests
Topless waitresses
Double and Triple shows
xxx Rated
Rock Fish Charter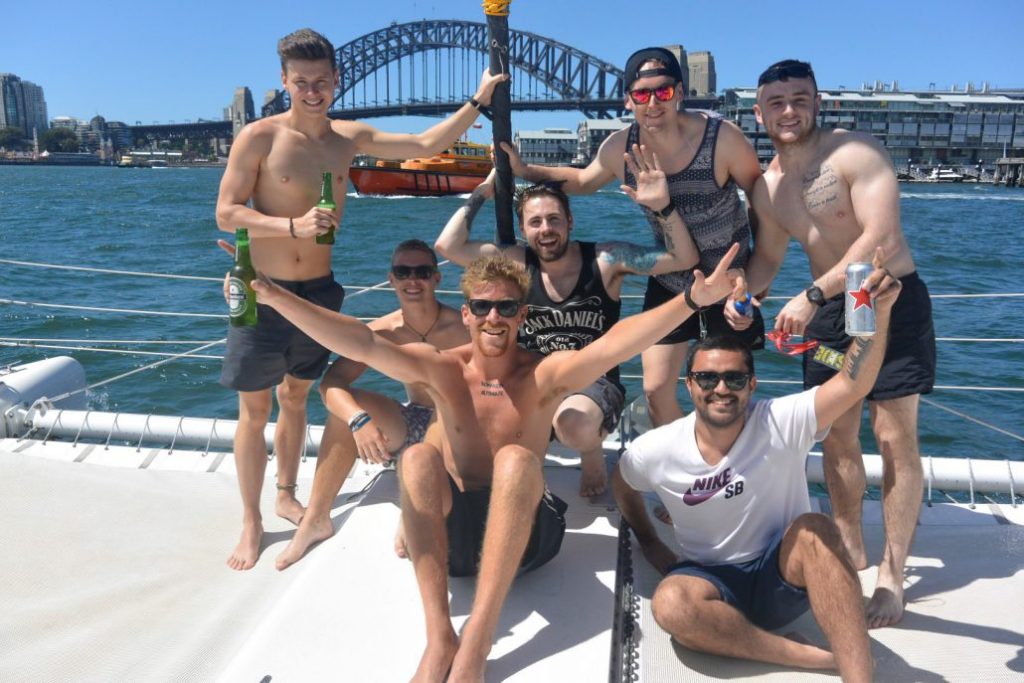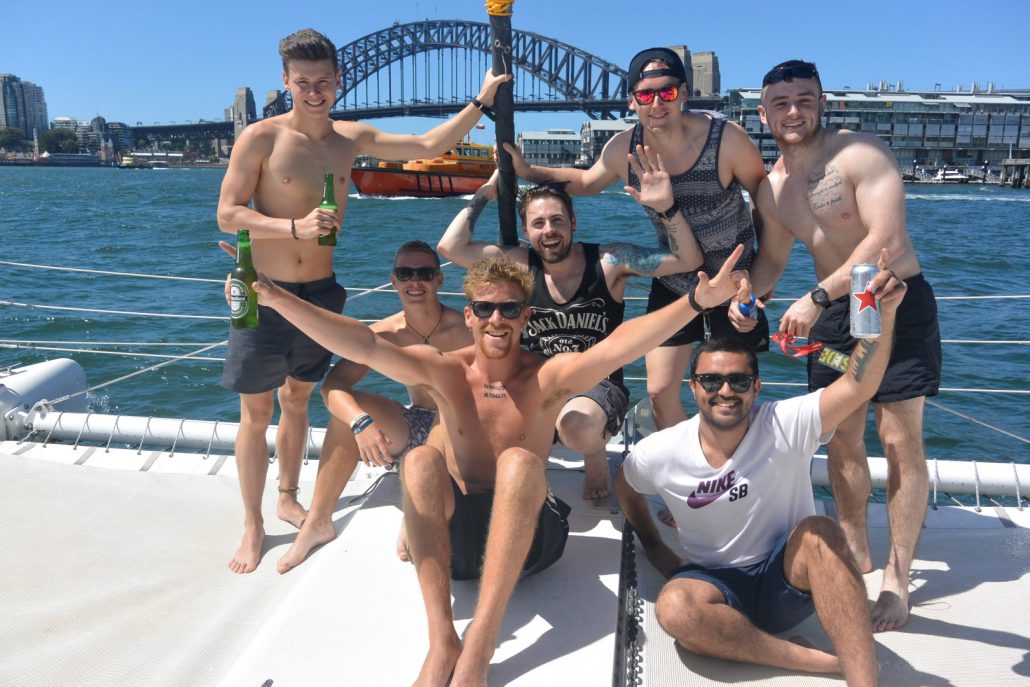 Just before tying the knot you need a bucks party to remember with all of the boys! If you're looking for bucks party ideas in Sydney, our catamarans are the perfect idea! The Rockfish boats are very spacious and can have up to 20-30 people. Our boats are fitted with speakers and a Bluetooth connection for your favourite party mixes. Bring your own food and drinks, or we can cater for you. If you want to break the rules a little we can organise some entertainment for you, weather it be to serve drinks or to perform a bit of a show we can sort this out for you!
Meet the coolest crew ever when your cruise starts and then we will head out past the Harbour Bridge and find the perfect spot for you to have a BBQ and a swim. Chill out with your mates and enjoy the back drop off Sydney Harbour. What would be better then spending your day out with your mates than this private party on Sydney Harbour? Just remember, what happens on the boat, stays on the boat!
Sydney Princess Cruises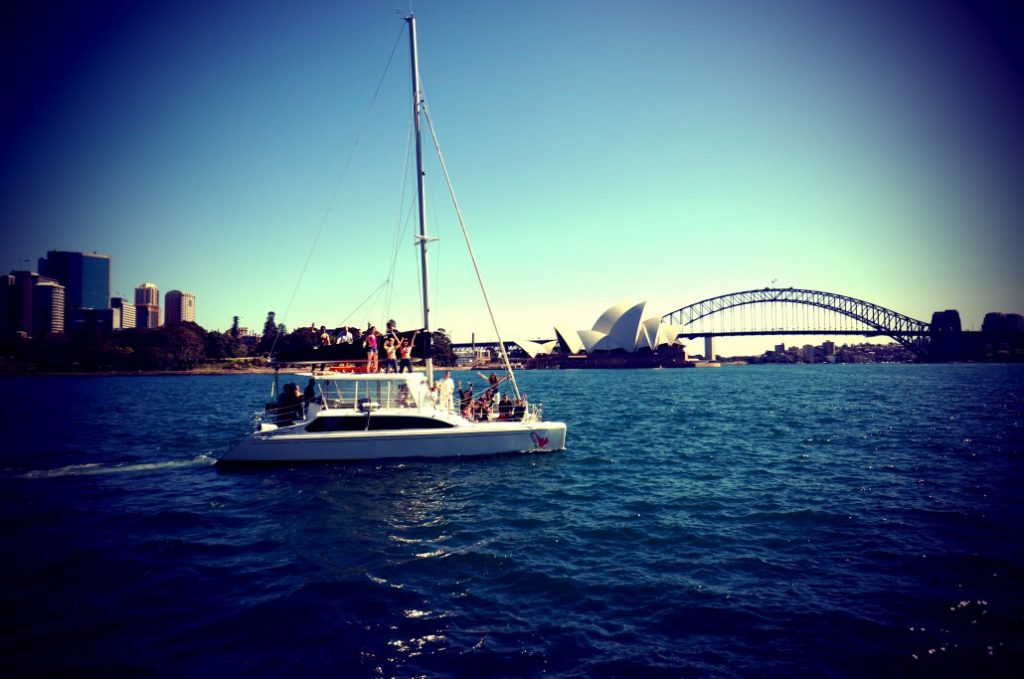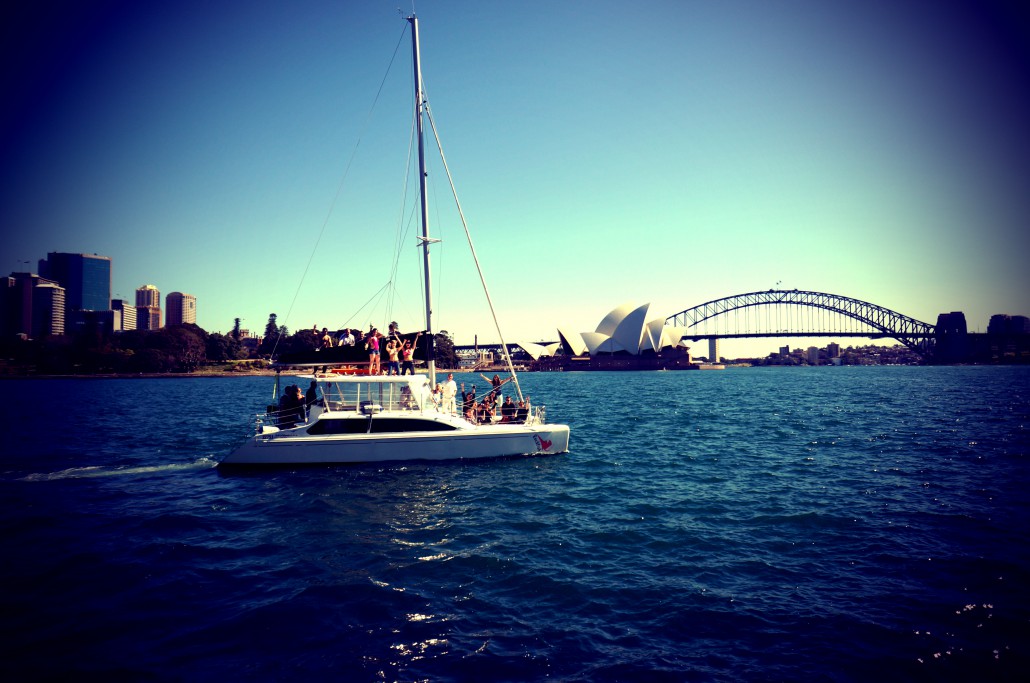 https://www.sydneyprincesscruises.com.au
Done right, bucks parties are the epitome of fun, excitement and outright crazy antics. As a rite of passage, you need to ensure that you host the wildest and most amazing bucks party for your mates.
At Sydney Princess Cruises, you get everything you need to hold the greatest "bucking" cruise party Australia will ever see.
The Scenic Harbour Nightlife
Sydney Harbour is a phenomenal backdrop. Either day or night, it becomes the backdrop to some of the most outstanding parties Sydney has ever seen. The waves, the view of the Harbour Bridge, the and the lights are all but the perfect complement to an incredible bucks party. So whether you are looking for a daytime or night time event Sydney Harbour is the place.
Unlimited Cruise Entertainment
If you're going to help the buck enjoy his wildest unmarried night ever, you need the right entertainment and at Sydney Princess Cruises, we have you covered. With laser shooting, casino games, D.J's, lingerie girls and dancers and so much more, you get to enjoy your wild night on floating luxury. With Sydney Harbour as your backdrop, your bucks party will come alive.
Drinks
Icy cold beers available from the fully licensed bar along with a huge range of spirits, wines and soft drinks. Enjoy Sydney Harbour with your mates and your favourite drinks, only with Sydney Princess Cruises.
Phenomenal Food
When you party with Sydney Princess Cruises, you can get tired; that's just how great it can be. To reenergize your body, we have a selection of food that dances on your palate. With vast menu options for both buffet and formal dining, you enjoy the best food Sydney has to offer, on the Sydney Harbour no less.
Service
Whether it is the games, music, food, drinks or everything else, bucks night service at Sydney Princess Cruises is nothing short of a party. Our services maintain professionalism while ensuring that we never break the party tradition.
We help you have fun, break loose and party, all on the sensational Sydney Harbour. So what are you waiting for?
Bucks Cruises Sydney
https://www.buckscruisesydney.com.au/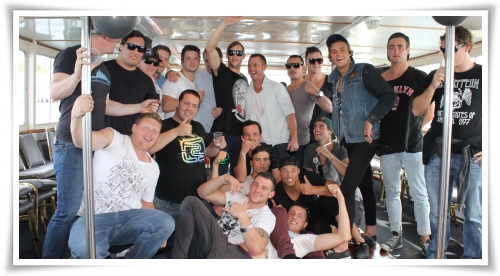 When you want to organise a great party in Sydney harbour, look no further than a Bucks cruise Sydney harbour party boat whether it's night and day. When you want the ultimate party, there's no better option than Buck's Party Sydney to organise your party from start to finish. If you need help in planning your party, Bucks cruise Sydney night and day has a lot of ideas to make your special event unforgettable. Parties on Sydney Harbour can be planned as daytime outings, late night parties, or you can plan an entire weekend. An array of venues and entertainment ideas are available, you can decide on a booze cruise and let Bucks cruise Sydney handle everything on the best party boat.
When your mate is getting married, it is mandatory that you throw him a great bachelor party to see goodbye to his freedom why not a stripper cruise. And one of the best ways to do this is to take one of the awesome Bucks Party Cruises we off. These cruises allow are great for celebrating bachelor parties, giving you the chance to celebrate your buddy's last night as a single man in epic fashion. Sydney's best cruises available on the harbour night and day. With us at the helm, you will be able to celebrate like there is no tomorrow with your closest mates.
With Bucks party cruises, you will travel around the Sydney harbour night and day. These Australian bachelor parties are exciting, as they are filled with a variety of entertainment activities that you and your mates can enjoy for hours. These legendary cruises give you the chance to see gorgeous women serve drinks, creating an atmosphere that will captivate your attention for hours. Say goodbye to that dull cruise line and say hello to a night you will remember for a lifetime. Want to get a private lap dance? No problem, as there is several stunning women on the female stripper cruise who are just waiting to give you a thrill on these cruises. Send your mate off in style by paying for their private dance; he won't soon forget this.
My Ultimate Bucks - Sydney
https://www.myultimatebucks.com.au/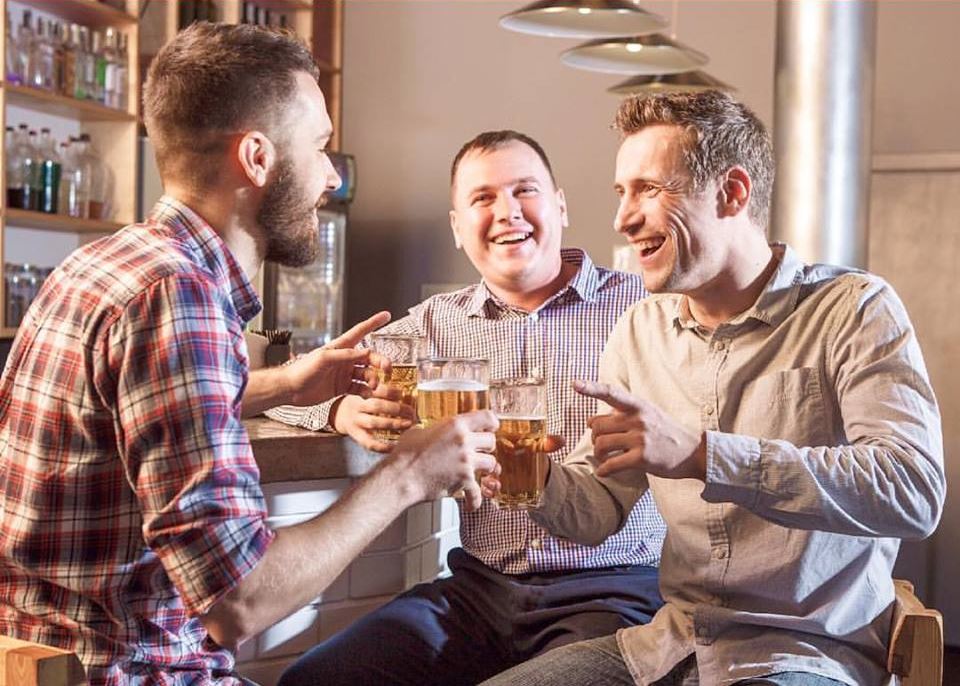 Welcome to My Ultimate Bucks – the place to pull off an awesome Bucks Night! Short on time, leave it to us for an unbeatable send off! Bask in the glory of an unforgettable Bucks night with Bugger all effort. With supreme options like Bucks Weekends Away and Unparalleled Bucks Night Experiences, My Ultimate Bucks makes organising your best mate's bucks as easy as 1,2,3. ( See Below ) Book your Brisbane Stag Night , Sydney Bucks shenanigans, Melbourne Bucks Weekend or Gold Coast bucks party with us! Why My Ultimate Bucks Co? …because you're the best man!
the place to pull off an awesome Bucks Night! Short on time, leave it to us for an unbeatable send off! Bask in the glory of an unforgettable Bucks night with Bugger all effort.
With supreme options like Bucks Weekends Away and Unparalleled Bucks Night Experiences, My Ultimate Bucks makes organising your best mate's bucks as easy as 1,2,3.
From start to finish we are here to help every step of the way – with literally tens of thousands of previous happy attendees & Consultants who seriously love what we do, you can rest assured you have come to the right place!
My Ultimate Bucks Customer Reviews
Thank you! So I know I was worried about the rain but honestly it made the go karts SOO much more fun.... #drifting. And we got upgraded us to the faster karts as well on the day, so bonus! And the rain didn't affect the club at all of course. So I want to thank you for helping make the day a huge success, and I'm pretty sure I met my future wife at the bar too. Haha 😊👍 Michael, the buck, had an amazing time, So I want to thank you again by writing a review of my ultimate bucks so I can spread the word. 😁👍
I would just like to let you know we all had a fantastic weekend with everything running like clockwork. All staff where outstanding, with warm welcomes and helpful aswell. I would 100% use My Ultimate Bucks again and will be surgesting it to all of my family and Friends.
The Bucks Co - Sydney
1800 901 885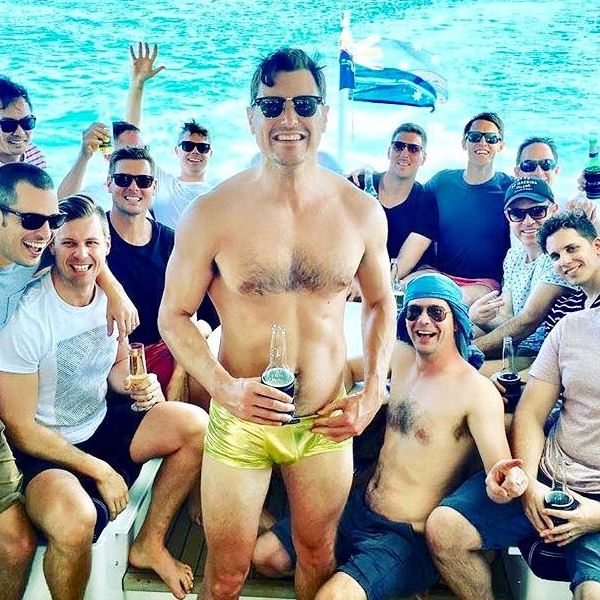 Short on time? Don't know where to start? Our experienced bucks planners will guide you through the dozens of destination and activity options to ensure you pull off a bucks party to remember... Even if it is a little foggy.
The Bucks Co. Your one-stop shop for Bucks party ideas! With a huge list of awesome activities that is forever expanding, take it to the bank that the perfect Bucks party awaits. With classics like boat cruise, bubble football and golf through to whiskey tasting, archery attack and clay shooting you'll be looking for more hours in the weekend to squeeze it all in. With destinations across Australia and New Zealand, our team is committed to ensuring your Groom has the send off he deserves! From the big smoke of Sydney and Melbourne, the sun and surf of Byron Bay, the Gold Coast and Perth, or across the ditch to the ski fields of Queenstown, we have you covered everywhere and in-between. Build your own, check out our ready-made packages or chat to our team. We're here to ride shotgun every step of the way and ensure it is a party to remember. Even if it is a little foggy… The Bucks Co – www.thebucks.co 1800 901 885
The Bucks Co - Sydney Reviews
Incredible company who organised the BEST lads weekend away in Byron. Everything was easy and went smooth. The lads loved it!
Paul Psaltis - 10 October 2019
The Bucks Co were absolute lifesavers! After initial Bucks Party plans fell through, this company came highly recommended and now I can see why.
I was trying to organise a big bucks party from interstate, which is difficult enough. The Bucks Co did all the planning for me, they even offered to collect payment. Natalie (who works there) was fantastic. She checked in with me on regular intervals, giving me updates on the bookings and ensured everything was locked in.
They tailor the Bucks Party exactly for what you and the crew want to do. You can choose from a range of activities or just get them to book the basics, it's totally up to you. Everything was meticulously organised and the Buck had a fabulous time. It was easy to share details with everyone as well.
If you're looking at organising a bucks party that's more than just a bunch of blokes at someone's house, using The Bucks Co will make your life so much easier.