Let's admit it, celebrations aren't complete without cake! Whether that's a simple, one layer cake or a sophisticated tiered cake with unique flavours, the cake is surely one of the things that'll make your day sweeter and oh so much more special!
Need a cake for an office party, birthday party, wedding or divorce party? Don't worry, Melbourne, we got your back. Here is the ultimate list of our favourite cake shops in Oakleigh, Melbourne: every one delicious, and everyone offering something unique, from a designer feel too extreme convenience.
Ultimate List of Cake Shops in Oakleigh, Melbourne
Limonium Cake Shop Melbourne
1300 282 598
Large cakes, small cakes, pies, tarts, corporate functions & sweet tables
Limonium is a family-owned business, founded in 2021. We have been passionate about baking delicious desserts ever since we could remember, and our dreams of opening a baking business came to life amongst the hardships of COVID-19. Large cakes, small cakes, corporate functions, or sweet tables, we would be honoured to lovingly create your unique dessert dreams.
Vanilla Lounge Cake Shop Oakleigh Melbourne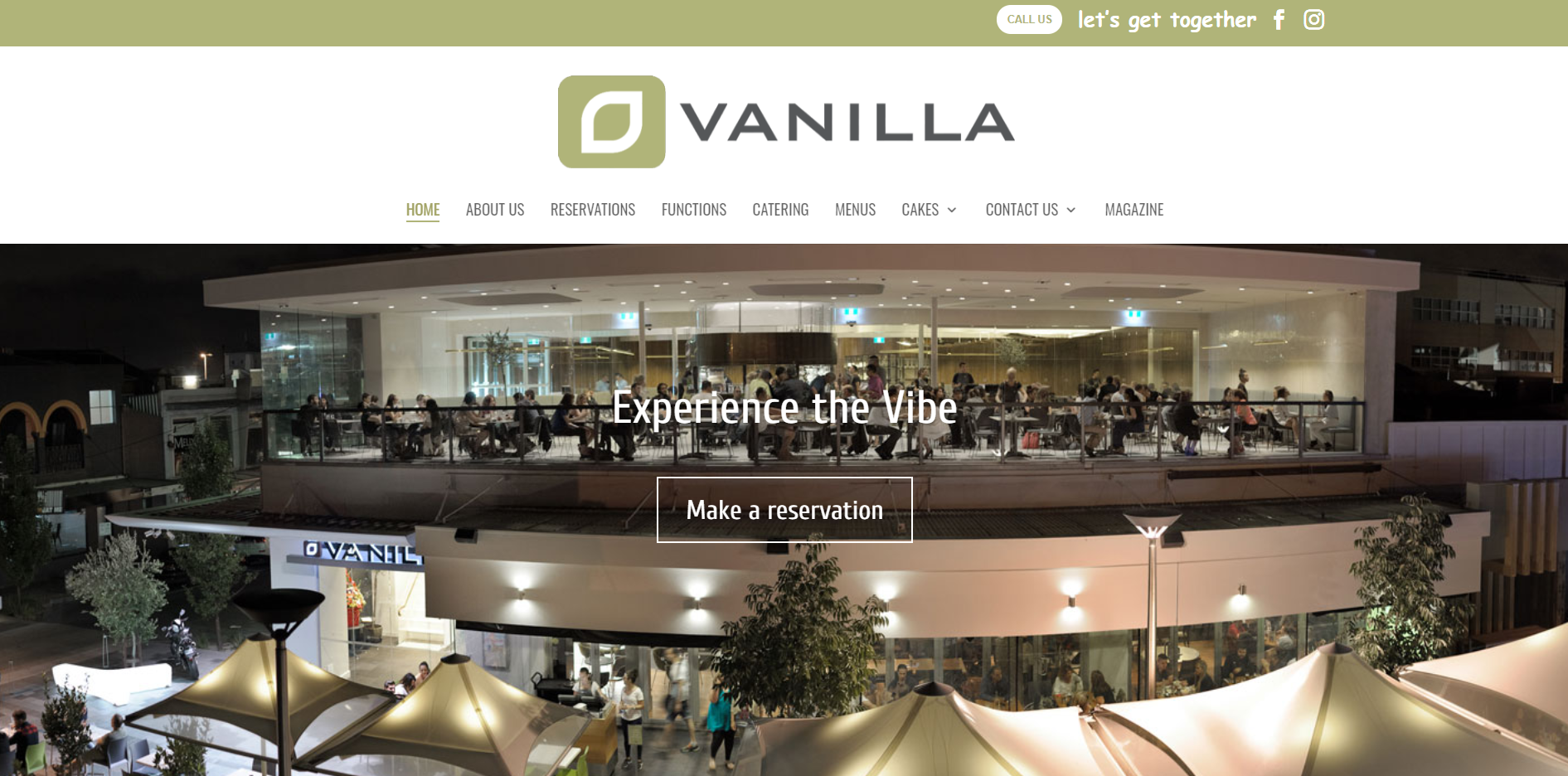 03 9568 3358
Welcome to Eaton Mall, a hidden gem located in the heart of multicultural Oakleigh.
Amongst the hustle and bustle of this amazing hub is Vanilla Lounge. In August 2008, we opened our doors and our hearts to the community and everyone gave their love back. Being a coffee and dining lounge, Vanilla has something for everyone. It is a family place, a meeting place, a place where you can come and experience a unique European vibe right here in Melbourne.
The family behind Vanilla have been innovators and pioneers in the hospitality industry for over 45 years. With the opening of Vanilla Lounge, Oakleigh saw a new dining culture emerge. What is particularly exciting for Melbourne is that it now boasts another leading patisserie that truly celebrates the greatest qualities of its cosmopolitan heritage. Vanilla was praised as one of the Top 10 Patisseries in The Age Good Café Guide 2012.
We are committed to enhancing our patron's experience by providing our boutique coffee brand, Dukes, our extraordinary music acts on Thursday nights, our extensive menu made with local and fresh ingredients and without preservatives or additives, our world-class standard of cakes and biscuits and our latest venture, Vanilla Upstairs which has amazing pan-Mediterranean cuisine and invites people to come together and share in the simple pleasures.
"Calling the crowds that gather in Eaton Mall, Vanilla Lounge in Oakleigh is a popular family-run venue specialising in Mediterranean fare and mouth-watering cakes. Boasting a large alfresco area to observe the shoppers in action, this ever-bustling venue is well renowned for its generous community spirit and warm welcome.
With an extensive selection of Mediterranean and Greek fare on offer, Vanilla Lounge dishes out an array of delicious options like warm pan-fried sweet chilli calamari with homemade dressing, as well as lamb souvlaki with salad, chips, tzatziki and pita bread.
For those looking to linger, pair a choice from the well-crafted wine list with the meat platter for two, or indulge with one of Vanilla Lounge's specialty desserts, made daily on-site by talented pastry chefs."
Australian Good Food and Travel Guide
Baked daily with the finest ingredients
Our sweet treats are made on-site with the best ingredients, from traditional Greek biscuits and specialties to popular classics, signature treats, whole cakes, and celebration cakes. We invite you to browse the galleries below. You can enjoy our cakes at Vanilla, or you can purchase them over counter take away – the perfect treat when you visit family and friends or even at work! If you are after a celebration cake, our experienced cake consultants will be thrilled to help.
Cremorne Street Bakers Melbourne
03 9428 8340
Cremorne Street Bakers are family and history you can taste. It's small-batch, not mass-produced—flavours, not fads. Straight out of the oven, delivered with unbeatable customer service. All prepared by a happy baking team that's passionate about that extra bite.
With a background in running successful cafes, sisters Michelle Blyth and Justine Curtis know what Melburnians are looking for when it comes to the little something they didn't know they wanted but can't resist having with their coffee. It was these baked goods that made the sisters' Hawthorn cafes Replete and The Counter so popular, and it's why Michelle and Justine took the next step of establishing Cremorne Street Bakers.
Four plus years on, Cremorne Street Bakers products can be found right across Melbourne's ever-expanding café scene and in their retail store, ensuring people from Brighton to Geelong can get hooked on their home-baked lemon, passionfruit and coconut slice, eminently Instagrammable meringues, nostalgic lolly slices, seasonal tartlets and so much more.
It's business as usual here at Cremorne Street Bakers.
We're still supplying Melbourne's best cafes with our small-batch baked goods, and now we're also making sure you can get what you need at home.
We have boxes packed full of home-style meals and sweet treats that we'll deliver to your door, plus a selection of indulgent hampers for every occasion from our new sibling gift hamper company Cremorne Street Hampers.
Order online now for delivery to your home or business.
Cakes of Melbourne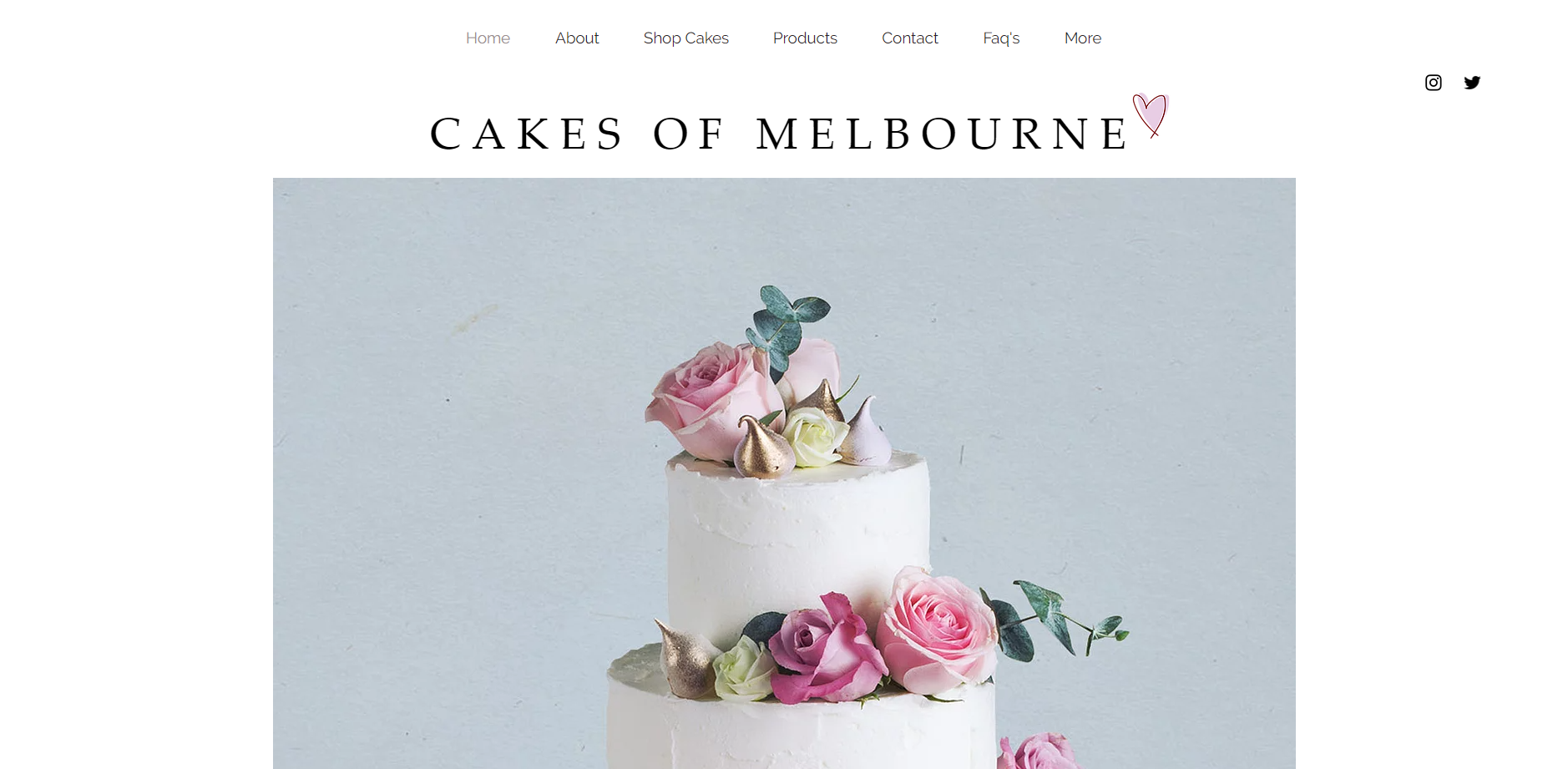 0408 911 671
Here is a small selection of cakes to help inspire you. You can choose your flavours, colours and styles. All cakes are custom made to order, and prices vary according to the many options available. Sizes come in 10cm (4"), 15cm (6"), 20cm (8") or 25cm (10") diameter. Cakes can be ordered with 1, 2 or 3 tiers serving an intimate 8 dessert cake portions or as many as 114 wedding cake portions. Please use the contact page to find out more.
Offering you the finest of cakes and sweet bakes both in beauty and taste for your next celebration or event.
I am an accredited Food Safety Supervisor and my licenced registered kitchen at home in Brighton, Victoria, is where I put all my love into creating these show-stopping treats, using top quality products and creating textures and tastes that are hard to beat.
My cakes are freshly baked, layered, filled, swirled, piped, drizzled, and then I have fun decorating using my own creativity. No two cakes are ever the same. I love trying new recipes and techniques, and there's little I won't do in search of baking perfection. I also am happy to bake to your dietary requirements - gluten-free, dairy-free, halal and vegan. 
If there is anything special that you need, just let me know - I will do my very best to make it happen for you.
Just sit back and relax and let me create your dream celebration cakes and sweet bakes. I pride myself on creating the very best for you all the time, every time…
Nikos Cakes Melbourne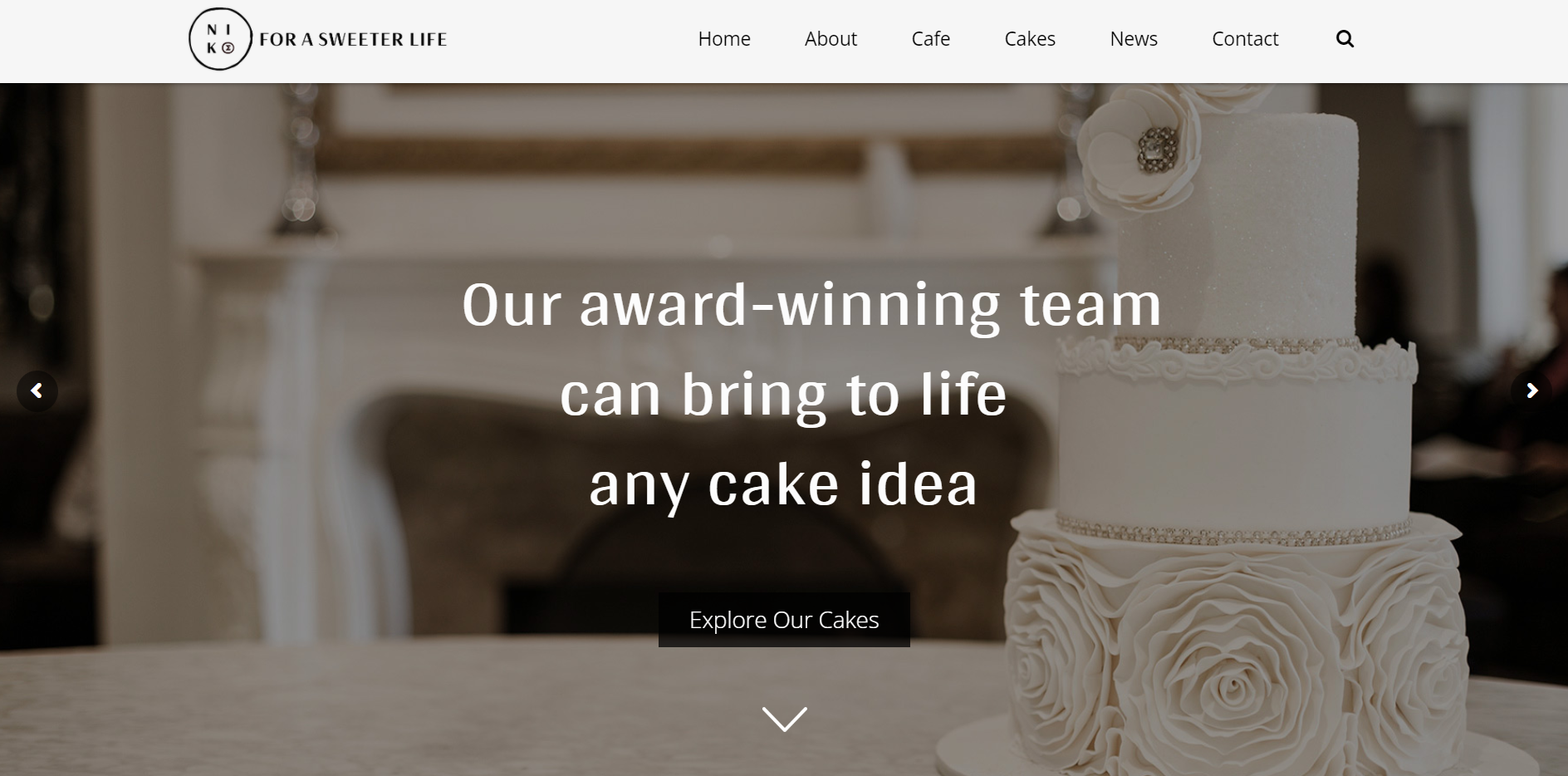 03 9569 6333
Sweetening Melbourne's palate since 1987 through our bustling cafe and award-winning cake creations
From humble beginnings in 1987, Oakleigh Quality Cakes has established its reputation as a leading supplier in Melbourne's thriving cake industry. Through a commitment to quality and service, founders Nick and Tass Poupouzas and their dedicated team have produced some of the most spectacular and unique cake designs.
Our award-winning team of cake designers, consultants, pastry chefs and artistic decorators will assist you in creating your dream cake so that the centrepiece on your special day surpasses your expectations in both looks and taste. If you can dream it, we can achieve it!
We invite you to come and join us for a coffee and browse our showroom, which is located above our bustling cafe. With over 90 amazing cakes on display and the largest selection of flavours in Melbourne, you are certain to find a design that suits your taste, theme and budget.
From humble beginnings in 1987, Oakleigh Quality Cakes has established its reputation as a leading supplier in Melbourne's thriving cake industry. Through a commitment to quality and service, founders Nick and Tass Poupouzas and their dedicated team have produced some of the most spectacular and unique cake designs.
Our award-winning team of cake designers, consultants, pastry chefs and artistic decorators will assist you in creating your dream cake so that the centrepiece on your special day surpasses your expectations in both looks and taste. If you can dream it, we can achieve it!
We invite you to come and join us for a coffee and browse our showroom, which is located above our bustling cafe. With over 90 amazing cakes on display and the largest selection of flavours in Melbourne, you are certain to find a design that suits your taste, theme and budget.
Creative Team
Our design staff and decorators have over 60 years of experience behind them in cake decorating and can bring to life anything you could possibly imagine. The imaginative and creative ideas and aesthetics they bring to cake designs are amazing, and the intricately detailed work really displays their talent and experience. We strive to exceed (and succeed) our customers' expectations.
If it's a custom creation you need for a wedding, birthday, christening or corporate event, our creative team will work closely with you in the planning process to come up with a design that combines both quality and creativity.
Our showrooms display the finest quality cakes ranging from designer wedding, novelty and birthday cakes to cupcakes and croquembouche. We are very well known in the cake industry. For over 35 years, we have been sweetening the palettes of Melbournians and delivering cakes to some of Melbourne's prestigious venues such as The Crown, Park and Grand Hyatt, Leonda by the Yarra, The Carousel, The Sofitel, Brighton International, Peninsula, Sketch, Atlantic and Maia just to name a few.
Danny's Pastries Melbourne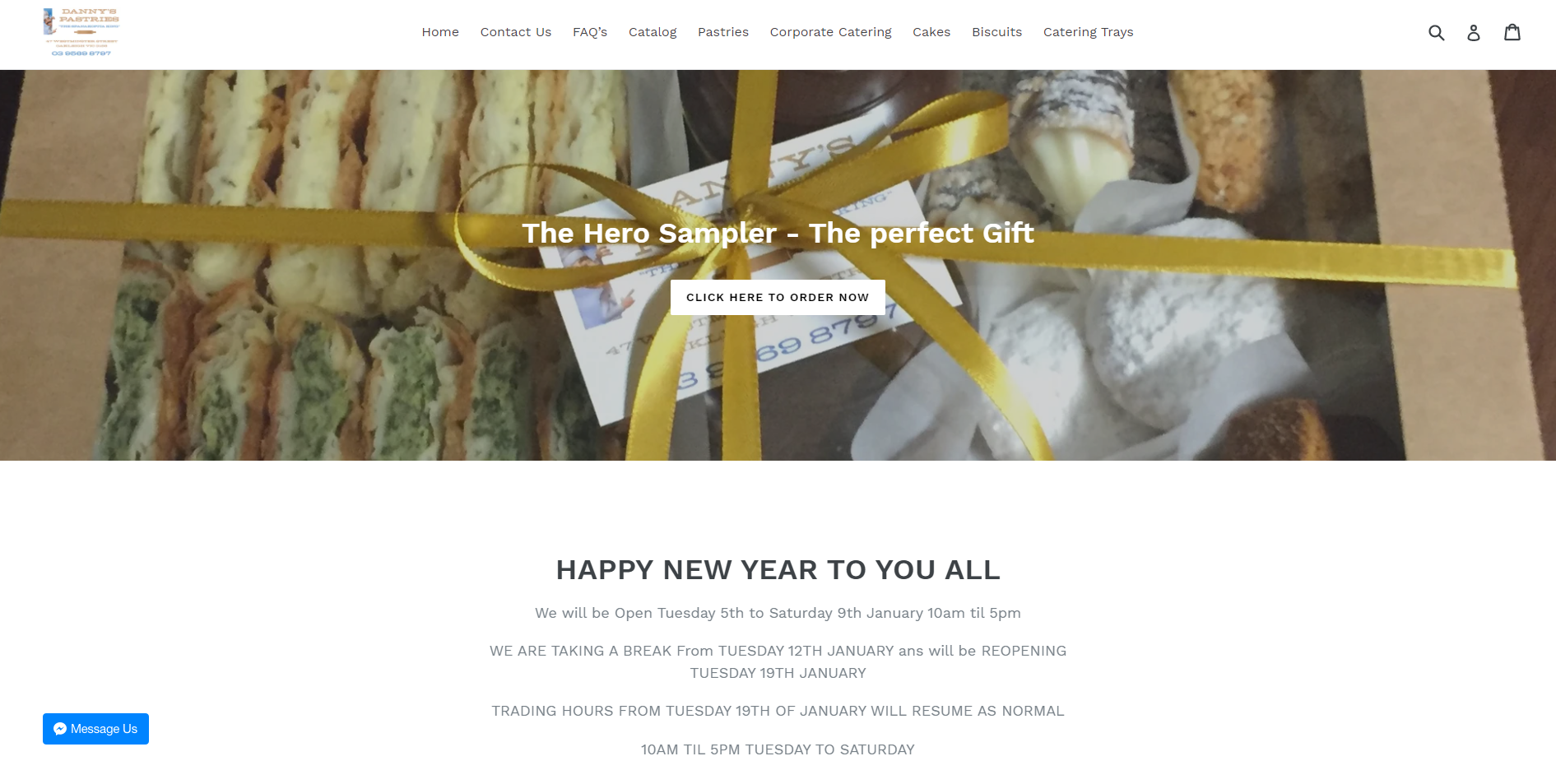 03 9569 8791
Welcome to Dannys Pastries
A FEW IMPORTANT ANNOUNCEMENTS 
***WE ARE NOW OFFERING HOME OR WORK DELIVERY AS WELL AS PICK UP FROM OUR MANUFACTURING PREMISES.
Please visit our FAQ's Page if you would like to know any information regarding Pick Up or Delivery And the further safety measures we are taking during the Covid 19 Lockdown Restrictions***
***WE REQUEST THAT YOUR ORDERS ARE PLACED AND PAID ONLINE FOR MINIMUM NEXT DAY PICK UP OR DELIVERY TO ENSURE MINIMAL CONTACT.***
***Please note we are not a retail store. All our products are made to order and are not available direct to the public walking in off the street.
We wish you, your family and our country good health, faith, and patience during this difficult time.
GOD BLESS YOU ALL XX
Please call us on 95698797 if you have any enquiries. 
iCake Shop Melbourne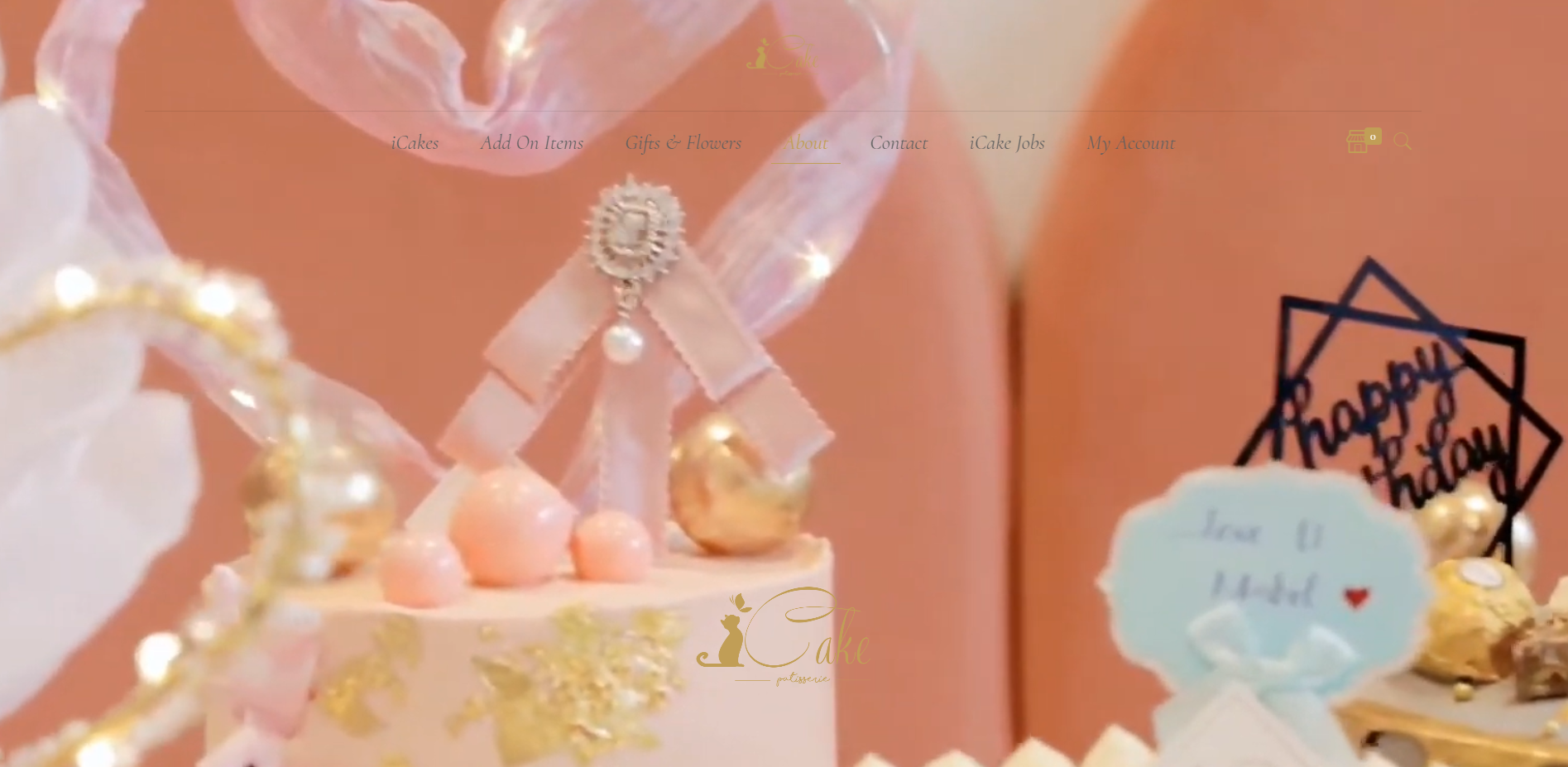 +61 404 666 609
iCake Patisserie is the art on the tip of the tongue. The joy of sharing together and lingering nostalgia customise your gorgeous cake and the sweet taste that melts in your mouth.
Discover our cakes
Founded in 2013, the cake is the heart of iCake, and quality is the soul. We only choose the finest ingredients from worldwide, handcrafted with our passionate pastry chefs, baked daily on-premise, you will having the most authentic and delicate taste of every cake. At iCake, we focus on creating; our pastry chefs proudly create more than 1600 cake designs in 6 years. And we believe that when cakes become art, it is iCake.
Process
iCake offers the complete joyful experience from ordering to sharing.
With 6000 designs of our birthday cakes and desserts, you will find that your happiness is such simple.
iCake offers a huge range of free delivery for our customers who like to stay at home to enjoy family time, and we cover the hardest work for you.
Quality Guarantee
Creation is the heart of iCake; quality is the soul. We only choose the finest ingredients from worldwide, handcrafted with our passionate pastry chefs, baked daily on-premise, you will be having the most authentic and delicate taste of every cake. At iCake, we focus on creation; our pastry chefs proudly create 20 flavours and more than 6000 designs since 2012.
iCake adhere to superb production technology, strict quality control and a high standard of food hygiene and has become a trusted brand in Melbourne.
We believe that when cakes become art, it is iCake.
Ferguson Plarre Bakehouses Melbourne 
fergusonplarre.com.au/oakleigh
03 9563 3353
Ferguson Plarre Bakehouses has always been and still is a family-owned and operated business. We have a long & proud history dating back to the 1800's. Both the Ferguson & Plarre families have early European roots, and we established ourselves in Australia over 110 years ago.
Small Cakes & Sweet Treats are perfect for a kids party. Perhaps you're having a morning tea at the office or an afternoon tea with your girlfriends. Even if you are just looking for a snack, our range of award-winning sweet treats and small cakes has something for everyone. Order online, and you can pick up delicious Biscuits, Cupcakes, Donuts, Muffins, Buns, Slices and Tarts. Trust us, and your taste buds will thank you.
Celebration Cakes
Whatever the occasion, Ferguson Plarre Bakehouses has the perfect celebration cake! Birthday's, weddings, small parties or giant events, we've got it all covered.
Birthday Cakes
For the perfect birthday, you need a perfect birthday cake. Ferguson Plarre has cakes in all shapes & sizes that every member of the family will love.
Cakes for Special Occasions
Celebrate life's special occasions with the beautiful Ferguson Plarre Bakehouses special occasion cakes range. Our range includes the perfect cake for your family's christening, engagement, wedding, anniversary, baby shower and more. Order the perfect cake online today.
Wedding Cakes
Planning your wedding is a lot of work. Finding your dream Wedding Cake shouldn't be! With over 200 years of combined experience, Ferguson Plarre Bakehouses can bring your dream wedding to life!
The Oakleigh Doughnut Co Melbourne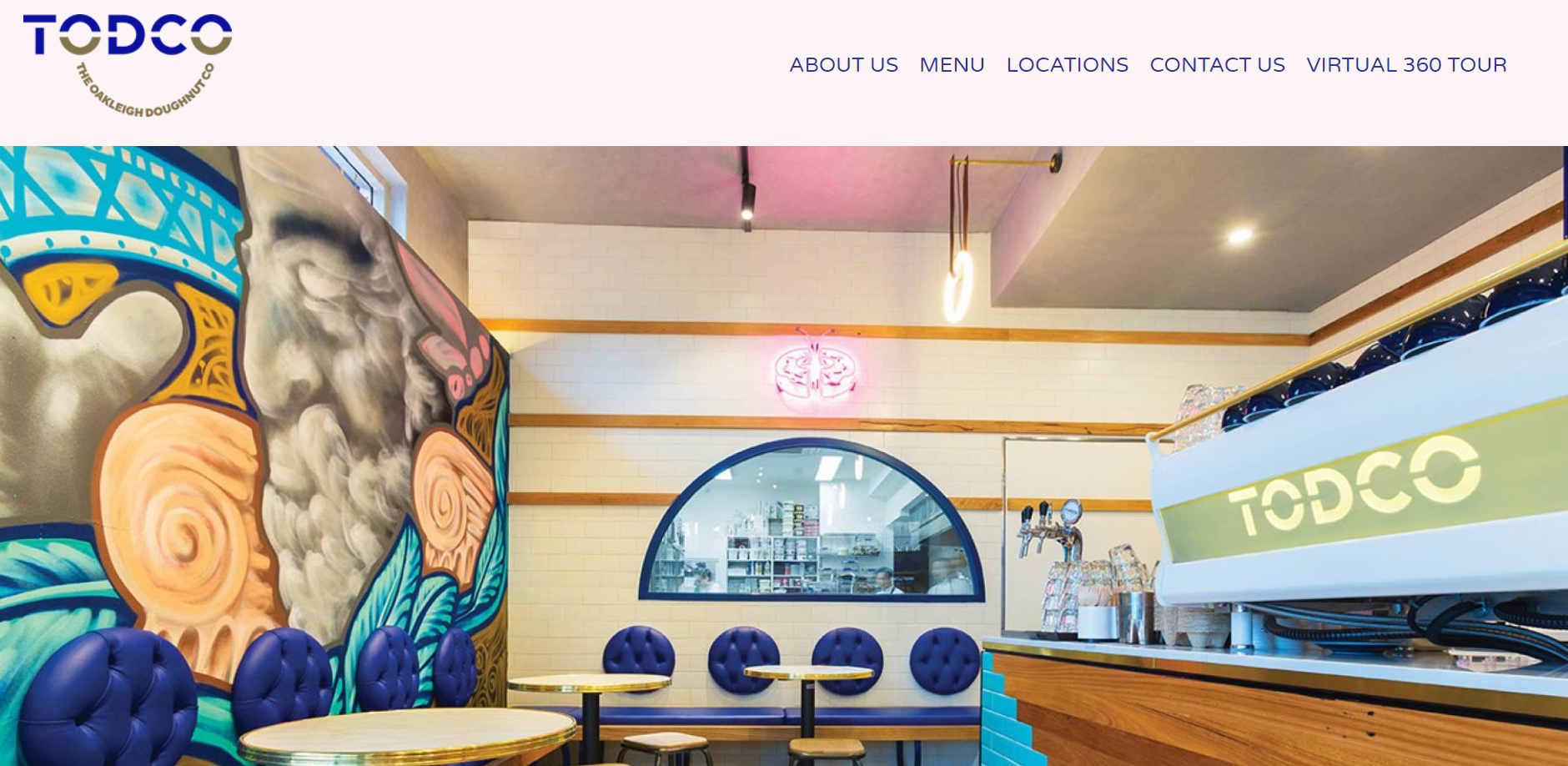 (03) 9569 8171
At TODCO, we have been proudly serving artisan doughnuts and specialty coffee since July 2017.
Our objective is to produce the freshest doughnuts in Melbourne together with a memorable in-store experience.
To achieve this, we fry and decorate our doughnuts in small batches throughout the day to ensure a superior product and pride ourselves on exceptional customer service.
Our Oakleigh & South Yarra stores showcase our range of 26 yeast-raised and cake doughnut flavours.
Through our kitchen window, you can view our skilled pastry chefs work meticulously in our purposely designed doughnut kitchen.
We also know the importance of quality coffee.
That's why we have chosen Industry Beans as our specialty coffee roaster.
We serve up their signature blend' Fitzroy Street' at both locations, Oakleigh & South Yarra.
Flavour profile & composition:
Blackcurrant – 33% Montana Verde, Honduras
Blood Orange – 33% San Rafael, Colombia
Chocolate – 34% Ruhora, Burundi
Fitzroy Street's flavour profile is equally delicious, both black and with milk, with its bright acidity, dark fruit notes and smooth finish.
This coffee is a perfect match for our delicious doughnuts!
We look forward to seeing you in the store!
THE FOUNDERS:
Born in Oakleigh, brothers Yani and Nic's fondest childhood memories were eating their Grandmother's freshly made sweets.
It was these memories that gave them the inspiration to design exceptional artisan doughnuts and serve specialty coffee in the suburb they were raised in.
Every single doughnut has been through the brother's rigorous creation process, and they are delighted to share them with you.
RawLove Superfoods Cake Shop Melbourne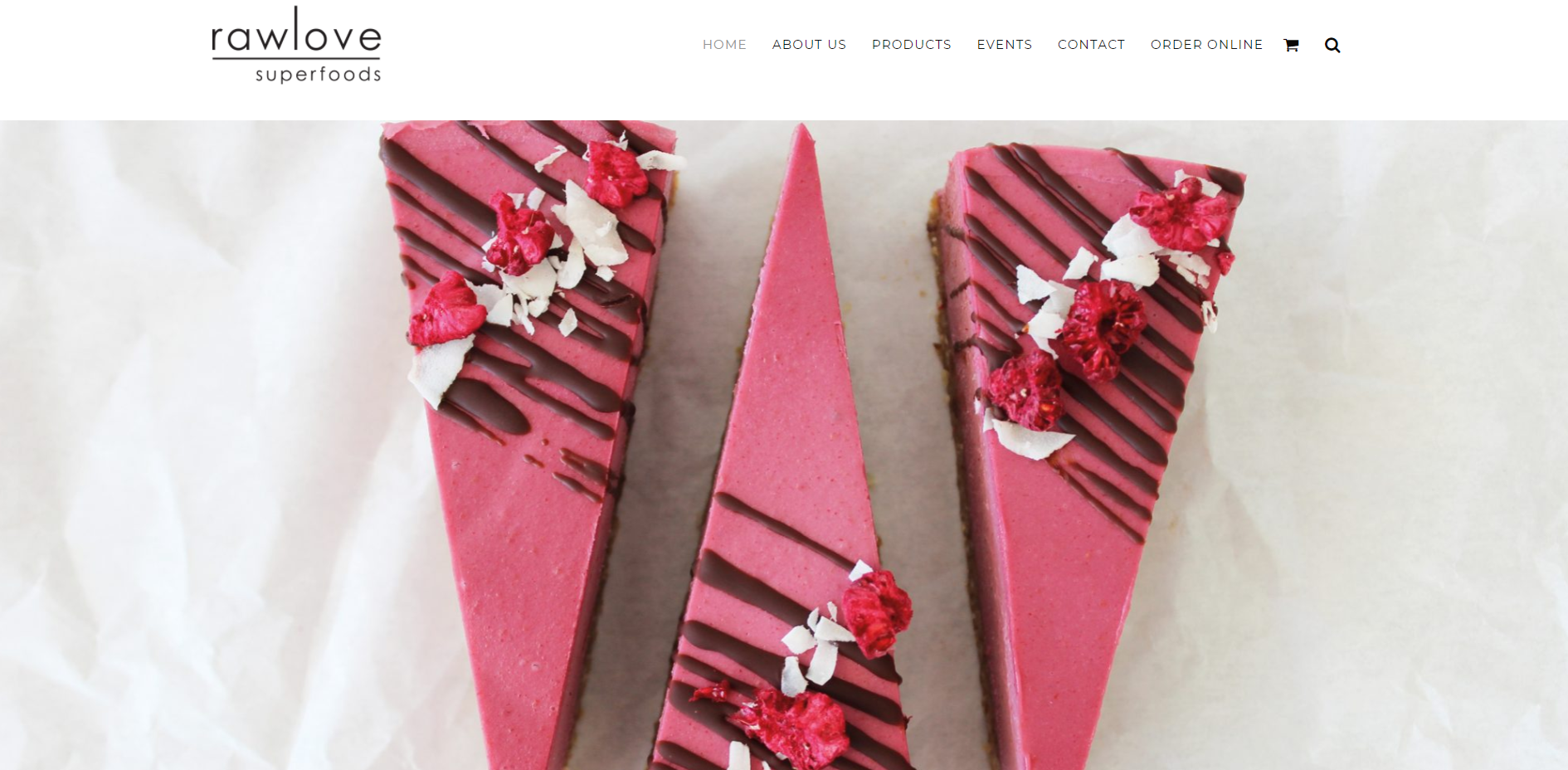 03 9592 6800
FOOD THAT'S NOURISHING FOR THE MIND, BODY AND SOUL
At RawLove Superfoods, we believe in the power of sinking your teeth into something deliciously sweet and creamy. There's nothing quite like treating yourself to food that just makes you feel good. We also believe enjoyment and nourishment aren't mutually exclusive. That's why every one of our handmade treats and desserts is proudly organic, raw, vegan, gluten-free, dairy-free, and refined sugar-free.
At RawLove Superfoods, we believe in the power of sinking your teeth into something deliciously sweet and creamy. There's nothing quite like treating yourself to food that just makes you feel good. We also believe enjoyment and nourishment aren't mutually exclusive. That's why every one of our handmade treats and desserts is proudly organic, raw, vegan, gluten-free, dairy-free, and refined sugar-free.
Whether it's our famous mint-choc slice or one of our velvety "cheese" cakes, our food is infused with food-grade doterra essential oils and packed with nutrient-dense superfoods. Our philosophy is simple – health, vitality and well-being come from the inside out. That's why we create food that's nourishing for the mind, body and soul.
Owned and operated by one of Australia's first certified raw chefs Sandra Bottrell, RawLove Superfoods first began in Sydney in 2012. Trained as a massage therapist specialising in lymphatic draining and as a holistic counsellor specialising in grief, Sandra has a detailed background in holistic health. Sandra learnt through her professional and personal experiences that trying to maintain a healthy and healing lifestyle can be isolating, especially when it comes to food. After suffering through illness and embarking on a journey back to health, Sandra discovered finding nutritious treats and desserts was near-impossible.
This discovery, along with her years of experience in the holistic health industry, sparked Sandra's desire to bridge the gap between health, nutrition and enjoying life and food to the fullest. Sandra wanted to create desserts that take the traditional tastes and flavours we all know and love and transform them into treats, and we can feel good about eating long after they're gone. And with that ethos in mind, RawLove Superfoods was born. Now located in Melbourne, Sandra and her team of dedicated chefs supply their handcrafted products to cafes and health food stores in Victoria and throughout New South Wales.
Whether you're a raw food devotee, dabbler or simply want to try something new and to nurture, RawLove Superfoods welcomes you. Join in today by visiting our Brighton East location, book into one of our classes, try one of our cakes for your next special occasion or visit one of our proud retailers.
RawLove Superfoods. Created with care, infused with love.
Kye's Cakes Melbourne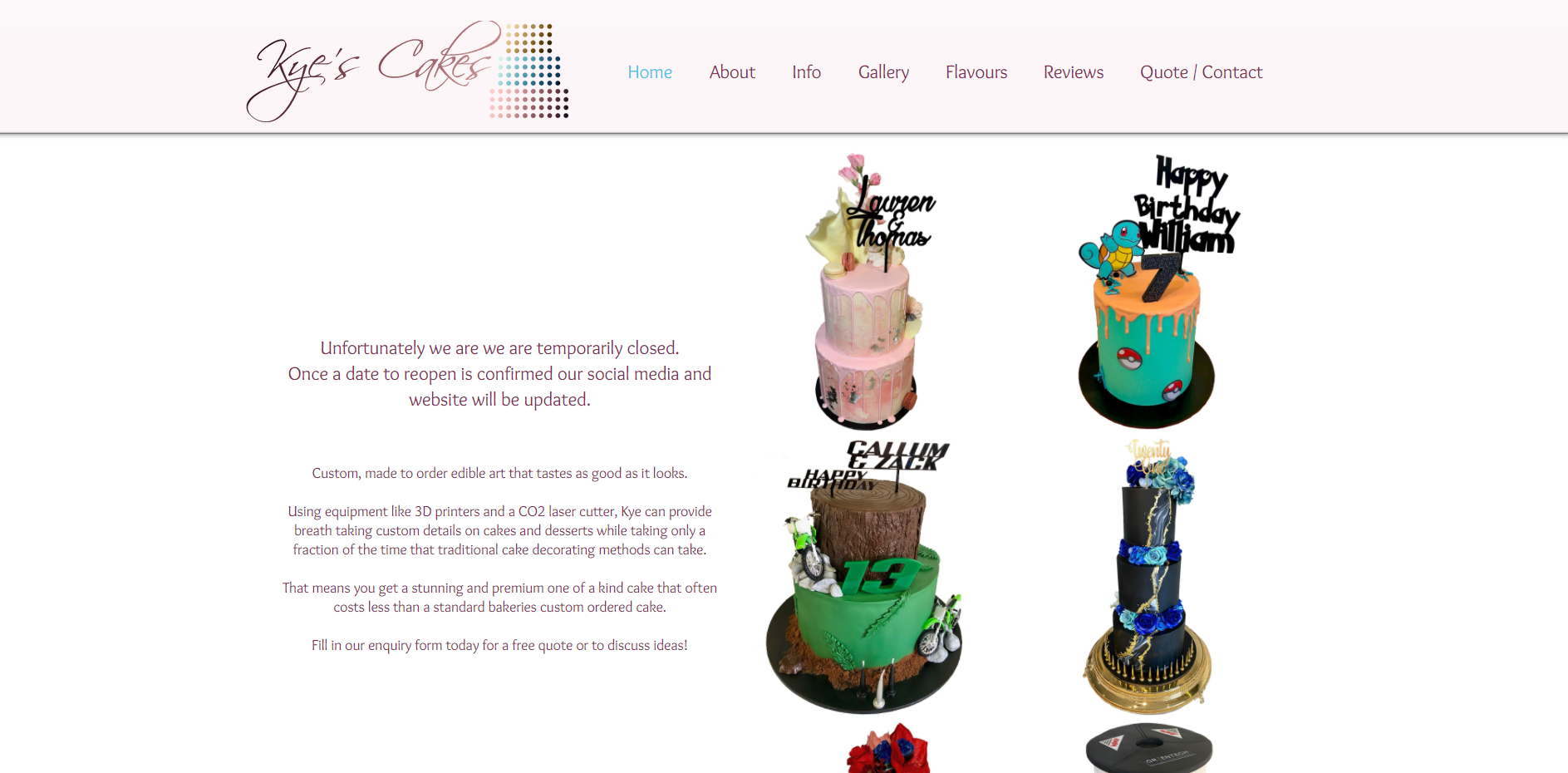 Unfortunately, we are temporarily closed.
Once a date to reopen is confirmed, our social media and website will be updated.
Custom, made to order edible art that tastes as good as it looks.
Using equipment like 3D printers and a CO2 laser cutter, Kye can provide breathtaking custom details on cakes and desserts while taking only a fraction of the time that traditional cake decorating methods can take.
That means you get a stunning and premium one of a kind cake that often costs less than a standard bakeries custom ordered cake.
Fill in our enquiry form today for a free quote or to discuss ideas!
Kye's passion for creating desserts drove him to leave his IT career so he could study patisserie and work at a boutique cake business to get real experience.
Now Kye is able to offer affordable, stunning pieces of edible art that taste just as incredible as they look, direct to you.
Using equipment like 3D printers and a CO2 laser cutter, Kye can provide breathtaking custom details on cakes and desserts while taking only a fraction of the time that traditional cake decorating methods can take.
That means you get a stunning and premium one of a kind cake that often costs less than a standard bakeries custom ordered cake.
Through experience, care and attention to detail, we can create something that will not only make your taste buds sing but leave an amazing memory for years to come.
Custom cakes are our speciality! We will work with you to ensure your vision & ideas are crafted into a beautiful centrepiece for your event. Cakes aren't where we stop! We are able to bake and craft an extensive range of sweets for you, such as:
Cupcakes

Cookies

Macarons

Croquembouches

Dessert Pies & Tarts

Petite Fours

Candies & other desserts.
Building a reputation isn't easy, but we're truly dedicated to ensuring your entire experience with Kye's Cakes is one that will leave you eagerly awaiting your next event.
Kye's cake's is operated out of a kitchen that is registered & inspected by Monash City Council. Consultations & pick-up's are welcome at arranged times.
For your convenience, we also offer delivery Melbourne wide & table set up.
Piece Of Cake Bakery Melbourne 
0432 304 421
All of our cakes are available in 8, 9, and 11 inch round sizes; however, other sizes are available in square or rectangle shapes as per request.
Orders can be left on our answering service 24 hours a day. However, please place your order ASAP to avoid the possibility of a shortage on our behalf.
Credit card payments are accepted through must be processed prior to picking up the cake. Please email, phone or mail details of credit card for processing.
Pick up directly from the shop will not incur an additional charge: 2 b Macrina Street Oakleigh East (off Ferntree Gully Road)
Please place orders through email: [email protected] or phone/text on 0432 - 304 - 422
Three Little Bakers Melbourne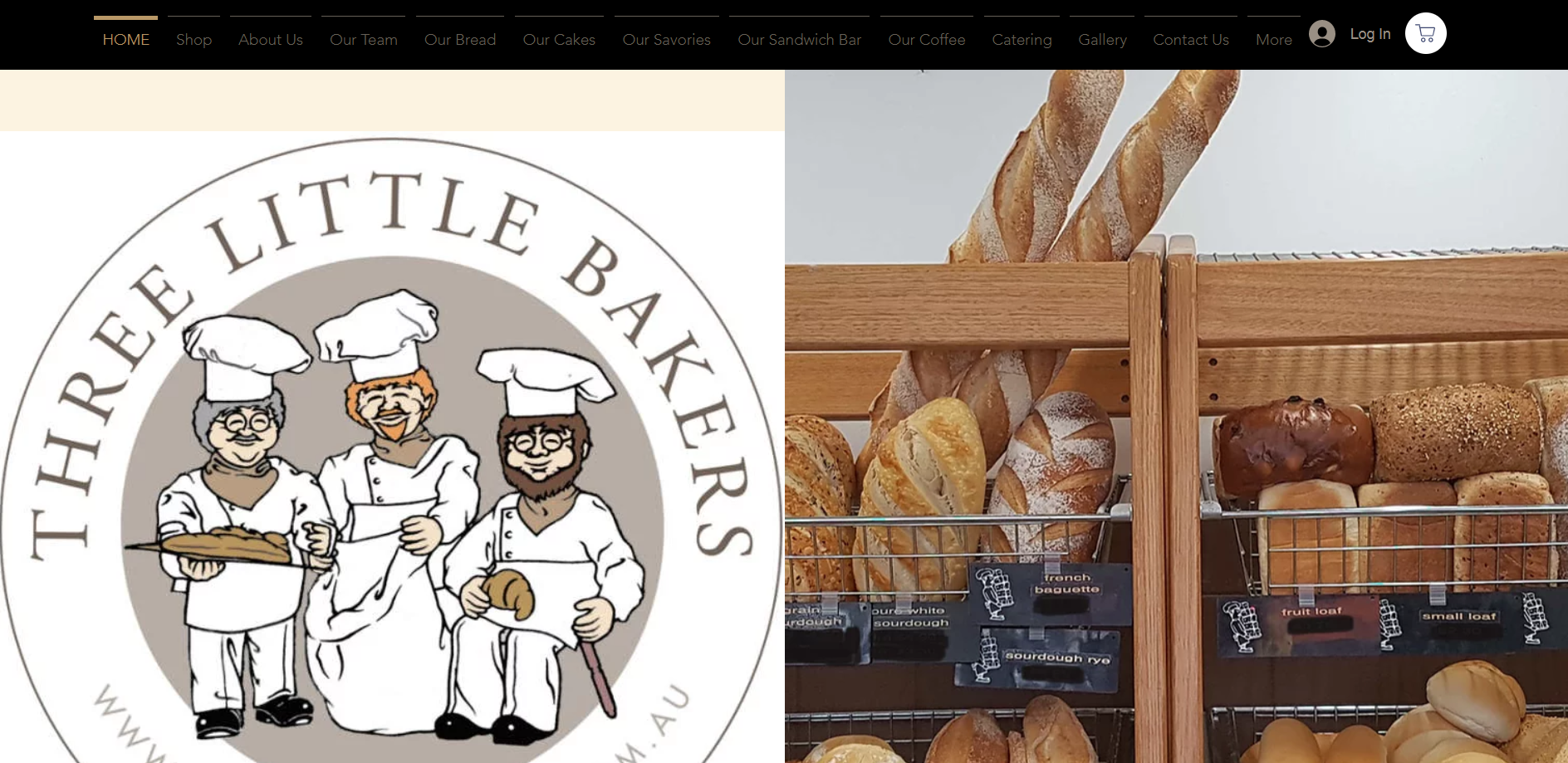 03 9569 8526
Welcome to Three Little Bakers
​Three Little Bakers is a small family business, where you can still experience the good old service with a smile and the products are all carefully hand made on the premises.
Drop-in and experience the warm welcome, great flavours and exceptional service at Three Little Bakers – we guarantee you'll be back for more!
Best Little Bakery in Murrumbeena, a local Bakery with a reputation for a great range and top quality.
Tasty savoury and sweet treats baked fresh daily on-premises.
HOW LONG HAVE WE BEEN HERE
Bert and his team took over Three Little Bakers in 2011. 
WHY DO WE DO IT
(getting up in the middle of the night)
We do it because we like what we are doing. For us, job satisfaction is the comments we get from our customers as they walk into our bakery. 
You could say: Happiness is the smell of fresh bread coming straight from the oven, the flavour of the pie meat cooking on the stove, the aroma of the fresh cakes lingering in the room, a trace of spice from the fruit buns hanging in the air...
The appreciation of our customers makes up for many hours of lost sleep, but there is no greater pleasure than the excitement in the eyes of the children when they discover the wide range of freshly baked goodies. 
Our Products
We are proud to be in a position to offer you products that are homemade by our qualified staff.
Bert is sourcing all the ingredients from the best traders in the bakery business and makes them into the perfect goodies.​
Our meat for the pies has been carefully selected and consists of minced meat for our plain and flavoured pies, whereas the Bushman's Pie is made with chunky steak.
​All the vegetables and fruit for our sandwich bar comes directly from a local greengrocer.
We stock ProCal Milk for your convenience.
​​All products are freshly made on the premises and baked daily. 
And in case you were wondering, all the leftover bread goes either to a charity or to a farmer for his animals. 
Order now, pick-up later.
Did you know, most of our products are listed and pictured on our online store?
Click on the shop tab and choose in the comfort of your own home. Then call to order ahead and pick up at a less busy time.
Miss Ladybird Cakes Melbourne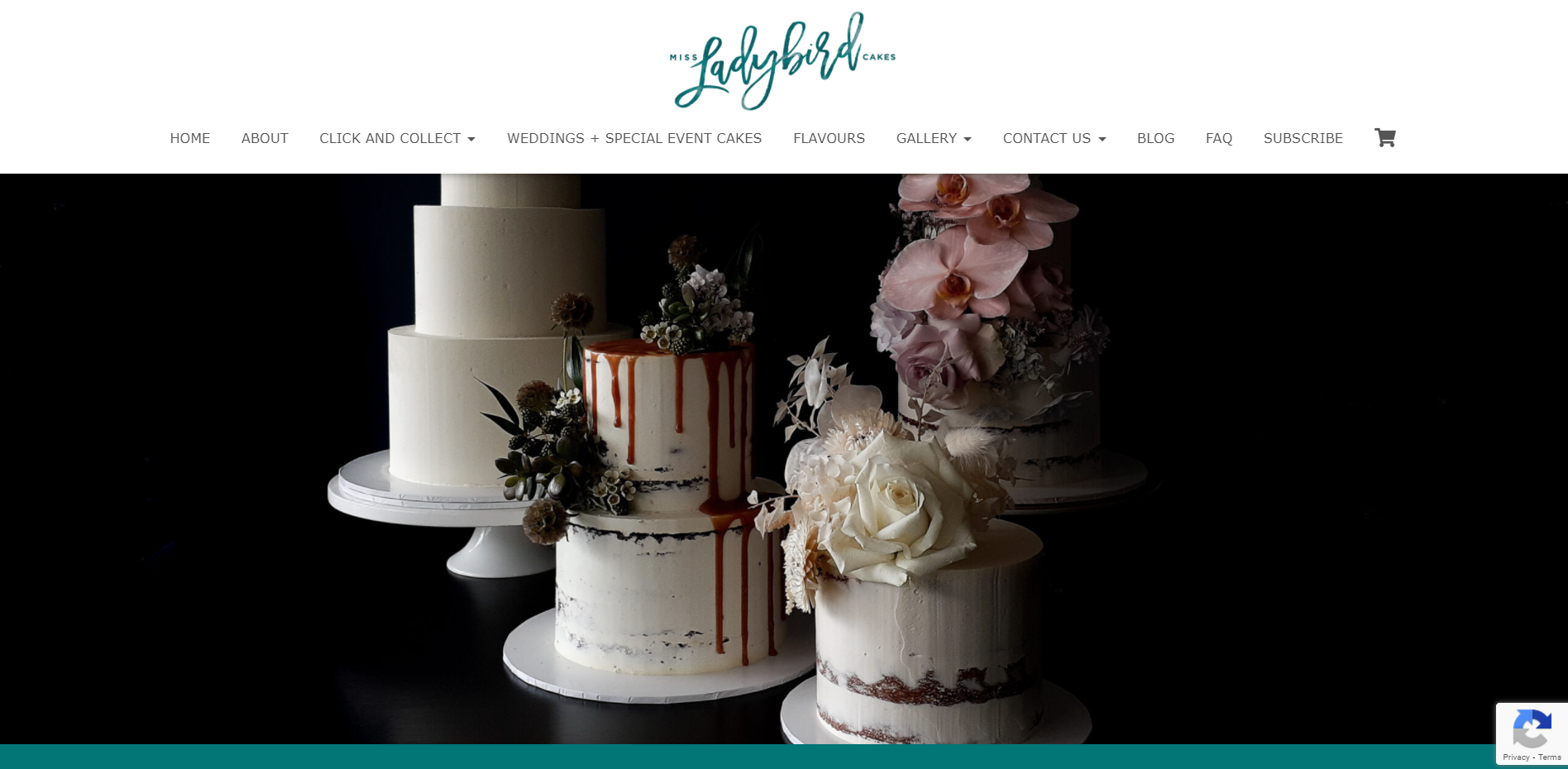 03 95788486
Miss Ladybird cakes is about having a beautiful cake for your event that looks amazing and tastes great!
We pride ourselves on having a large range of event cakes available, whether it is for a small intimate event, a family birthday, or a large wedding.
Miss Ladybird Cakes has opened the doors to a stunning cake shop, affectionately known as The Little Shop, in Elsternwick.
This gorgeous cake shop and café is the new retail home for Miss Ladybird Cakes.
Offering a wide selection of our most beloved cakes, cupcakes and treats. Stop in for our delicious cakes, grab a takeaway coffee and enjoy!
With 12+ years of experience in creating beautiful cakes, Miss Ladybird Cakes aims to make something that is both beautiful to look at and beautiful to taste. If you'd like to discuss your catering, dessert or designer cake needs, please don't hesitate to get in touch!
"From as early as I can remember, I have spent my time creating things" – Gina (aka Miss Ladybird)
As a child, my mum kindly showed me the many ways of creating beautiful things out of nothing. Our room was always full of trinkets, paintings and objects, made from anything we could find. Living in the country was a great treasure trove of creativity.
This naturally led me to the kitchen, where creating sweets became like second nature, consuming most of my weekends before working at the local bakery at the age of 15.
I then went on to complete my studies as a qualified chef, working in award-winning restaurants in my home country of New Zealand. Hearing stories of London, Edinburgh and Melbourne from fellow chefs inspired me to travel.
I worked in Edinburgh, soaking up as much as I could from being in a larger city with so many different styles of food and cuisine right at my doorstep and travelling around Europe, eating, learning and consuming as much information as I could. I went from baking hundreds of scones inside the kitchens of Edinburgh Castle to learning management skills from one of the top hospitality groups. This formed relationships that led me to beautiful Melbourne.
Here, I worked at a reputable patisserie for one of the top restaurant groups in Melbourne, making tarts, eclairs and macaron's, gaining as much experience as I could. I've always made sure that I experienced as much of the industry as possible, from silver service catering in Edinburgh, wine service in New Zealand, to café management in Melbourne. These are the makings of what I believe is the knowledge to successfully run my own business.
Those relationships I built so long ago while travelling led me to work for a highly reputable catering company. Running their pastry section, making the cakes for their cafés and supplying the canape sweets for Melbourne's most elite functions.
During the 8 years of travelling and working, I was always making cakes for friends in my existent spare time. Weddings, events, and catering for family and friends. Cakes for everyone whenever I could. I think there is barely a week in well over a decade that I haven't been in the kitchen baking. It's all I do, and it's all I've ever done.
I take great pride in my experience and am grateful for all the knowledge I have learnt from those I have worked with.
Miss Ladybird Cakes – the business:
This "small" business of ours has been running for 8 years now. During our time working in the wedding industry these past years, we have made valuable relationships with other Melbourne wedding suppliers; photographers, venues, florists, printers, to name a few. I believe this helps us to provide a high standard product for our clients. Whether it's the logistics of accessing a venue to organising the flowers for decorating, we believe our clients are in good, experienced hands.
We love to use locally sourced produce and bake everything on site from scratch in our studio production kitchen in Mckinnon. We do not believe in pre-mixes. We take pride in creating a product which has been solely made by us, from the cake batter to the buttercream, to the jams, to the fruit essences.
"Our main aim is not to be the best, but to make a product we are proud of. A product which interprets the love we have for an industry we have spent our lives immersed in".
Get in touch with us here.
Sweethearts Wholesale Cakes Melbourne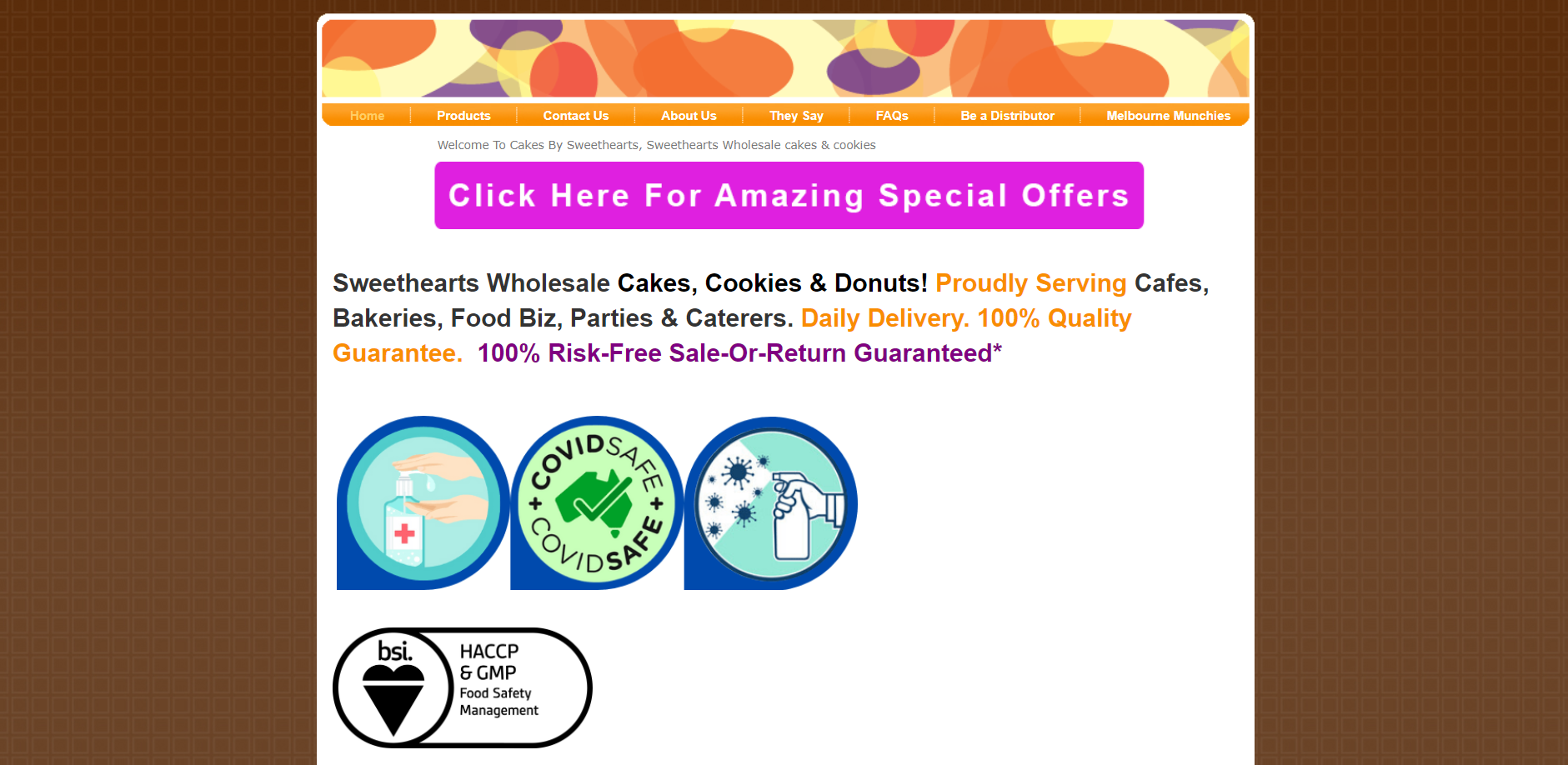 0408 566 238
Sweethearts Wholesale Cakes, Donuts/ Doughnuts & Pastries since 1996, delivering the most popular & fastest selling cakes, cookies, doughnuts, doughnuts, biscuits, slices, muffins, desserts, gluten-free, flourless, gluten-friendly, raw vegan and other yummy stuff! Proudly serving cafes, caterers, food service business, and foodservice distributors in Melbourne, Sydney, Adelaide, Brisbane, Gold Coast, Tasmania, Perth and Darwin and anywhere a good coffee is being served! 100% Quality Guaranteed, HACCP Certified. Check out the range and contact us now to see how we can romance the tastebuds of you and your customers!
Sweethearts Wholesale Cakes & Pastries, based in Melbourne since 1996, provide the most popular and fastest-selling wholesale café cakes, pastries, cookies, biscuits, slices, desserts, cupcakes, muffins and more! Thank you to all our loyal customers and loyal staff and suppliers as we have grown to become a key player in the Australian Foodservice industry. Proudly serving cafes, caterers, food service business, and food distributors in Melbourne, Sydney, Adelaide, Brisbane, Gold Coast, Tasmania, Perth and Darwin and anywhere a good coffee is being served! Here's our story...
The Birth Of Sweethearts Cakes and Cookies
Starting in their small kitchen from home in 1996, the current directors, Anton & Darren, realised that busy cafe owner who would make everything themselves were in urgent need of some outsourcing help, so they started by making brownies and some other slices for the growing cafe market in Melbourne.
Creating a Slice of the market
Before all the would-be copycats that would come later, the Sweethearts' boys realised early on that cafe goers didn't necessarily want a whole piece of cake, so they focussed on developing the cake portion or 'slice' which became so popular that they were responsible for leading a market revolution! Since that time, they have sold in excess of 5 million slices and continue to be the most popular and fastest-selling slices range leading the market today. Naturally, the sweetheart's team then commenced work to create the leading cookies, muffins, cakes, cupcakes and desserts too!
Serving a Need
The sweethearts' boys quickly realised that cafe operators and caterers no longer wanted to stock similar product to milk bars or takeaway shops and were getting so time-strapped with day to day business operations that they were in dire need of outsourcing their range of cakes, muffins, cookies etc. to maintain a full range to offer their customers whilst they focussed on coffee and meals.
Melbourne's Sweethearts responded to this market need by developing a range of cost-effective cakes, cookies, muffins and slices that was more cost-effective for cafe operators and caterers than making it themselves! Thus meeting the demands of the thriving cafe operator in Melbourne's world-famous cafe market, they carved out a niche for themselves and are market leaders to this day, constantly adding and upgrading products to suit the needs of cafe operators, caterers and party makers alike to save them time and money and give caterers access to the 'just like you made yourself' sweet products, without the hassles of making it yourself or staff, stock and storage issues. Outsourcing demands naturally grew every year since.
Romancing the taste buds of a nation!
Now several years later, Darren and Anton have continued to drive and upgrade the constantly growing business, which has demanded two big commercial kitchen upgrades, an expanded delivery force for statewide and interstate distribution, the addition of many new products with an experienced team of qualified chefs!
Sweethearts maintain its impeccable standards of excellence with Quality management systems and a customer focussed approach.
Sweethearts are regularly audited by external health and safety agencies and have been awarded the Spotless Standard HACCP accreditation, and is externally audited on food hygiene, documentation and food safety systems every 6 months to maintain HACCP certification as one of the industry's highest level of food operations certification currently achievable in Australia.
With 'romance your tastebuds' as their motto and a continual dedication to excellence in quality and service, the Sweethearts team is focussed on romancing the tastebuds of Australia and has since grown to become Melbourne/Australia's leading manufacturer of quality cakes, cookies, biscuits, slices, muffins, cupcakes and desserts servicing gourmet cafes, caterers, restaurants, hotels, hospitals, universities, schools, event planners and party makers and anywhere a good coffee is being served!
For An Angel Cake Shop Melbourne

+61 3 9570 8009
For An Angel Cake specialises in custom celebration cakes and desserts.
Each of our creations is made professionally, with great attention to details to achieve a truly unique piece of art.
Please note: We are located in Melbourne (previously based in Singapore).
Hello! My name is Rifera, and I feel so fortunate that I can bring smiles to people's face with something I made with my own hand! This little thing brings so much joy, and it really warms my heart! I started my cake business in Singapore in 2012, and since then, I have been taking professional courses in Patisserie, Cake Decorating as well as other courses that support my cake business such as Clay Sculpting, Painting and Floristry, 
As a registered business with a registered kitchen, I always try to assure that every creation you received are using the best quality product, and they are all made with attention to details, and of course, full of love too!
Marciano's Cake Melbourne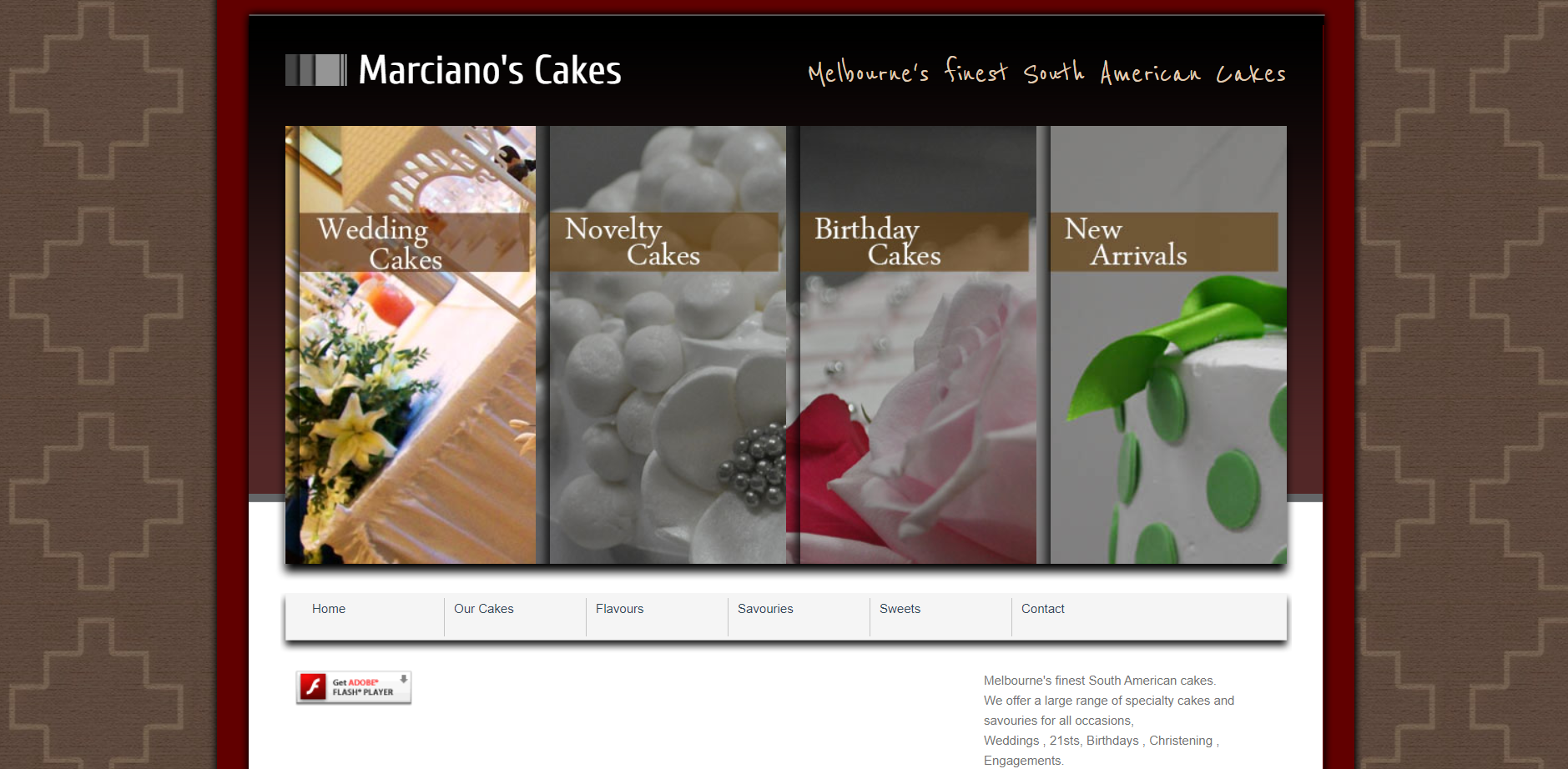 (03) 95435962
Melbourne's finest South American cakes.
We offer a large range of specialty cakes and savouries for all occasions, weddings, 21sts, Birthdays, Christening, Engagements. Traditional empanada's (pies) and Spanish bread baked daily.
We specialise in traditional homemade Spanish recipes that are unique to Australia.
All our cakes are made to order using only the finest quality ingredients.
You can also bring in your own photos and print them into edible images for a unique look.
Marciano's Cakes were established in 1996.
Wedding cakes
All wedding cakes are available in traditional fruit cake, Milhoja (puff pastry), Larica (sponge with fruit) or mud cake.
Designs:
Our cake designers will work with you to help you with the design of your wedding cake and match the colours and flowers of your wedding.
Your floral decoration can be hand made with sugar or with fresh flowers.
MCakes Melbourne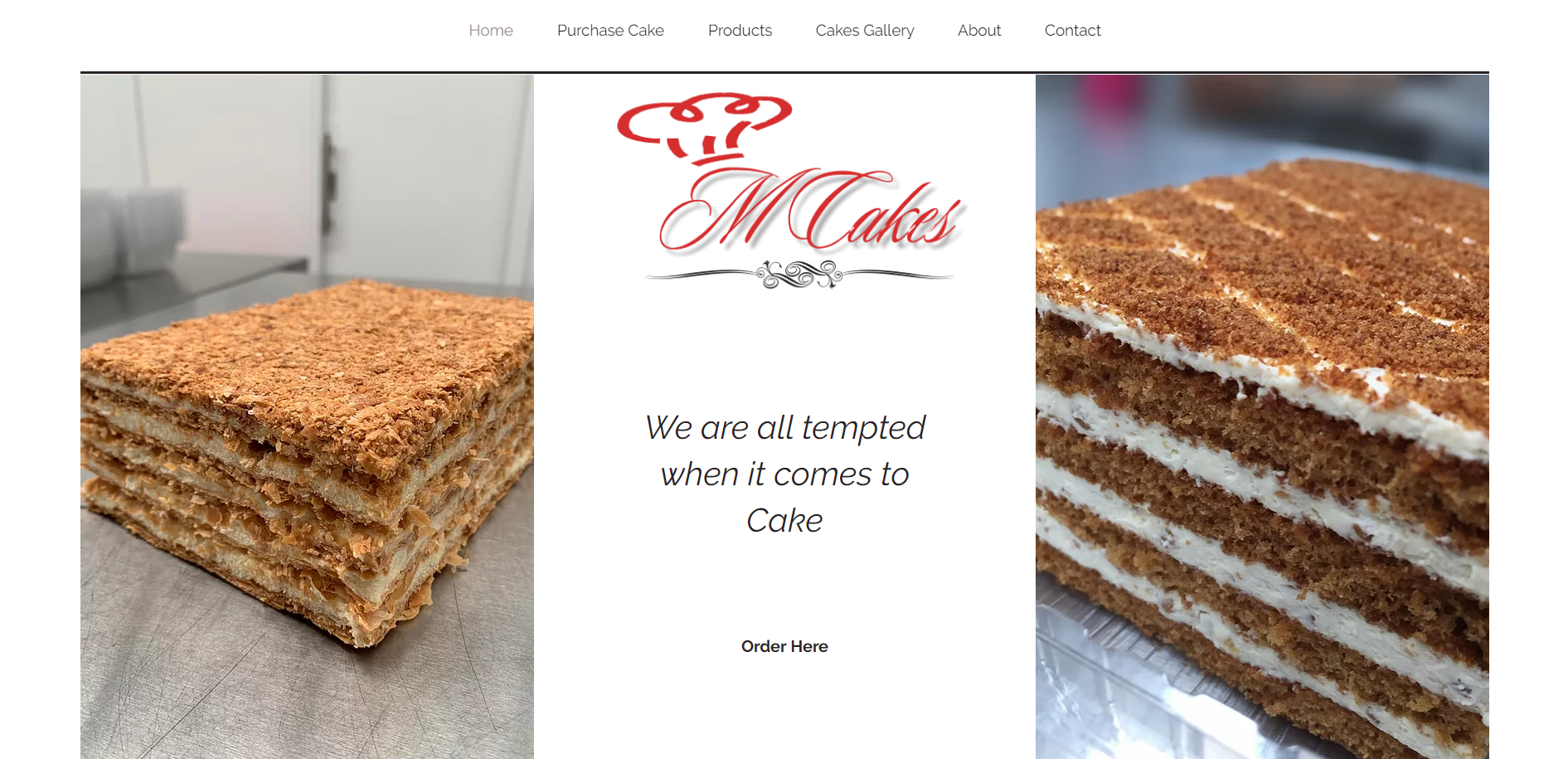 MCakes is Melbourne based cake business specialising in creating delicious cakes for every day or special occasions. Our delicious cakes are created specifically to meet your requirements.
Each cake is made from scratch using the freshest possible ingredients. So you can be assured of a cake that not only looks beautiful but tastes fantastic too.
Whether you have a cake design in mind or you would like some ideas for that perfect creation, we will work with you to come up with a fantastic finishing touch for your special day.
We produce Honey Cakes, Tiramisu, Napoleon, Éclairs, Chocolate Cakes and many more.
Please contact us to discuss your next cake!!!
You can purchase MCAKES products at the following stores:
Russian Tidbits · 113 Koornang Rd · Carnegie · Victoria · Australia | phone: (03) 9572 3911

Fine Gourmet DELI · 465 Centre rd · Bentleigh · Victoria · Australia | phone: (03) 9557 8965

European Flavour · 823 Glen Huntly Rd · Caulfield · Victoria · Australia | phone: (03) 9523 8005

Balaclava Deli · 267 Carlisle St · Balaclava · Victoria · Australia | phone: (03) 9527 2202  

Hugo's Donuts · 2 Shannon Street Mall · Frankston · Victoria · Australia | Phone: 0409 575 853

Sinners Family Restaurant · 3/797 Plenty Road, South Morang · Victoria · Australia | phone: (03) 9436 6900

Eurofood Shop · 57 Station Str · Nerrang · QLD · Australia | phone (07) 5502 1259

European Deli Skazka · 16 Kingdon Street, Newmarket, Auckland · New Zealand | phone: (09) 523 1453

Q Liquid · 232A Neilson St, Onehunga, Auckland · New Zealand | phone: (09) 636 7730
Bonbons Bakery Cake Melbourne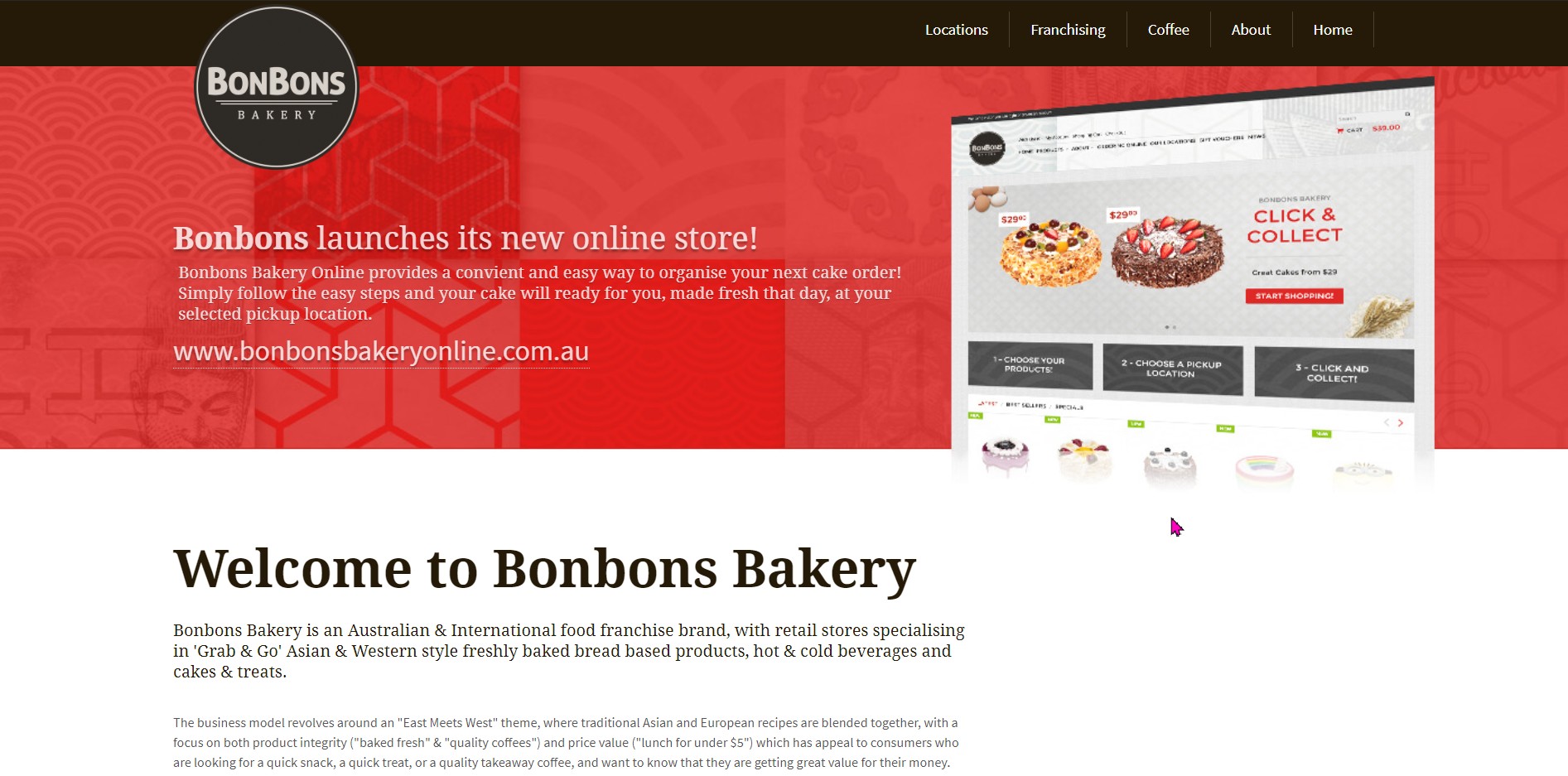 1300 305 805
Bonbons Bakery Online provides a convenient and easy way to organise your next cake order! Simply follow the easy steps, and your cake will ready for you, made fresh that day, at your selected pickup location.
Welcome to Bonbons Bakery
Bonbons Bakery is an Australian & International food franchise brand, with retail stores specialising in 'Grab & Go' Asian & Western style freshly baked bread-based products, hot & cold beverages and cakes & treats.
The business model revolves around an "East Meets West" theme, where traditional Asian and European recipes are blended together, with a focus on both product integrity ("baked fresh" & "quality coffees") and price value ("lunch for under $5") which has appeal to consumers who are looking for a quick snack, a quick treat, or a quality takeaway coffee, and want to know that they are getting great value for their money.
Our Ingredients
The Bonbons Bakery component sources all of its raw ingredients directly, with 99% being Australian made produce, and manufactures freshly made, home-style pieces of bread & cakes, baked fresh on premises every day. The Bonbons beverage component sources its own freshly roasted coffee blend, supporting fair trade growers of coffee beans, teas and produce.
Our Coffee
We don't just sell any coffee. We wanted to make sure that our coffee offer was at least as good as our bakery offer. That's why we are the first bakery in Australia to use the Bonn Coffee brand. Combining over 100 years of cafe experience, Bonn Coffee is a premium, high grade & exclusive 4 bean Arabica blend that creates a truly smooth & classic European taste - with just a dash of Robusta to finish the palate with strength & body. Best of all, Bonn is roasted fresh in Melbourne every week. T
his is a truly great coffee!
Bonbons Bakery Franchising
A Bonbons Bakery can help you achieve many of your personal goals. We give you the freedom to run your own business, but with a qualified franchise support system and a network of highly experienced food, bakery & coffee people all doing the same thing, with a proven business model and a growing franchise brand.
If you would like to know more about one of Australia's fastest-growing franchise opportunities, please contact us via email at [email protected].
Simon's Cakes Melbourne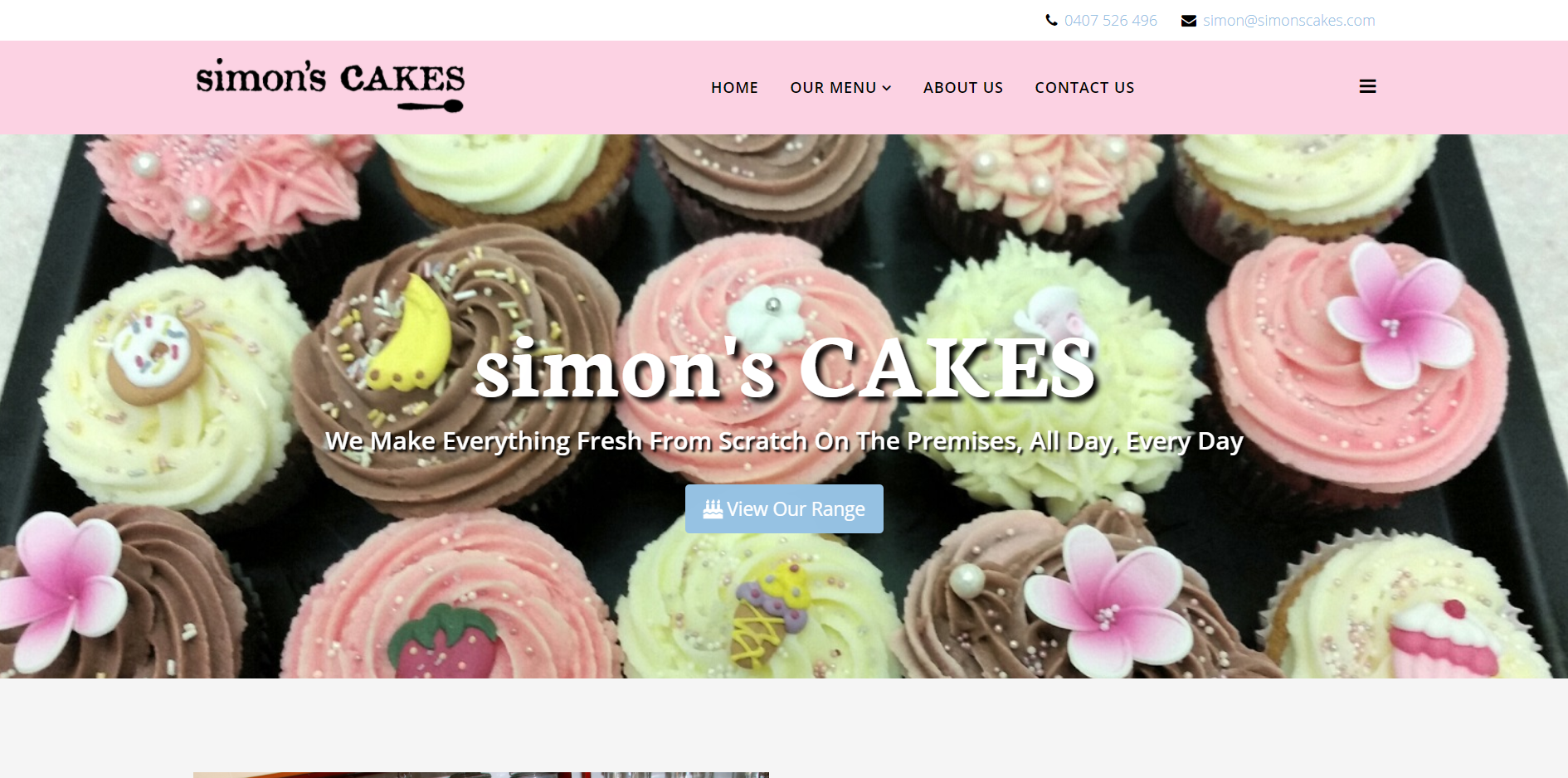 0407 526 499
At Simon's Cakes, we make everything fresh-from-scratch on the premises, all day, every day, using only the finest ingredients. We bake the old-fashioned way without the use of preservatives and provide very personal service.
We have an amazing array of mouth-watering cakes, muffins, biscuits, slices, pastries and cupcakes that look too good to eat! Our range of cakes for all occasions will leave you wondering just which one to pick. Select from our range of traditional cakes, wedding cakes, Christmas cakes, birthday cakes. If we don't already bake it, talk to us, and we can create and bake it just for you.
We bake the old-fashioned way without the use of preservatives.
Simon has been baking for the past 30 years, originally trading from Centre Road. We relocated to North Road, Ormond, in 2013 and have expanded our business substantially to include a coffee shop to enjoy coffee, tea, hot chocolate, pastries, cakes and savoury choices. Choose to dine in or take away.
At Simon's Cakes, we make everything fresh-from-scratch on the premises, all day, every day, using the finest ingredients.
We provide very personal service, and please visit, call or email us so that we can fulfil your requests.
Please visit, call or email us so that we can fulfil your requests.
What are the basic types of cake?
The cake is cake, right? Well yes, and no. There are many different types of cake-whether it's a birthday, angel food, pound cake, and so many more. But really, all of these cakes are just variations of a few basic types. Learn the difference between these classic cakes, so you know what you're baking.
Baking cake from scratch is an essential skill in any baker's wheelhouse. Although there is nearly a comprehensive list of recipes available, this list of fifteen covers the cakes' fundamental types. So grab your mixing bowl and preheat your oven because together, we'll endeavour to become better bakers.
There are two main types of cake: butter (also known as a "shortened" cake) and foam. And then, within each category, there are many varieties. The primary difference between the two cakes is the fat content. Shortened cakes have either butter, oil, or shortening in them. (A classic yellow cake is a perfect example.) Foam cakes have little to no fat and typically involve whipped eggs (either white, yolks, or both), making them lighter and airier. Think of a rolled type sponge cake, like a Buche de Noel, which you might see during the holidays.
Types of Cakes to Satisfy Your Sweet Tooth
Butter Cake
Any recipe for a cake that begins "cream butter and sugar" is a butter cake. After the creaming, you add eggs to aerate the batter a bit, flour (and sometimes another liquid, like milk) to give it structure and texture, baking powder, or baking soda to ensure that it rises in the oven. Different types of cake batter within the butter cake family include chocolate, white, yellow and marble; for white and yellow cakes, colouring typically depends on whether they have whole eggs or extra egg yolks in them (yellowcake) or egg whites only (white cake).
Pound Cake
Pound cake is a relative of butter cake. It's so-called because it can be measured as a matter of proportion: a pound of butter, a pound of sugar, a pound of eggs, and a pound of flour. In some pound cake recipes, you'll see the eggs separated and the egg whites whipped and folded into the batter to leaven it; in other recipes, you'll find leaveners like baking soda and baking powder, bringing it well into the butter-cake fold. These cakes are usually very lightly flavoured and served plain or topped with a simple glaze or water icing. A pound cake is usually baked in a loaf or Bundt pan. Many coffee cakes, sour cream cakes, and fruit crumb cakes are variations of pound cake.
Sponge Cake
Any recipe that contains no baking soda or baking powder but lots of whipped eggs or egg whites? That's a sponge cake, and there are several different types of sponge cake, which will be called different things wherever you are.
Genoise Cake
Airy genoise cake layers are light enough to stack with whipped cream and berries for an impressive summer dessert.
In Italy and France, a sponge cake is called genoise; in genoise, whole eggs are beaten with sugar until they're thick and ribbony, and then flour (and sometimes butter) is added, and the batter is baked; the result is wonderful baked in a round cake pan and simply frosted, but genoise is also pliable enough to be baked in a jelly-roll pan and rolled up into a roulade.
Genoise lacks much assertive flavour, but it is often used to construct layered or rolled cakes when a lighter texture than a butter cake is desired. To add flavour and moisture, genoise cake layers are always moistened with a flavoured syrup, and they are often sliced into thin horizontal layers and stacked with rich fillings such as buttercream. Common in the coffeehouses of Europe, these layer cakes are called "European-style" to distinguish them from American-style butter layer cakes, which generally have fewer, thicker layers.
Biscuit Cake
Biscuit (always pronounced the French way as bees-kwee) cakes are another type of sponge cake containing both egg whites and yolks, but, unlike genoise, the whites and yolks are whipped separately and then folded back together. This creates a light batter that's drier than a genoise but holds its shape better after mixing. For this reason, it's often used for piped shapes such as ladyfingers. If baked in a tube pan like an angel food cake, it makes a very chewy sponge cake popular in the early 20th century but has since fallen out of favour. However, it's still known in a slightly different form as the classic Passover sponge cake, in which the flour is replaced by matzoh cake meal and potato starch.
Angel Food Cake
Angel food cakes are made with egg whites alone and no yolks. The whites are whipped with sugar until very firm before the flour is gently folded in, resulting in a snowy-white, airy, and delicate cake that marries beautifully with fruit. Most angel food cakes have a spongy, chewy quality derived from their relatively high sugar content and the absence of egg yolks. Baked in ungreased two-piece tube pans, angel food cakes are cooled by being inverted since this type of cake would collapse if cooled right-side-up in the pan or removed from the pan still warm. There's also no butter here, so the cake is fat-free.
Chiffon Cake
This fairly recent American creation was invented by a salesman who sold the recipe to General Mills, which spread the recipe through marketing materials in the 1940s and 1950s. A classic chiffon cake is kind of a cross between an oil cake and a sponge cake. It includes baking powder and vegetable oil, but the eggs are separated, and the whites are beaten to soft peaks before being folded into the batter. This creates a cake with a tender crumb and rich flavour like an oil cake, but with a lighter texture that's more like a sponge cake. Chiffon cakes can be baked in tube pans like angel food cakes or layered with fillings and frostings.
Baked Flourless Cake
These include baked cheesecakes and flourless chocolate cakes. They're often made in a springform pan for easy removal, though some can also be made in regular round layer cake pans. The filled pan is often placed in a larger pan that's half-filled with water to insulate the delicate, creamy cake from the oven's strong bottom heat, which might give the baked cake a porous rather than silky texture. This is called baking the cake in a water bath.
Unbaked Flourless Cake
These cakes are typically moulded in a dessert ring or springform pan then simply chilled before unmolding. They include unbaked cheesecakes and mousse cakes. They often have a crust or bottom layer that's baked before the mousse is added. Sometimes other layers, such as genoise or biscuit, are alternated with the mousse.
Carrot Cake
Carrot cake uses the leavening practices of butter cake, but instead of butter uses a neutral oil like vegetable or canola oil. For this reason, it will keep a little longer than butter cakes but can sometimes come out on the greasy side. (The process is pretty much the same: instead of starting out beating butter and sugar, you start out whipping eggs and sugar, then add oil.)
Layered carrot cake with cream cheese frosting topped with candied carrot coins on a serving dish with two slices cut...
Red Velvet Cake
Red velvet cake is essentially a butter cake, though it is frequently made with oil instead of butter. In addition, cocoa is added to the cake batter to create the distinct red velvet flavour — originally, it was a reaction between buttermilk and the raw cocoa widely available at the time of red velvet's inception that caused a ruddy-hued crumb. These days you'll more often find them tinted with food colouring. You might have heard the cake referred to as the $200 cake — legend has it that the red velvet cake was first baked in the 1920s by a chef at the Waldorf-Astoria. A guest was so taken with the cake that she wrote the chef, asking for the recipe — along with a bill. Hence it's another name. Whatever you call it, it's delicious.
It's hard to find someone who doesn't have strong feelings about a homemade cake recipe. We all have our favourites. For some, it might be a rich and sweet cake. Others prefer their cake a little airier—think angel food cake—with a dollop of whipped cream and fresh berries. While some folks won't touch anything but a homemade birthday cake, there are a few of us who love a good old-fashioned grocery store cake. But no matter your preferences, it's good to know the facts regarding different kinds of cake.
Frequently Asked Questions About Cakes
They not only aid in digestion, but also help to tickle your taste buds. The delicious flavors of the cake make them the perfect companion of any cuisine. People do not mind indulging into this yummy dessert after any meal,be it dinner or lunch.
Round cakes would be made in honor of the goddess Artemis, who was the goddess of the moon. Lit candles decorated the cake as a representation of the moon's glow, while the smoke from the candles carried their prayers and wishes to the Gods who lived in the sky above them.
Scotland is the country called the land of cakes which is originally one of the four constituent nations of the United Kingdom. It is said to be one of the islands of Great Britain whose capital is Edinburgh and Glasglow being the largest city. Poetically, Scotland is known as Caledonia which means "the land of cakes".
Traditionally, the person whose birthday it is makes a wish, which is thought to come true if all the candles are extinguished in a single breath. To represent
a sharing of joy and a sense of togetherness
, the cake is shared amongst all the guests attending the party.
The main difference between red velvet and chocolate cake is that red velvet cakes tend to be richer and finer than chocolate cakes. Red velvet cake is a type of rich chocolate-flavoured sponge cake that is coloured red, while a chocolate cake is simply a cake made with chocolate or cocoa.