For whatever reason (budget, venue size, personal desire), you and your partner have decided to have a smaller wedding. Because of this, you need to create an intimate wedding guest list that fits your wants and needs. This can be tough, especially if you're considering inviting both your families, friend groups, and others. Need help planning your wedding? Check out our list of Wedding Event Planners here.
To avoid going overboard, here's how to create a small guest list and stick to it.
What Is Considered a Small Wedding? 
There's no "one size fits all" scale for a wedding guest list—different amounts of attendees will feel suitable to different people based on family makeup, friend groups, culture, religion, etc. We consider 75 to 150 guests to be an "average" size wedding, and anything over 150 to be a "large" wedding. Marriages under 75 break down into three categories: 
Intimate wedding: Between 50 and 75 guests.

Small wedding: Less than 50 guests. "That number can fit comfortably in a backyard with six or so tables," she says.

Small wedding: 15 people or less. (You might also see "minimum" or "micro wedding" used to describe a wedding of this size.)
How to Determine Your Wedding Size
Deciding who will be present when you say "I do" isn't about hitting a number; it's about ensuring that the people you surround yourself with on this day are the ones who have been influential in your past and will continue to be important in your future. When you have a significant moment, who are the first people you call or text? The people you want to celebrate those moments with are the ones you put on the list first. 
Another way to approach a guest list for a small wedding: think of who you'd invite to a restaurant. If you wouldn't take 200 people out to dinner one-on-one, rethink the pressure of feeling like you have to invite 200 people to your wedding. Because you essentially are taking everyone out to dinner—and dessert, drinks, and appetizers. So if you wouldn't spend that time with them at a restaurant individually, then maybe reconsider where you'd place them on the importance scale when it comes to inviting them to your wedding. 
Tips for Sticking to a Small Guest List 
Ahead, our expert advice for creating (and sticking to!) a small guest list.
Make your wedding adults-only.
Unless you have children in your family or life that you're very close to, make your wedding kid-free. While some venues and caterers offer kids' food and drinks at a reduced rate to help save money, you still have to factor children into your final headcount. For some large families, keeping the kids at home can make all the difference.
If you feel bad implementing this rule, invite kids to your engagement party or rehearsal dinner. You can also organize and hire a babysitter to watch the kids at the hotel or a family member's house during the wedding.
That said, if you go kid-free, you have to go kid-free. You can't allow one guest to bring their children, but not another. Favouritism can cause unneeded grudges and hurt feelings. If you're setting this rule, stick with it.
Limit plus-ones.
An easy way to stick to a small guest list is to limit plus-ones right away. If you want to go this route, we recommend giving plus-ones exclusively to those loved ones in long-term relationships. Otherwise, you're not obligated to give anyone an extra invite.
This is a super standard method to keep weddings small and to keep costs low. If an intimate ceremony is what you're after, this is an easy way to accomplish that. Be prepared for potential pushback—some guests may either request a plus-one or ask why they can't bring one. Stick to your guns and kindly explain the situation (if you feel comfortable)—it was a space issue, a financial one, or simply your preference.
Only invite immediate family members.
Many couples invite their immediate family plus much of their extended family (on both sides) to their wedding. However, consider how many branches there are in your family tree. Suppose you're dreaming of a smaller celebration but come from a larger-than-average family. In that case, you may need to do some reconsidering, especially if you'd also like to include some friends.
When it comes to family, it's not out of the question to cut things off after first aunts, uncles, and cousins. If you're going tiny, then keep it to your parents, siblings, and grandparents. Don't feel the need to invite your distant third cousin—yes, even if they asked you to their wedding years ago.
Don't feel the need to invite any family you're not close with. Sure, talk may spread a bit, but it is what it is. You have to stand your ground and trust that they'll be understanding.
Could you keep it to your close friend circle?
In that same vein, co-workers, old acquaintances, and friends-of-friends you sometimes see when you go out don't need spots on your list. Again, you might feel the need to invite an old friend simply because you attended their wedding at one point. Don't. The vital thing to think about here is your current relationship with them. If you've since lost touch or had a falling out, they don't require a spot on your wedding guest list.
If you're lost on what to do, ask yourself two simple questions: Will not inviting them negatively impact your friendship? Do you care? If yes, put them on a B-list to reconsider once you've solidified the rest of your list. If no, don't add them at all.
Keep your final list private.
Once you finalize your guest list, keep it between you and your partner. Sharing with family and friends often leads to many what about, especially if your list is small. However, if you do end up showing someone (parents, in-laws, etc.), be sure to set boundaries. Let them know that, after thinking long and hard, your list is final. They probably have an idea of who they'd like to see at your wedding, but if you're clear about wanting a small wedding, they should respect that.
The only exception is if your parents or future in-laws contribute to (or footing) the bill. In this case, you may want to limit them to a certain number of people they can invite. Everybody wins—they can invite friends or distant family members, and you don't have to worry about hosting their entire circle.
Try not to overthink anyone's reaction.
In the end, you're not obligated to invite anyone. If you're not thrilled at the thought of someone being a part of your wedding day, they don't need to be there. Besides, if you're not exactly close, chances are they won't be too offended by it.
At the same time, it's considerate to reach out to anyone who ends up feeling snubbed. Reassure them that it's nothing personal—you have a budget or venue capacity to keep in mind. Sticking to a small wedding guest list may seem uncomfortable or complicated, but it doesn't have to be. You can approach the situation and your loved ones with poise and explain your preferences. Simple as that.
Be strategic with your date. 
Weekday weddings are increasing in popularity and can be an excellent excuse to keep the celebration on the smaller side. (If you're concerned that work will keep VIPs from attending, Mason assures this likely won't be the case: "People take a vacation all the time. If they want to be there, they're going to be there.") 
Though not ideal for large-scale celebrations, holidays such as Christmas and Thanksgiving can also make sense if you're limiting the guest list to close family. Just be sure to account for everyone that would typically be around the table because it's only fair that anyone regularly included in holiday—even that one aunt that always gets on your nerves—would also be included in a wedding scheduled for that holiday.
Offer a thoughtful explanation. 
With the pandemic, people are more understanding than ever when couples want to keep celebrations small—and it's more than acceptable to mention COVID when breaking the news to someone that you won't be able to invite them. If anyone asks outright, break the news gently. Say: Unfortunately, we aren't able to invite as many people as we'd like. We care about you, we want you to be safe, and we want to stay safe as well.
Don't forget about Zoom. 
Even when virtual weddings are no longer a necessity, you may want to consider live streaming the ceremony and allocating 20 minutes of computer time to share in the well-wishes from loved ones you weren't able to accommodate IRL. Another idea: ask your videographer (or a friend that's especially handy with a camera phone) to create and share a same-day edit of the ceremony that others can watch on their own time.
Who Do You Have to Invite to Your Wedding?
Compiling your wedding guest list is probably one of the first things you'll do when you start wedding planning. It will affect your choice of venue and how you allocate your budget. For some couples, it's a straightforward process; for others, well, it's a lot less clear-cut. When it comes to asking yourself who you have to invite to your wedding, there are no hard and fast rules. But we have put together a general guide that might help you prioritize some guests over others and work out who you want there and who you can leave off the wedding guest list altogether.
Check out our ultimate list of Wedding Planners in Melbourne to help you organise a stress-free wedding.
A-List: The Guests You Need to Invite to your Wedding
These are the people you can't imagine getting married without - the Desert Island Discs of wedding guests. For some couples, this might cover ten people; for others, this might be 50. So sit down with your other half and ask yourselves, "If we had to get married in the morning, who would we want to have there?"
Your parents

Your siblings

Your closest friends

Your children
B-List: The Guests You Want to Invite to your Wedding
Generally, couples would still consider this group of people an extension of the A-list, but we've separated it to help you work out why you want sure guests in attendance, rather than blindly typing names into a spreadsheet. These are the special people you'd love to spend your wedding day with and are essential to you to have there, but it wouldn't ruin your day if they couldn't make it last minute.
Your grandparents

Your nieces and nephews

Your closest aunties and uncles

Your wider circle of pals
C-List: The Guests You'll Invite to Your Wedding If Your Venue/Budget Allows
This is where it starts to get complicated. These are guests you'd like to have along at your wedding or guests that it would be difficult not to invite (some families, for example, have an all-or-nothing approach on aunties and uncles or cousins). But when it comes down to budgetary restraints, the size of your venue, or simply the vibe you want for your day, you may have to draw a line somewhere among the following...
All your aunties and uncles

All your cousins

Plus ones of new relationships/plus ones you don't know very well

Travel buddies

Old friends, you haven't seen in ages (Facebook doesn't count!)

Your closest work pals
D-List: The Guests You Might Feel Obliged to Invite to Your Wedding
Ah, the D-list. So depending on the kind of wedding you're having (and who's paying for it!), this assortment of would-be guests will cut or not. Customarily, if your parents are paying for your wedding, they'll get to ask some guests, and if you have a church ceremony, it's polite to ask the priest for the meal. But when it comes to feeling obliged to invite your boss, the friends of friends who invited you to their wedding, or your entire hurling team - that's probably where you need to hit the brakes.
The priest

The neighbours

Friends of your parents

Children of guests

Everyone from the local golf/rugby/GAA club

People who invited you to their wedding

All your work colleagues
Tips for Making Your Wedding Guest List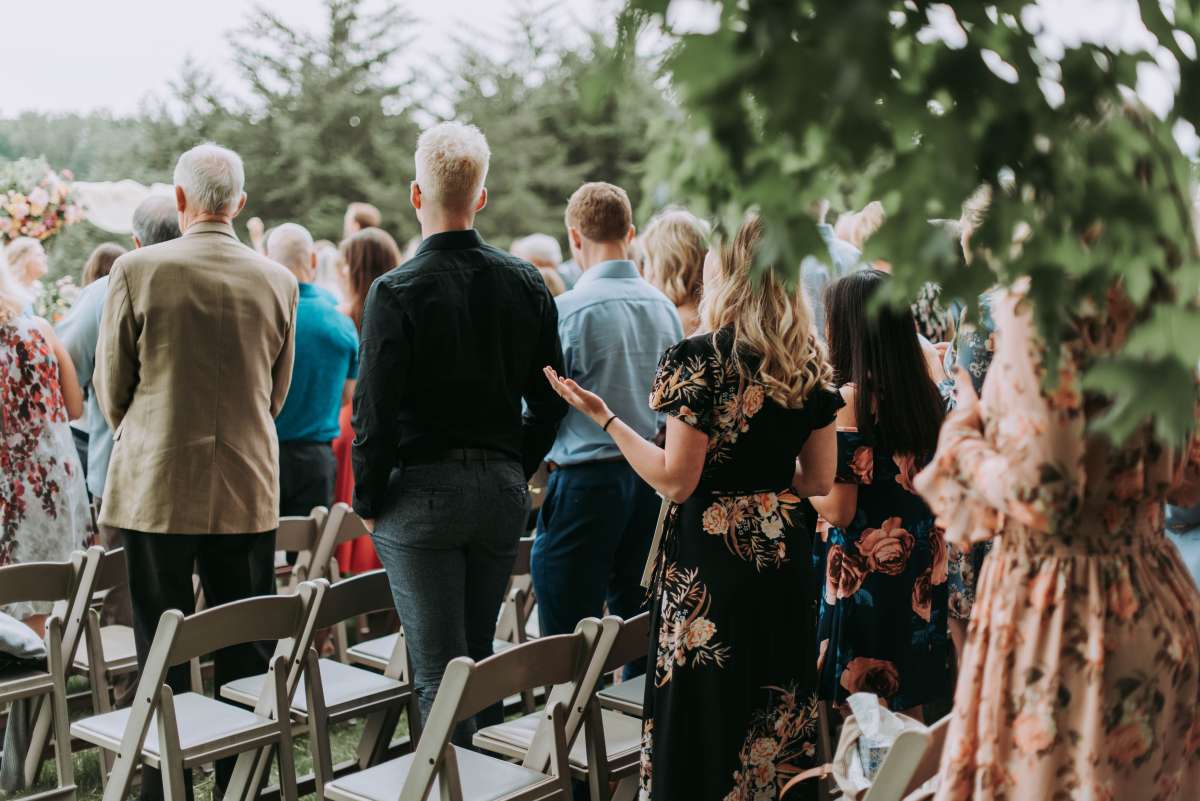 It might be helpful to remember that, whether you're having 20 wedding guests or 220, there has to be a line drawn in the sand somewhere. Some people cut, and some people don't - it's tricky no matter what. By upping your guest list by 50, the goalposts may have changed, but the tough decisions are still there!

Have you ever not been invited to a wedding you thought you'd be asked to? Did you mind? Probably not, or not for very long anyway. Of course, anyone would be excited about the prospect of sharing your day with you but do remember; people usually are more understanding than you'd think and know the constraints of a guest list.

Many people say to over-invite, as 10-20% of guests will turn you down, but that can be a dangerous game to play unless your venue and budget are flexible. You never know, all those people you invited from Australia, out of politeness, might use your wedding as an excuse for a holiday in Ireland!

When it comes to who gets a plus one for your wedding, generally, it's anyone who's married, engaged, or in a long-term relationship. One handy loophole to this, though, is if you're inviting a gang of pals together without partners (say your work buds or football team-mates - a group you only spend time with, away from their other halves). You should also give a plus one to anyone coming who won't know anyone else.

Whether or not to invite children to your wedding is another tricky area (that deserves a post of its own!), but remember that having lots of children present may significantly alter the feel of the day, so be sure to think about it carefully either way (and give lots of notice to parents if the little ones aren't invited!). The exception to the rule is for guests with newborn and breastfeeding babies; the babies should always be asked, regardless of whether you have children at your wedding. 

Don't forget about the afters! After is a magical escape clause that allows you to have every cousin, old school pal, and great-grand-aunt along for a slice of wedding cake and a boogie on the dance floor. If you're struggling with your guest list - and you're having your wedding close enough to where you live - take advantage of the afters to get you out of any tricky guest list situations.
How to Make a Small Wedding Feel Special 
Worried your small wedding won't feel as meaningful as a giant celebration? Don't be! A small wedding presents many opportunities to wow guests and creates one-of-a-kind memories that wouldn't necessarily be possible otherwise. Some ideas:
Show your gratitude with personalized notes. 
Whether they're placed at each guest's dinner seat or added to a welcome bag, a hand-written card expressing your gratitude to each guest for their attendance will go a long way in reminding them just how big of a deal this day is—and how big of a deal they are in your life. 
Make time for guests ahead of the main celebration. 
A small wedding means more opportunities for quality time. Instead of one big welcome party, aim to schedule outings or activities with specific subsets of guests. (Drinks with your college besties, mani/pedis with your siblings and cousins, etc.) You'll both appreciate the bonding time, and it'll give you the chance to catch up on what's going on in their lives—something that's harder to do when your wedding day arrives. 
Take the plunge on writing your vows. 
Many people can't imagine writing their vows in front of hundreds of people, so they revert to traditional vows. A small wedding relieves the pressure to impress a large swath of people, so be as quirky, funny, or vulnerable as you'd like.
Reallocate your budget. 
With a smaller wedding often comes a smaller budget—and more flexibility in how you spend. The details don't have to be over the top. Hone in on what you've always wanted. Now that you have more freedom to do it, could you do it? Looking for the Top Wedding Planner in Melbourne? Look no further and check out our ultimate list of Wedding Planners here.
Some suggestions:
Entertainment: Book the band or DJ you loved, but felt out of reach financially when your guest count was in the triple digits.

Décor: If your perfect destination wedding in Mexico is now happening in your parents' backyard, spring for a beautiful bougainvillea-covered ceremony arch. That way, your original locale will still be part of the memories.

Food & Drink: If you enjoy going to wineries together, offer a wine tasting at the wedding. Love sweets, and disappointed by the thought of guests eating sheet cake? Get the dessert bar of your dreams. With fewer mouths to feed, it's easier to elevate your offerings.