It may seem like a relatively simple task, but choosing wedding processional songs has been stumping couples for decades. Unlike the first dance song, which usually has significant meaning or emotional value, the music accompanying your grand entrance as you head into your wedding venue tends to be a less obvious choice. It can raise dilemmas: Lyrics or no lyrics? Classical or contemporary? Upbeat or subdued? Throw in the fact that the options practically reach the point of infinity, and it's easy to see why selecting ceremony music can lead to agonised decision-making for couples. Keep reading for our advice on how to choose the song for your ceremony and our top wedding processional songs.
The first dance is one of the monumental spotlight moments on the bride and groom on their wedding day. The song they select must reflect their personality and wedding theme. Just because the wedding couple didn't live through the 1950s, 1960s, and 1970s doesn't mean that songs from those eras can't reflect their love and commitment. Yes, classic first dance songs are still relevant today.
When you close your eyes and imagine a bride walking down the aisle, what do you hear? Most likely, it's strains of Mendelssohn's "The Wedding March", or Pachelbel's "Canon in D." Classical wedding music provides an elegance unlike any other, and it's no wonder so many brides are opting to include these instrumental processional melodies as a part of their big day.
Though we're all about updating and personalising every part of a ceremony and reception to your liking, there's something about classical wedding music that strikes up the most sentimental feelings. Most brides assume they should include at least one classical tune in their wedding playlist, but after listening to these, we have a feeling that more than one will be cutting.
We have compiled a list of Melbourne Wedding DJs to help you celebrate your special night.
How to Choose Your Wedding Processional Song
Like with most things, when a couple finds themselves on the hunt for the perfect processional song, they head straight to Google for some much-needed help. We've all been down this path a time or two; it usually turns into a giant time suck where hours are lost in Internet land. On top of all that, you'll inevitably get lots of unwanted recommendations from well-meaning but pushy friends and relatives. If this starts to happen to you (or if you are already stuck on this frustrating path), our advice is to take a deep breath, back away from the search bar, and reassess. Remember: planning your wedding day is supposed to be a fun, memorable experience…not a panic-inducing nightmare. That's right; even deciding your processional music should be all about having a good time and enjoying the ride. Here's how to avoid the whirlwind scenario: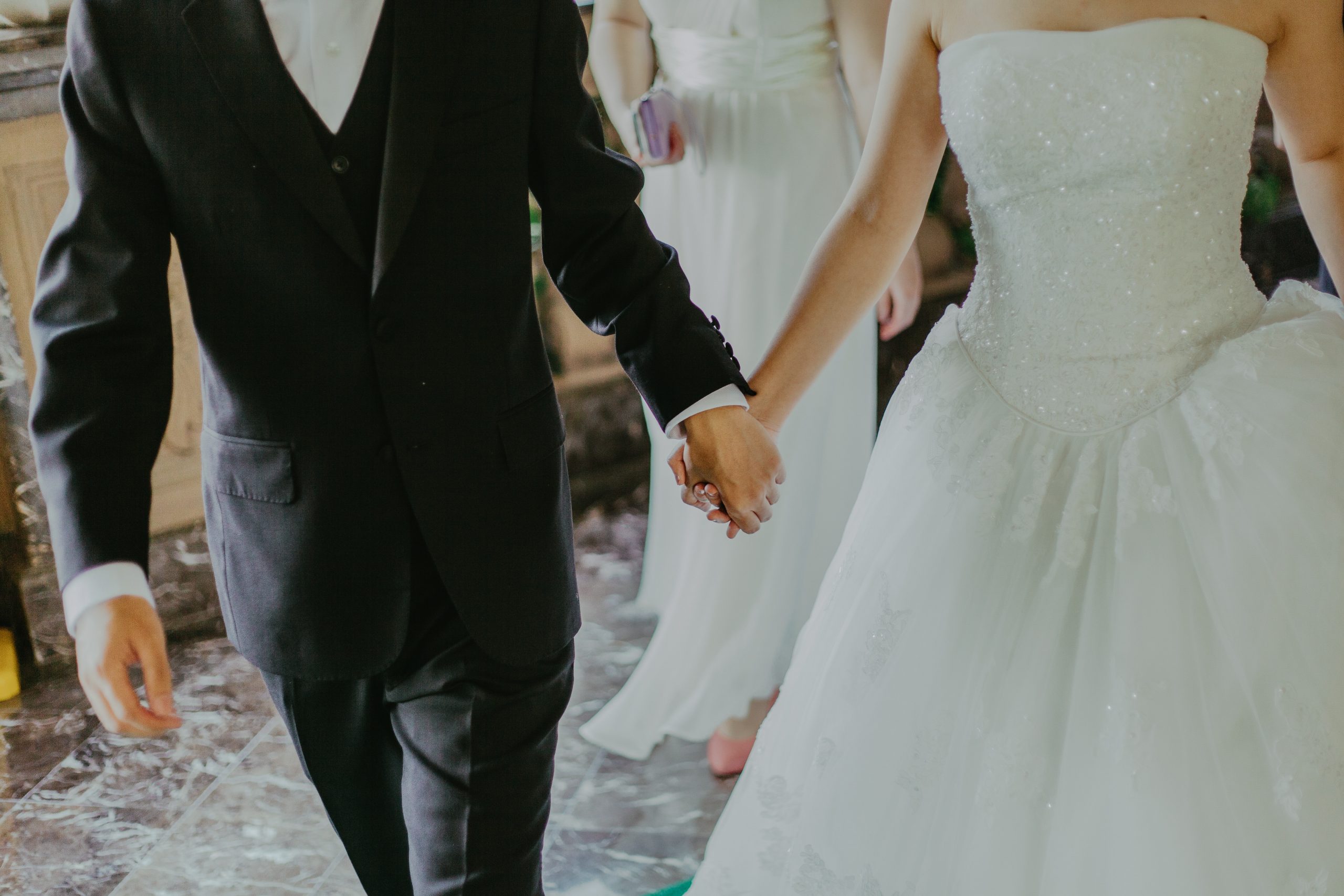 Do Some Self-Reflection
Do you want the songs to be meaningful to your relationship, or would you rather choose something that strikes you at the moment? Do you want your music to fit the tone of your day, whether it be offbeat, traditional, romantic, or laid-back? Do you find yourself drawn to a certain genre, such as classical or indie? Ask yourself questions like these early on to avoid falling into the all-too-common habit of questioning your feelings as you begin browsing processional songs.
Search for Songs
Explore options that fit the criteria you established in step one and keep a running list of songs that you adore. This will help you prevent becoming overwhelmed by countless options.
Don't Worry About Other Opinions
It's your day, so if you want to walk down the aisle to a unique song pick, go ahead. It doesn't matter what your guests will think. Go with what makes you happiest.
Make It Fun
Make choosing your wedding processional songs a fun thing to do with your spouse-to-be by sitting down one night with a few glasses of wine and listening to your favourites together. Trust us, and there are amazing songs out there just right for your long walk down the aisle; they're just waiting to be discovered.
Top Wedding Songs
Train – 'Marry Me'
A Top 40 Billboard hit for the US roots-rockers in 2009, 'Marry Me' has since been covered by country artist Martina McBride and remains a go-to wedding day staple.
Ray LaMontagne – 'You Are The Best Thing'
This emotive song from Ray LaMontagne's 2008 LP Gossip In The Grain has gained traction as a matrimonial favourite since it featured in the 2009 rom-com I Love You, Man about a friendless man seeking a best man for his forthcoming wedding.
Etta James – 'At Last'
Blues great Etta's classic recording dates from 1960, but 'At Last' has been a wedding day smash since Beyonce performed it at one of US President Barack Obama's inaugural balls in January 2009.
Adele – 'Make You Feel My Love'
Adele covered this Bob Dylan classic on her album 19, but it also featured significantly in the popular 2010 US rom-com When In Rome.
Norah Jones – 'Come Away With Me'
The titular song from Norah's multi-platinum debut album from 2002 has since gone on to shine at weddings the world over.
Al Green – 'Let's Stay Together'
Whether this slice of consummate Billboard chart-topping southern soul from the Rev Al Green has the power to keep a couple together forever is debatable. Still, it can sure bring couples together on the dancefloor.
Frank Sinatra – 'The Way You Look Tonight'
Originally featured in the movie Swing Time, the exquisite 'The Way You Look Tonight' won the Academy Award For Best Original Song in 1936. It's been synonymous with weddings since 1942's Once Upon A Honeymoon, wherein Cary Grant says to Ginger Rogers he always wants to "remember you just the way you look tonight – er, today", a reference to Rogers' appearance in Swing Time.
Shania Twain – 'From This Moment On'
First recorded for Shania's 1997 album Come On Over, this glorious country-pop ballad is still a staple of her live set – and it regularly soundtracks weddings around the globe.
Stevie Wonder – 'Isn't She Lovely'
From 1976's Songs In The Key Of Life (and later the UK smash for David Parton) 'Isn't She Lovely' was originally conceived to celebrate the birth of Stevie's daughter, Aisha. It also frequently heralds the arrival of the bride at a wedding reception.
U2 – 'All I Want Is You'
The emotional denouement to 1988's Rattle & Hum and a song whose lyric ("all the promises we make, from the cradle to the grave") seems especially resonant on any wedding day.
Bon Jovi – 'Thank You For Loving Me'
From Bon Jovi's Grammy-nominated album Crush. Later covered by Bryan Adams, the song was reputedly inspired by Brad Pitt's character in the romantic fantasy film Meet Joe Black.
Diana Ross & Lionel Richie – 'Endless Love'
'Endless Love'- the single – dwarfed the commercial performance of the film of the same name it originally soundtracked. A mandatory wedding day hit, the 1981 single topped the Billboard chart and remains Ross' biggest selling 45.
Elton John – 'Can You Feel The Love Tonight?'
Elton John's Grammy Award-winning 'Can You Feel The Love Tonight?' originally appeared on the soundtrack to Disney's 1994 box office smash The Lion King and continues to melt hearts worldwide.
Queen – 'Crazy Little Thing Called Love'
A sure-fire dancefloor-filler at any self-respecting wedding reception, Queen's neat rockabilly-influenced smash 'Crazy Little Thing Called Love' gave them their first US No 1 in 1980.
Elvis Presley – 'Can't Help Falling In Love'
A wedding soundtrack without The King? Unthinkable! Elvis' labyrinthine catalogue contains numerous contenders, but this legendary song from 1961's Blue Hawaii has to be the one.
Classical Wedding Processional Songs
Although you may not be familiar with the names of classical pieces, most are instantly recognisable when you hear them - though others are a little lesser-spotted. Talk to your ceremony singer or musicians about what classical piece you have in mind, and they'll likely be able to pull it out of the bag.
Canon in D - Pachelbel

Ave Verum Corpus - Mozart

Bridal Chorus - Wagner

Pie Jesu - adapted by Andrew Lloyd Webber

Nella Fantasia (or Gabriel's Oboe) - Ennio Morricone

Jesu, Joy of Man Desiring - Bach

The Swan (Le Cygne) - Saint Saens

The Flower Duet from Lakmé (Viens Mallika Sous le Dome) - Léo Delibes

Romance Classical Guitar - folk piece

The Four Seasons: Spring 1 - Vivaldi, Recomposed by Max Richter

Cello suite No. 1 - Bach

Una Furtiva Lagrima - Gaetano Donizetti

A Midsummer Night's Dream Op. 61: IX. Wedding March - Felix Mendelssohn

Ave Maria - Bach/Gounod
Irish Processional Songs
Add a little Celtic romance to your processional, with these beautiful Irish airs...
My Lagan Love

Carolan's Concerto

She Moves Through the Fair

Midnight Walker - Uilleann Pipes

The Parting Glass
Alternative Processional Songs
Looking for something a little different or more personalised for your processional song? Look no further than these cool indie and alternative tunes...
Falling Slowly - Glen Hansard and Marketa Irglova

Higher Love - James Vincent McMorrow

The Blowers Daughter - Damien Rice

Work Song - Hozier

Growing Up Beside You - Paolo Nutini

Skinny Love - Bon Ivor

Ho Hey - The Lumineers

First Day Of My Life - Bright Eyes

To Be Alone With You - Sufijan Stevens

'Cello Song - Nick Drake

Wicked Game (Instrumental) - Chris Isaak

All This Love - Angus & Julia Stone

Wedding Song - Bob Dylan

Sweet Disposition (Acoustic) - Temper Trap

Wedding Song (Acoustic) - Yeah Yeah Yeahs

Hoppipolla - Sigur Ros

Sea of Love - Cat Power

Angels - The XX

Feelin' Good - Nina Simone

Kiss Me - Sixpence None The Richer

Quelqu'un m' a dit - Carla Bruni

Good Riddance (Time of your Life) - Greenday

Riptide - Vance Joy

When I Go - Slow Club

Another Love - Tom Odell

A Waltz for a Night - Julie Delpy
Upbeat Processional Songs
Many of you might think a processional song should be slow and paced, but add a retro lilt and these upbeat songs would make the sweetest entrance...
Here There and Everywhere - The Beatles

Wouldn't It Be Nice - The Beach Boys

Everyday - Buddy Holly

In My Life - The Beatles

Here Comes The Sun - Nina Simone

Be My Baby - The Ronettes

Fly Me To The Moon - Julie London

Waterloo Sunset - The Kinks

Can't Smile Without You - Barry Manilow
Romantic Processional Songs
Are you and your other half a pair of hopeless romantics? Then these are the processional songs for you!
Songbird - Eva Cassidy

She - Elvis Costello

At Last - Etta James

Your Song - Elton John

I'm Kissing You - Des' ree

I've Got A Crush On You - Ella Fitzgerald

Can't Help Falling In Love With You - Elvis Presley

Not About Angels - Birdy

Blackbird - The Beatles

She's Always a Woman - Fyfe Dangerfield

La Vie En Rose - Louis Armstrong

One Day Like This - Elbow
Check out our ultimate list of Melbourne Wedding DJs.
For those who want to rock down the aisle …
Although not traditionally thought of as a genre that lends itself to walking down the aisle, there are some great rock and roll songs for couples that want to buck tradition and take their wedding up to 11.
Wonderwall – Oasis
This rock ballad about love and being there for the one you love is beautifully written and heartfelt. With fantastic acoustic guitar riffs and lovely violin music in the background, this song is a sure thing for your wedding processional.
Thank You – Led Zeppelin
Celebrating love and faithfulness, Thank You, by Led Zeppelin, is an excellent song to walk down the aisle to. The pace of the song works well, and it's a great throwback to the '70s!
Iris – Goo Goo Dolls
This iconic rock ballad is steady paced and beautiful. The yearning tones and haunting melody make this song a great option for your walk down the aisle and will ensure there isn't a dry eye in the ceremony.
I Don't Want to Miss a Thing – Aerosmith
Legendary rock group Aerosmith performs this emotionally-charged and beautiful ballad about not wanting to miss a moment of life shared. It's a perfect processional song and sets the tone for a wonderful ceremony.
Canon in D, Pachelbel – The Rock Version
For those who like a twist to a classic, this version of the wedding march adds a guitar, which is sure to make your processional beautifully classic — but also metal. When it comes to unique songs to walk down the aisle to, it doesn't get more unique than this. 
Best Wedding Ceremony Music
As traditional officiants tend to mention, your wedding ceremony is the reason friends and family have assembled. This is the heart of your wedding day, and the wedding music you choose for your ceremony should be an earnest reflection of you and your partner.
Best Wedding Processionals
This might be the one time in your life you can demand to be treated like royalty, so if that's you, get your Pachelbel on. At the same time, a professional doesn't always require trumpets.
Best Wedding Songs for the Ceremony
The truth is, without music, your wedding ceremony is going to be boring. Whether you're trying to make your meaningful symbolic act extra meaningful, or just keeping your uncle awake, make these tunes the soundtrack to lighting that candle / pouring that sand/drinking that wine.
Best Wedding Recessionals
The recessional music should capture the excitement of the day and optimism of the promise you've just made to your partner, yet not be so infectious as to make your guests leave their seats before an usher has dismissed them.
Best Wedding Music for the Reception
You're so excited to swap rings with your best friend, but you probably didn't think about how many people you'd be obligated to talk to post up. Unless. Unless your reception is a 2-3 hour dance party that does. Not. Quit. By choosing the best wedding songs possible (and having an open bar), you can make this dream a reality.
Best Wedding Songs by Genre
Each genre should be represented at your post-nuptial dance-a-thon. To get the best boogie for your buck, be sure you add the best wedding songs from each genre to your playlist.
Americana & Country Music
The country is more than steel guitars and lonely cowboys (but it's also both of those things). George Strait and Shania Twain made our playlist of Country and Americana wedding songs, but we had to give some love to the modern country, too.
Dance & Electronic Music
You're probably not trying to pull too many sexagenarians onto the dance floor with these wedding songs, but you'll make up for it in kiddos—children love neon glow sticks.
Disco Music
We do not offer rental bell-bottom tux pants or platform patent leather shoes. We do offer this boogie-licious disco playlist full of wedding songs guaranteed to burn the mother down.
Check out our post on How do I find a good wedding DJ?
Funk Music
Do you even want to get married without the sound of an electric bass guitar? Add these funkified wedding songs to your list, and you'll never have to find out.
Choosing traditional music for your walk down the aisle is becoming less of a traditional choice. Many brides today are swapping familiar wedding songs for radio-friendly favourites or their personal preferences. Individuality matters, but have you thought about how it might conflict with your venue, personal style, or guest's tastes? Recognise when to use your favourite tunes and when to stick with the classics.
Music sets the vibe of your wedding from the start. You have the power to alter your guests' mood with the musical genre. Imagine you're getting married in a formal or glamorous setting -- a ballroom, church, art museum or symphony hall – you may want to play up the opulence of the surroundings by selecting classic pieces.
If your two families have conflicting musical tastes, familiar love songs and wedding marches make a happy compromise. You can unite the two families later, with your DJ's help, by blending genres during the reception. The same goes for brides with large guest lists. Traditional choices charm everyone by appealing to their sentimental side.
Consider your venue. Traditional music generally works anywhere, but especially in places of worship, in very large, ornately decorated spaces, and anywhere you'd like to create a soothing scene for your wedding ceremony.