Diamond engagement rings have been exchanged as part of wedding traditions for hundreds of years. They've become universally recognized as symbols of promise, devotion and everlasting love – A Diamond Is Forever. But on which hand and finger should your engagement and wedding rings be worn, and how are they worn around the world?
Ready to start looking for an engagement ring? When it's time to take your commitment to the next level, you'll want to make sure to get it right with a special ring and a heartfelt proposal. After all, this is one moment you'll remember (and that you've both been excited about) for a long time. At first, glance, buying an engagement ring may not seem all that difficult. Find a jewellery store and remember to bring your wallet, right? But as you stare at the rows of rings in different shapes, sizes and prices, you'll find that doing some research goes a long way when it comes to choosing and deciding how much to spend on an engagement ring. Here, we'll take you through the average engagement ring cost in 2021, cut through the myths surrounding how much to spend on an engagement ring, and highlight the factors to consider when selecting the best ring for your partner and your budget.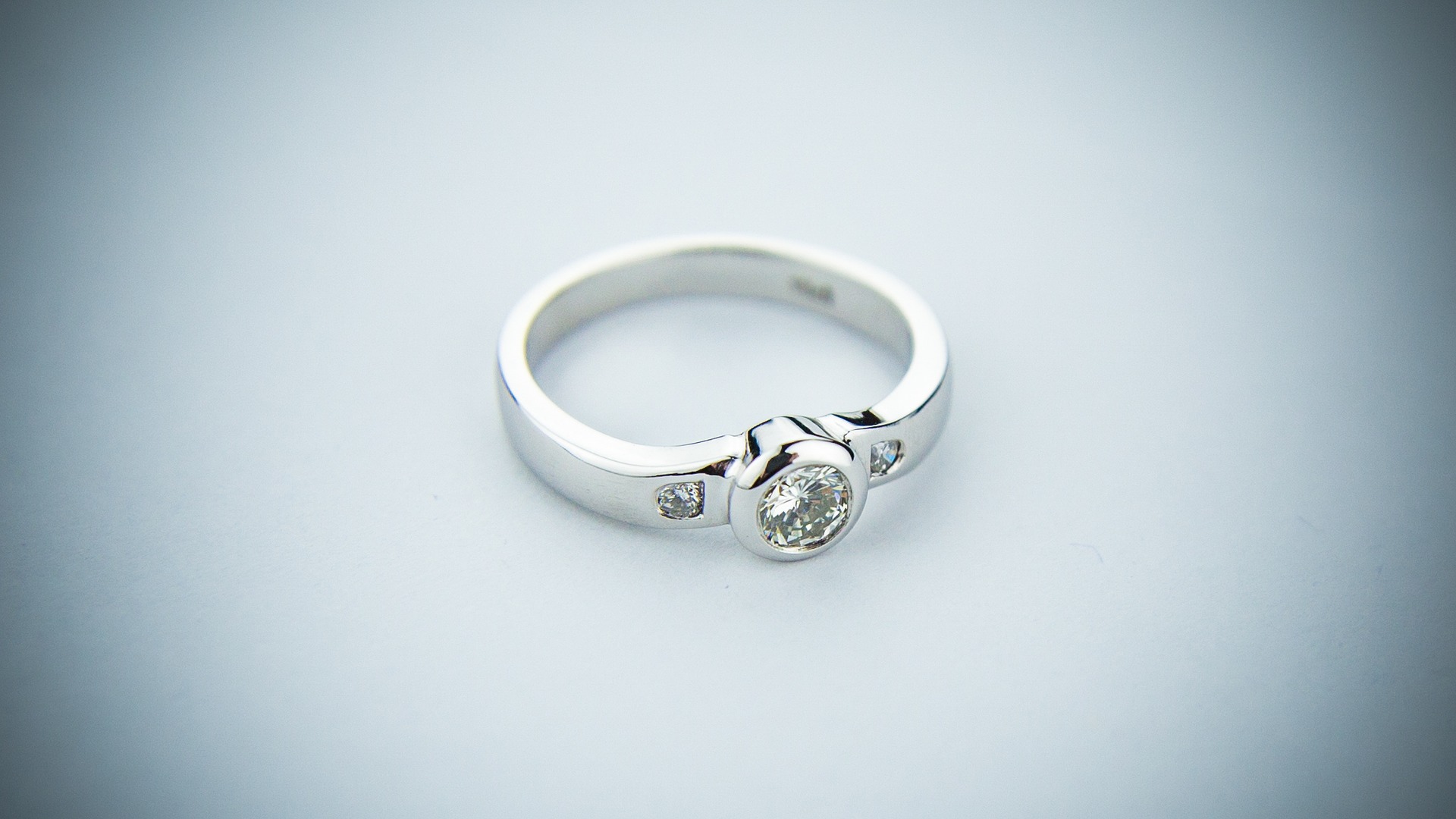 How much should you spend on an engagement ring?
When buying an engagement ring, only spend as much as you can afford. The popular rule that suggests you should spend two months' salary on your ring was fabricated by the diamond company DeBeers to get more people to spend money on diamonds.
It's silly—and even financially reckless—to spend that much if you can't afford it (and even a little reckless if you can afford it).
Don't let others tell you what to spend. How much you should spend on an engagement ring is entirely up to you and your fiancée.
Even if you have not already combined finances, you are about to get married. While you may not want to tip off your beloved that you're about to make the big purchase, it would be wise to feel out how much she expects you to spend ahead of time. If that amount is either much higher or much lower than your expectations, now's the time to discuss it—not later.
Looking for an engagement ring? Look no further, Temple & Grace has you covered.
Engagement Ring Cost Myths
Spending Three Month's Worth of Your Salary
It's become a suggested engagement ring rule that one should shell out about three months of their salary, but this is the most common (and outdated) engagement ring myth, according to Lanore (phew!). There's no set rule on how much you should spend on an engagement ring, and she works with all kinds of budgets.
Finding a Cheaper Diamond Online
Lanore says it's riskier to shop for diamonds online because there are far more low-quality stones to select from, which isn't always obvious to the untrained eye. Instead, she recommends going straight to the source. "It's best to consult the pros for your needs," says Lenore. "There are a lot of tricks to know for each diamond cut and shape—it is a science, after all. I highly recommend contacting a diamond consultant to assist in centre stone selection." These experts can help you work with the "Four C's" to get the best possible diamond for your budget. 
If you can't find a local diamond consultant, you can use plenty of companies remotely.
The Most Popular Engagement Ring Types
Emeralds and sapphires may bear historical significance, but our study found that diamonds still reign supreme. Couples are overwhelmingly still opting diamonds with 86% of ring shoppers requesting this as their centre stone. 
But alternative stones are still a popular choice for couples. Moissanite, for instance, continues to increase in popularity. In 2020, 26% of those who bought an alternative ring with a precious stone opted for moissanite (up 7% from 2019). In total, about two-thirds of all engagement rings have a centre stone between a half-carat and one-and-a-half carats. In line with previous years' data, 43% of all rings were round cut. About 58% of rings included a diamond centre stone with side accents, while 25% had a singular solitaire diamond. 
However, engagement rings aren't just about the stones. The choice of metal matters to couples too. White gold is overwhelmingly the most popular metal setting among ring shoppers, with 48% of respondents choosing this material. Yellow gold was the second most popular option as 16% opted for the trendy metal, while rose gold rounded out the top three at 13%.
Engagement Ring Budgets
Engagement ring prices are nothing to shrug off—so how should you even begin determining how much to spend on an engagement ring for your partner? The answer is both multi-faceted and highly subjective. "Setting a comfortable budget is an important first step," says jeweller Katherine Kane. "From there, establish priorities (like size or quality) to help you find the perfect ring. Since this is a purchase you'll look at every day for the rest of your life, it's worth setting a budget for."
One of the easiest ways to avoid spending too much on a ring is by setting a budget. Our study found that nearly 82% of ring shoppers set a budget for the purchase. A fair amount of to-be-weds (15% to be exact) consulted their significant other about the budget, but ultimately, the proposer decided on their own. Just 10% of all couples determined a budget together, according to our study.
Sticking to a budget was slightly challenging for some—67% of ring shoppers adhered to their number, while 20% went over their spending limit.
The Knot 2020 Jewelry and Engagement Study also found that nearly all those who proposed (91%) bought the ring on their own. Just 2% of respondents said their parents contributed to the ring, while 3% said their partner paid or contributed. The same per cent bought the ring with their fiance with their joint bank account or by splitting the cost.
In addition to the price of the engagement ring, it's also important to take the cost of insurance into consideration. Our study found that 68% of buyers also purchased ring insurance. We'll always recommend couples insure their rings, as it's such a high-cost and high-value purchase.
How much should an engagement ring cost? 
This is the old-school rule your father or grandfather likely told/warned you about: Essentially, that you should be prepared to spend two or three months' salary on an engagement ring. For example, if you take home $4,000 a month, you should spend $8,000 to $12,000 a month on an engagement ring; if you take home $10,000 a month, you should feel obligated to spend $20,000 to $30,000, and woe betide you if your partner found out you spent less!
The problem with that
For starters: Back in your grandfather's day, you could work a part-time job and still afford to pay rent on a one-bedroom New York City apartment; college tuition cost 75 per cent to 90 per cent less than it does now at the best universities; health-care costs were a fraction of what they are now, and the biggest "experiences" you planned for as a couple were the reception and kids.
In other words, the men who adopted and popularized the two-month-salary rule had fewer expenses and different priorities.
And did you know who started the whole thing? The advertising agency of the company who sold the most diamonds in the 1930s. To reboot its business during the Great Depression, the British diamond company De Beers popularized a one-month rule in an ad campaign. It was highly effective: Before the 1930s, only 10 per cent of engagement rings contained diamonds; by the end of the century, 80 per cent did, and the one-month rule had grown to two or three. It was "one of the most successful bits of marketing ever undertaken," T.C. Melewar, professor of marketing and strategy at Middlesex University, told the BBC.
How much should an engagement ring cost these days?
More and more couples are breaking with tradition. Your situation is unique, and your ring should reflect the life you've created together, not an arbitrary rule. (Read more about how to buy an engagement ring on a budget here.)
Maybe you have other goals for your life together — a new house, paying off student loans, racking up more student loans, or saving for kids at the same time. Maybe, like a growing number of new couples, you've seen the research on the effect of experiences vs. things on happiness, and you're spending a greater percentage of your budget on opportunities like travel or mutually enjoyable hobbies.
And engagement-ring shopping has become a more mutual experience than ever before: More and more couples are shopping for the ring together, and even splitting the cost. "Being there every step of the way helped me understand the magnitude of what goes into a proposal," wrote Rachel Torgerson of Cosmopolitan about co-buying her engagement ring with her fiancé. "Saving up enough money to buy a ring, comparison shopping, deciding if size or quality has more value, signing that check — it's a lot to think through. I got to go through that same process, with all the same gut checks, highs and lows. It was truly incredible to see it through in a gradual and very intentional way."
Browsing engagement rings online together can be a bonding experience for a couple — and with With Clarity's beautiful selection of hand-crafted, ethically sourced engagement rings, along with free shipping and returns, replica home preview and lifetime warranty, it can set the stage for a lifetime of smart decisions you make together.
Beauty on a budget
There are ways to maximize your ring even if you're working on a tight budget. First, shop online. A brick-and-mortar jewellery store can mark up a diamond's price by 50 per cent or more, to cover their overhead. Because Clarity is an online jeweller founded with close relationships to diamond sources, we pass those savings on you.
Second: Check out our expert advice on making your diamond dollar stretch further. For example, you could follow in Lady Gaga's and Meghan Markle's recent footsteps and add a trendy sapphire to your engagement ring; go for a three-stone ring; and explore either or both options in a halo engagement ring style, which makes any diamond seem bigger.
Clarity's expert gemologists can help you find the right ring for your life together. They're exceptionally experienced at working with each couple's priorities and budget — contact us now so they can help find the best ring for you.
How Much Should You Spend on an Engagement Ring?
Three Months' Salary
According to an expert-fueled report on Brides.com, the purchaser should spend about three full months' salary on the ring. This is more a rule of thumb, however, and if the person buying the ring is "heavily in debt or concerned about job security," he or she might want to scale back a bit.
One Month's Salary
You may have heard the more prevalent rule of thumb that a person should spend about a month's salary on the ring—and you have diamond manufacturer De Beers to thank for that little wisdom nugget. Back in America's Depression-era, De Beers started running an ad campaign suggesting that buyers spend one month's salary on the ring to save money, and the idea stuck.
Split the Difference
If three months seems like a stretch for your S.O. but one month seems a little skimpy, there are some contemporary ways of thinking that suggest you compromise and spend two months' salary on the rock. This can be a good option if you're looking to spend a small fortune without potentially wrecking your finances.
Spend the Average Cost of a Ring
According to a 2013 report by Jewelers of America, couples spent an average of $4000 on an engagement ring in 2012. You always have the option of presenting your potential fiancé with this information and suggesting he or she spend the average amount. It's a fair number, but you should keep in mind that it has nothing to do with his or her financial standing.
Forget the Rules
In our minds—and we assume the minds of many recession-strapped Americans—the amount spent on an engagement ring should be 100% up to the person buying it. Of course, the intended input is always welcome, but if you aren't the person making the purchase, it's not really up to you at the end of the day. "A lot of women wouldn't want their fiancé to spend that much money on a ring," Kit Yarrow, a former jewellery dealer turned professor of psychology at Golden Gate University, told AskMen.com. "Make it a personal decision."
Why two months' salary is outdated
Two months' salary has always been a lot of money to set aside for an engagement ring. However, I would argue that this old benchmark is hardly realistic today—especially for couples who want to marry in their 20s or early 30s.
We're not in the 1950s anymore.
Our generation is graduating with more and more student loan debt and facing minuscule entry-level salaries. We're facing costs of living that are so high that we either have to move back in with mom and dad or bunk up with a half dozen random roommates.
Almost all women are working (at least before having kids) and often earn more than men. And even with two incomes, most of us can't afford to go from college to married homeowners with kids in less than five years.
The median age of first marriage is rising in the United States. That means many of us won't even marry in our twenties. But those of us that choose to should not be forced to wait just because we can't afford the "traditional" notion of what getting married—from the diamond to the altar—should cost.
Remember That 'Thoughtful' Doesn't Mean 'Expensive'
The size of the ring you buy doesn't equal the size of your love. An expensive ring doesn't mean you're more thoughtful. You can choose a stunning engagement ring—whether it's a beautiful 0.9 Carat Round Diamond in a vintage white gold setting or a 2.01 Carat Round Diamond in a white gold halo setting. There are plenty of options to get the ring you want for less than what you would expect.
The thoughtfulness you put into designing a ring for your special someone will be noticed—no matter the carat weight or how large your budget is. Taking the time and effort to choose the most beautiful, personalized ring will pay off far more than anything else.
Also, eye-cleanliness is paramount. Even though this article is about the whole ring price, eye-cleanliness is an important part of picking out a diamond for the ring. In our opinion, a consumer's goal should be to find the cheapest (in regards to clarity; other factors matter as well) "eye-clean" diamond you can find. We use "eye-clean" to describe diamonds that may have inclusions if you look at them with a magnifying glass (or microscope or loupe), but the typical person can't see the inclusion with their naked eye.
We have recently developed Ringo, a patented artificial intelligence model, that can examine videos of diamonds and determine if they are eye-clean. Ringo will also filter for other parameters like making sure the diamond is well-cut, doesn't have fluorescence issues and will match the style setting you choose.
FAQs About Engagement Ring
The four metals most commonly used for engagement ring settings are yellow gold, white gold, rose gold and platinum. Just like when it comes to design, there's no best metal for every ring — instead, it's best to choose the metal for your setting based on taste, longevity and cost.
But the average engagement ring cost might be a good place to start. Engagement rings made up an incredible 14% of overall wedding costs. Still, don't take this to mean you need to spend $7,000 on a ring. You're starting a new life together in marriage, and it shouldn't begin in debt from an engagement ring.
General Rule: You should spend
at least 2 months salary on the engagement ring
. If, for example, you are making $60,000 per year, you should spend $10,000 on the engagement ring.
Yes. The engagement ring is worn every day. That being said, the engagement ring should not be worn at certain moments throughout the day.