Joanna and Peter's story started off with the R word – Rejection! They were both on a dating site trying to find love. In 2013,  Peter first communicated with Joanna via the site.
Joanna said: Peter sent me a polite message in hope of starting something but I, being inundated with so many contacts (blowing my own trumpet here!), sent him a polite reply something to the effect that said "Thanks, but no thanks!" That was the
end of that. About a year later when a relationship I was in ended, I went back on the site and behold I thought I might send Peter a humble "Hi!". He responded and thus began a relationship!
On the 14th June 2014, we went on our first date at Mezedakia Restaurant in Oakleigh. Which I thought was a little too "common" at the time but as I was walking to the place and saw him standing there with a beautiful bunch of flowers, I thought nothing "common" here! A true gentleman, romantic and level headed.
Three months later he took me to dinner at Mesa Tavern and that is where he proposed and yes he did go down on one knee!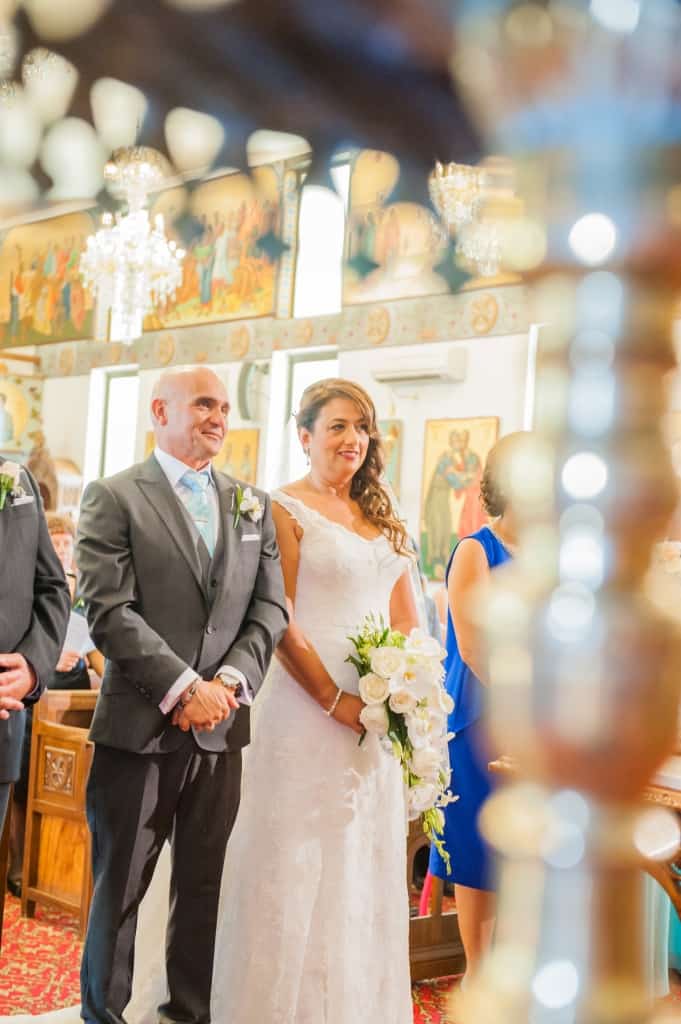 The Finer Details: 
Now, it was full steam ahead! Planning an engagement, a Hucks night, a wedding, a honeymoon and a renovation. Yes suckers for punishment!
The Ceremony
After some searching around we decided on St Anargiri Church for the wedding ceremony
The Planning 
All the planning for the wedding in general ran fairly smoothly. Lots to do of course but nevertheless exciting and crazy at the same time.
The Venue
We chose Vogue Ballroom for our reception. We immediately liked dealing with George and then meeting his better half Angela was a delight. Then we met Suzie for more planning ideas and she too was a delight. The venue is an awesome place but it's the people who make it truly attractive!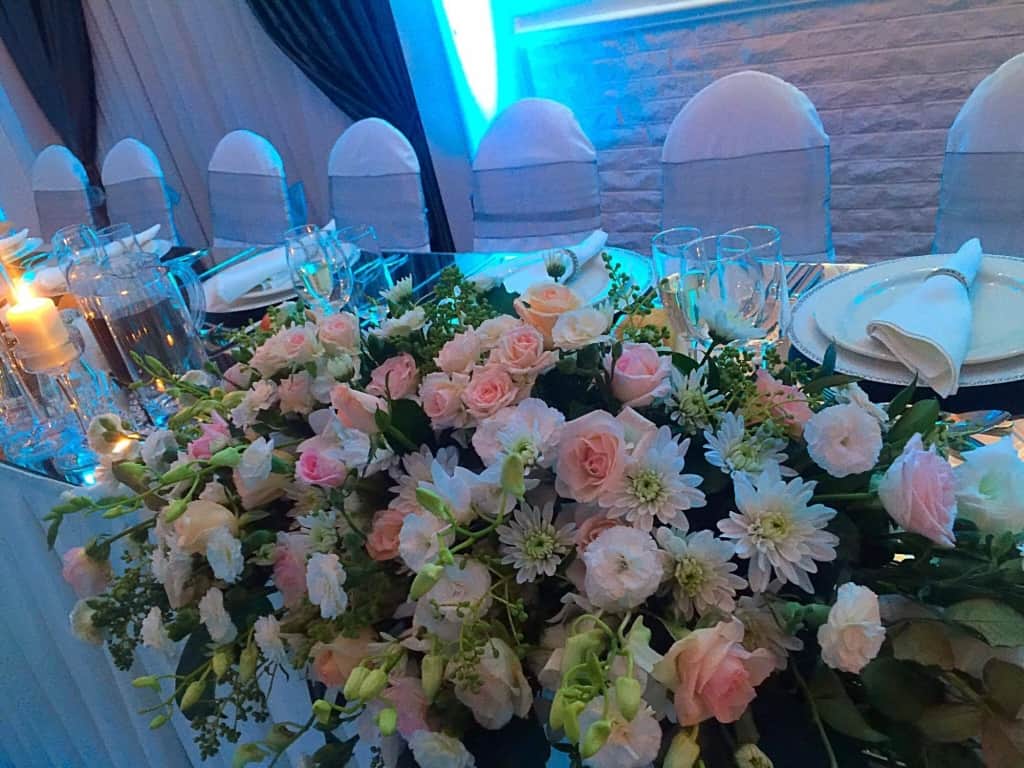 Styling of the Venue
I wanted to keep things as simple as possible. Initially I didn't want the raised platform for the bridal party but George and Angela convinced me otherwise and glad that they did. I chose blue up-lighting, white table linen, the silver chair sashes and candelabras for table decorations. The pre-dinner drinks were a big hit with the guests and the bridal party was well looked after upstairs as well (even a gluten- free platter for me).
Feedback from Guests
The feedback from many guests about the venue was all positive- "great venue, excellent food (one even said best steak they've ever had), lots to eat and drink, great music, good atmosphere and they catered for dietary requirements.
Highlights of the Night
Everything ran smoothly on the night. We had an awesome team in conjunction with the great venue which made it a fun night for us as well – Our photographer, Con from Icon photography, our videographer Peter from PK video and our DJ Peter B. Great experience with our Limousine from Enrik Limousines as well.  Let's not forget the great coordination throughout the night by our great MC…..now who was that again, memory loss….Oh yes!…George Ross was a fantastic MC! Maybe he should try DJing or radio sometime, Lol.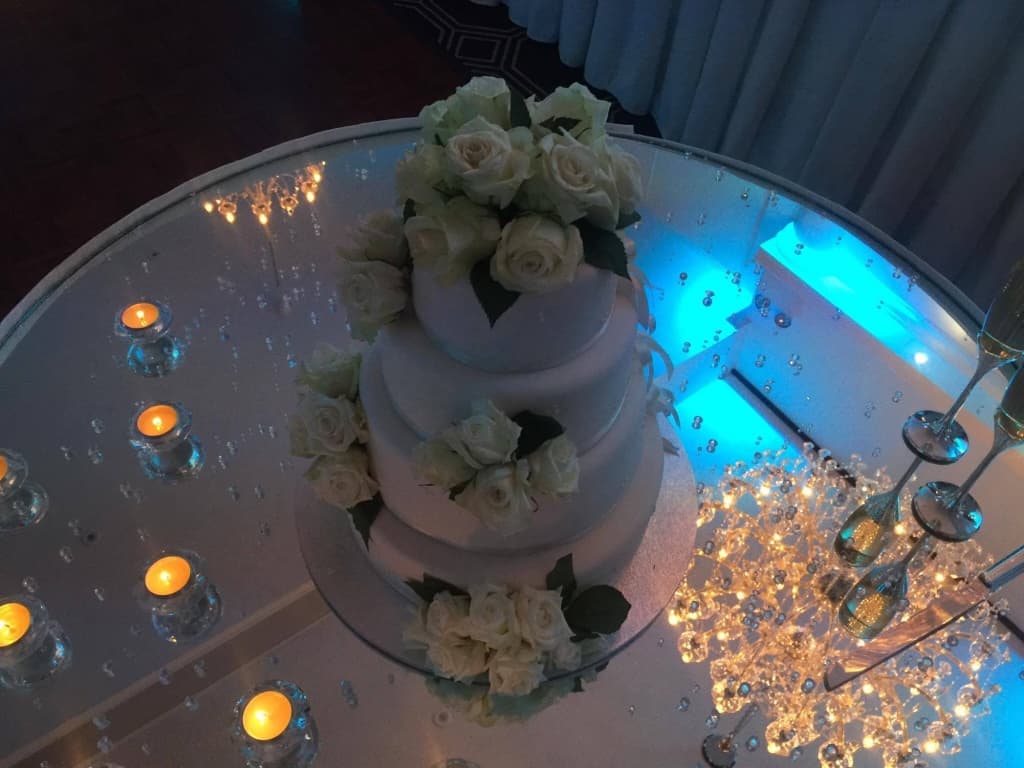 All in all, great wedding and worth the effort especially when everything went well and most importantly our guests enjoyed themselves. Having said that, Peter and I are glad it's over and we can now focus on completing the renovation (the outside that is, we have moved in), and enjoying the rest of our lives together!
Honeymoon
For our honeymoon we went to Noosa to chill! Now our "real" honeymoon will be in Greece to escape some of the winter, to catch up with relatives and to attend two weddings- one on the island of Amorgos. Now that's a honeymoon!